Motorcycle helmets are the single most important piece of safety equipment when riding a motorbike. To keep up with the different styles of riding, these helmets are also classified into different types such as full-face, half-face and modular helmets.
Today, we will be taking a deeper look into its latest modular shell design. Composed by adapting features of both full-face and half-face helmets, this hybrid motorcycle helmet offers the right balance between ventilation and safety. But how do you choose the best modular helmet for you?
To make this decision easier for every amateur and skilled rider, we have compiled a list of the 5 best modular motorcycle helmets. Therefore, continue reading ahead to find their detailed reviews and brief yourself about the factors you must consider when choosing the right modular helmet to use.
What are the 5 best modular motorcycle helmets?
Shoei Modular Helmet Neotec 2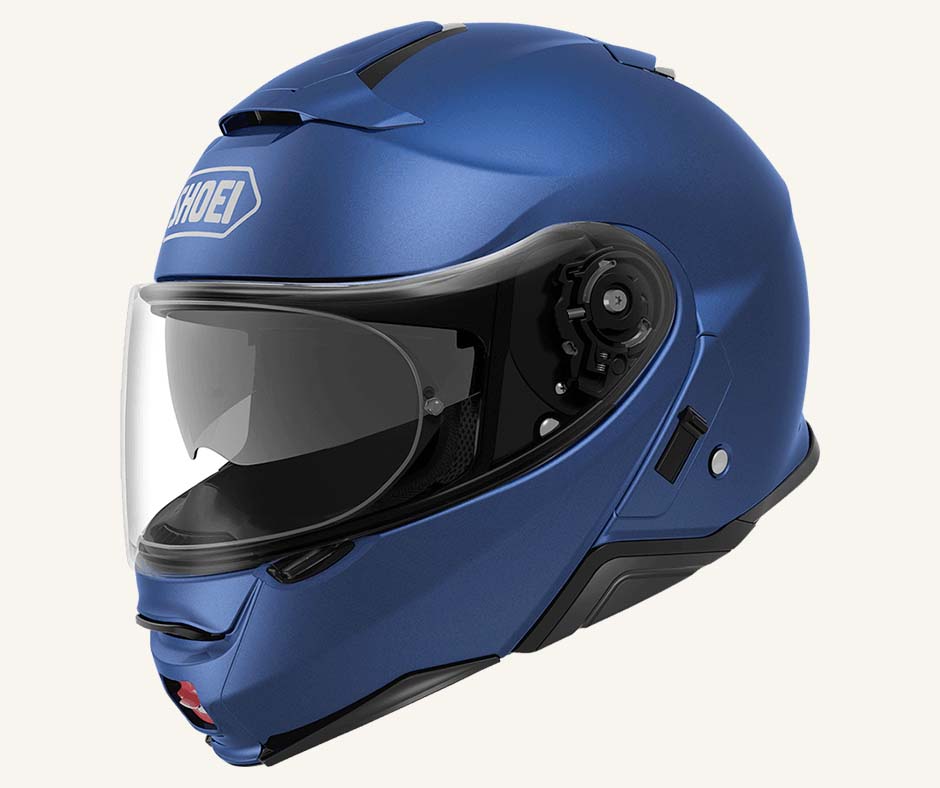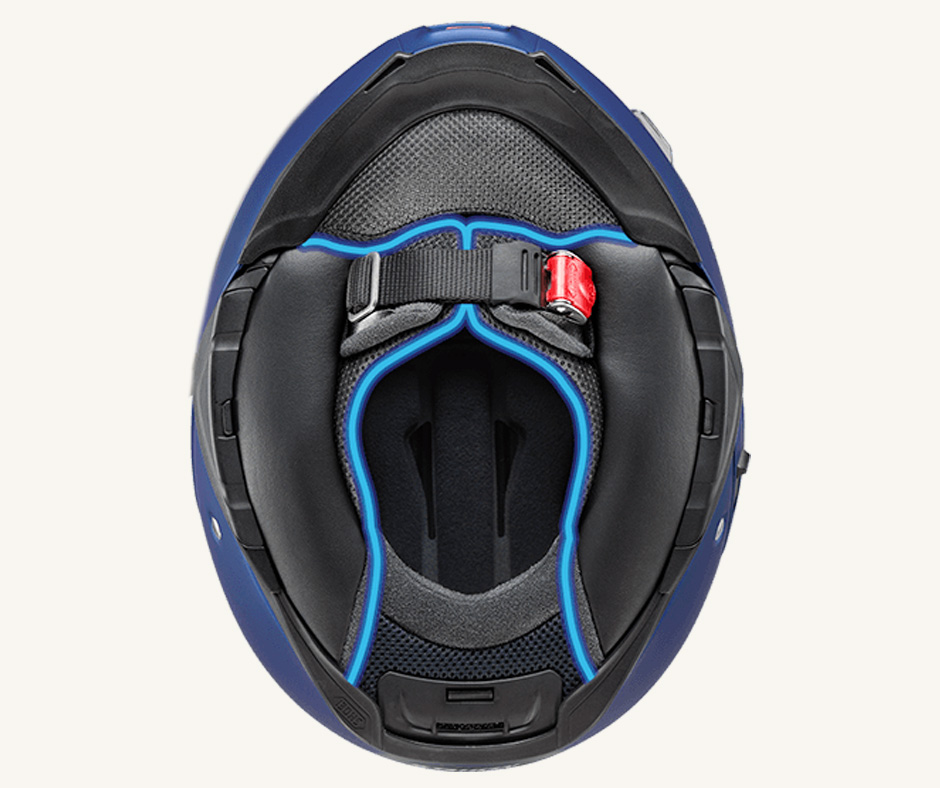 First and foremost, we have a motorcycle helmet by the leading name in the biking industry. With over a decade of experience under its belt, Shoei is one of the most notable brands for manufacture and sale of motorcycle helmets. It recently came up with the NeoTec 2 modular helmet to do everything its previous models did but with better style.
Do you have an unusually large or small head and struggle to find the right shell size for you? If yes, then you can say goodbye to narrow shell fits forever with the versatile head sizes of the Shoei Neotec 2 helmet. Offering 4 different shell sizes, you can use this safety headwear for a variety of riding styles including cruising, moped, street bikes etc.
Talking about its shell design, Shoei has finished this modular helmet in an aerodynamic and sleek shape. This helps get you to maximum speed in no time and offers good head security. Whereas, the smooth curved lines account for an attractive shell design and promise to make you the centre of attention whilst on road.
Knowing fully well how uncomfortable a hot and heated shell can be, Shoei has made sure to increase the air intake in this modular helmet by a tested and extensive wind tunnel system. Meanwhile, the advanced noise reduction system blocks out loud road or wind noises, making your ride quiet and pleasant.
Harsh impacts are known to cause severe shoulder aces and neck pulls. For this reason, Shoei Neotec II features a dual-layer EPS liner that absorbs and displaces additional energies away from your body. Following this, the equipped five liners deliver remarkable comfort and convenience to riders of all skill sets.
A clear and optically accurate field view plays a major role in minimizing the chances of crashing into other vehicles. Therefore, Neotec 2 makes use of an innovatively designed CNS-3 shield with air tightness. With this, the helmet resists fogging and harmful UV rays hitting your eyes directly.
Key Features:
Aerodynamic shell with aero deflector for extensive wind tunnel system.
Dual-layer EPS liner for impact absorption and dissipation.
Advanced Vortex generators for noise reduction and vision protection technology.
What we like:
Lightweight shell design for pain-less use.
Available in four different shell sizes.
Features five liners for comfort and snug fit.
Anti-fog and optically correct CNS-3 shield.
What we dislike:
Expensive option.
Moderate ventilation.
Final Verdict:
We understand that you might hesitate before buying the Shoei Neotec II helmet given its high cost. But, keeping in mind its innovative features and safety, we assure you that every penny spent on this modular helmet is definitely worth it! With its vortex generators and CNS-3 shield, Shoei Neotec II is the quietest modular motorcycle helmet as of 2023. Buy on Amazon
Scorpion EXO-AT950 Helmet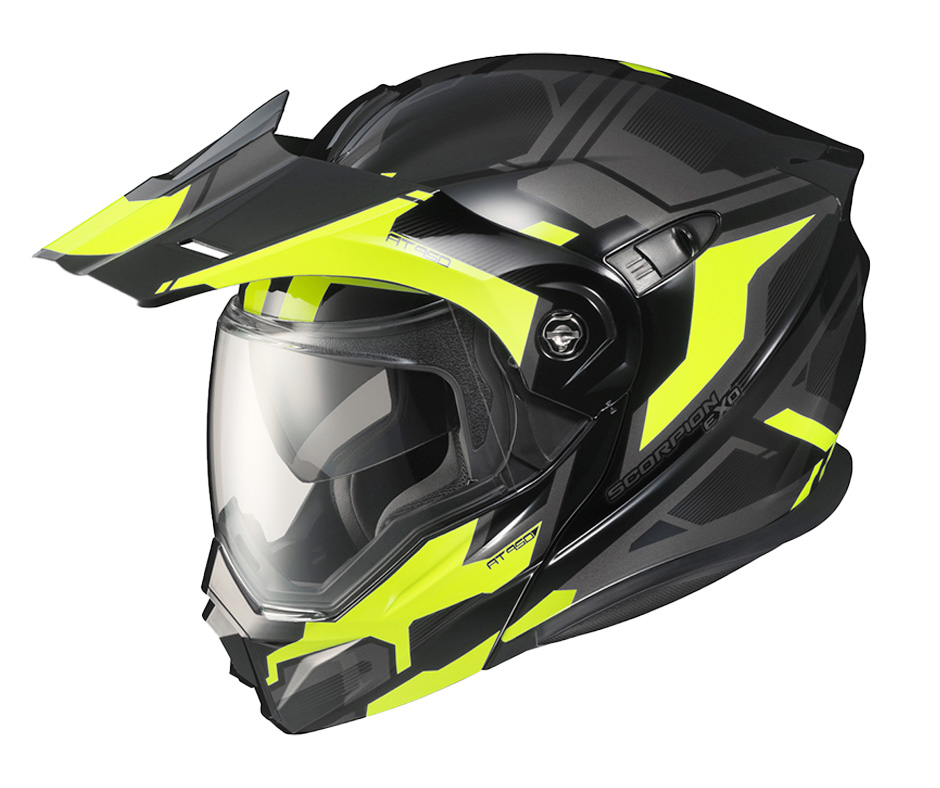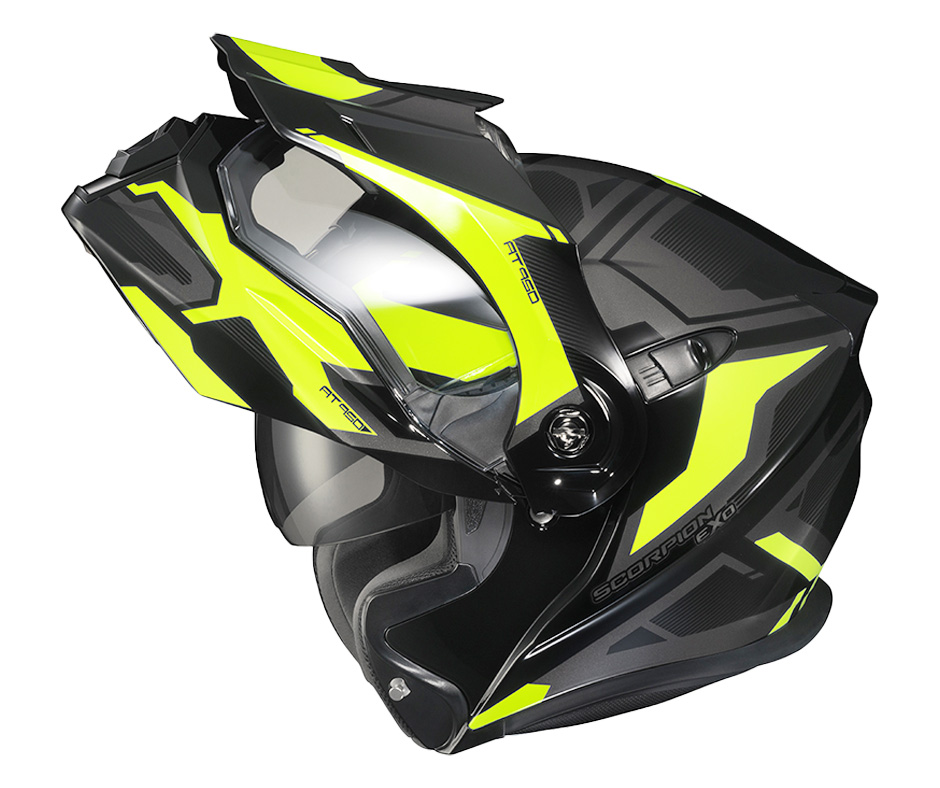 Whether you are an amateur rider or a skilled professional, you must have come across one of Scorpion's wonderful helmets while browsing through any website. Scorpion has succeeded in earning the trust of many customers by offering safety equipment backed by long lasting warranty and reliable features.
Just like its other products, the EXO AT-950 also manages to live up to these standards and please riders with its top-notch performance. Constructed from advanced LG polycarbonate material, the shell of AT-950 is sturdy, durable and lightweight.
By making full use of this structure, Scorpion EXO dissipates excess energy off your body and thereby meets the DOT safety standards. Known to never discriminate between its customer's head sizes and riding styles, this modular helmet is offered in 3 different shell sizes.
Putting your comfort and convenience above everything else, Scorpion has equipped the EXO-AT950 with multiple intake, exhaust and rear vents. These are joined together by an efficient aero-tuned ventilation system that regulates air intake while the defroster lowers the overall temperature of the shell, making the helmet ideal for intense races and matches.
Next, let's take a look at the most distinguishing feature of any modular helmet, its sun-visor. Featuring a retractable drop-down visor, the shield of AT950 is made from 100% scratch and UVA/UVA resistant material. In addition to this, an Ever-clear coating helps provide an optically accurate and clear field view.
To further boost the quality of your field view, Scorpion EXO contains a 11cm wider eye port as compared to other helmets. This offers an enlarged peripheral and downward field view whereas the elliptical ratchet system ensures that your eye is protected from any dust, debris or rain drops.
By utilizing the KwikWick II anti-bacterial lining fabric and Kwikfit cheek pads, EXO-AT950 is easy to wash, dry and maintain after use. Lastly, its flip-up chin bar can easily switch positions even with a single hand, all thanks to its single user-friendly lever.
Key Features:
Meets and exceeds DOT FMVSS 218 safety standards.
11cm taller eye port and protective elliptical ratchet system.
Integrated KwikWick II anti-bacterial interior fabric and Kwikfit cheek pads.
Scratch and UV resistant sun visor with optically correct Ever-clear coating.
Aero tuned ventilation with dual position mount, exhaust and rear vents.
Backed by a 5-year hardware warranty.
What we like:
Lightweight and impact resistant polycarbonate composite shell.
Offered in 3 different shell sizes and colours.
User-friendly single lever flip-up chin bar.
Efficient energy displacement through dual density EPS.
Supports eye glasses and contains speaker pockets.
What we dislike:
Ventilation could be better.
Prone to loud road noises when used at high velocities.
Final Verdict:
Loud road noise and moderate air supply are a small trade-off for the outstanding safety, high visibility and user-friendly controls of the Scorpion EXO-AT950 helmet. Its single lever design makes it one of the most user-friendly modular helmets for beginners and professional racers. Buy on Amazon
LS2 Valiant II Modular Helmet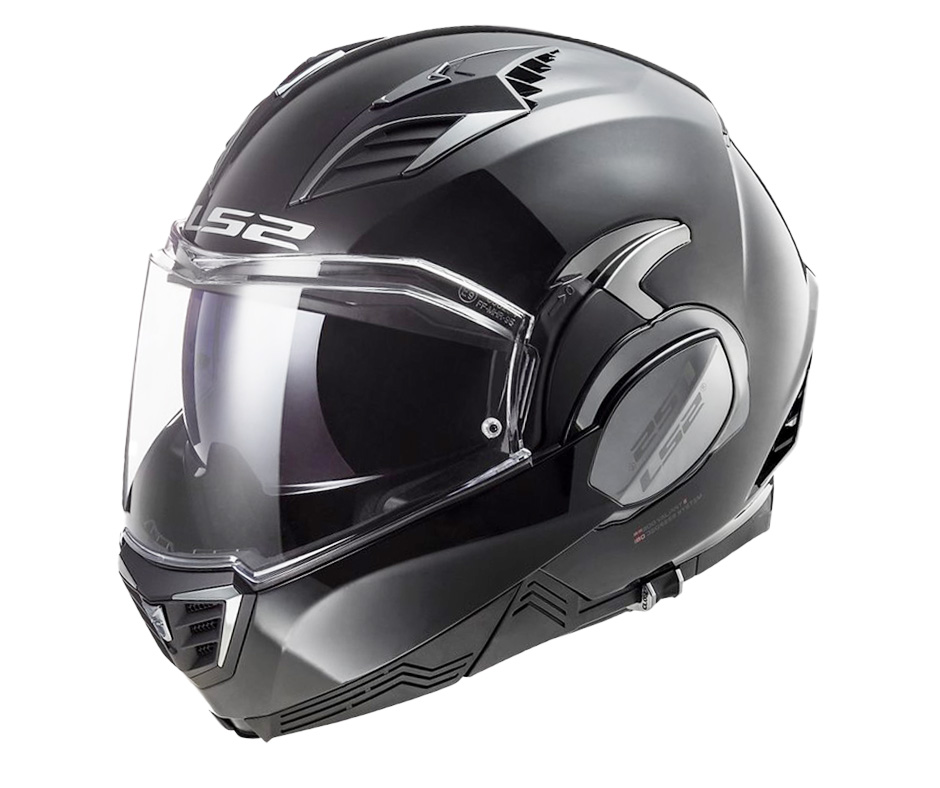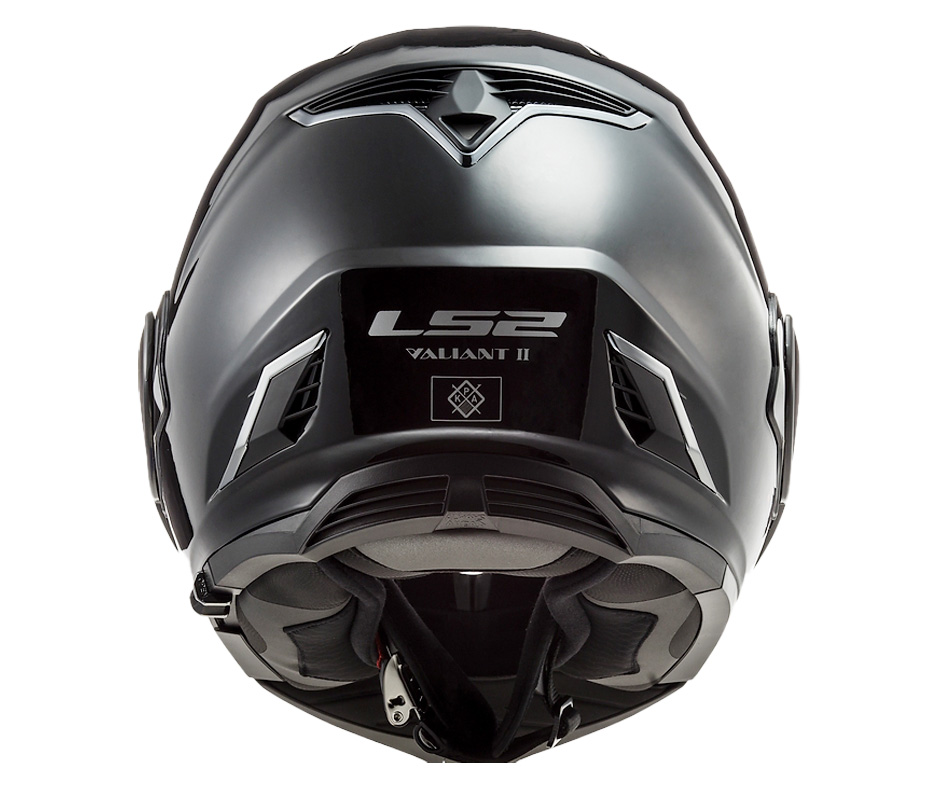 let's talk about the Valiant II modular motorcycle helmet released by the brand that has ruled over the hearts of many bikers since the past few years. LS2 started from the very bottom but has gradually paved its way to the top of the list with helmets as amazing as the Valiant II Modular.
After conducting numerous tests, LS2 has used the proprietary kinetic polymer alloy in its shell. The nanotechnology in this alloy blends out aramid fibres to provide a higher degree of flexibility and impact dissipation to its wearer. To add on, this aerodynamic shell is available in 2 different shell sizes and ensures a perfect fit on all heads.
Similar to every other modular helmet, Valiant 2 features an UV and scratch protected sun shield with optically correct vision. To prevent your view from fogging in humid conditions, this helmet is also Pin lock ready at any time. However, the show-stopping detail about its sun visor lies in its twin shield drop down system.
A cable is used to operate this switch in a marvellously smooth and simple manner, even while wearing gloves. For riders with sensitive skin, LS2 has included an easily removable, washable and breathable thermo-formed padding. This eradicates the need for a layer of glue in-between the foam and liner, greatly boosting the ventilation of the helmet.
Do you avoid riding your motorbike during day time because of its tendency to get extremely hot when in use? Well, you no longer need to compromise on your riding timings with Valiant's 3D laser cheek pads. Made from ultra high-quality foam, this padding guarantees comfort throughout the day with no hot spots.
Key Features:
Meets DOT FMVSS 218 and ECC 22.05 standards.
Innovatively designed kinetic polymer alloy shell.
Removable, washable 3D laser-cut cheek pads for ultimate comfort and no hot spots.
A Class polycarbonate face shield with twin shield drop down system.
What we like:
Available in 2 shell sizes.
Optically correct, UV and scratch resistant shield with Pinlock ready.
Multi-density EPS liner and reflective trim for relaxed fit.
Easily adjustable, multi-port dynamic vents with dual adjustable top ports.
What we dislike:
Runs a size larger.
Noticeable wind and road noise.
The Chin-piece button is not user-friendly.
Final Verdict:
Despite its minor drawbacks, LS2 Valiant II has succeeded in providing its wearers a safe and fun ride without being too heavy on your pocket. It is because of its innovative KPA shell and 3D laser-cut cheek pads that LS2 Valiant 2 is deemed as the best modular helmet of 2023. Buy on Amazon
Sena Outrush Bluetooth Modular Helmet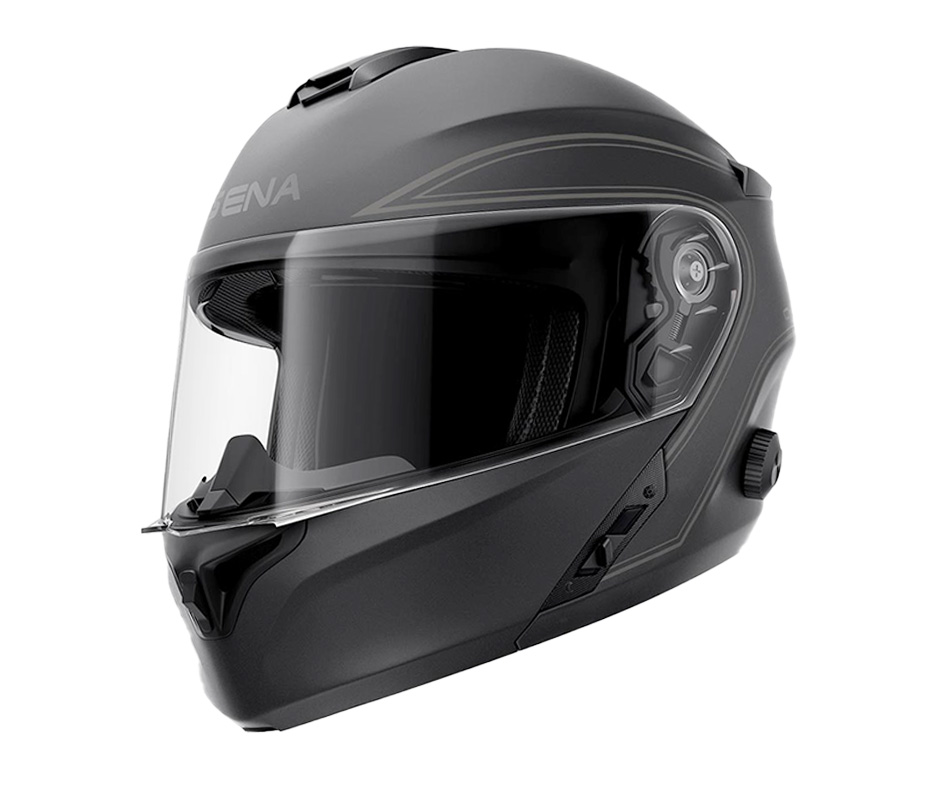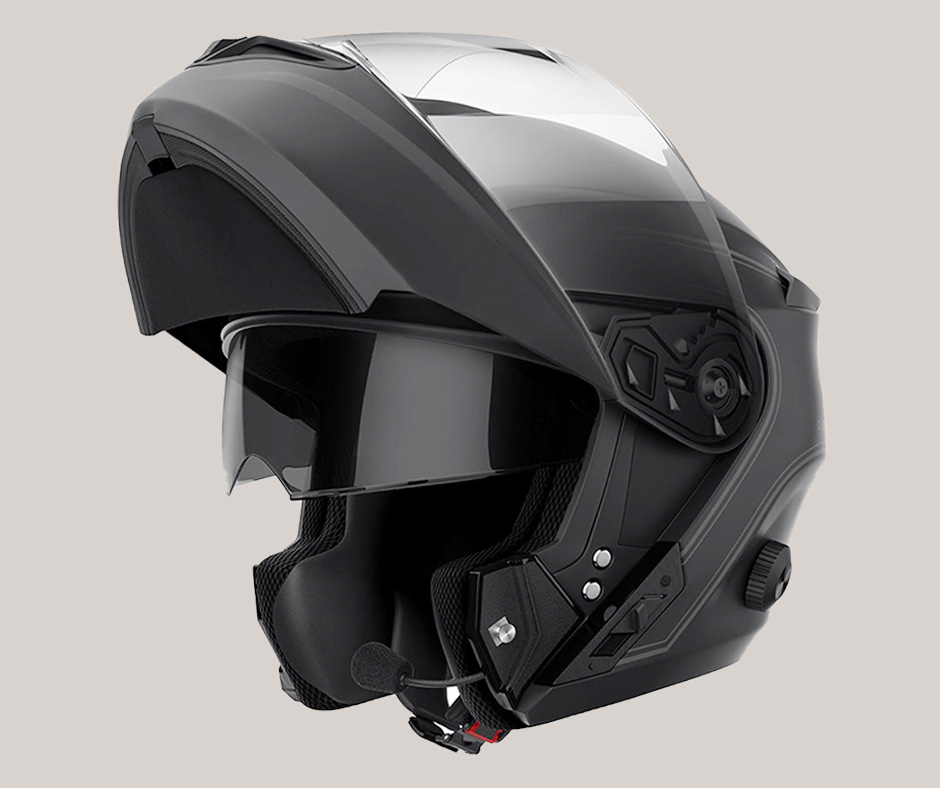 Cannot stand riding in solitude for a few hours? Or maybe you plan to experiment with different riding styles before selecting one specific type? In either of the cases listed above, Sena Outrush Bluetooth is definitely a modular helmet taken right out of your dreams.
With its versatile features and construction, motorcycling, scooting, touring and moto vlogging are only some of the many riding styles supported by Sena Outrush helmet. Moreover, its shell weighs barely 4 pounds and guards against all kinds of pains or body aches, no matter how far your destination is.
Sena truly understands the importance of comfort in any modular helmet and has excelled at this factor with its impact absorbing, lightweight shell design. Its durable nature also protects your brain from sustaining critical injuries in case of unfortunate crashes.
Alongside with this, Sena Outrush has an equipped retractable sun visor which shields your eyes from damaging UV radiation. Meanwhile, the multi-density EPS liner boosts the snugness of the helmet and provides a relaxed, secure fit.
Have you had enough of the stinky and sweaty aftertaste of participating in a racing competition? Or maybe you have sensitive skin that is easily irritated by moisture? Whatever your struggle is, the smart three-way ventilation system of Sena modular helmet puts an end to it forever! This increases the air supply within the helmet by a huge degree and keeps your face fresh, dry and cool.
It is time we talk about the feature that makes Sena Outrush standout when compared to other modular helmets mentioned in our list. As its name states, Sena Outrush has a wireless Bluetooth connection. You can sync your smartphone with the helmet and listen to your favourite playlist, attend calls and navigate via GPS all the while being on the road!
In addition to this, the intercom communication system allows you to converse with fellow riders and competitors while surfing on the streets. You can share your location, the scenic view ahead of you or just chat about your everyday life while commuting from one place to another!
Key Features:
Meets and exceeds DOT FMVSS 218 safety standards.
Retractable sun visor withstands UV rays and scratches.
Jog-dial control for features adjusting volume or accepting phone calls.
Compatible with HD intercom mode and Bluetooth 3.0.
Rechargeable battery with long-lasting 15 hours talk time.
What we like:
3.8 pounds lightweight shell design.
Features a three-way ventilation system for sufficient air supply.
Multi-density EPS liner for impact absorption and dissipation.
Provides entertainment by playing music, phone calls, radio and GPS navigation.
What we dislike:
Loud wind noise degrades audio quality.
On the pricier side.
Final Verdict:
If you want a modular motorcycle helmet to accompany you on all types of journeys without compromising on your safety, then we encourage you to get the Sena Outrush helmet. With its Bluetooth and intercom facility, it is rightly deemed as the best modular helmet for moto vlogging. Buy on Amazon
HJC RPHA 90 S Carbon Helmet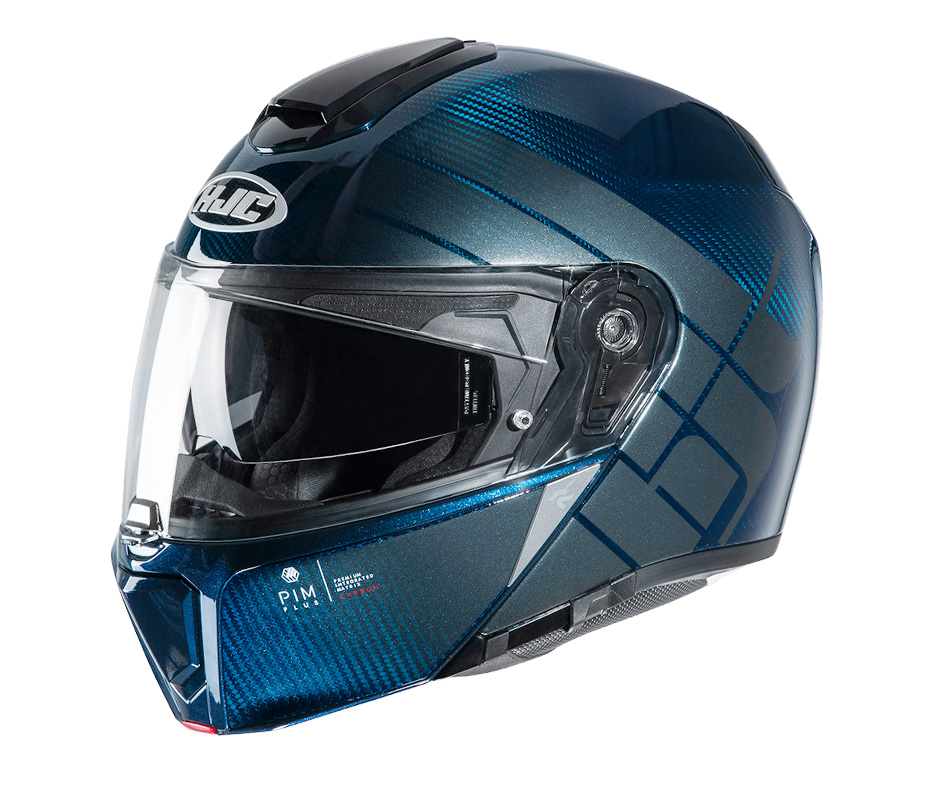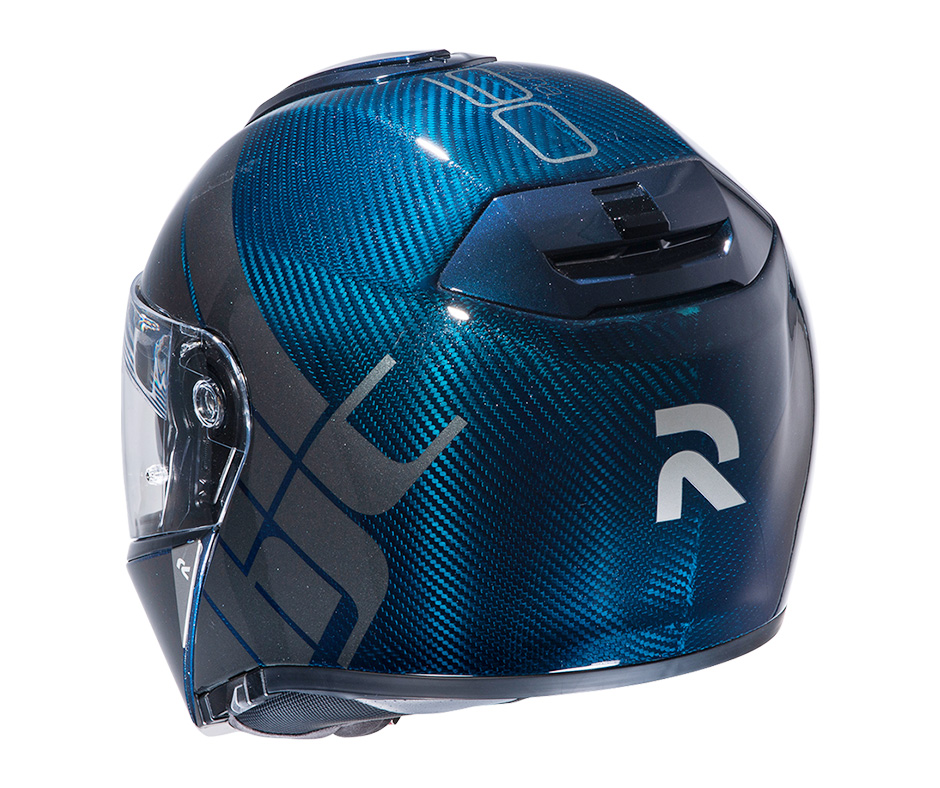 How can we finish a list about the best modular motorcycle helmet without mentioning a product by the most renowned brand in this category? HJC has rightfully earned its spot as the best brand for motorcycle helmets through years of hard work, passion and research. It continues to only go up in these charts with products like the RPHA 90S carbon helmet.
Composed of the advanced premium integrated matrix plus technology, HJC 90S has a carbon fibre shell design. It is finished with the carbon-glass hybrid fabric for excellent shock resistance capabilities.
Do loud wind and road noises make you lose your focus while riding at high speeds? If yes, then you will be glad to hear about the 3D engineered, ergonomic interior of HJC's modular helmet. This helps reduce the noise levels significantly, accounting for a quiet and relaxed ride.
Secondly, let's shine some light on the visor of the HJC RPHA modular helmet. With its anti-fog, anti-scratch and smoke tinted design, 90S carbon helmet has a supremely durable HJ-V9 sun shield. To make the visor easy to deploy even by tech-savvy users, it features an innovative one-touch locking system.
You can operate this button with or without wearing gloves. Furthermore, a multi-cool shell interior prevents the growth of bacteria or allergies due to excessive sweating. This moisture-wicking fabric works with the wide eye port construction to offer better visibility and comfort.
Apart from all the essential features, HJC's latest modular helmet is equipped with multiple functions to keep you entertained as well. With its EPS design, the helmet supports all types of eyeglasses. Additionally, the 20B Bluetooth compatibility allows you to connect your phone and play music, make calls or navigate via GPS without moving your hands from the steering.
Key Features:
Meets and exceeds DOT safety standards.
Advanced PIM plus carbon fibre construction.
Carbon-glass hybrid for elevated shock resistance capability.
Taller eye port with eyeglasses compatibility.
Supports 20B Bluetooth and Smart HJC 10B communicators.
What we like:
User-friendly one-touch open/close locking mechanism for chin bar and face shield.
Multi-cool, hypoallergenic and moisture-wicking interior fabric for utmost comfort.
3D designed ergonomic shell for minimal road and wind noises.
Easy, quick and tool-free Rapid fire shield replacement mechanism.
UV and scratch protected sun shield with included Pinlock insert.
What we dislike:
Runs a size smaller.
Takes some time to break in.
Final Verdict:
Delivering a high level of comfort, safety and ventilation, HJC RPHA 90S is a dream worthy helmet for its reasonable price. Just give it some time to break into properly and from there onwards, watch your rides become more fun, comfortable and thrilling than ever before! Buy on Amazon
---
Buying Guide
Having finished listing down the 5 best modular helmets of 2023, it is time we take a look at the features that have helped them earn this title. Before paying for any modular motorcycle helmet, you must review the following factors and decide if they are up to your standard mark and riding style or not. These include:
Helmet Type
First and foremost, you need to decide what helmet type will be the best for you. With over 6 different types of helmets available in the market right now, it can be quite tricky to choose the right helmet type. Let's overview the most famous types being full-face, half-face and modular designs.
If you are looking for a helmet to use while charging at high speeds and riding on rugged roads, the full-face helmet is the perfect type. As its name suggests, this type covers your whole face and guarantees the highest level of safety during crashes.
On the other hand, half or dual sport helmets are good for casual surfing on streets in style. Since they leave half of your face exposed, open-face helmets fall behind in terms of safety compared to full-face or modular helmets.
Thirdly, we have a hybrid combination of full and half-face design called modular helmets. They feature a drop-down visor that shields your face and eyes from rain and harmful sun rays. The choice between each of these helmet types must be made based on your own preference and riding style.
Shell construction
Another important factor that determines the ease and performance of any modular helmet is its shell construction. Usually, ABS composite polycarbonate material is used for a lighter and relaxed shell design. This is the best choice for touring and cruising styles given the nominal danger level and utmost comfort.
However, lightweight helmets slack off in terms of head safety and impact dissipation system. To optimize these features, aim for a durable and efficient energy dissipation system such as the CAD technology that protects your face and shoulders from harsh impacts.
To determine the suitability of any helmet with your own riding style, conclude if you prioritize ease of use above safety or the other way around.
Safety Certificate
The sole reason behind investing in a motorcycle helmet is to keep your brain protected in case of unfortunate accidents and falls. Always look at the safety certification of your desired product to determine how reliable it is at shielding you from sustaining severe injuries.
ECE and DOT standards assure that the helmet is safe and authorized for use on motorways and peaks. Whereas, SNELL certification promises a much-elevated safety standard and is currently the safest certificate that any motorcycle helmet can attain.
Price
At last, the conclusive factor when planning to buy a modular motorcycle helmet is its price. Seeing how helmets are sold for varying prices, it is mandatory that your helmet balances out safety, comfort, security and durability without compromising too much in any one aspect.
How do we test our products?
The aforementioned modular motorcycle helmets have been selected after conducting multiple tests, doing substantial research and comparing these helmets with other essential superlatives including their price, customer reviews and our own personal experience.
Frequently Asked Questions (FAQs)
Which modular motorcycle helmet is the best overall?
Although the answer to this varies based on your own riding style and preference, a general consensus deems the Scorpion EXO-AT950 as the best budget-friendly modular helmet. Other top choices include HJC RPHA 90 S carbon and AGV Sportmodular motorcycle helmet.
Which modular motorcycle helmet is the most comfortable?
The most comfortable helmets block out loud noises and are light enough to be worn for hours long, without any back or neck pain. Shoei Neotec 2, HJC i90 Helmet and Arai Corsair X are some of the most trusted choices in terms of comfort and pain-free use.
Are modular helmets less safe?
No, modular helmets have a sturdy shell design and drop-down sun visor that provides moderate to good safety. Although they are nowhere near the safety levels of full-face helmets, they still promise head protection in case of accidents or harsh landings.
Are modular helmets noisy?
The answer to this varies depending on what type you compare them with. Modular helmets are noisier than full-face helmets but quieter than half-face ones. They cover your chin area for minimum road noise as opposed to the completely exposed design of half-face helmets.
Final Words
And with that being said, we have finally reached the end of our detailed article about the 5 best modular motorcycle helmets in 2023. After reading our reviews, buying guide and FAQ, we hope most of your misconceptions regarding modular helmets are cleared and you have decided on a helmet that fulfils all your wants and needs, without being out of your budget.
Until then, we wish all of you a happy and safe biking journey!