Helmet is the foremost important piece of equipment for every amateur and professional biker. It is responsible for protecting your head from critical damage in case of any unforeseen accident. But before you buy a motorcycle helmet, you need to consider its size and weight as well.
Generally, helmets are quite heavy and therefore inconvenient to put on. To guard against this unease, we have listed down the best and top ten lightest motorcycle helmets of 2023! Read thoroughly to find the best helmet for your motorcycle.
Our Top 4 Picks
Image
Product
Details
Price
AGV K6 Helmet
Weight: 2.8 lbs
Type: Full Face
Safety Rating: DOT
Check Price
Shoei GT-Air 2 Helmet
Weight: 3.28 lbs
Type: Full Face
Safety Rating: DOT
Check Price
Klim Krios Pro Helmet
Weight: 2.86 lbs
Type: Dual Sport
Safety Rating: ECE/DOT
Check Price
Scorpion EXO R1 Air Helmet
Weight: approx 3.05 lbs
Type: Full Face
Safety Rating: DOT
Check Price
What are the ten lightest motorcycle helmets?
AGV K6 Motorcycle Helmet
Weight: approx 2.8 lbs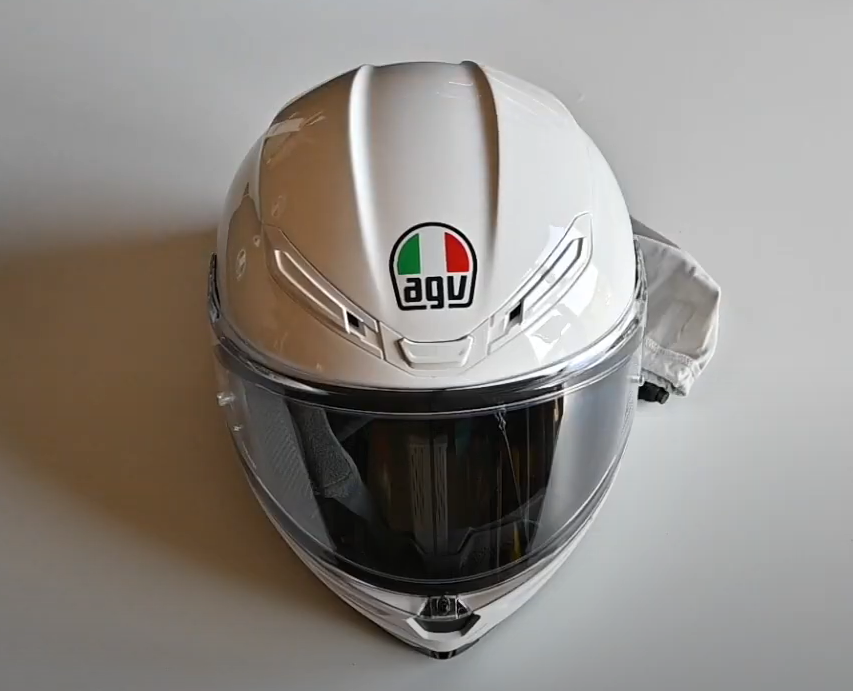 First up on the list, we have the most versatile and comfortable helmet for every motorcyclist. The AGV K6 is constructed from premium standard carbon-aramid fibre and five EPS densities. This makes your helmet supremely strong and durable and increases the protection capacity by a generous 48% rate! Moreover, AGV K6 is specifically designed to reduce any impact on the collarbone.
Next, let's talk about the ultra 190° horizontal vision provided in the AGV K6 helmet. With this, you can clearly see any corners and obstacles on the road, meanwhile the micro-lock system regulates air supply inside your helmet. Knowing what a nuisance foggy screens can be when biking at fast speeds, AGV comes with a 100% Max Vision Pinlock 120 anti-fog system.
All these features surely make AGV K6 a commendable helmet for every wearer but what exactly makes it the most comfortable choice? The answer to this lies in the water and wear proof external liner fabric of this helmet. This breathable lining removes any moisture and ensures your face is dry at all times. Lastly, the minimal weight of only 2.7 pounds makes K6 one of the lightest motorcycle helmets out there!
Check AGV K6 Prices: Revzilla | Amazon
Final Words
The AGV K6 helmet is undoubtedly one of the most comfortable helmets of this year. With innovative interior and premium quality external lining, this helmet gives you the safest and comfiest biking time!
Shoei GT-Air 2 Full Face Motorcycle Helmet
Weight: approx 3.28 lbs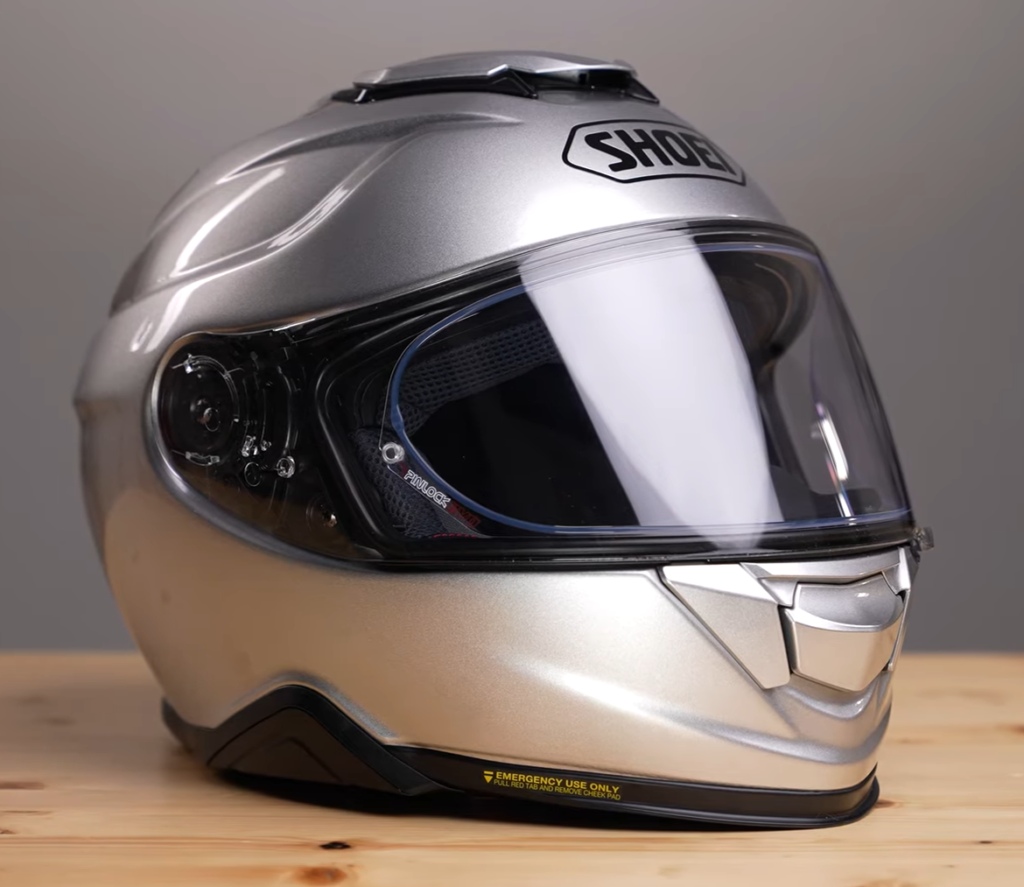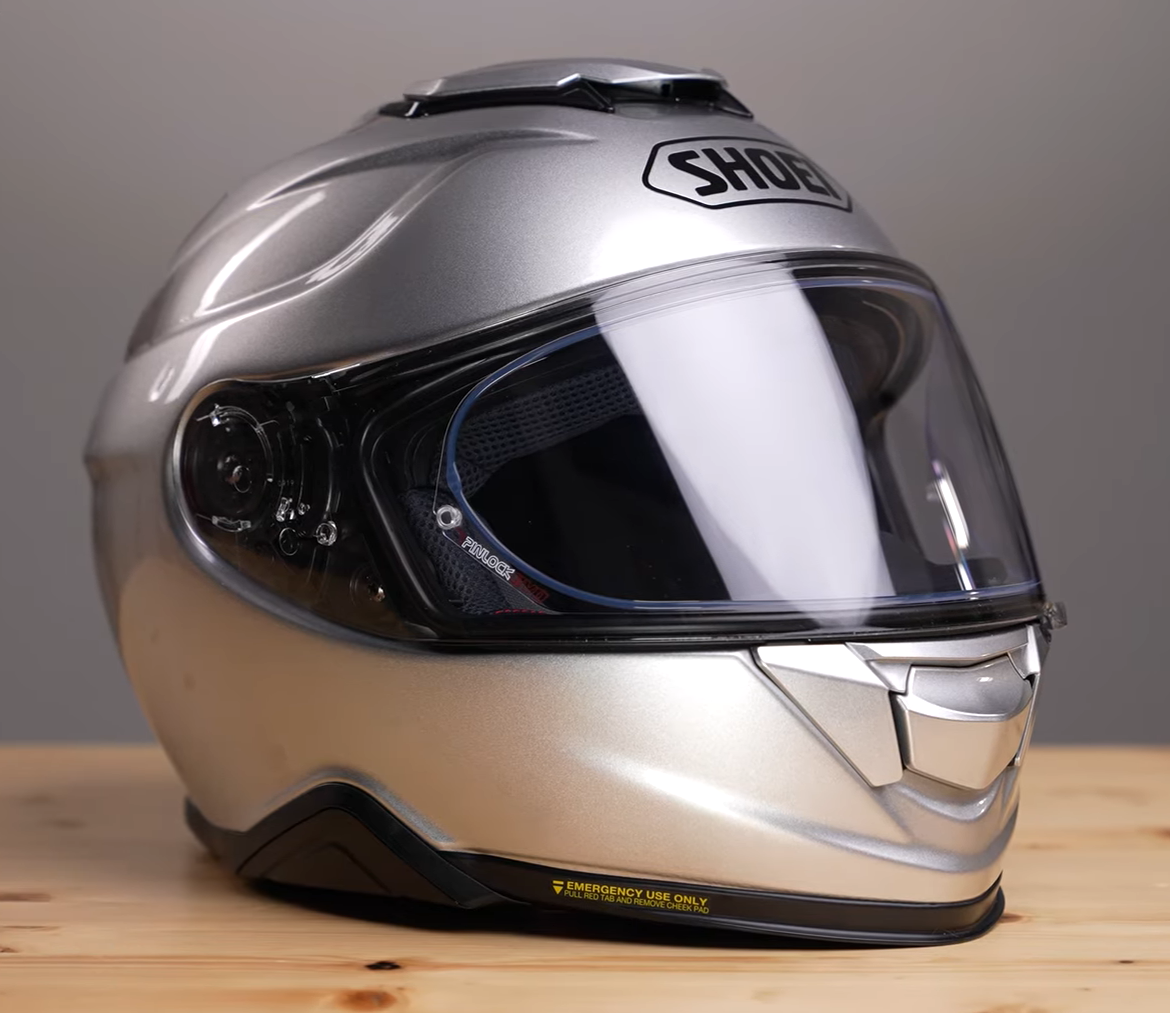 The latest inclusion to the reputable GT-Air series, Shoei's GT-Air 2 is here to do everything its previous editions did but in better style. Finished in a fine edged shell design, GT-Air 2 has a compact structure and orthodox design. It contains fully hassle free to mount integrated electronic communications slots which allows you to stay in touch with your loved ones whilst riding around.
One of the most splendid features of Shoei GT-Air 2 helmet is its outstanding QSV-2 sun visor. It is designed to facilitate European standard sun goggles and coated in anti-fogging material. Moreover, the QSV-2 visor is remarkably user-friendly to slide up or down by simply controlling its lever. It also supports rapid lowering and raising speed for minimum smoke effect and clear view of the road.
Flimsy helmets are not only annoying to wear but can lead to accidents in several cases. To minimise the chance of this happening, Shoei GT-Air 2 consists of a micro ratchet chin strap closure system. Designed from top-notch quality stainless steel parts, the unique micro ratchet strap is durable and stable to secure even when wearing thick gloves!
Check Shoei GT-Air 2 Prices: RevZilla | Amazon
Final Word
The Shoei GT-Air 2 is one of the best motorcycle helmets of 2023. It has left all its users amazed with the durability, performance and comfort provided. So, if you are in doubt about spending such a huge sum on a motorcycle helmet, we assure you that every pound spent on the Shoei GT-Air 2 is definitely worth it!
Klim Krios Pro Dual Sport Lightest Motorcycle Helmet
Weight: approx 2.86 lbs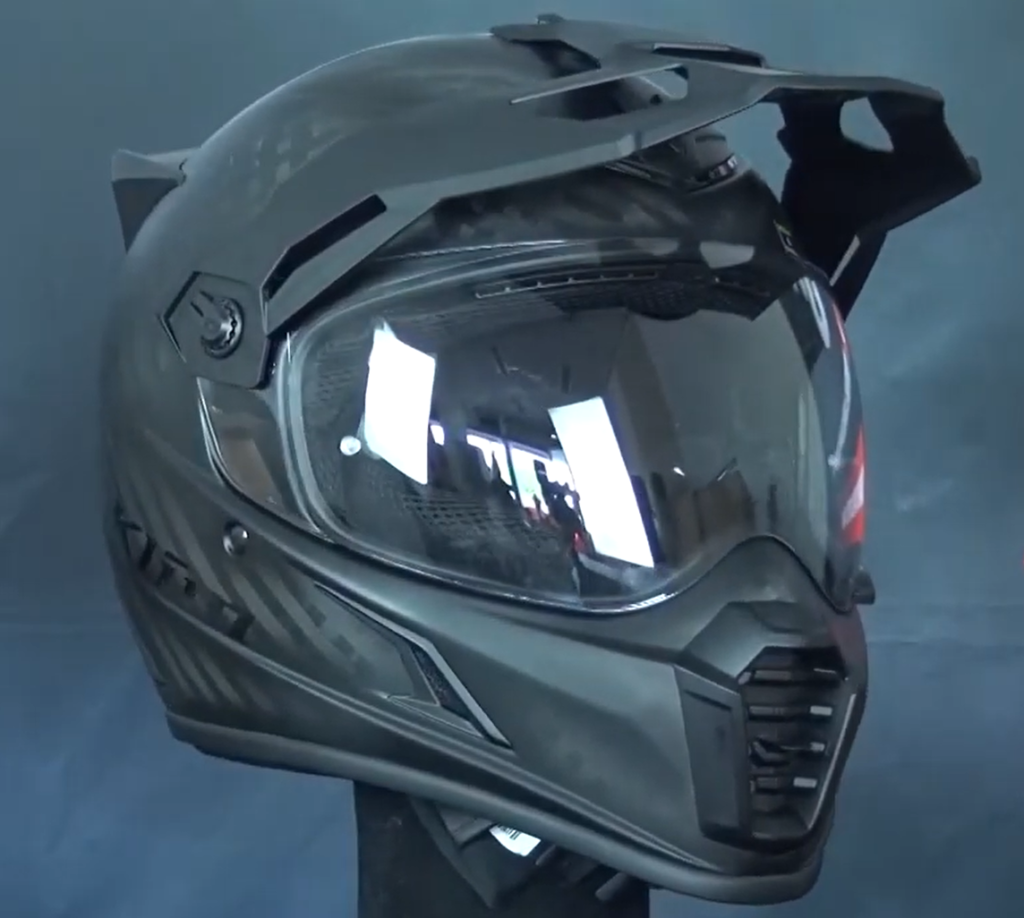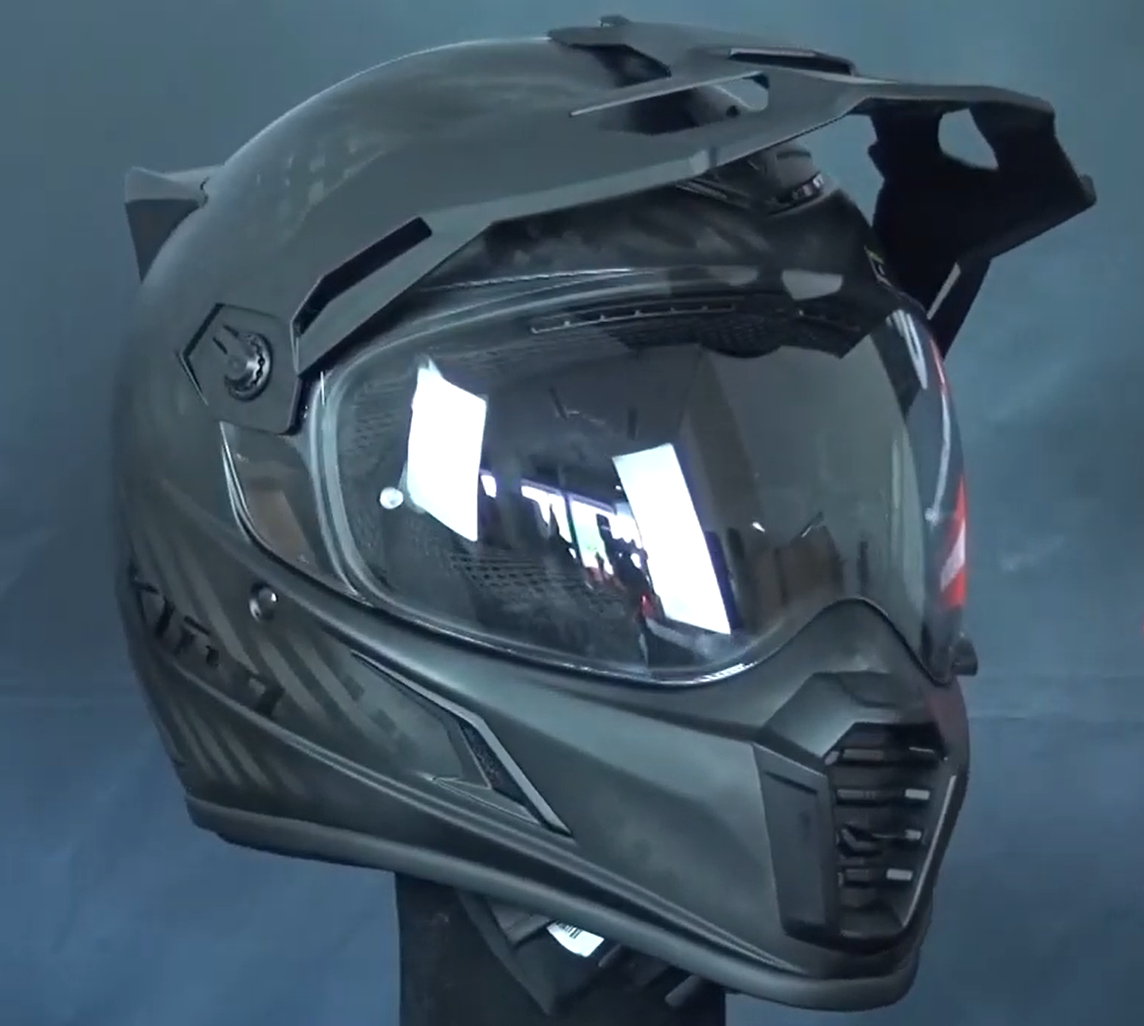 The brand Klim needs no introduction to every sportsman and their fans. They have always promised outstanding performance in their products. Another inclusion to this list comes with the supremely durable Klim Krios Pro Dual Sport Helmet. Made from full carbon fibre hand material, Klim Krios Pro has a four-ride mode versatility and is officially certified for use by ECE and DOT.
Be it for a casual stroll on the street, drifting, trail or adventure packed ride, the Krios Pro Dual Sport Helmet is ready to facilitate all your riding modes perfectly! By making use of the optimised shell resin distribution, Klim Krios Pro evenly distributes the weight on the helmet whereas the KOROYD construction accurately absorbs any harsh impacts endured.
Lastly, let's shine some light on the visor design and features of Klim's brilliant dual sport helmet. It has a pin-lock ready, scratch proof face shield with included photochromic lens. Moreover, the fid-lock strap closure system secures the helmet on your head and is designed to offer streamlined stability. The Klim Krios Pro does all of this without making any loud or obnoxious noises!
Check Klim Krios Pro Prices: RevZilla | Amazon
Final Words
If you are willing to spend a little more to guarantee safety and supervision while riding your motorbike, we recommend purchasing the Klim Krios Pro Dual Sport Helmet. With its aerodynamic style and versatility, it is definitely the best and lightest motorcycle helmet you can right now!
Scorpion EXO R1 Air Full Face Helmet
Weight: approx 3.05 lbs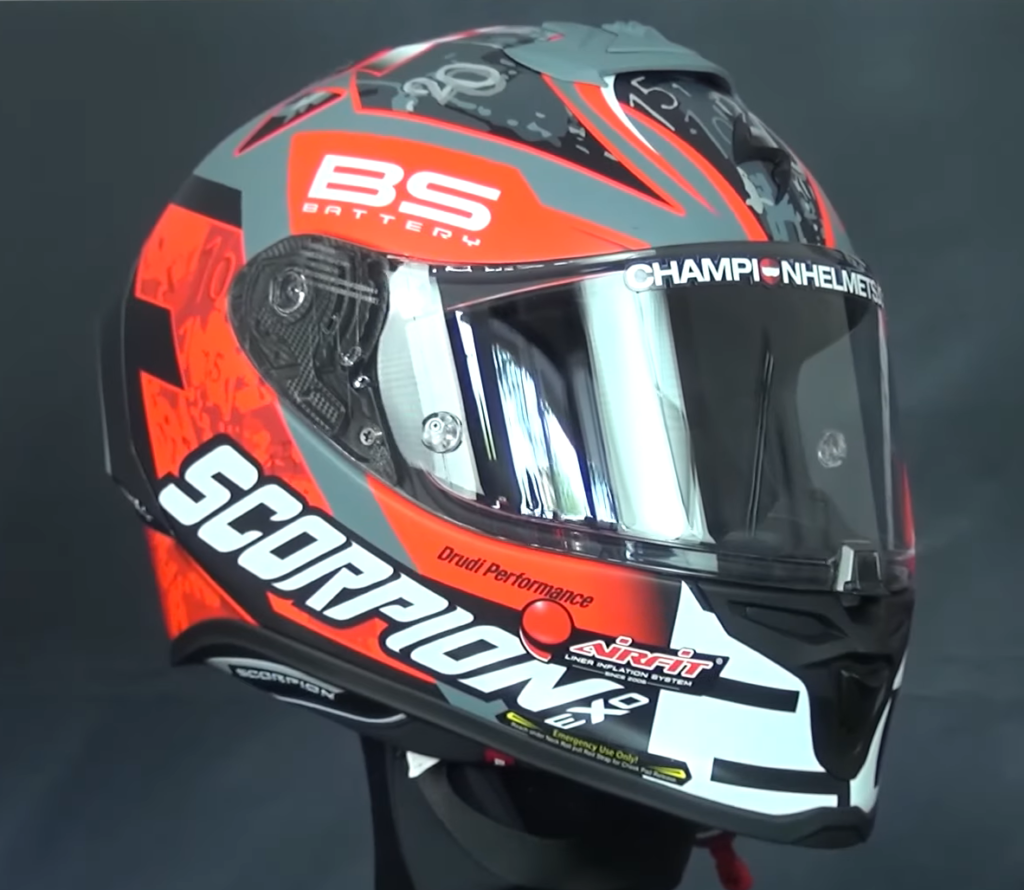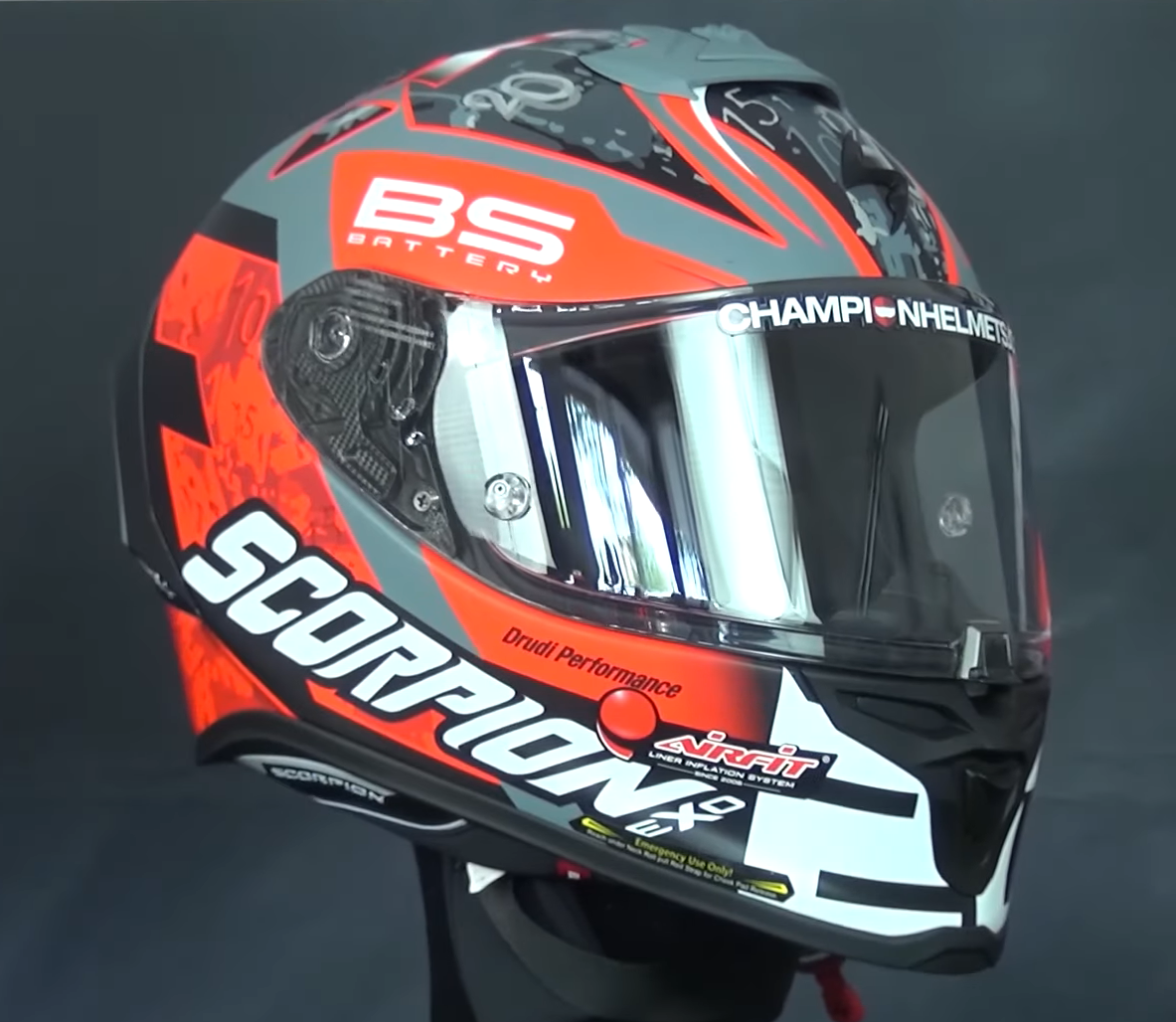 Do versatility and design of a helmet matter to you as much as its performance and quality? If your answer is a yes then be prepared to be left awestruck with Scorpion EXO R1 Full Face helmet. The EXO R1 is designed in variable shell sizes ranging from X-Small to 3X large fit. It also has three colourway options to choose between being matte black, pearl white and glossy black!
Next, let's talk about the shell construction of the most versatile motorcycle helmet right now. Scorpion EXO is made from multi-layered TCT-U mixed with aramid, poly-resin fibreglass. These premium grade materials promise protection while minimising the overall weight of the helmet. The titanium double D-rings of EXO R1 advance its protection and ensure that the helmet stays securely on your head.
You can say goodbye to blurry vision forever with the superior max-vision face shield of Scorpion EXO helmet. This guarantees 95% protection against UV-A and UV-B rays while being completely scratch proof. Also, the ram-air intake aero-tuned ventilation system and its four exhaust ports dry off sweat from your face and keep you breezy during intense racing.
Check Scorpion EXO R1 Air Full Face Helmet Price on Amazon
Final words
If you are looking for the perfect TCT-U multi-layered helmet shield for half of its actual price, the Scorpion EXO R1 Air is your best bet. The DOT approved helmet offers variable sizes and colours to its customers and is one of the lightest motorcycle helmets to put on your head.
Bell Qualifier DLX MIPS Helmet
Weight: approx 3.57lbs
Buying Options: RevZilla | Amazon
The Bell Qualifier DLX MIPS is deemed as the safest motorcycle helmet for everyone who likes to bike at lightning fast speeds. It features a ProTint photochromic adaptive face shield and anti-fog coating. With this, you can ride without worrying about dim light road conditions and blurry vision.
The multi directional impact protection system is responsible for making this helmet the safest option for professional bikers. Bell Qualifier DLX has a protective slip plane technology in its interior that protects against harsh impacts due to rotational forces. It also features integrated audio pockets to make it compatible with electronic earpieces.
Are you easily annoyed by the loud wind and road noises produced when riding on your motorbike? The Bell Qualifier DLX minimises this inconvenience with its fully padded wind collar and contoured cheek pads. Along with this, the liner of the DLX MIPS helmet is made from easily washable and dried fabric. This helps mitigate the growth of all types of bacteria and fungi within your helmet.
Check Bell Qualifier DLX MIPS Helmet Price: Revzilla | Amazon
Final Words
Featuring the phenomenal MIPS technology, it is no wonder that the Bell Qualifier DLX is one of the safest motorcycle helmets. Although it is slightly heavier than other products in this list, the five year guaranteed durability and adaptable ProTint visor make up for it.
Shark Spartan 1.2 Carbon Helmet
Weight: approx 3.06 lbs
Buy: RevZilla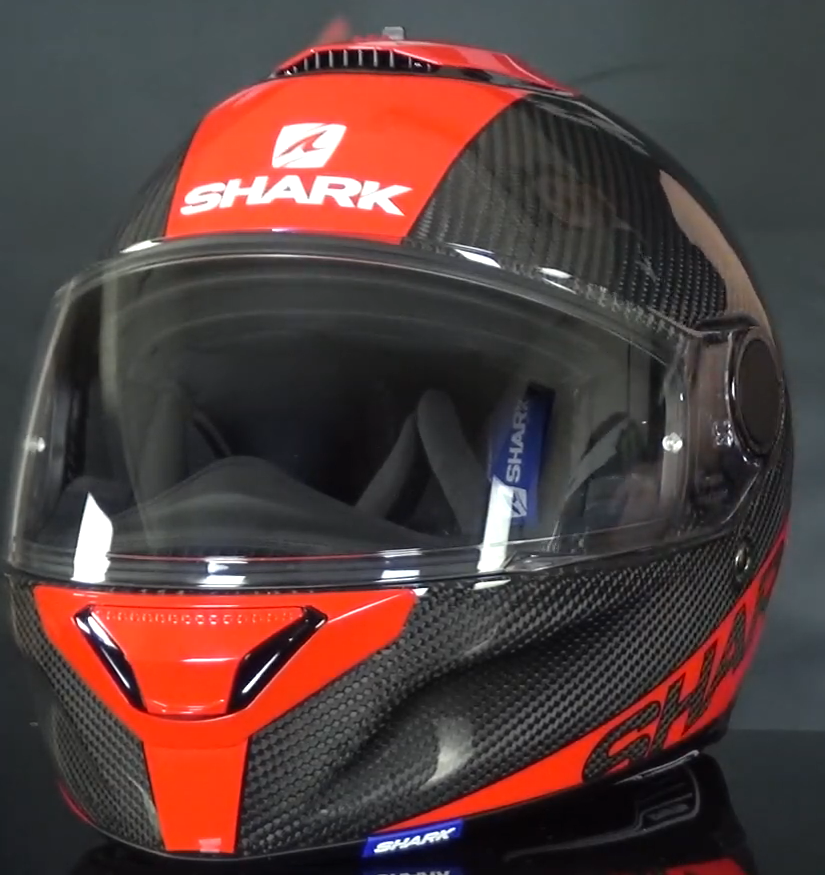 The Shark Spartan is a big name entrusted with the responsibility of offering top quality products to its fans. Similarly, the Shark Spartan 1.2 Carbon helmet is one of the most innovative headwear equipment of 2022. Finished in a pin-lock visor with maximum vision and anti-fog system, you can surf even in humid conditions on road without worrying about unclear vision.
Moreover, the drop down sun visor reduces UV rays directly falling on your eyes and with the secure fit of a double d-ring strap, you no longer need to reposition your helmet after every few minutes. Thirdly, the ventilation of 1.2 Shark Spartan is quite commendable. Despite lacking an exhaust port vent system, Shark Spartan uses its single chin and crown vent to cool off your face and offer sufficient ventilation.
If you are one of those people who have sensitive skin which is quickly triggered by sweat and bacteria, it is important we shine some light on the lining of this helmet. The Shark Spartan 1.2 features a breathable and plush lining fabric. This makes the helmet comfortable to put on and easy to wash and get rid of any possible bacteria or fungi. Lastly, the sporty look combined with many available sizes make Shark Spartan 1.2 an incredibly appealing helmet.
Check Price on RevZilla
Final Words
If money is not a problem for you, we highly urge you to consider buying the Shark Spartan 1.2 carbon helmet. With this helmet, you will have the most comfortable yet fast riding experience and turn all heads in your direction with its sporty design. But be sure to buy ear plugs and minimise any annoying road or wind noises.
Nolan N100-5 Helmet
Weight: approx 3.8 lbs
Buying Options: RevZilla | Amazon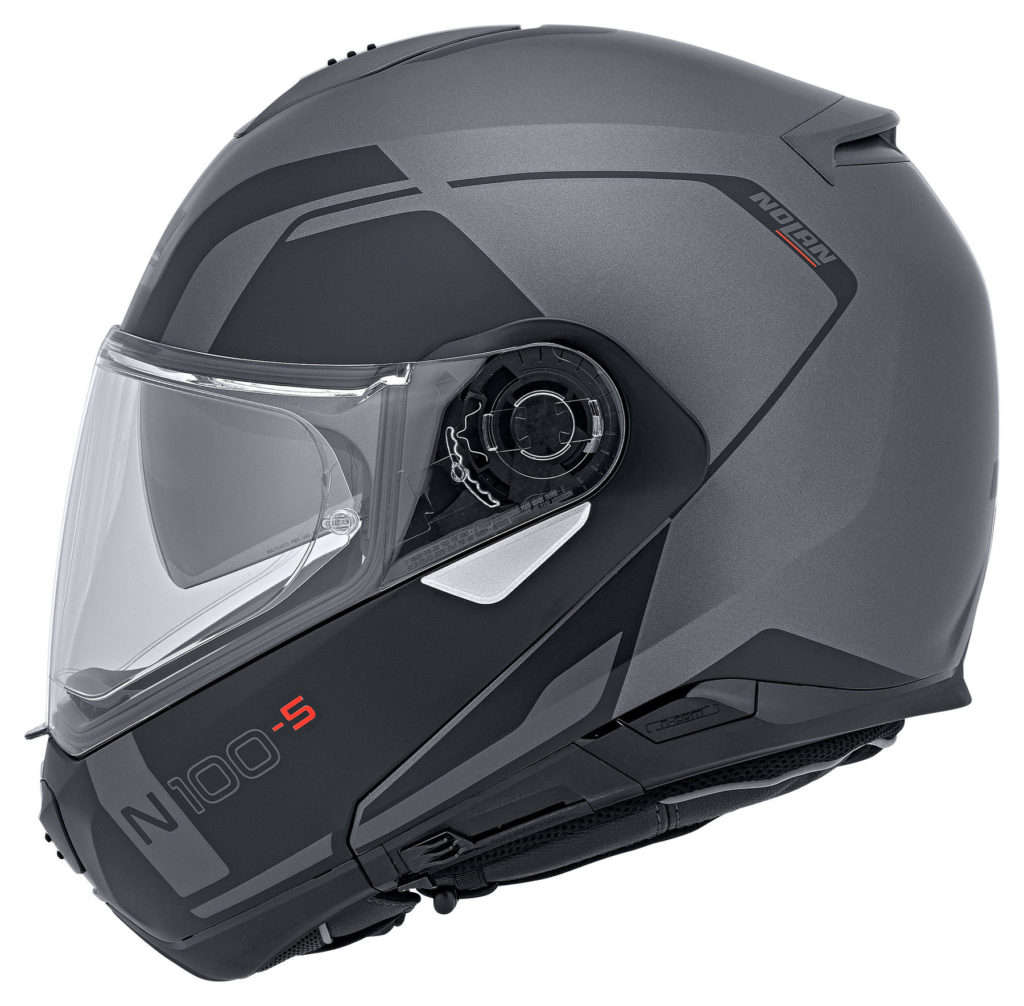 Making twenty years of absolute brilliance, Nolan has achieved the status of one of the most notable motorcycle helmet brands. Their flip up modular N100-5 helmet has turned the heads of many customers with its guaranteed comfort and efficiency. In line with the ECE regulations, Nolan 100 has a J(open) and P(closed) configuration chin guard design.
With the exclusive patented dual action chin guard system, Nolan ensures the helmet is easy to open, even with a single hand. It also has a secure lever release lock to guard against accidental opening while riding or crashing into other vehicles. Featuring the trademark LEXAN moulding, the visor of N100-5 is resistant towards fogging, scratches and UV rays. Additionally, the automatic activation system offers sunscreen retraction thereby maximising the visibility of your windscreen. A major concern with lightweight helmets is if they offer good strength and ventilation or not. Fortunately, the Nolan N100 checks both of this with its premium Air Booster Technology. This regulates air supply in the most critical areas whereas the removable, adjustable and washable neck roll help facilitate different riding styles.
Check Nolan N100-5 Helmet Prices: Revzilla | Amazon
Final Words
Loaded with the most exclusive details, it is no doubt that the Nolan N100-5 helmet is one of the best lightest AND smartest motorcycle helmets of this year. It enhances the ventilation, comfort and performance for different types of riding styles easily!
Duke Helmets Dk-120 Full Face Motorcycle Helmet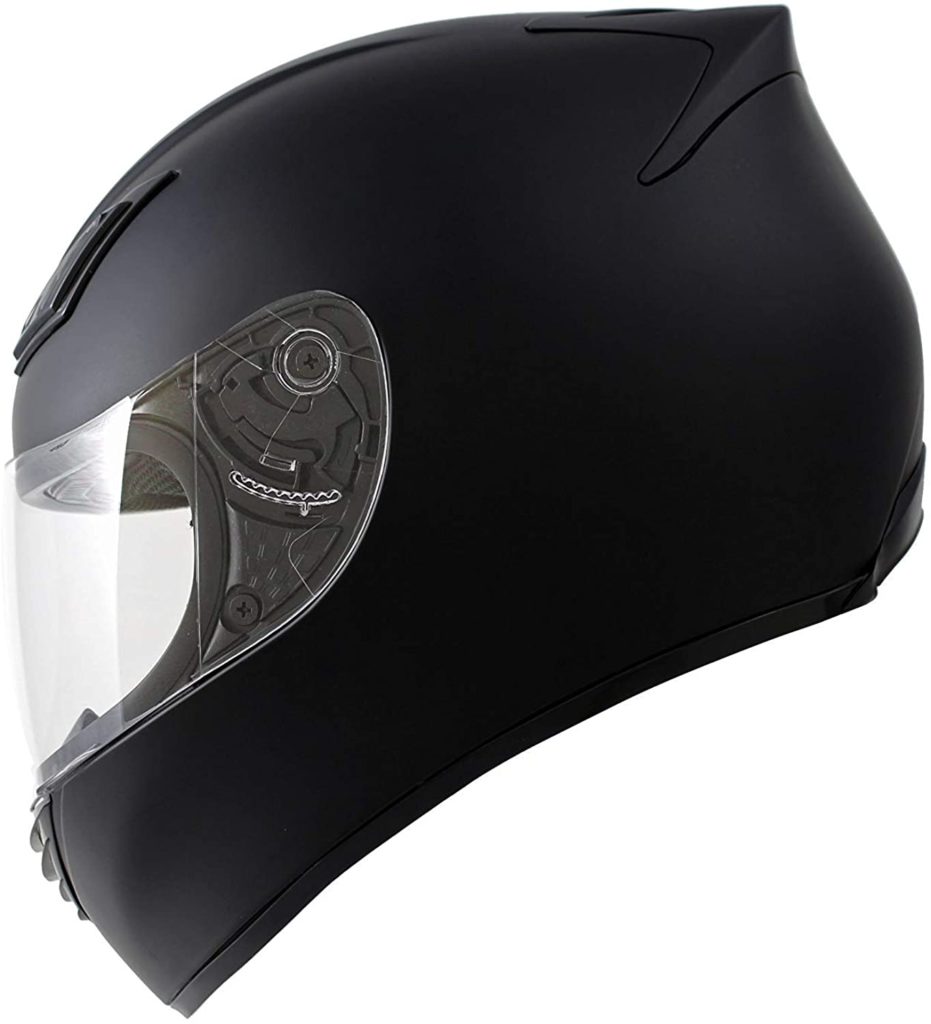 The name Duke is sufficient enough to speak about the quality of any equipment. With years of excellence, Duke Helmets has come up with the safest, smartest and lightest motorcycle helmet for its users. DK-120 Full Face is shaped in an aerodynamic design and finished in a dark black colour. Not only does this helmet look incredible when put on, but is made from lightweight composite poly-alloy to be completely painless to use.
Duke DK-120 Full Face might look aggressive on the outside but has the most comfortable interior. It uses good quality soft liner and cheek pads to make the helmet easy to wear. Moreover, the antimicrobial nylon and odour proof quality of this lining protect you from sweating and bacterial diseases. It also features five separate ventilation points to regulate air intake inside.
Lastly, let's review the face shield visor of Duke Helmet DK-120 Motorcycle. Shaped in compound curves and made to be fully resistant to scratches, DK-120 guards against harmful UV rays. The package includes an additional tinted visor and has been approved by DOT to meet safety standards! You can grab the right helmet size for you with the five different sizing options available in DK-120 helmets.
Final Words
With the lightweight composite poly-alloy construction and padded comfortable liner, Duke Helmet DK-120 is the most painless motorcycle helmet for every professional and amateur biker. But if you are looking for a relatively funky and bright helmet, continue reading to find the right match for you.
NEXX Helmets G100R Helmet
Weight: approx 2.97 lbs
Last but not the least, we have the lightest carbon motorcycle helmet ever. Nexx has always gone the extra mile to ensure extreme comfort of the cyclist. Their G100R is made from X-Matrix technology, combining multiaxial fibreglass, 3D organic fibres and special aramid fibres with carbon reinforcement. This makes up for the lightest carbon outer shell weight!
Secondly, NEXX helmets are integrated with a classic yet modern flat visor. Constructed from super strong LEXAN material, G100 has an anti-scratch and anti-fog visor. Its outstanding X-Mart dry technology is here to offer the most breathable and comfortable riding experience. With additional insulation and twice times the drying rate of normal cotton, X.G100R wicks away any present moisture on your face.
Alongside this, the interior of NEXX helmets is made from washable, removable, anti-allergic and anti-sweat material. This stylish yet minimalist helmet is sold in two different shell sizes for secure fit. For reduced wind noise, draft and a snugger fit, G100R is equipped with an effective chin wind stopper.
Final Words
Comprising undefeated technological features, the NEXX G100R is as light as any motorcycle helmet can be! It provides the best of all aspects be it in terms of air supply, moisture wicking properties or noise blockage.
X-lite X-1004 Ultra N-Com Helmet
Weight: approx 3.39 lbs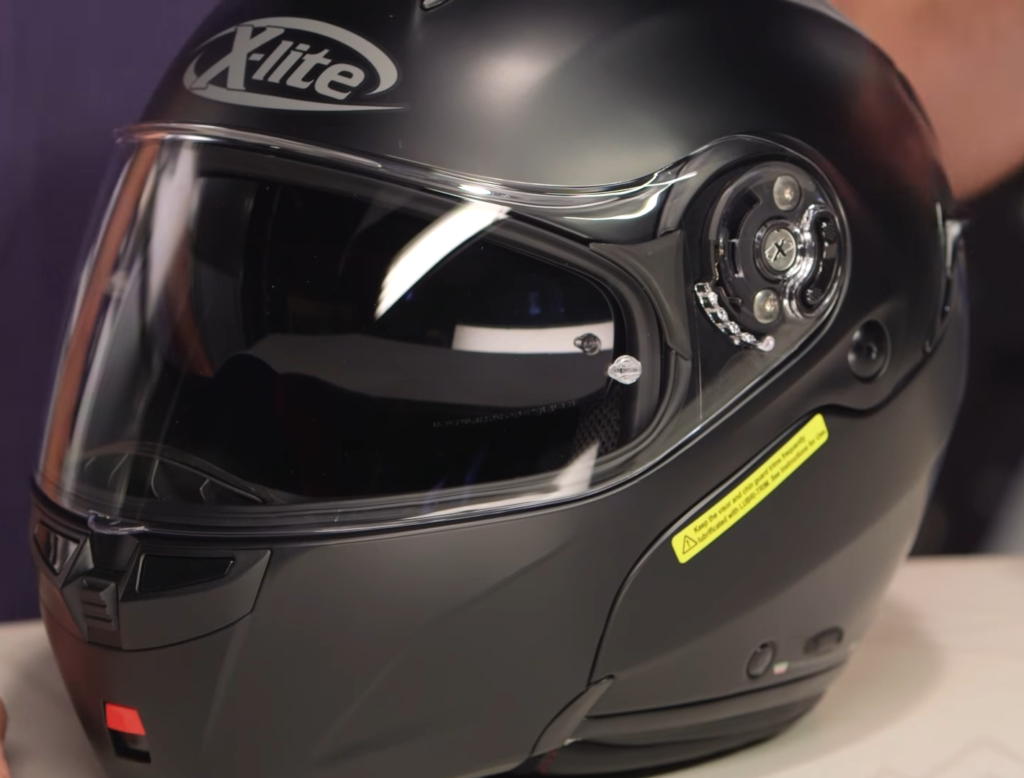 Designed by none other than the popular brand X-lite, the X-1004 Ultra N-Com is the right choice for every biker looking for a compact yet functional helmet. Made from high carbon with three outer shell sizes, the X-Lite 1004 weighs barely 1540 grams and has an aerodynamic structure. Its included cheek pads help fit the helmet perfectly and offer comfortable riding time.
Knowing how important it is to have a wide and durable face shield, X-Lite has equipped this incredibly light helmet with an ultrawide and dual action visor mechanism. Through this, X-1004 Ultra N-Com achieves an extra wide view of the horizontal field. Additionally, the face shield features a dark tinted sun visor which grants about 400 UV protection and is completely resistant to scratches.
Thirdly, let us review the X-lite N-com helmet with regards to its ventilation and comfort. Using the high rated interior carbon fitting and additional space in the chin strap area, you are provided a stable fit with utmost comfort and ease. Moreover, the liner of this helmet is constructed from fully natural materials and removable to wash and replace again. At last, the spectacle channel preparation and extra entry near the chin offer generous ventilation.
Final words
Keeping in mind the stunning features and performance of X-Lite X-1004 Ultra N-Com, it wouldn't be wrong to deem it as one of the lightest motorcycle helmets. Although it is not the best at blocking wind noise, it can be easily done using ear plugs. The superb construction and comfortable interior of this helmet make it worth your immediate attention!
---
Buyers Guide
Now that we have concluded our list of the top ten lightest motorcycle helmets, it is time we discuss the features that make them the best match for you. Before purchasing a helmet for your motorbike, take a look at the following factors:
Weight
The most crucial thing to look at when buying the lightest motorcycle helmet for you is its weight and construction. Light weight helmets range from anywhere between 200 to 800 grams and are easier to put on and use. They are also less likely to cause neck aches after excessive use but less resistant than heavy duty helmets against harsh impacts.
To determine the suitability of any helmet with you, decide if ease of use or impact protection is more important to you. Also, look at the materials a helmet is constructed from to estimate its durability and strength.
Safety
The sole purpose of motorcycle helmets is to protect your head from severe damage. The safety of a helmet can be checked by its DOT, ECE and SNELL certification. DOT/ECE standard guarantees that the helmet is safe and legal for use on roads and mountains. However, the SNELL certification guarantees a much higher standard of safety than DOT/ECE approval and is the most protected headwear for you.
Types
There are a total of five helmet types available for different reasons. Choose between a full face, open face, modular, motocross and half type depending on the level of protection from impacts, UV rays and ventilation you need. The full face is the most reliable type whereas half offers minimal protection.
Price
Finally, the last factor to consider in a motorcycle helmet is its price. Motorcycle helmets are sold at a wide price scale varying from 100 dollars up to 800 dollars. Remember to look for a helmet that has good quality and performance rather than one that spends more on a stylish exterior and popular brand name.
A common suggestion is to buy a motorcycle helmet with a price below 300 dollars as an amateur rider. This is sufficient to provide a high level of safety and comfort in any helmet. Meanwhile, specialised helmets for either uphill climbing or racing are bound to cost you at least 500 dollars for mediocre to high performance.
Frequently Asked Questions (FAQs)
Conclusion
Alas, we have come to the end of our comprehensive guide about the top ten lightest motorcycle helmets and its buying guide. We hope our article helps you learn about the specifications of motorcycle helmets in detail and leads you to the right helmet for your motorcycle!