If you are an avid biker then you must know the importance of wearing a helmet while riding. This piece of equipment is responsible for protecting your head in case of severe accidents and should therefore be always carried along.
But since you can't carry around a heavy helmet all the time, you should invest in buying the best motorcycle helmet lock. This ensures that your helmet is not stolen or damaged while you are away from your motorcycle. Hence, we have listed down the best top eight motorcycle helmet locks to use and guarantee your as well as your helmet's safety.
What are the best motorcycle helmet locks?
Helmetlok 4104 Helmet Lock
Helmetlok 4104 Carabiner Style Helmet Lock and Extension Black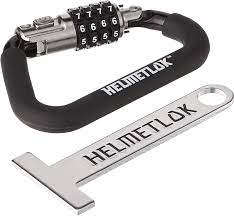 Let's start this list with the best carabiner style helmet lock of this year. Helmetlok 4104 is manufactured in a compact design to fit easily in your jean pockets and loops. This portable lock is not permanently attached to your motorbike like many other ones and can allow you to hang your helmet anywhere on the vehicle.
Durability is a major concern when you are purchasing helmet locks because they are often prone to damage due to unpredictable weather conditions. Helmetlok deals with this concern effortlessly by constructing the chain from pure zinc alloy and aluminium, coated with protective plastic. These materials make it resistant to harsh weather conditions and minimise the effect of rusting.
Now, let's talk about the locking mechanism of HelmetLok 4104 Carabiner. It uses a four digit pin to lock your helmet on a motorcycle with its secure locking program. Moreover, helmet lock 4104 has a long length and easily goes around materials as wide as 1.5 inches. This makes it usable on handlebars, hear racks and motorcycle frames!
What we like:
Compact and portable design make it easy to carry around
No permanent mounting for freestyling securing of helmet
Four digit secure locking mechanism
Long outwards pivoting arm goes around objects up to 1.5 inches wide
Constructed from durable and weatherproof aluminium and zinc alloy
Packages includes Helmetlok T Bar extension
What we don't like:
T Bar lock is of low quality and very easy to break
Relatively costly
Final Words
The Helmetlok 4104 Carabiner Style Helmet Lock is a good quality and moderately secure equipment for your motorcycle helmets. Its portability and ease of being tied around wide objects is definitely the best feature of this helmet lock chain. However, it is worth a little more than other locks of the same quality and features.
Techjayse Motorcycle Helmet Lock
Motorcycle Helmet Lock Combination Lock with Cable for Motorbike, Scooter, Street motorbike, Secures Helmet Jacket and Bag.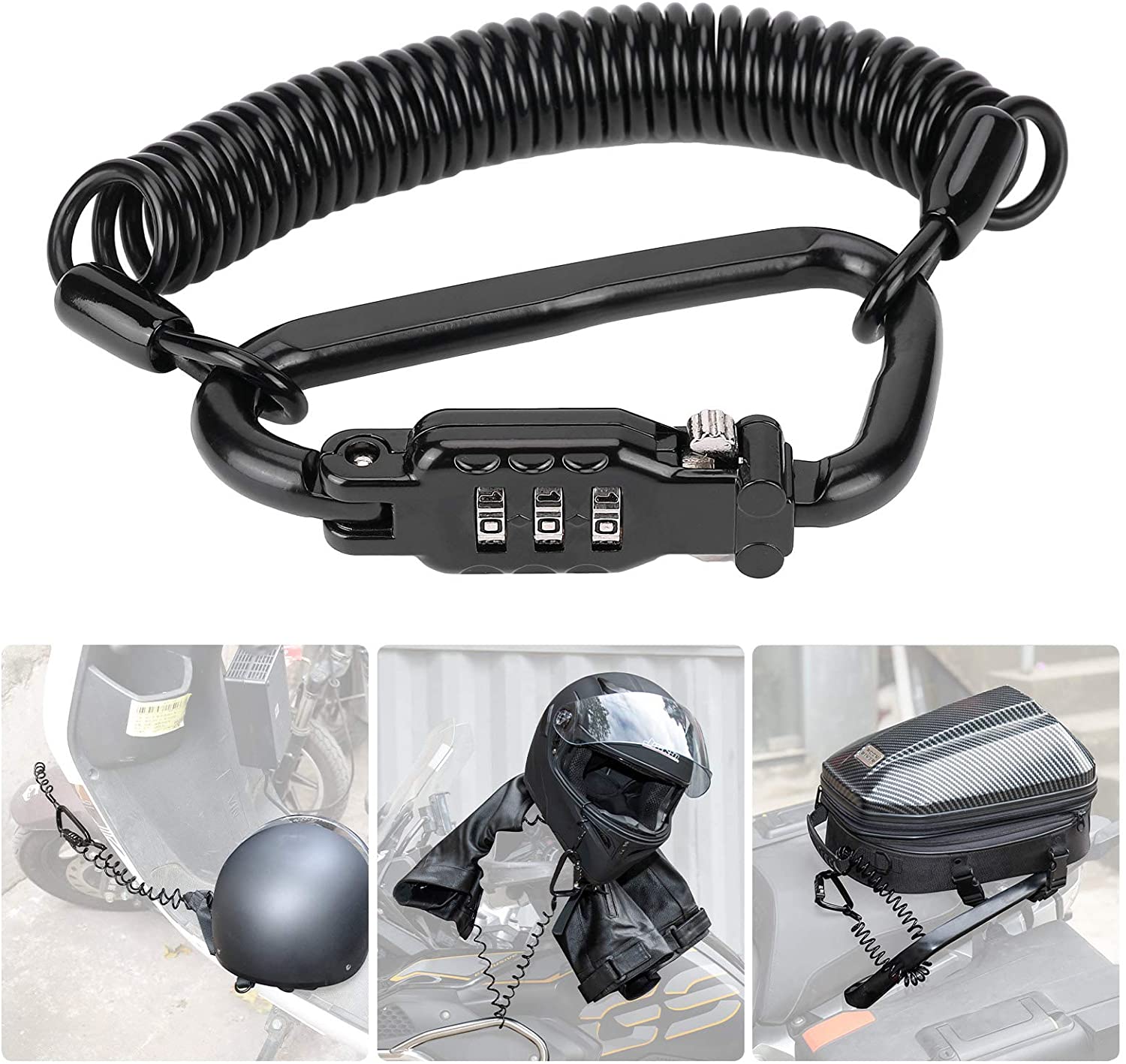 The Cable for Scooter Street bike is the most versatile motorcycle helmet lock produced until now. It is made to fit all types of two wheeled vehicles including scooters, bicycles and street bikes. Not only this, the cable helps secure different types of materials apart from helmets like your jacket, bags and suitcases as well!
Designed from premium grade steel and tough PVC coating, this helmet lock is quite durable and offers undefeated resistance towards rusting, scratching and water. Along with this, the cable measures 1.5 metres and is long enough to lock objects with diameters as wide as fifty-nine inches!
Although helmet locks help protect your belongings from theft, they can turn out to be a nuisance if they are too heavy or bulky to carry around. Keeping this in mind, this versatile motorbike lock weighs barely 5.3oz and is easily attached to your belt loops and pockets. Lastly, the four digit pin locking system rids you from the struggle of carrying a key around and offers you up to 1000 possible combinations!
What we like:
Compact and light weight of 5.3 oz.
Extremely durable and rust and water proof with PVC coating and steel manufacturing
1.5 metres long cable for securing wide objects
Secure four pin code mechanism with no key required
Functional on scooters, street bikes, bicycles and motorcycles
Incredibly cheap
What we don't like:
Tumbler is stiff and sticky
Hard to set combination 
Final Words
Although the motorcycle and scooter cable lock is not the most user-friendly product out there, it is still one of the best motorcycle helmet locks for its cheap price. The cable manages to protect all types of belongings from jacket to your helmet without rusting or leaving any type of scratches on your motorcycle!
BigPantha Motorcycle Helmet Lock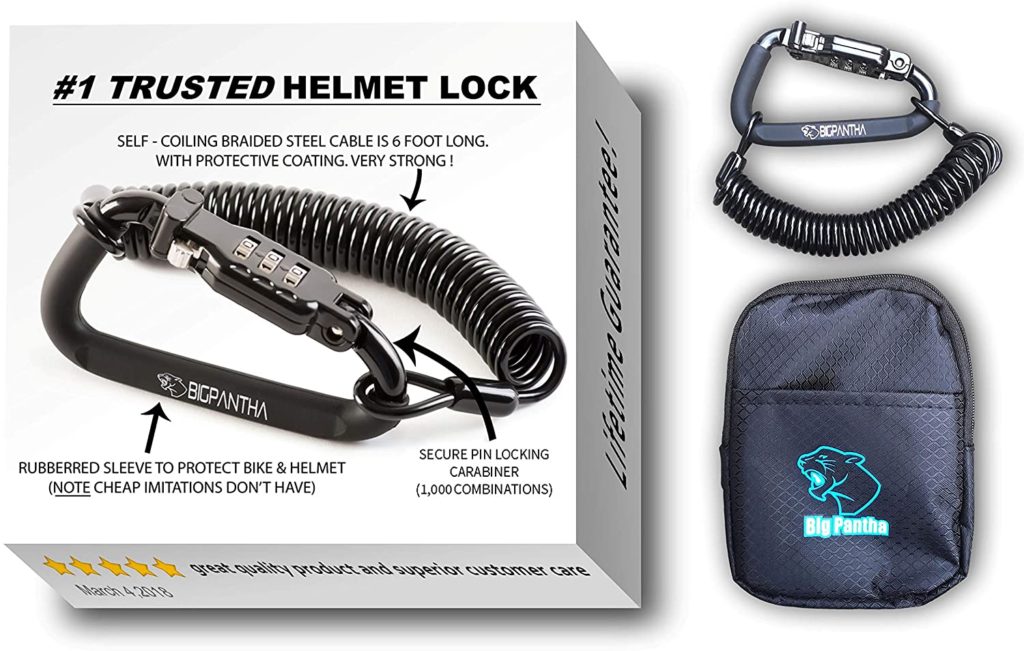 Next up on the list, we have the most user-friendly motorcycle helmet lock cable for you. BigPantha's Painted Black Sleek cable not only looks cool on your motorcycle but promises to last for a long time too! Manufactured from high quality stainless steel material, the cable is sturdy and resistant towards water and extreme weather conditions.
Are you one of those people who carry their jacket around everywhere you go? If yes then you are in luck as BigPantha's sleek and tough helmet lock measures about 1.8 metres. With this self-coiled braided wire, you can secure your jacket and helmets without any worry! Additionally, the 3.54 inches length of the cable helps attach it to your belt loops and pockets for easy carrying.
The feature that outshines this BigPantha motorcycle helmet lock is undoubtedly its scratch less rubber coating. By covering the D-ring Carabiner of this cable with a rubberized sleeve, you can now forget having marks on the surface of your motorcycle because of using a sharp and uneven helmet lock. BigPantha also helps users learn how to use this cable by mailing them an elaborative instruction manual.
What we like:
Compact 3.54 by 0.2 by 1.97 inches size
Premium quality stainless steel self-coiling braided offers durability
Six feet long for securing one or two helmets, jackets and bags
D-ring is covered with protective rubberized sleeve for scratch less use
Easy to use and includes step by step BigPantha instruction manual
What we don't like:
Wobbly locking hinge
Numbers are very small and in low contrast, difficult to read
Final Words
Keeping its resistance to scratches and comprehensive instruction manual provided in mind, BigPantha Combination Carabiner is rightly deemed as the best user-friendly motorcycle helmet lock for everyone! It is easy to carry around and protects your possessions despite its slightly wobbly locking hinge.
Master Lock 99KA – 2 Keyed Alike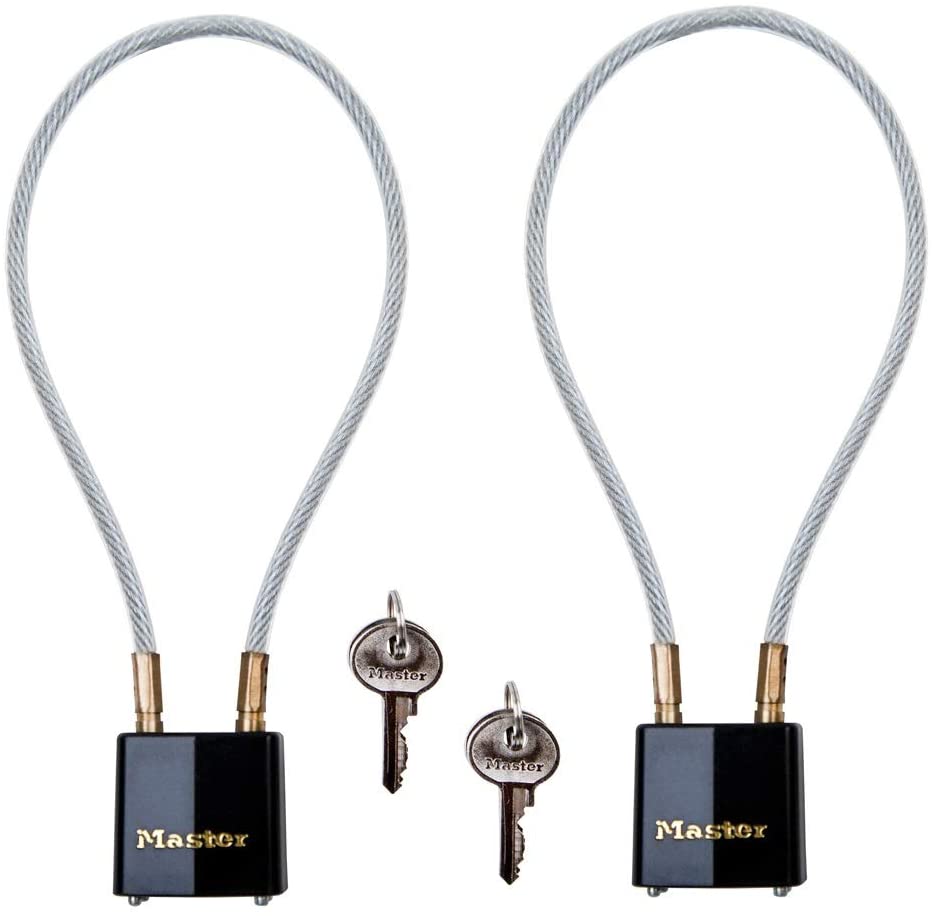 The Master Lock 99KA 2 Keyed Alike is the most secure motorcycle helmet lock of the year 2021. It comes with two alike keyed cable locks and four keys for replacement in case you misplace a key. The 99KA helmet cable is designed in an extremely compact style and weighs barely 10.4 ounces. This makes it convenient to carry around and fit in your jean pockets or belt loops.
Master lock 99KA is regarded to be the solution for preventing theft of your helmets, jackets and pouches. The protective plastic cable measures about 14 inches in length and is usable on moderate to thick sized objects. Furthermore, protective coating on Master Lock's 2 Keyed Alike helmet lock serves as a great barrier against non-marring and non-metal on metal contact.
What we like:
Compact size with light weight for enhanced portability
14 inches long cable for securing jackets, helmet and small pouches
Protective coating for minimum non-marring/non metal on metal contact
Reliable and secure key style protection
Reasonably priced
Comes with two spare keys and choice to purchase up to eight keyed alike helmet locks
What we don't like:
Cable could have been longer, only facilitates one helmet tightly
Very small keys are sometimes hard to fit into the lock
Final Words
With a reasonable price and guaranteed protection of your belongings, Master Lock has once again managed to offer its customers a reliable helmet lock for their motorbikes. Despite having restricted cable size, the 99KA 2 keyed alike remains one of the most protected motorcycle helmet locks for all bikers and cyclists.
Little World Motorcycle Helmet Lock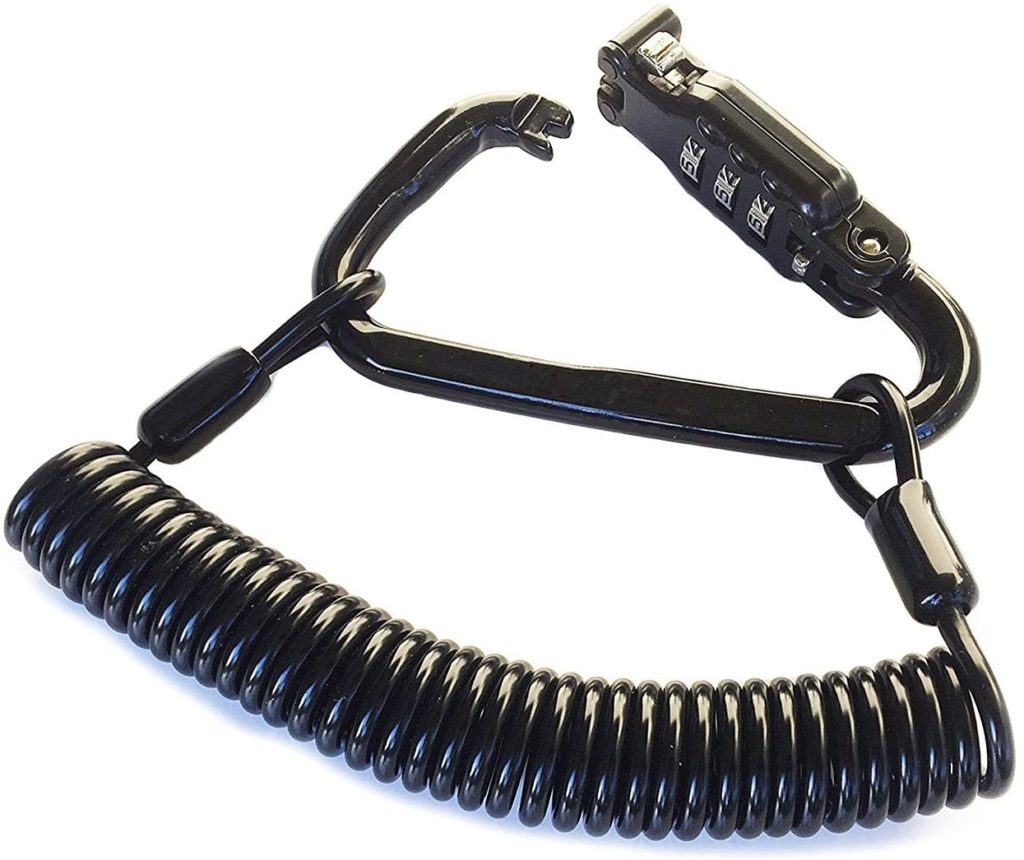 Little World Helmet Lock is finished in the most compact style, making it the best motorcycle helmet lock for every rider. Weighing only five ounces and measured to by 5 by 8 centimetres long, you can keep this lock inside your pockets and carry it with you everywhere.
If you are a dedicated customer of Little World, then you must already know that they do not make any compromises on the quality of the product. Similarly, the all black very sleek and appealing motorcycle helmet lock is constructed from sturdy braided steel fibre. Additionally, the PVC coating on the belt enhances its durability and makes it scratch and waterproof.
Secondly, let us discuss the security offered by Little World's heavy duty carabiner lock. It operates on a four pin coding mechanism and supports over a thousand different combinations. Along with this, the cable is 1.8 metres long and 3 millimetre thick. This generous length helps protect two motorcycle helmets at a single time!
What we like:
Compact 5 by 8 cm length and lightweight
1.8 metres long makes it usable for two helmets, suitcase and bags
Safe and versatile four pin code
Durable braided steel coiled construction
PVC plastic coating makes it waterproof and scratch less 
What we don't like:
Very easy to break
Difficult to use in dim or no lighting
Final Words
The Little World Heavy Duty Carabiner lock is definitely an attractive and sleek tool to carry around your helmet and other stuff conveniently. On the downside, you should not rely too much on this lock to protect your belongings as it is quite easy to break apart and undo.
Kuryakyn 4248 Motorcycle Helmet Lock
Kuryakyn 4248 Motorcycle Accessory: Licence Plate Helmet Security Lock with Mount, Universal Fit for Motorcycles with Flat Brackets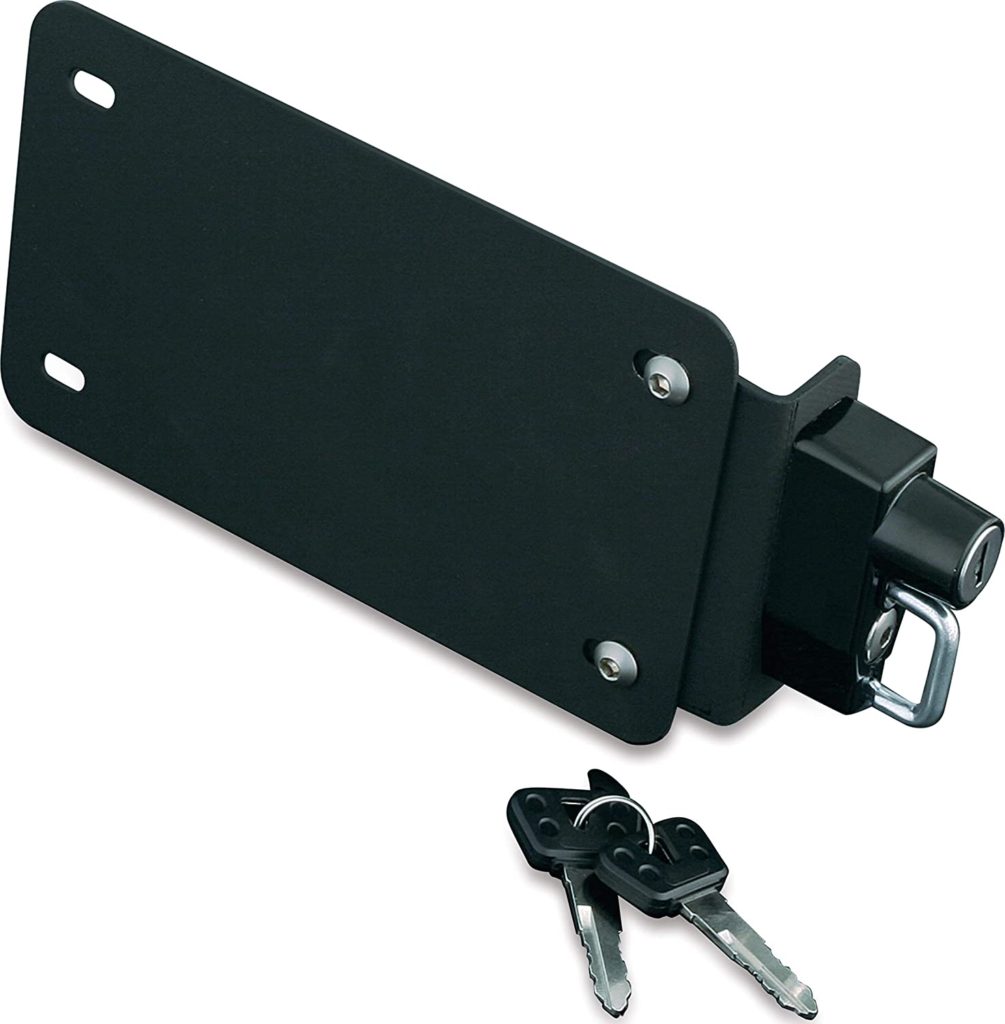 With over twenty years of experience under its belt, Kuryakyn has come up with the best motorbike licence plate helmet lock for its customers. The Kuryakyn 4248 is designed to fit on all types of flat licence plate brackets. In addition to this versatility, the 4248 belt is incredibly easy to bolt even by those new to the sport of biking.
With a weight of 1.2 pounds, Kuryakyn 4248 is convenient to tuck into your jean pocket and carry around. Also, the premium quality and tamper-proof screws used in this belt make it unbearably hard to unlock and thereby one of the safest motorcycle helmet lock options out there.
What we like:
Designed to support all types of flat licence plate brackets with its standard mounting slot
User-friendly choice, easy to install and bolt the screws
Made from screws resistant to any type of tampering for improved security
Makes no annoying rattles and does not leave any marks on your motorcycle
Package includes lock mount bracket, hardware kit and licence backing plate
What we don't like:
Relatively expensive
Not functional on curved, swept or lone eagle licence plate frames
Final Words
The Kuryakyn 4248 motorcycle licence helmet lock has earned the trust of many users with its protective locking mechanism and ease of use. It is surely worth more than other helmet locks but Kuryakyn makes sure every penny spent on its licence helmet lock is worth it.
Lock-It Straps Lockstraps 901 Helmet Lock

If you are looking for the strongest and most durable helmet lock for a motorcycle, the Lock-It Straps 901 is the perfect belt for you. Weighing 0.3 pounds and constructed from heavy duty stainless and alloy steel, the Lock Straps 901 is guaranteed to last you for a lifetime without getting damaged.
Do you struggle to install and input complex pin codes in your helmet locks? The Lock-It Straps erases this difficulty by being extremely easy to use with its three digit pin code. Alongside this, 901 Helmet Lock's use is not restricted to only helmets but suitable for suitcases, pouches and jackets as well.
Perhaps, the feature that stands out in this strong helmet lock is it's tough nylon strap. It is made from heavy duty galvanised rivets and almost impossible to cut through, no matter how sharp your knife is. Lastly, the carabiner measures about a centimetre in diameter and can be used on moderately wide objects.
What we like:
Sturdy and durable stainless steel and alloy construction
Thick and tough nylon strap guarantees protection
Simple and easy to use with its three pin combination
Used for multiple applications including attaching suitcases and jackets
What we don't like:
Heavy carabiner makes it prone to scratches
Bulky construction makes it hard to carry around
Cheap lock quality
Final Words:
If you can manage some excess pounds on your motorcycle to keep your helmet safe, then you should consider buying Lock-It Straps 901 Helmet Lock. Its top-notch quality and adored nylon straps make it one of the most durable motorcycle helmet locks present today.
Lidlox 1022-B – Bar End Helmet Lock Pair for Honda Gold Wing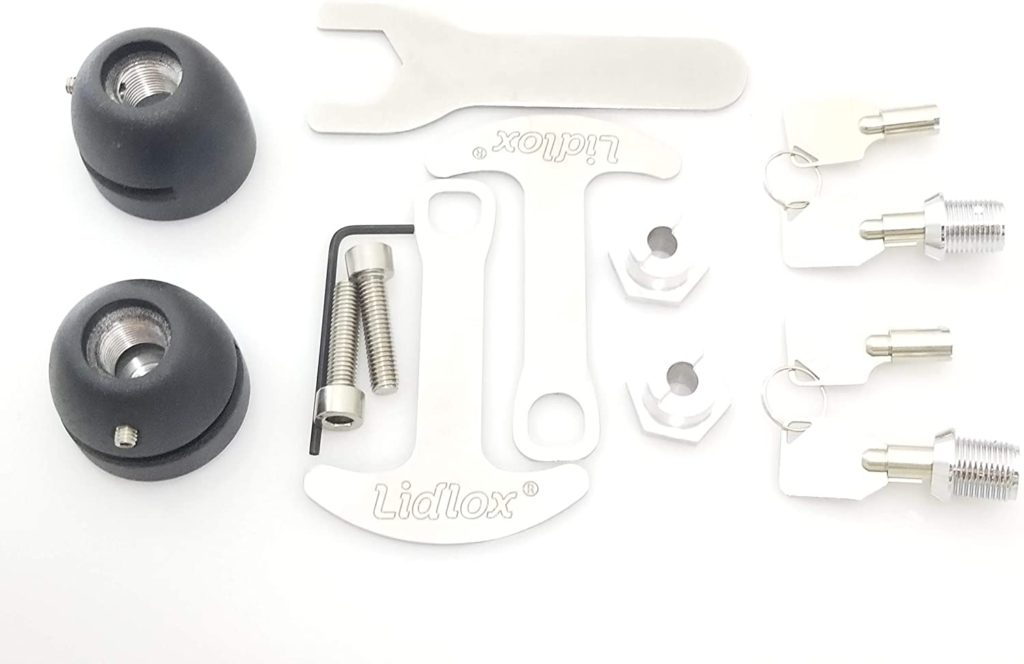 Lidlox has been a reputable name for manufacture and sale of high quality biking equipment. They recently introduced the 1022-B Bar End Helmet Lock and won over all Honda Gold Wing GL1800 users. First of all, its attractive all black design promises to turn over the heads of all passer-bys and goes well with your edgy motocycle aesthetic.
Secondly, Lidlox 1022-B is supremely easy to install and use. Simply pair the alike key with the included matching four keys to lock and secure your helmet on the motorcycle. The belt is also made from premium grade materials to offer a sturdy and durable fit and comes with two additional helmet extenders!
What we like:
All black sleek and attractive exterior goes well with your motorcycle
User-friendly installation using the comprehensive instructional manual and use
Pair keyed alike and comes with four matching keys
Suitable for cycling and motor biking using the sturdy belt
What we don't like:
Only suitable for Honda Gold Wing GL1800 Motorcycle
Final Words
It wouldn't be wrong to deem Lidlox 1022-B Bar End Helmet Lock as the most trusted motorcycle lock for Honda Gold Wing vehicles. The product does exactly what it is advertised to do and protects your helmet from theft while being good on the eyes!
Feite Plus 1 Universal Motorcycle Helmet Lock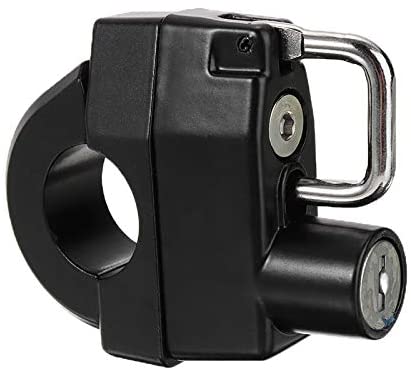 Whether you are using a motocross, motorcycle or any other type of electric vehicle for transportation, the Feiteplus versatile universal helmet lock has got you covered. Featuring high tensile strength due to its heavy duty aluminium alloy body, this helmet cable is the best choice for any type of long section engine and frame tubes.
For its locking mechanism, Feiteplus uses a completely keyless lock system. With this, you can secure your helmet using alloy locks and unlock them without struggling to insert the key in the right way. Another advantage of Feiteplus' heavy duty helmet lock is its portable weight of 350 grams. This helps make the helmet lock easy and lightweight enough to store in your pockets.
Helmet locks can turn out to be a nuisance if they are difficult to assemble and use. Fortunately enough, this is not the case with Universal Motorcycle Aluminium Alloy helmet lock. It is delivered in a simple and quick to install and use structure and includes assembly keys and other tools needed to complete the process.
What we like:
Universal helmet lock, suitable for bicycles, motorcycles and other electric vehicles
High tensile strength and durable body for long  term use
Locks directly on long tube sections and engine guards
Easy to assemble, use and secure helmet with strong hook
What we don't like:
Locking loop is made from soft material and is easy to bent
Final Words
Feite Plus 1" Universal Motorcycle Helmet Lock is a notable product for various types of electric as well as engine vehicles. It offers moderate to high helmet protection and is fantastically user-friendly.
Kaixinuo Chrome Metal Universal helmet lock
Kaixinuo Chrome Metal 7/8″ To 1-1/4″ 25-32mm Universal Motorcycle helmet lock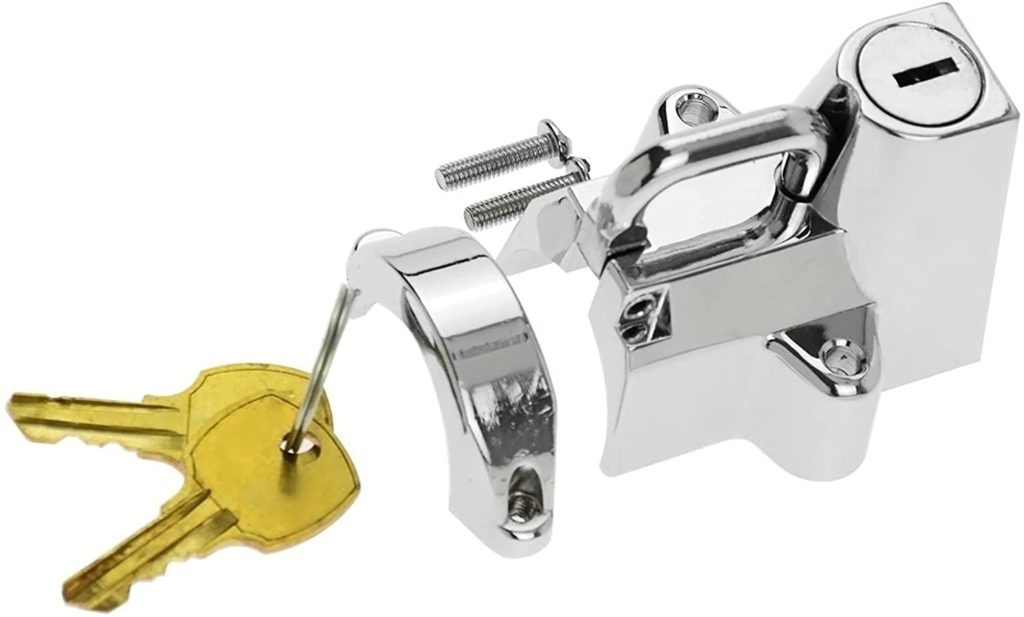 Are you on a tight budget and looking for a cheap but effective helmet lock for your motorbike? If yes then let us introduce you to the most budget friendly motorcycle helmet lock of present time. The Kaixinuo Chrome Metal features a chrome finish with good quality materials for an unbelievably cheap rate!
As the name states, this motorcycle belt is universally suitable to other electric and two wheeled vehicles. The helmet lock promises resistance towards rust and water along with minimising any scratches on your motorcycle. Kaixinuo has an attractive looking finish to go well with your motorcycle and includes two mounting screws and buttons for effortless assembly.
What we like:
Sturdy construction with chrome finish
Adjustable clasp can fit with different bar sizes
Universal finish, goes with different motorcycle models
Guaranteed protection against rust, scratches and impacts
Durable construction for a low price
Easy to assemble and use
What we don't like:
Not quite reliable
Could have used slightly longer bolts
Final Words
The Kaixinuo Chrome Metal Motorcycle Helmet lock has some major concerns about its reliability and bolt length but for its super low price, it is one of the best motorcycle helmet locks at performing its job. Adjust your clasp as per your bar size and leave it on your versatile Kaixinuo lock to protect your helmet from damage and theft.
Kuryakyn 4232 Helmet Lock
Kuryakyn 4232 Motorcycle Accessory: Tamper-Proof Helmet Security Lock, Universal Fit for Motorcycles with 1-1/4″ to 1-1/2″ Diameter Frame Tubes.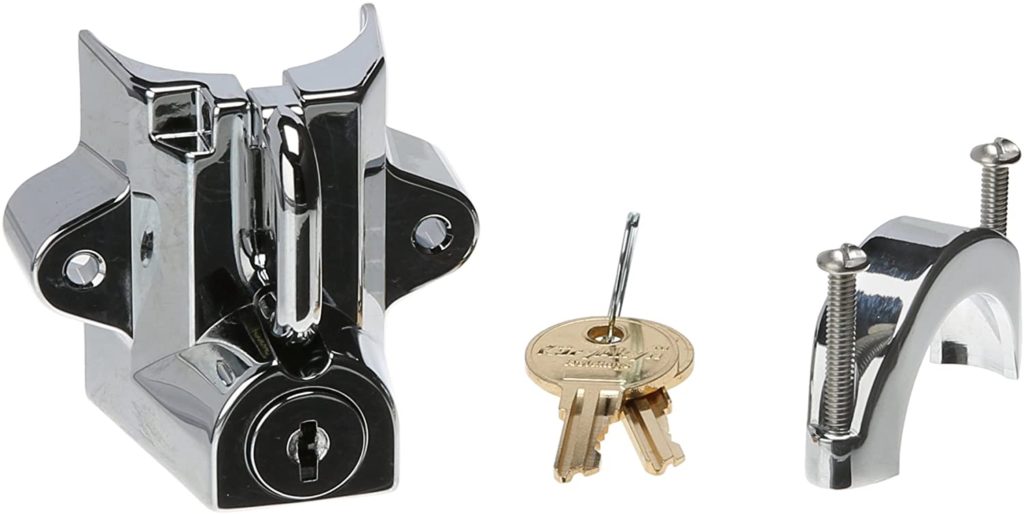 Last but not the least, let us review another outstanding helmet lock by the renowned brand, Kuryakyn. The 4232 Motorcycle Lock is designed to function on all universal motorcycles using its 1 ¼ by 1 ½ inches diameter tubing. This versatile helmet lock fits right on a long section of tubes including frame tubes and engine guards.
As we previously established, what is a Kuryakyn product if not the best in terms of safety and quality. The 4232-chrome finish helmet lock has completely tamper proof screws to boost the security of your helmet and other attached belongings. Furthermore, the chrome finish adds to the durability of the lock and makes it quick to assemble and use.
What we like:
Easy to install and use
Universal fit for motorbikes, bicycles and other long section tube vehicles
Good and durable construction
Uses tamper-proof screws for added security
Wide 1 ¼ by 1 ½ diameter tubing
Reasonably priced
What we don't like:
Produces irritating rattling noise
Tamper proof screws cannot be removed once tightened
Final Words
Once again, Kuryakyn manages to assure its customers about the safety of their helmet with the secure and effective 4232 Universal Fit Tamper proof helmet lock. The only thing you need to take care of when using this lock is to tighten the screws at a position you are comfortable with since they cannot be repositioned after being bolted.
Buyers Guide
And with that, we put an end to our list about the best motorcycle helmet locks to use. But our job here is not yet finished because no one should decide on the right helmet lock for their motorcycle without considering a few features in detail. These features include:
Locking mechanism
The first and foremost thing you need to consider in any helmet lock is the locking mechanism it uses. There are two options for this, a key lock and combination lock. Key lock operates on a conventional padlock and key system whereas combination uses either a three or four digit pin passcode.
Although both of these systems can be cracked with a pair of scissors, the combination lock is a more reliable option. It uses the carabiner mechanism and rids you off the struggle of misplacing a key somewhere. Along with this, key locks can be easily lock picked but this is not a problem with combination locking systems.
Built Quality
Next, you need to focus on the built quality of your helmet lock to determine its durability. Motorcycle helmet locks are constructed from a variety of materials being aluminium, stainless steel and zinc alloy. Let's briefly go over the pros and cons of each of these materials.
Aluminium helmet locks are the cheapest options and have a low durability. They are prone to rusting and very easy to break, granting low safety of your helmet. On the other hand, zinc alloys are better than aluminium helmet locks and offer adequate resistivity to corrosion.
Lastly, stainless steel is the best material for motorcycle helmet locks no matter how expensive it is. It has a heavy duty structure to guard against impacts, rusting and theft.
Size and weight
As we discussed earlier, stainless steel is the safest yet the heaviest option for helmet lock meanwhile aluminium is the cheapest but the most portable one. Before you finalise the right motorcycle helmet lock, you should decide how important portability is for you and your motorcycle.
Lighter helmet locks are easier to assemble, use and carry around from place to place. They are the best choice for you if you don't plan to leave your motorcycle unguarded for long intervals. But if this is not the case, you should prefer buying a less portable but more secure heavy duty helmet lock. This will offer better protection against theft despite being a nuisance to store and carry around.
Conclusion
To conclude, buying the best motorcycle helmet locks is a difficult decision to make and one that should only be done after considerable research on the topic. We hope our article helps you learn about the significant features of each helmet lock and deduce which one will facilitate you the best!