Have you always loved the thrill of riding a motorbike but have to trade your comfort in return? Or maybe you have weak vision like many other riders and cannot seem to find the right helmet to use with it? Whatever your case is, we promise that by the end of this article, you will feel more confident and excited to take your motorcycle out for a ride.
Motorcycle helmets are the most important piece of equipment for every beginner and skilled rider. However, these helmets can become quite uncomfortable and a nuisance if worn with glasses. To guard you against this problem, we have combined a list of the 5 best motorcycle helmets that are compatible with glasses and here to cater all your needs flawlessly!
Therefore, without further ado, let's get going.
What are the best motorcycle helmets for glasses?
HJC i90 Modular Helmet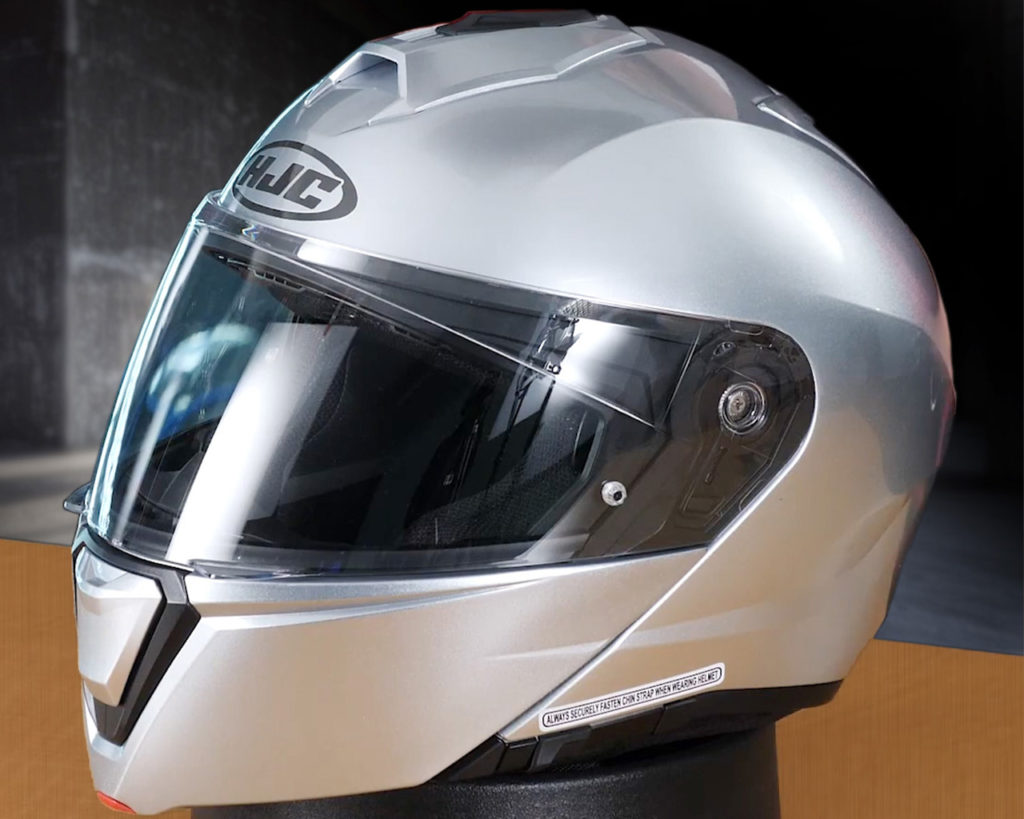 Budget-friendly: Modular Helmet
Check Price on Amazon
Key Features:
Aerodynamic CAD shape and 10mm wider eye ports.
ACS features 7 intake, 2 exhaust and one chin bar vent.
Patented one-touch deploy and retract sun shield
Three adjustable positions sun shield.
Supports 10B and 20B Bluetooth communicators
Approved by DOT and ECE safety standards.
First and foremost, we have a modular motorcycle helmet by the notable brand HJC. With years of experience under its belt, HJC has become one of the most trusted names for providing high-quality safety biking gear. It once again lives up to this reputation with the phenomenal i90 modular motorcycle helmet.
Designed to be used for touring, races, cruising and casual strolls, the HJC i90 is one of the most versatile helmets of 2022. It has a lightweight polycarbonate composite shell design that protects your brain from sustaining critical injuries all the while being super light and easy on your body. No more neck rolls or backaches no matter how long your rides are!
Secondly, let's talk about the air ventilation system in this modular helmet. By making full use of its seven intake vents, two exhaust ports and a chin bar across the face shield, i90 regulates air supply within the helmet.
Moreover, the super cool moisture-wicking interior works together with an anti-bacterial quick-drying fabric and washable cheek pads to keep the inside of your helmet clean, hygienic and soft at all times.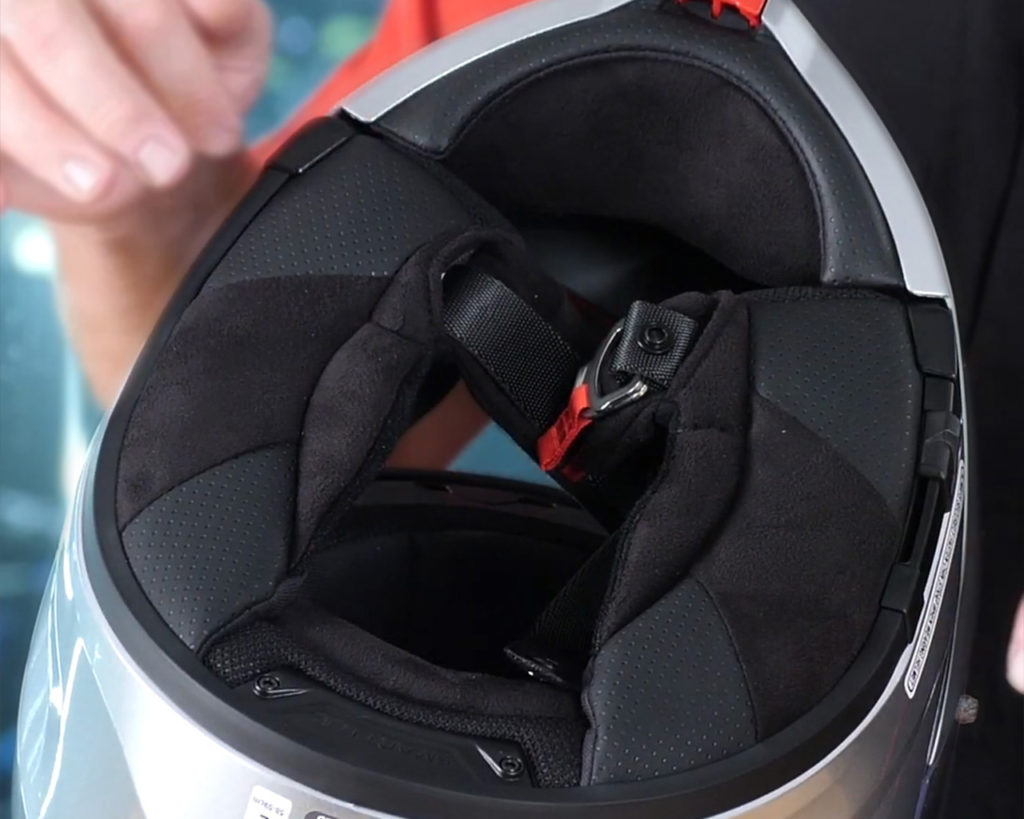 Along with regulating air intake within the helmet, the equipped chin bar vent guards against foggy and blurry vision as well. For every technologically challenged user, HJC has taken extra care to ease out the process of attaching and adjusting your shield at different positions through its patented one-touch technology.
As opposed to other modular helmets with restricted field view, HJC i90 contains 10mm wider eye ports and an aerodynamic CAD design. These features not only enhance the clarity of your vision but make the helmet compatible with all types of eyeglasses.
Finally, let's move on to its lock and strap mechanism. Using an updated one-touch open and close system, the helmet is convenient to put on or take off even by amateur users. Meanwhile, the D-ring chin closure ensures your helmet sits securely on top of your head.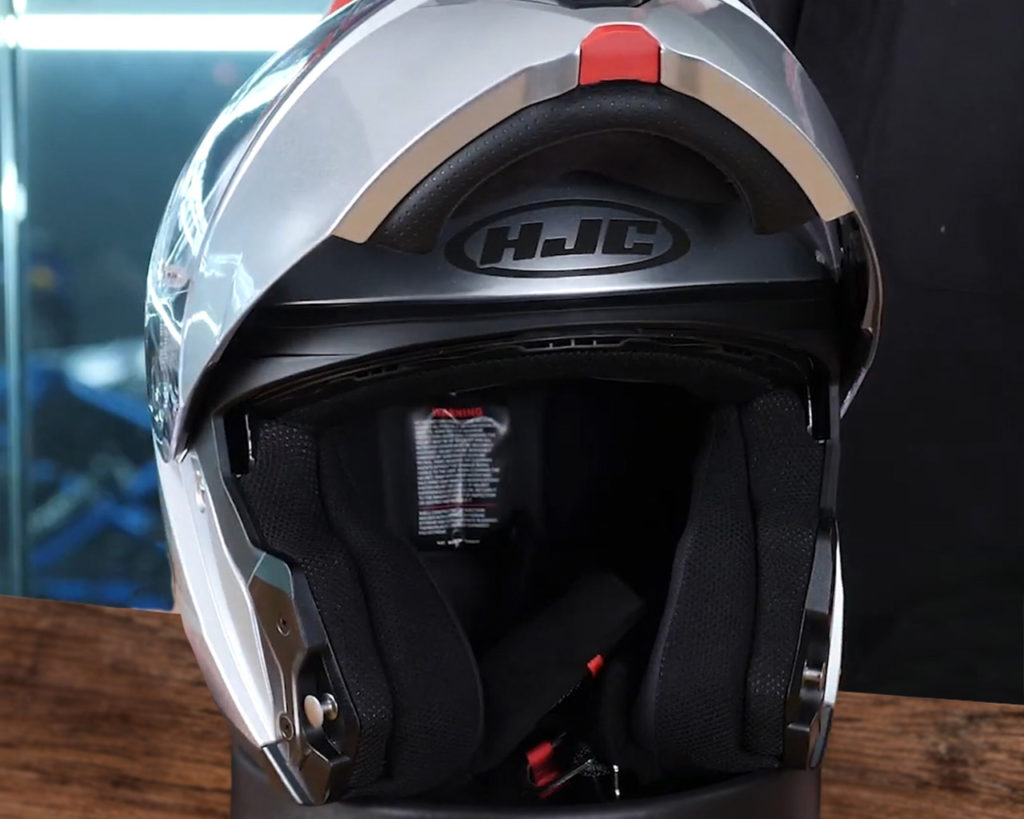 What we like:
Lightweight polycarbonate composite shell construction.
Comfortable Supercool interior with anti-bacterial fabric and removable cheek pads.
Sun-shield is resistant to UV radiation, scratches and fogging.
Suitable to wear glasses under the helmet.
Better and enlarged 20/20 vision.
What we dislike:
Takes some time to break in.
Produces wind noise.
HJC i90 Helmet: Check Price on Amazon
Final Verdict:
Bringing together user-friendly controls, optimal vision clarity and a reasonable price, HJC i90 modular helmet is definitely a product to watch out for. However, it is because of its wider CAD eye ports that HJC i90 is deemed as the most budget-friendly modular motorcycle helmet of 2022 for glasses.
Scorpion EXO-R420 Full Face Helmet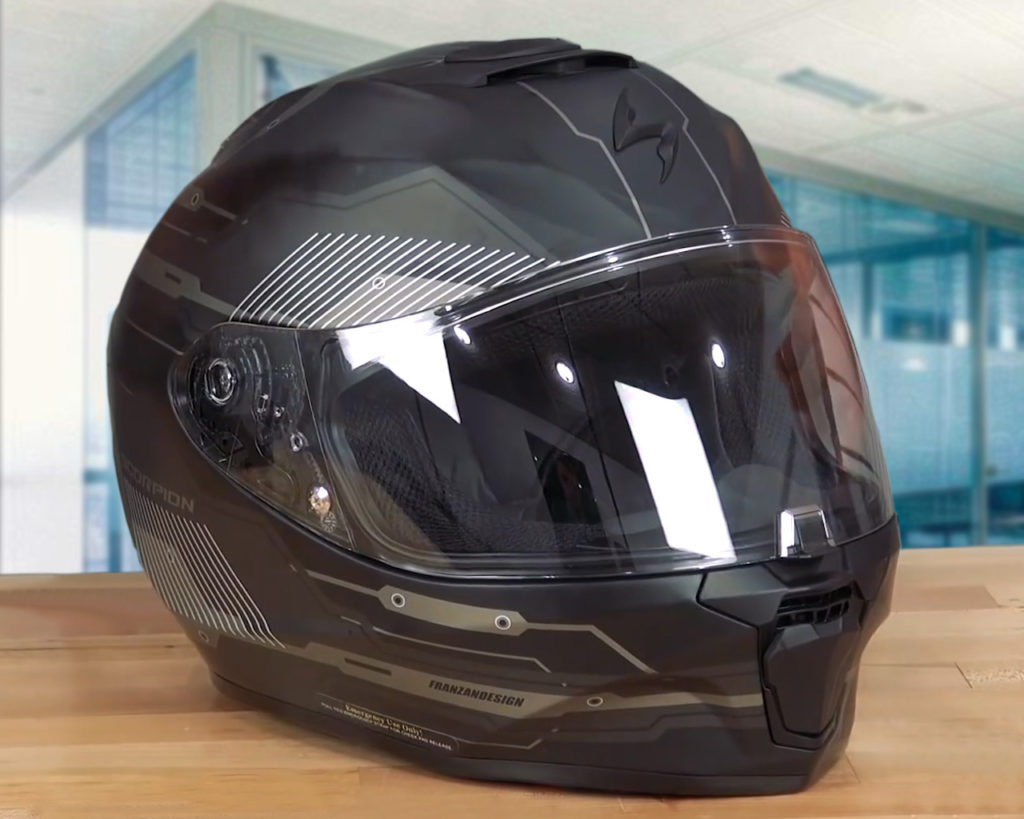 Budget-friendly: Full Face Helmet
Check Price on Amazon
Key Features:
Aerodynamic shell shape with aero skirt chin curtain to block wind and road noise.
Secure and user-friendly quick release Elliptic face shield.
Aero turned ventilation system with wide top and mouth vents.
Meets SNELL and DOT safety standards.
Backed by five-year hardware warranty.
Through years of hard work, research and passion, Scorpion has rightfully earned its spot as the best brand for full-face motorcycle helmets. Living up to this standard, they recently released the perfect full-face motorcycle helmet for beginner users with or without glasses!
With a shell made from advanced LG polycarbonate material, Scorpion EXO-R420 is a supremely lightweight motorcycle helmet. Its aerodynamic shell design and multi-density EPS lining help direct energy away from your body during serious accidents.
Given this efficient energy dissipation system, EXO-R420 accurately meets the SNELL and DOT safety standards. Moreover, the tabs positioned near your neck are easy to detach and remove by trained medical personnel in case of emergencies.
Next, let's talk about why this helmet is so fit for beginner motorcyclists. Utilizing an Elliptic II Ratchet system, R420 has a simple and tool-free shield switching mechanism. The face shield lock is also user-friendly and promises head security even when charging at high velocities.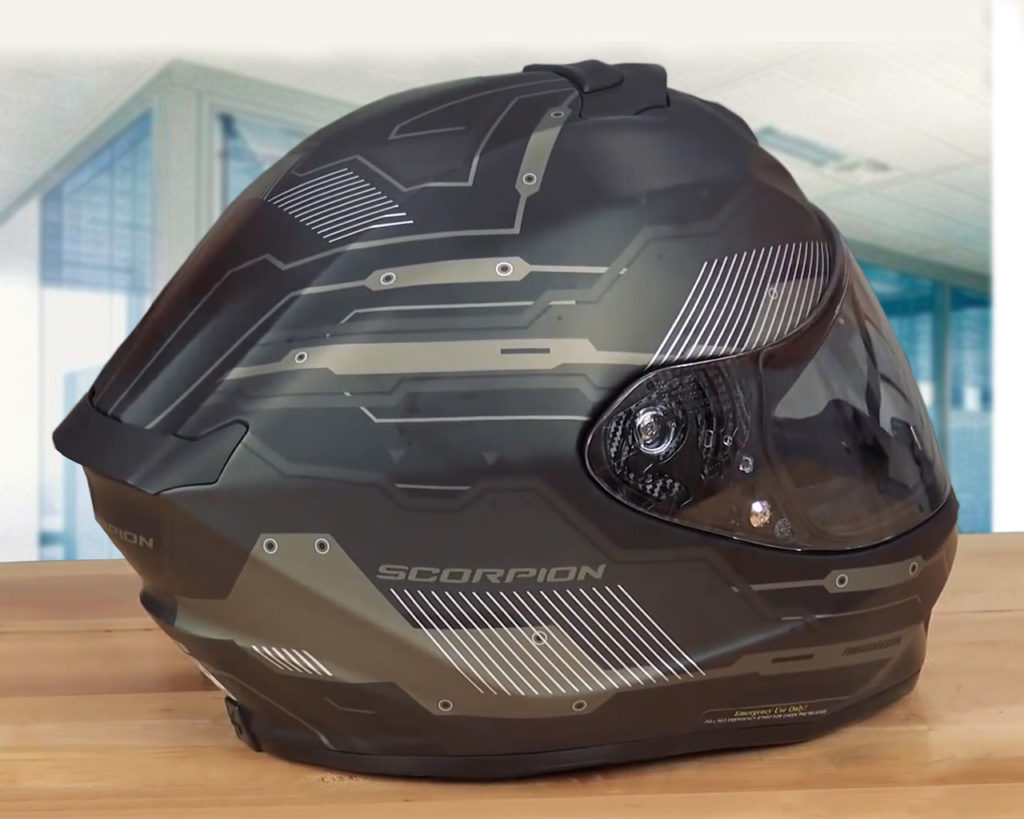 Keeping in mind how full-face helmets can sometimes become uncomfortable and hot during intense races, Scorpion has put an end to this inconvenience through their advanced technology. With large top and mouth vents, the aero tuned ventilation system of EXO R420 increases the airflow within the shell all the while keeping the noise levels at bay.
The integrated antimicrobial cheek pads have flawless moisture-wicking properties and are easily removed and washed after extensive usage. On the other hand, this full-face helmet has an optically accurate, scratch, UV and fog-resistant face shield for worry-free rides in all weather conditions.
To smooth out the process of getting in or out of your motorcycle helmet whilst wearing glasses, Scorpion EXO makes use of the soft Kwikfit cheek pads. The helmet also has speaker pockets to keep you connected with your loved ones and thoroughly entertained during your casual strolls and cruises.
What we like:
Advanced LG polycarbonate lightweight shell design.
Multi-density impact absorbing EPS liner.
KwikFit contoured cheek pads are compatible with most common styles of glasses.
Scratch, fog and UV-protected face shield with optically correct view.
Available in different sizes and five colours.
What we dislike:
Runs a size smaller.
Does not completely block out loud noises.
Final Verdict:
Although it possesses features that many other helmets also have, the SNELL certification of Scorpion EXO-R420 makes it the safest motorcycle helmet for glasses. Given its advanced EPS liner and KwikFit cheek pads, this full-face helmet is an incredibly budget-friendly option for every beginner motorcyclist and definitely worth a shot!
Arai XD-4 Adventure helmet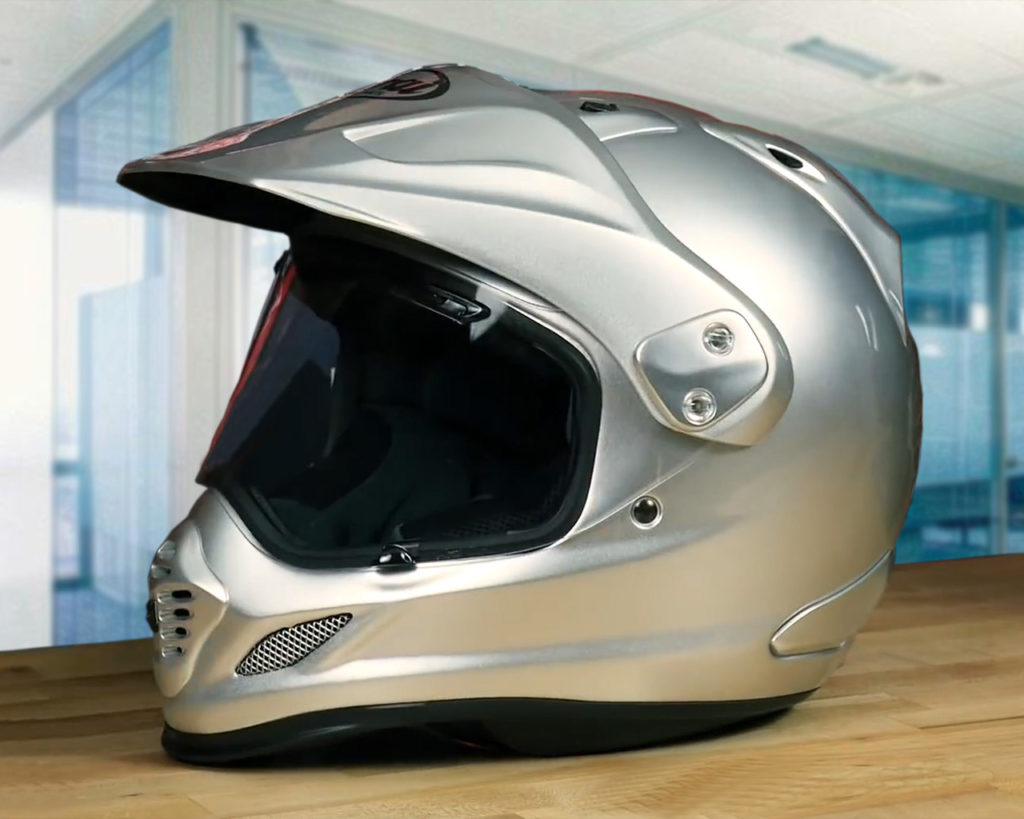 Key Features:
Approved by DOT and SNELL safety standards.
Features an eye-catching and scratch-proof fluorescent yellow visor.
Emergency cheek pad release system for safety during crashes.
New and innovative advanced air vents on side cowl and chin areas.
Are you someone who values the performance of a motorcycle helmet as much as an eye-catching exterior? If yes, then Arai XD-4 is surely the helmet of your dreams! Designed to be taken on all kinds of adventures and trips, this full-face motorcycle helmet does everything any other SNELL-approved headwear would do but with much better style.
Whether you plan to use your helmet for casual strolls, touring or cruising in the neighbourhood, the multiple configurations of Arai XD-4 have got you covered. Apart from this versatility, this helmet features patented FCS cheek pads that work with Arai's signature 5mm peel-away layer to cushion your head from harsh impacts.
Wobbly helmets are not only uncomfortable to use but put your safety at risk in case of dangerous accidents. For this very reason, Arai has made sure to offer a snug and secure fit in its XD-4 helmet. It does so by using 5mm side temple pads that stick your helmet on top of your head even at high speeds.
Knowing how important adequate ventilation is during heated races, the XD-4 full-face helmet has various enlarged and sculpted exhaust vents. Engineered near your cowl and chin areas, these vents instantly dry off sweat from your face and cool down the overall temperature of the helmet.
In addition to this, Arai uses a removable, washable smart dry-cool technology-based liner to enhance its moisture-wicking properties and comfort. With this, you can forget about riding your bike with damp, hot faces anymore which ultimately causes rashes and allergies.
Atlas, let's talk about the shell design and construction of this outstanding helmet. Manufactured from top-notch quality fibreglass material, Arai XD has a sturdy yet lightweight structure. Meanwhile, its aerodynamic and oval shape boost the stability when charging at increasingly high speeds.
What we like:
Finished in an aerodynamic intermediate stable oval shell design.
Extremely comfortable, replaceable and washable dry-cool liner.
Good quality, lightweight and sturdy fibreglass shell.
Efficient chin bar vent and exhaust ports for anti-fogging properties.
What we dislike:
Expensive.
Liner could be plusher and more comfortable.
Arai XD-4 helmet: Buy on Amazon
Final Verdict:
If you can tolerate loud wind and road noise in return for a stylish, safe biking journey then we urge you to get your hands on the Arai XD-4 helmet. Successfully meeting the SNELL safety standards, this is the best and safest adventure motorcycle helmet for glasses released in 2022!
AGV K6 Full Face Helmet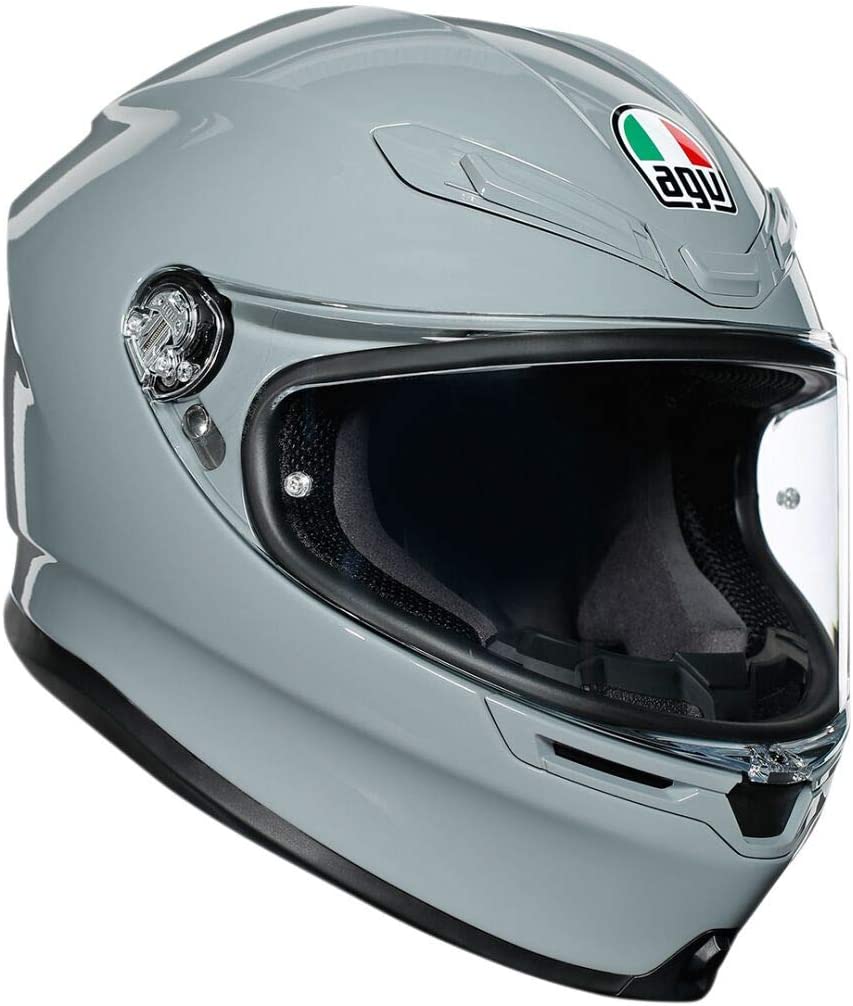 Key Features:
Five large air vents and a micro-lock system for adequate ventilation.
Premium quality carbon-aramid fibre for enhanced sturdiness and impact absorption.
Features 5 EPS densities and reduces impact on the collarbone.
Ultra vision of 190° horizontal field.
Do you plan to use your motorcycle for a variety of purposes and therefore want the most versatile helmet to go with it? If yes, then the next product in our list is definitely perfect for you! With its high standards and pleased customers, AGV has become one of the most unforgettable names for providing safety biking equipment.
However, it is their new K6 motorcycle helmet that has managed to turn all heads around with its remarkable comfort and versatility. Comprising premium standard carbon-aramid fibre and five EPS densities, AGV K6 has a sturdy, durable and 48% safer shell design as compared to other helmets.
It's innovative engineering also helps greatly reduce the intensity of impacts on your collarbone and upper body. Next, let's talk about the ultra 190° horizontal vision provided in this helmet. With this, you can clearly see any corners and obstacles present on the road. Additionally, the micro-lock system secures the helmet when riding at high velocities.
Knowing how irritating and risky foggy vision can be, K6 uses the 100% Max Vision Pinlock 120 mechanism. While all these features undoubtedly make AGV K6 a good helmet choice, its compatibility and high comfort level make it the best headgear for glasses. Featuring water and wear-proof external liner fabric, your face is kept dry and breathable at all times.
Advancing on its comfort, AGV has also equipped K6 with five large air vents for sufficient air intake. All of these benefits combined with the light 2.7 pound weight of AGV K6 make it an exceptional helmet for riders of all skill levels, with or without glasses!
What we like:
Breathable, water and wear proof external lining fabric.
Light weight of 2.7 pounds and ergonomic shell design.
Optical Class 1 visor with anti-fog max vision Pinlock system.
Suitable for cruising, sport touring and other riding styles.
Balanced and optimal load distribution.
What we dislike:
Continuous drizzle through top vents.
Upper air vents are not user-friendly.
AGV K6 Helmet: Buy on Amazon
Final Verdict:
With excellent comfort and versatility, AGV K6 has rightfully been deemed as the best full-face motorcycle helmet for glasses. Its anti-fog system and ultra field vision greatly boost the visibility and thereby performance of your ride, no matter what style you plan to use it for.
Arai Corsair X helmet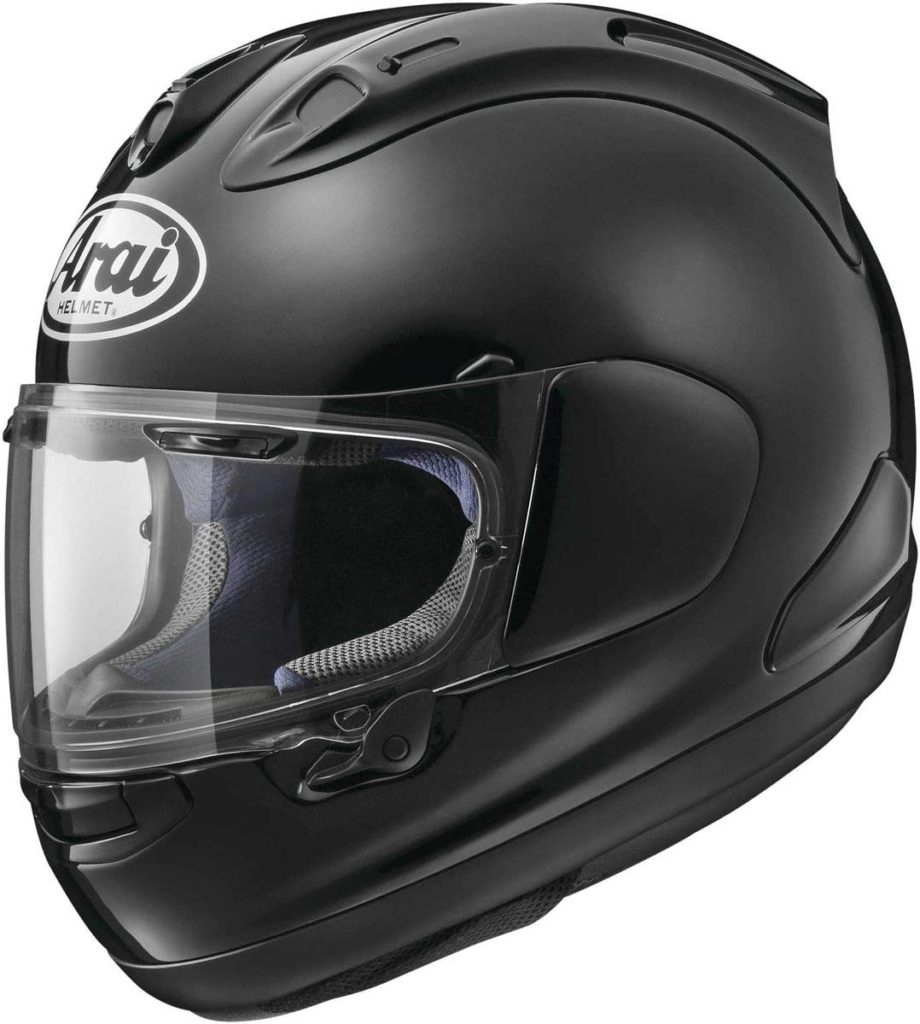 Key Features:
PB SNC2 lightweight resin shell with great tensile strength.
Round and smooth design for optimal energy dissipation.
Exceed SNELL and DOT safety standards.
User-friendly and quick dual function lever release face shield system.
Having previously talked about the wonderful features and performance of Arai helmets, why don't we end our list by discussing another one of its magnificent creations? Claimed to be the best sport helmet for glasses, Arai Corsair X is here to take the skill and thrill of your races a step further with its thoughtful design and features.
Manufactured from Super Fibre and other secret synthetic fibres, Corsair X has a strong and lightweight PB SNC2 shell construction. Since sport helmets cannot fall behind in terms of safety, Arai has carefully positioned its internal components. This helps provide supreme tensile strength without adding to the overall weight of the helmet.
Finished in a rounder and smoother shape, Corsair X successfully redirects impacts away from your body rather than absorbing them inside. This design works with the Variable Axis System and pivot cover to offer an efficient and reliable energy dissipation system.
Whether you are an amateur cruiser or a skilled racer, the presence of moisture on your face is bound to frustrate riders of varying skill sets. To guard against this discomfort, Arai Corsair includes a fully detachable interior lining fabric made from Eco Pure material.
This soft fabric has anti-bacterial properties and adjustable temple padding for a much more snug and relaxed fit. Thirdly, the newly renovated longer air diffusers in Arai's sport helmet increase the air supply by a generous 19% and are easily adjusted between 3 different positions. They also construct a tight seal to minimize loud noises and water intrusion.
Given these advanced features and head security, Arai Corsair effortlessly meets the SNELL and DOT safety standards. Lastly, its VAS max vision face shield and Pinlock insert grant you optimal vision clarity in all weather conditions. The dual function lever allows for instant and simple face shield removal even when used with eyeglasses on.
What we like:
IC Duct 5 forehead vent for up to 11% greater air intake.
Vents are easy to operate and adjust on 3 positions while wearing gloves.
Removable neck roll and exhaust channels for a cool interior.
VAS max vision face shield with included Pinlock insert for enhanced field view.
Latch system captures, holds and de-mists the face shield.
What we dislike:
Not the best for thick frames.
Slightly loud road and wind noise.
Arai Corsair X helmet: Buy on Amazon
Final Verdict:
If you are looking for a safe and comfortable motorcycle helmet to wear during intense matches and sports with glasses on, then the Arai Corsair X is the right product for you. Just make sure that your frames are thin enough to be supported by the best sport helmet for glasses in 2022!
Buying Guide
Having finished listing down the 5 best motorcycle helmets for glasses, it is time for us to tell you the exact features and factors we took into account to make this list incredibly accurate and reliable for you. Before deciding on any motorcycle helmet, you must consider the following factors and debate if they are up to your mark and personal preference or not. These include:
Comfortable Shell
The biggest problem for motorcyclists who wear glasses is finding a helmet that is comfortable to wear at all times. Many helmets put pressure on your temple area and lead to discomfort near your head and ears. Or sometimes, these helmets lack enough space to facilitate the rim of your glasses, making your riding experience inconvenient and awkward.
To make sure you never suffer from these issues, always try on a helmet before paying for it. You should aim for a spacious interior or a helmet that features specific grooves to fit your frames on. Also, make sure that there is sufficient distance between your face shield and glasses for better visibility and comfort.
Head Security
Once you have found a comfortable motorcycle helmet to wear with glasses, your next step should be to look at its locking system. Putting on, taking off or simply adjusting your helmet can turn out to be quite a chore if done with your glasses on.
For this reason, we recommend getting a modular or open-face type of helmet or one containing a chin guard to ease out the process of adjusting the helmet on top of your head. In the case of an open-face helmet, make sure to stop before you begin adjusting the position of your helmet.
Good Visibility
If you are a habitual user of glasses, then you must already be aware of what a nuisance blurry and foggy vision can be. Your glasses fogging in the middle of your ride is not only frustrating but dangerous as well. Therefore, always aim for a helmet that guarantees high visibility of the field view in all weathers.
To make this happen, look for helmets with adequate ventilation systems and moisture-wicking interior fabric. Full-face helmets are the best option in this category closely followed by open-face and dual sport helmets.
Safety Certificate
Since the sole reason behind purchasing a motorcycle helmet is to protect your head from grave injuries, you must consider exactly how safe your helmet is before finalizing your choice. The safety of a motorcycle helmet is deduced from its safety certificates being DOT, ECE and SNELL.
ECE and DOT standards assure that the helmet is safe and legal for use on peaks and highways. Whereas, SNELL certification promises a much-elevated safety standard and is currently the highest safety certificate that can be achieved by any headwear equipment.
Affordable Price
At last, the conclusive factor when planning to buy a motorcycle helmet for glasses is its price. Motorcycle helmets are sold for a variety of prices, based on their brand, features and equipped technology. It is significant that your selected helmet attains the right balance between safety, comfort, security and durability without being too harsh on your pocket.
How do we test our products?
The aforementioned motorcycle helmets for glasses have been rated as the best in this category based upon the results we got after conducting multiple tests on them. Our team short listed these helmets after taking into account multiple superlatives such as their prices, durability, customer reviews and our own personal experience. Henceforth, we take full responsibility for the performance and comfort of these helmets when used with glasses on.
Frequently Asked Questions (FAQs)
What is the best motorcycle helmet if you wear glasses?
The answer to this varies depending upon who you ask but most riders agree that the Scorpion EXO-R420 full-face helmet is the best for glasses. It does not only offer a comfortable riding experience while wearing glasses but enhances your visibility as well.
Can you wear a helmet with glasses?
Yes, you can definitely wear a motorcycle helmet with glasses. Just make sure that it has straight arms to securely fit underneath your helmet and padded rims or arms for pain-free use.
Can you wear glasses with a Shoei helmet?
Shoei offers some of the best motorcycle helmets to use with glasses. Their best work until now is the Shoei-Neotec 2 Modular helmet which prioritises your safety and comfort while the glasses grooves cater to those with weak vision.
Will glasses fog up in a motorcycle helmet?
To make sure that your glasses don't fog in between your rides, look for a helmet that has good air ventilation. In case of open-face helmets, simply pop open your shield and glasses to clear out fog from your vision.
Conclusion
And with that being said, we conclude our informative article about the 5 best motorcycle helmets for glasses. We hope that our detailed reviews, buying guide and FAQ help clear out your misconceptions about riding with glasses on and lead you towards a helmet that is ready to fulfil all your wants and needs.
Until then, we wish you all a happy and safe riding time!