Helmets are undoubtedly the most important piece of equipment for every motorcyclist. But with the six different types of helmets and numerous products available in each category, deciding on the right helmet can be a difficult task. For this reason, we have compiled the reviews of the best dual sport helmets and the pros and cons of each product!
What are the best dual sport helmets?
Arai XD-4 helmet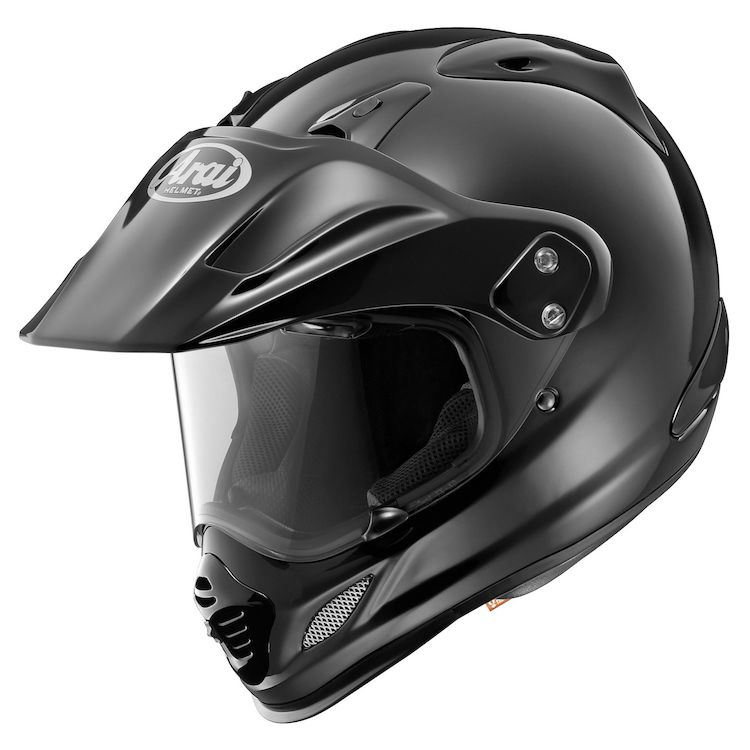 Let us start this list with the best selling dual sport helmet of 2022. Arai is a name that you can always trust to provide high quality products with the most feasible design. Checking this criterion yet again, the Arai XD-4 helmet is designed to enhance your motorcycling time without compromising on your safety.
Offered in three different configurations, Arai XD4 facilitates various riding styles and skills. Next, the patented FCS cheek pads featuring Arai's unique 5 mm peel-away layer ensure maximum comfort inside the helmet. Along with this, the 5 mm side temple pad offers a much better and secure helmet fit, preventing it from constantly wobbling on your head.
Thirdly, let us talk about the ventilation of this amazingly comfortable dual sport helmet. Arai has taken extra care to improve the ventilation in XD-4 by equipping it with sculpted and gigantic vents. These vents are situated on your cowl and chin areas for maximum air supply.
Following its adequate ventilation system, Arai uses the dry-cool technology's removable and washable liner for guaranteed moisture wicking abilities and dry interior at all times. Lastly, the aerodynamic shape of Arai XD-4 offers optimal stability even at high speeds and accounts for a thrilling motorcycling time!
What we like:
What we don't like:
Final Words
Bearing the mark of the legendary brand Arai, the new Arai XD-4 is one of the best dual sport helmets. Approved by both DOT and SNELL standards, you can confidently use the Arai XD-4 helmet for trailing and racing at fast speeds with promised comfort and safety! Just make sure to buy ear plugs to cut down on the annoying wind noise produced. Arai XD-4 helmet Purchase
AGV AX9 Helmet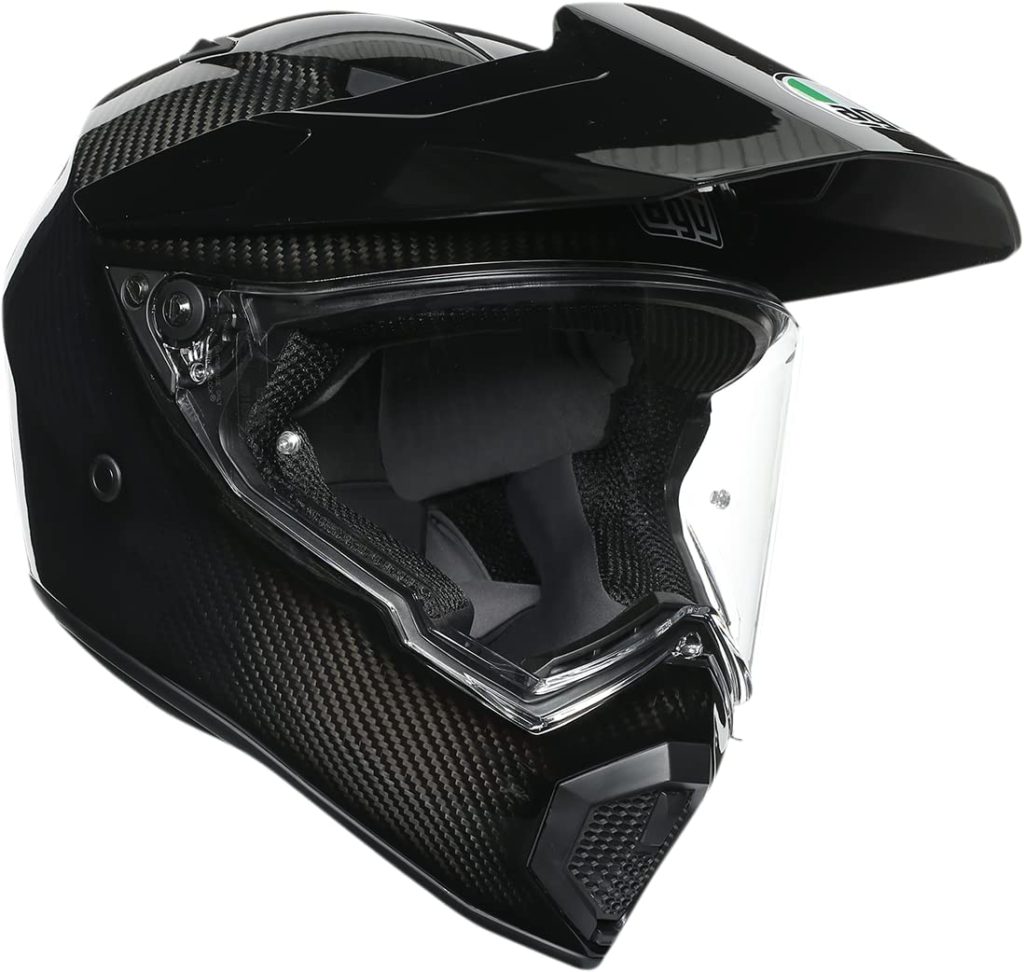 Just like Arai, the brand AGV is popular amongst motorcyclists and racers for providing highly durable and technologically advanced headwear. Rated as the best brand for dual sport helmets, AGV recently launched the advanced AX9 helmet for amateur and professional cyclists with different riding styles.
Be it for touring or dirt roads, AGV AX9 is prepared to handle any obstacle thrown at it with its dream worthy four different configuration system. This, combined with the premium quality carbon and fibreglass shell construction make the dual sport helmet supremely modular and versatile.
Moreover, the minimal weight of barely 1300 grams and compact design allow it to be easily carried around and worn without having neck or shoulder aches. Secondly, let's review the visor of the AGV AX9 helmet. Made from scratch proof material, AX-9 is equipped with a panoramic visor that offers a wide vertical and peripheral view.
Finished with max vision pin lock design, you can ride with AGV AX9 without worrying about foggy or blurry shields. Similar to every other product launched by AGV, the AX-9 dual sport helmet also features a highly comfortable and breathable interior. Not only this, its resistivity to water and DOT approval ensure your face is kept dry and protected during intense racing. AGV AX9 Weight: 1542g
What we like:
What we don't like:
Final Words
Given its redesigned visor shape Shalimar interior construction, it is no doubt that the AGV AX9 is one of the most advanced helmets for dual sports. Although it is relatively expensive than other dual sport helmets, we promise you that AGV AX9 is worth the investment in all regards! Purchase AGV AX9 Helmet
Checkout: Lightest Motorcycle Helmet
Bell MX-9 Adventure MIPS Helmet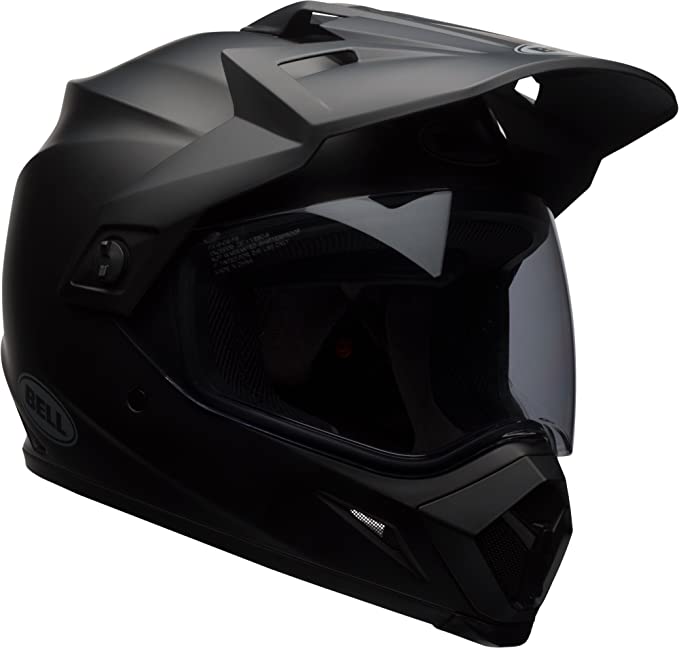 Next up, we have the most versatile motorcycle helmet for dirt, street and dual sport riding. Bell has gained the trust of many riders through the guaranteed safety and features offered in its products. Keeping up with this reputation, they introduced the MX-9 Adventure MIPS helmet for thrill seeking riders and racers!
Foggy and damaged face shields account for a high number of biking accidents and injuries. To minimise the possibility of this happening, Bell equips the MX-9 Adventure helmet with a removable slide up shield made from fog and scratch resistant materials. Furthermore, the shield protects your eyes from damaging UV rays and offers optimal field vision at all hours of the day.
Knowing how people often struggle to find the right sized helmet for their head, Bell MX-9 adventure is designed in three different shell sizes made from EPS density. These provide a secure helmet fit whereas the lightweight fibreglass construction reduces neck and shoulder pains, making the helmet wearable for long intervals.
However, the most outstanding feature of this helmet is undoubtedly the supreme MIPS impact management system. Defined as the multi protection impact protection system, Bell MX-9 makes use of the advanced slip plane technology to reduce the effect of rotational forces in case of critical impacts.
What we like:
What we don't like:
Final Words
With the inevitable MIPS impact management system, the Bell MX-9 Adventure helmet is rightly deemed as the safest helmet for dual sport and dirt riding. Despite being prone to minor downsides like loud noises, Bell MX-9 makes your riding time worthwhile through its high safety and customised helmet fit through multi-layer EPS density! Purchase Bell MX-9
Klim Dual Sport Helmet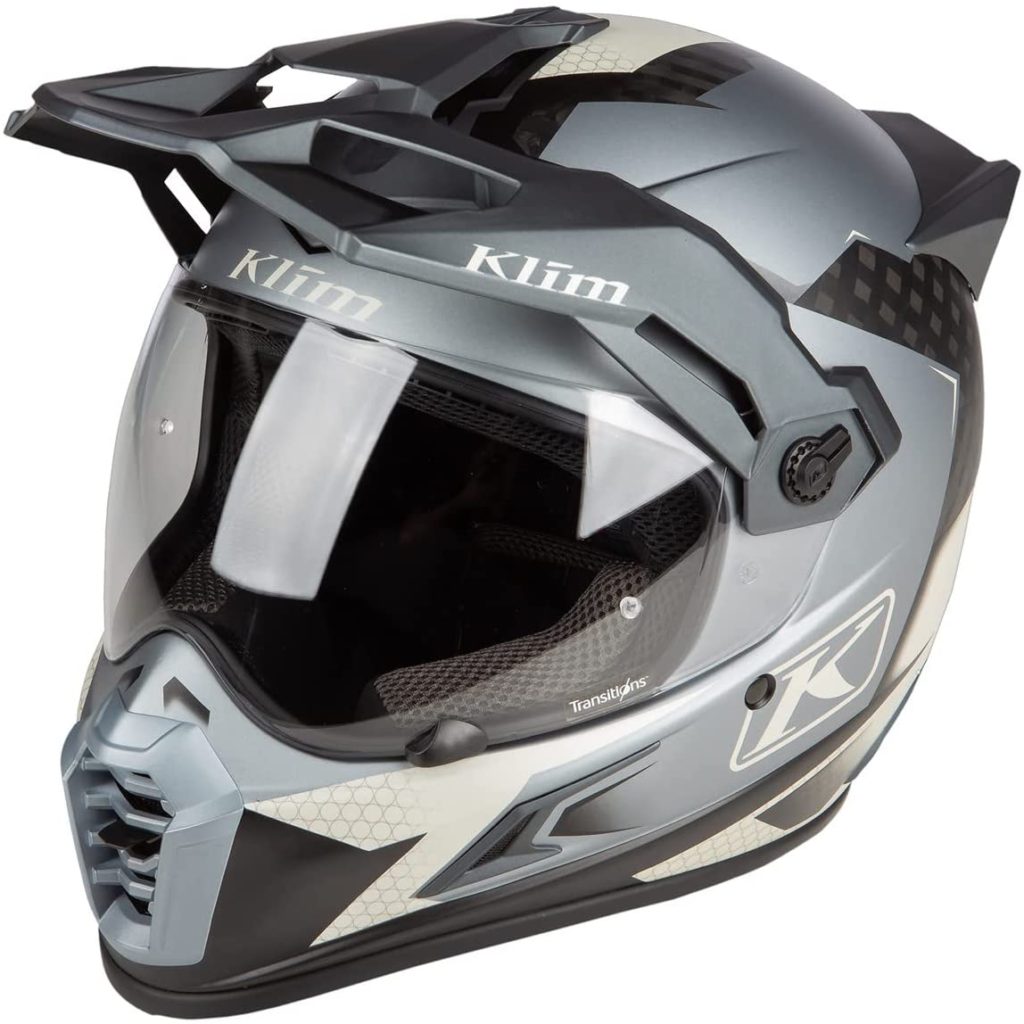 Klim Krios has been the biggest competitor of other famous gear brands for providing highly tested and technologically advanced products to its customers. It has once again outdone its contenders with the release of Pro Dual Sport helmet for beginner as well professional motorcyclists. Made from carbon fibre hand material, the shell of Klim Krios is unbelievably light on your head and shoulders.
With its compatibility with up to four riding styles including trail and drifting, Klim Krios Pro Dual Sport helmet is here to take your riding skills to the next level! Through its optimised shell resin technology and lightweight construction, Klim Krios Pro evenly distributes the weight of your helmet for a completely pain free cruising and dirt riding experience.
Following this even weight distribution, Klim Pro Dual Sport features the innovative KOROYD impact management system. By making use of this technology, your helmet absorbs harsh impacts and keeps your skull protected even during life threatening accidents. All of these features add to the safety of the Klim Krios Pro helmet and helped it get DOT approval for legal and safe use on roads and highways.
Finally, let's review the visor and shield of the Pro Dual Sport helmet. Made from scratch-proof material, Klim Krios features a durable sun visor that grants you protection from damaging UV radiation and unforeseen fog. Furthermore, the integrated pin-lock ready face shield ensures maximised vision clarity meanwhile the fid-lock strap closure makes sure your helmet stays put even while charging at high speeds!
What we like:
What we don't like:
Final Words
Given its relatively high price, you are bound to wonder what is so special about the Klim Krios Pro Dual Sport helmet and we hope our review helped answer this question for you. With KOROYD impact absorption system and photochromic face shield lens, the Klim Krios Pro is one of the best dual sport helmets of 2022/2023 and suitable for motorcyclists with different riding styles and skills. Purchase Klim Krios Pro
Suomy MX Tourer Helmet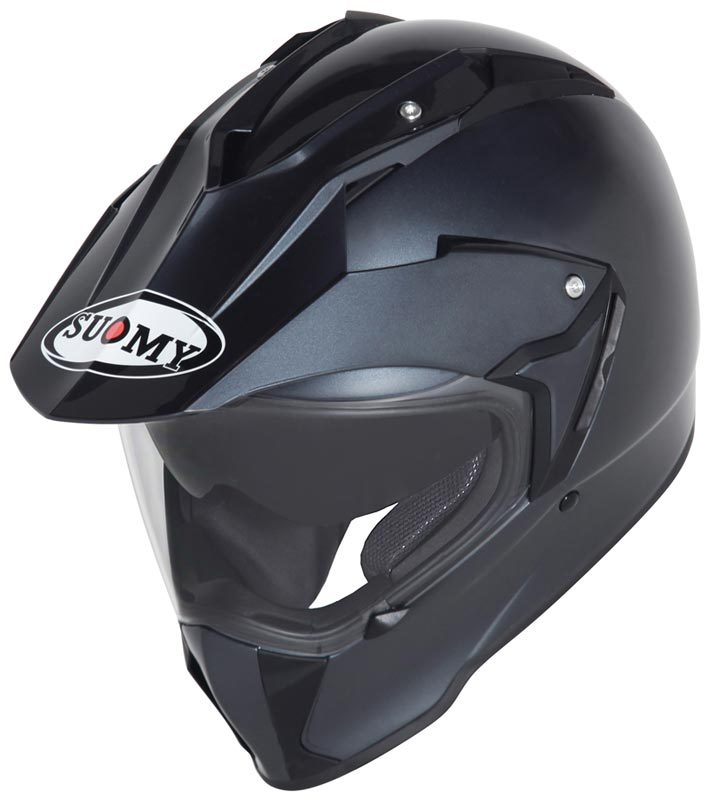 What is a better way to finish this list than with the best selling adventure helmet for dirt sports? Although it is not quite as old as other brands in this list, Suomy has built a name for itself through integrity and innovation in every product it makes. A fine example of this promise is seen in its MX Tourer dual sport helmet available in three different shell sizes.
In contrast to conventional fibreglass and carbon material, Suomy MX makes use of Tricarboco fibre for its outer shell construction. Through this, it achieves a much higher durability and impact absorption ability while being extremely compact and lightweight! Along with this, the aerodynamically designed removable peak grants you stability and speed on the road.
Suomy MX tourer helmet has been applauded for all of its features but it is particularly its new injection visor design that has grasped the attention of many customers. Featuring a three dimensional optically accurate visor made from UV protected material, Suomy MX provides enhanced visibility from various riding angles. Additionally, the anti-fog and anti-scratch properties make the visor convenient even during unpreceded weather conditions.
Stability and strength are the two features that anyone looks for in a dual sport helmet. To offer both of these qualities, Suomy MX has a light weight double D-ring alloy strap. It secures the helmet safely on your head whereas the channelled EPS in its interior combined with chin and top vents regulate air supply within the helmet.
Lastly, let's shine some light on the comfort and breathability of the phenomenal Suomy Tourer helmet. Equipped with hypoallergenic and breathable textile fabric, Suomy MX is incredibly comfortable and protected against irritation or allergies. Moreover, the washable nature of its cheek pads and liner makes them effortless to wash and insert again for greater customizability.
What we like:
What we don't like:
Final Words
After looking at the long list of innovative features in the Suomy MX Tourer helmet, you can evidently see why it is a customer favourite product for dual sports. Experimenting with advanced tricarboco fabric and optically accurate durable visors, Suomy MX Tourer is the most innovative helmet for dual sports and definitely worth every penny spent on it!
Buyer's Guide
Now that we have listed down the top five best dual sport helmets, it is time we take a look at the factors that help make any helmet suitable for dual sports. Always consider the following aspects in a motorcycle helmet to help you deduce whether it will offer an adequate dual sport and adventure riding experience or not.
Visor design
The first and foremost factor that you need to consider before buying a dual sport helmet is its visor design. Since dual sport helmets are exposed to extreme weather conditions, it is significant that your visor blocks out harmful ultraviolet radiation from reaching your face or eyes.
Additionally, an anti-scratch and anti-fog visor help guarantee greater visibility by being prepared to tackle unforeseen weather conditions. Always look for a visor that contains all three of these features and offers at least 80% protection against UV radiation.
Shell
The shell of every dual sport helmet is significant in determining its stability and comfort. Instead of looking for a heavy-duty shell that will end up leading to neck and shoulder pains, look for a helmet made from fibreglass, carbon or tricarboco fabric. These materials are lightweight and offer sufficient protection against harsh impacts.
Moreover, it is important that you buy the right shell size for your head. If your helmet is not the right size, it will keep trembling throughout your journey and offer little to no protection in case of accidents. Always try on a dual sport helmet before purchasing it and check if it has a secure chinstrap closing mechanism for optimal safety and stability.
Ventilation
Knowing how similar the design of dual sport and full-face helmets is, you should always look at the ventilation system provided in each design. A good dual sport helmet should contain a minimum of two chin and face vents whereas, an EPS channelled interior greatly boosts the breathability of any helmet by a huge mark.
Equally important as the ventilation of a dual sport helmet is the comfort offered by its interior lining. Look for a breathable fabric liner that prevents that growth of odourless bacteria and microorganisms. Also, detachable cheek pads are much easier to clean and absorb moisture during intense racing or dirt riding.
Safety
Last but definitely not the least, look at the safety and impact absorption system offered in every dual sport helmet. With frequent advancements in the technological industry, multiple brands have come up with highly reliable and efficient impact absorption management systems in their helmets.
The best of these is the MIPS design that guarantees minimal impacts through reduced rotational forces. A DOT or ECE certification helps speak about the safety of every helmet but for those looking for the safest dual sport helmets, a SNELL certification is a must.
Frequently Asked Questions (FAQs)
What is a dual sport helmet?
Dual sport helmets are designed for tourists and adventurers for dirt bike and street riding styles. They offer a compromise between road safety, style and ventilation through their combination of full-face and half-face helmet type.
Why do dual sport helmets have a peak?
Since dual sport helmets lack a full-face structure, they include a peak to block out damaging ultraviolet radiation. A peak helps keep your face protected from harsh glares, wind, rain and fog.
Are dual sport helmets good for street riding?
Street riding requires high velocities and stability. Luckily enough, dual sport helmets offer both of these things through its aerodynamic visor and redesigned visor. This makes dual sport helmets good and safe for street riding on highways and paved roads.
What is the lightest dual sport helmet?
Although most dual sport helmets are finished in a lightweight design, it is the Klim Krios Pro helmet that has outdid all other dual sport helmets in terms of portability. Weighing barely 3.3 pounds, Klim Krios Pro is constructed from carbon fibre shell and is the lightest dual sport helmet of 2022/2023.
Conclusion
And with that being said, we have reached the end of our comprehensive article about the best dual sport helmets along with the factors that make them the best at their job. We hope this helps you learn about the skill of dirt and adventure bikes and eventually leads you to finding the best helmet for dual sports!