It is an unarguable fact that helmets are the most important piece of equipment for every motorcyclist in ensuring their safety. They reduce the severity in case of accidents and protect your head from any lethal injury. But how do you decide on the right helmet for you between the numerous options available?
To help you make this choice, we are here with the most comprehensive guide about types of motorcycle helmets available for use. Continue reading to find detailed features of each type and determine whether it's the right match for your motorcycling skill or not.
Types of motorcycle helmets
Full Face Helmet
The first and safest helmet type is the full-face motorcycle helmet. As the name suggests, this helmet covers your head and neck completely and features a chin bar. By making use of this additional chin bar, a full face helmet absorbs impacts while ensuring it sticks to your head when charging at super fast speed. Moreover, it is finished in a round bubbled aerodynamic style for performing professional stunts.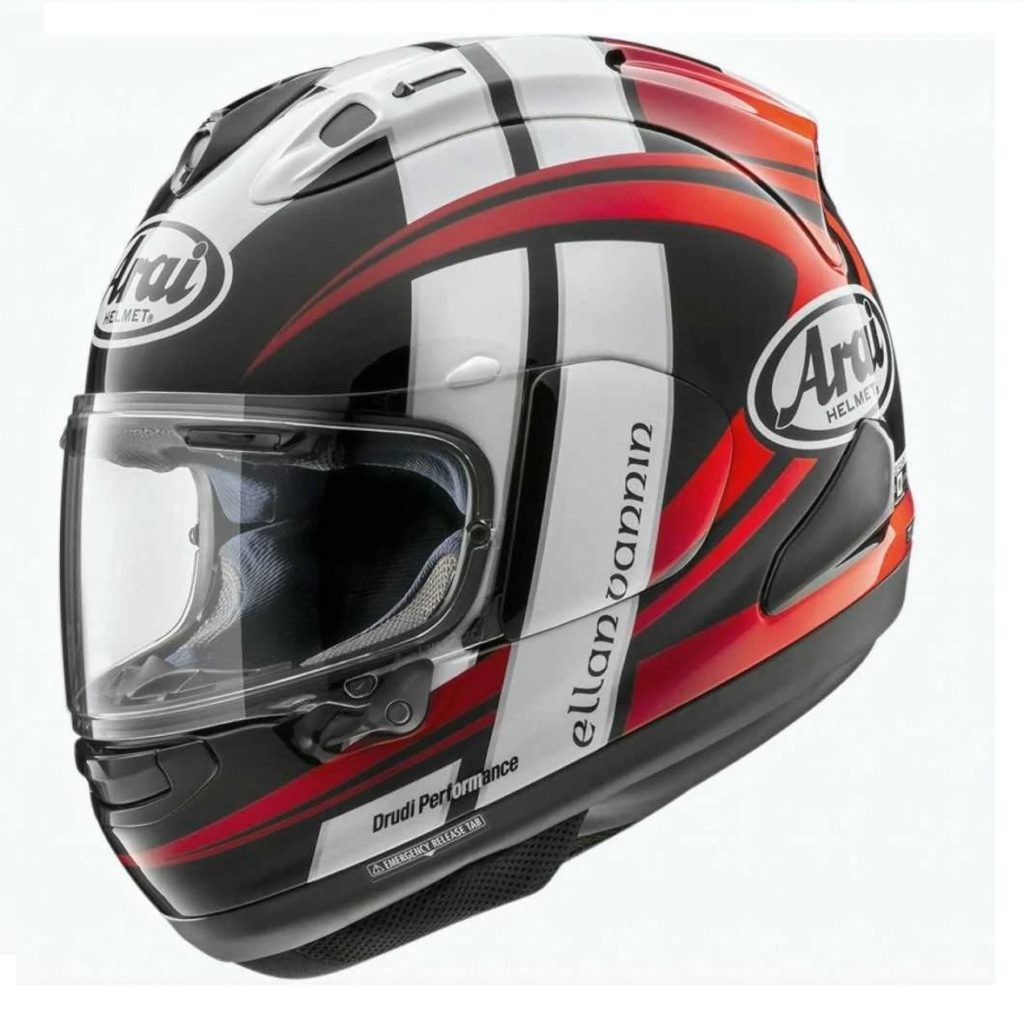 Next, let us talk about who is the targeted audience of these secure motorcycle helmets. For everyone planning to street ride, trail or race in a crouched position, a full-face motorcycle helmet should be your top choice. It guarantees face protection meanwhile the slightly angled visor grants you a wide horizontal view of the field.
Key features of full face motorcycle helmet:
Versatile choice for different riding styles
Covers head and neck completely for ultimate protection
Chin bar for impact absorption
Sticks to head even when lifting at fast speeds
Adequate ventilation for reduced sweat and fogging using front, side and top channels
Protective and wide visor with Bluetooth technology
Aerodynamically round shape to supports various riding positions
Modular Helmet
Modular helmets or more commonly known as flip-up helmets are a combination of full face and ¾ coverage. They are finished in a variety of round shapes and made from heavy duty materials and chin bar reinforcements. Because of these reinforcements and hinges, the modular motorcycle helmet is heavier than a full face one.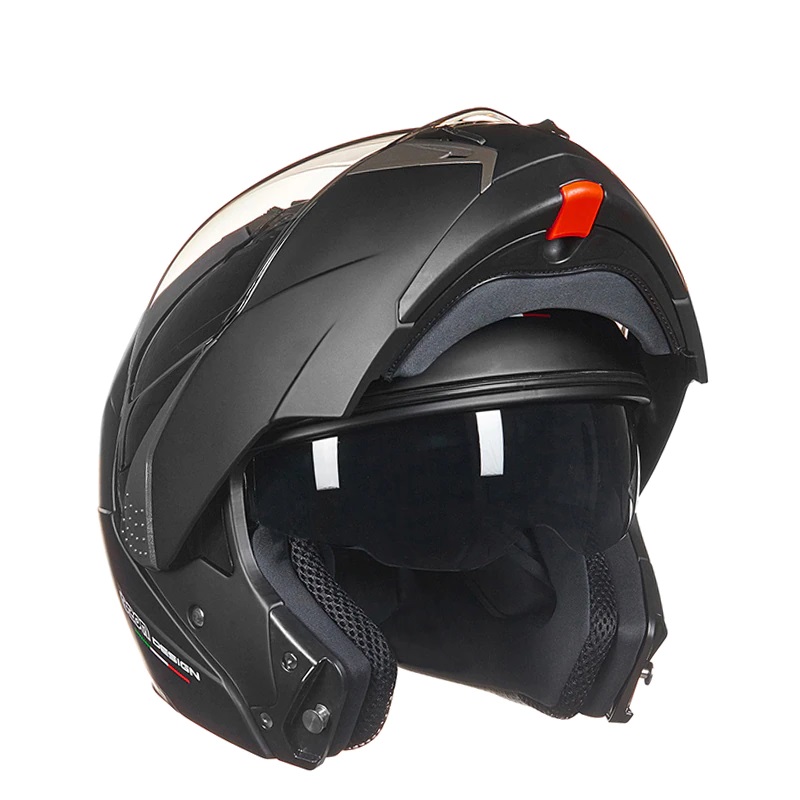 Modular helmets are perfect for tourists and adventure riders who need to lift up their visor every once in a while, to either check their location on GPS or make an important call. The chin bar and visor can flip-up to cater these needs along with guarding against harmful UV radiation and fogging. However, the additional hinge structure reduces the safety of a modular helmet as compared to a full face one.
Key features of modular (flip-up) motorcycle helmets:
Variety of finished shape for aerodynamic structure
Combination of full face and ¾ design
Hinge structure to slide visor up and down
Heavier weight due to hinges and pivot
UV protected visor with straightforward eye openings
Good rider safety but less than full face helmet
Suitable for strolls, cruising and tourists
Open Face Helmet
The open face ¾ helmet is finished in a style that covers your back and sides but leaves the front of your face exposed. It is the perfect choice for tourists and slow speed riders who want to feel the gush of air on their face as they ride on their motorbike. Another pro of open face helmets is their extremely lightweight because of the lack of chin bar present, making it portable to carry around.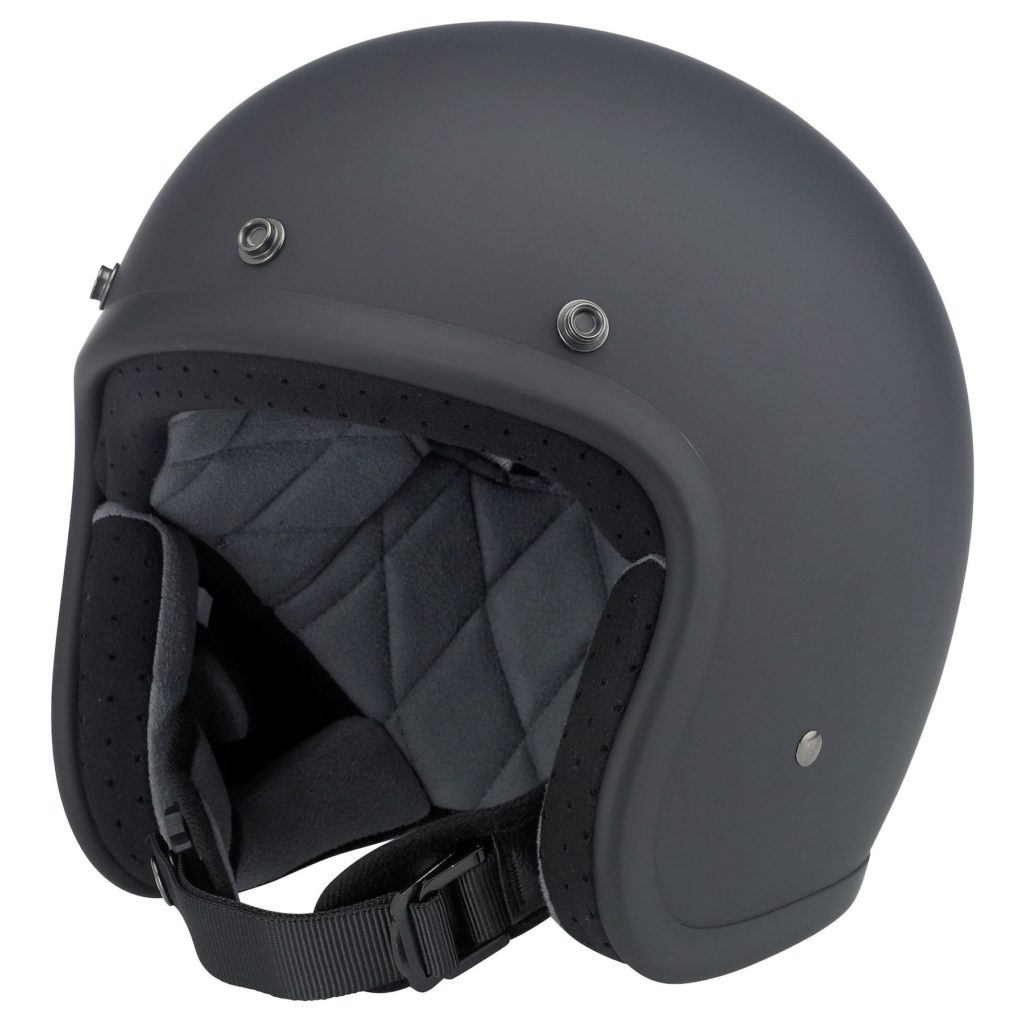 However, this portability comes at the cost of your safety. With a completely exposed front and no chin bar, the impact absorption ability of this helmet is quite low. The exposed front side makes you prone to not only serious injuries in case of accidents, but debris, rain, snow and dirt as well. To lower this inconvenience, open face helmets are sold with air filtering face masks and partial or full-face UV protected visors.
Key features of open face ¾ motorcycle helmets:
Exposed face with ¾ back and side coverage
Lightweight and portable design
Prone to serious injuries, road dirt, snow and rain falling onto your face
Lack of chin bar makes it unsafe
Adjustable strap for secure position
Partial or full-face visors are sold separately alongside air filtering face masks
Suitable for slow speed riders, scooters and cafe racers
Half Face Helmet
Covering barely your side, back and top of the head, half helmets are even less safe than the open face ¾ helmets. They are the best in terms of ventilation since the whole face is exposed and offer a very wide horizontal and vertical field view. If you are a cruiser or rider of vintage classic bikes, then you are surely going to value a half helmet coverage.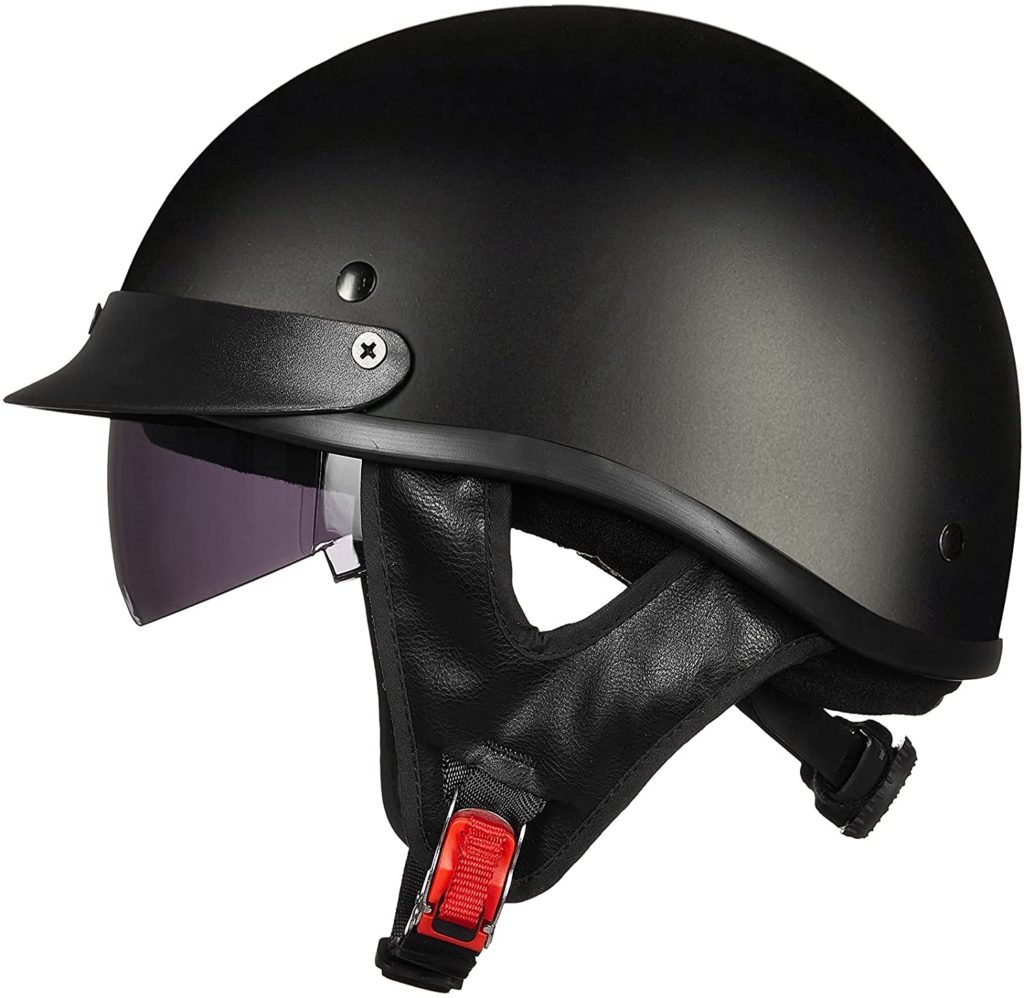 Although they leave a large part of your head exposed, you can still find some half helmets that are approved by DOT for safe riding experience. Half helmets are traditionally built and do not support many technological features like integrated speakers and Bluetooth. They also lack a face shield and it needs to be purchased separately along with goggles and bandannas to optimise your cruising time.
Key features of half face motorcycle helmet:
Covers the back and top of the head but leaves your face and sides exposed
Excellent air supply and wide horizontal view
Lack face shields or visor, it is sold separately
Traditionally built, lack advanced features like Bluetooth and integrated speakers
Low safety but some models are DOT approved
Off-Road/ Dirt Bike Helmets
Constructed from fiberglass, Kevlar, and carbon fibre components, the off-road helmet is designed to use on dirt roads and streets. It has an accentuated chin bar and wider visor than other helmet types. Dirt bike helmets offer maximum ventilation and keep your face completely dry even in harsh temperatures. They also contain minimal insulation in its interior meanwhile the one piece design grants you high levels of protection.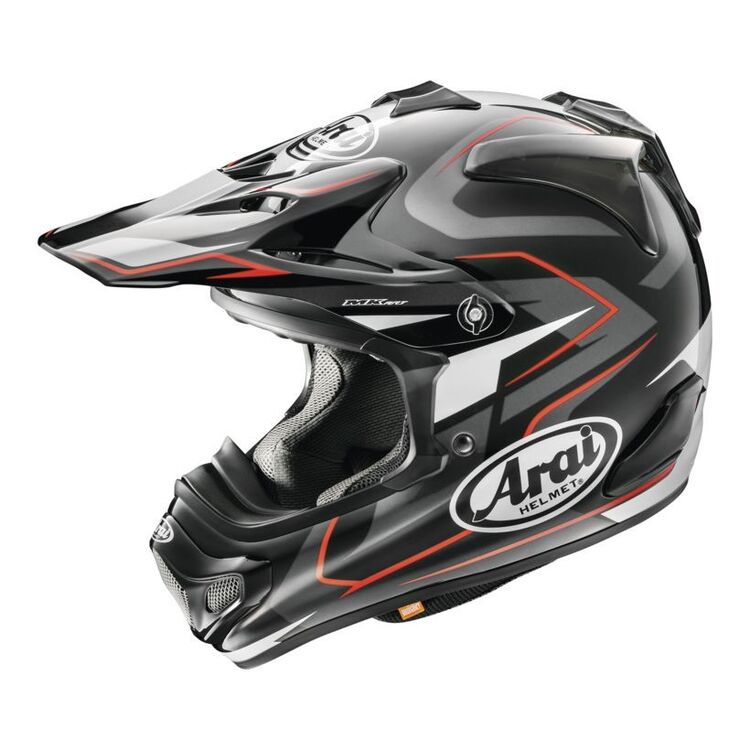 Perhaps the most distinguished feature about off-road helmets is the loud road and wind noise it produces. Given its low insulation and incredibly lightweight, Dirt bike helmets help you determine whether your motorcycle tires are sliding, skidding or rubbing against the ground. This loud noise makes the helmet suitable for only slow speed, uphill and downhill dirt riding.
Keeping in mind the use of off-road helmets for uphill riding, they come with adjustable and efficient sun peak attachments. Using these, you can protect your eyes from harmful UV radiation falling directly on your eyes. But beyond this, dirt helmets offer no other eye protection shields or wind visors. You need to purchase goggles to protect your eyes from dirt, mud and rocks thrown directly at you when riding behind someone with a rooster trail.
Key features of dirt bike (off-road) helmets:
Made from protected one-piece design of carbon fibre, glass fibre and Kevlar components
Very lightweight given the accentuated chin bar design to prevent neck and shoulder aches
Amazing ventilation and low insulation to keep your face cool and dry
Adjustable and large sun peak anti-glare attachments
Loud road noise helps determine if tires are sliding or skidding
Obnoxiously loud wind and road noise make it unsuitable for high speed riding
Lacks eye protective visor, purchase sun goggles to guard against mud and rocks
Suitable for dirt, uphill and downhill riding 
Dual-sport (Hybrid, ADV, Crossover) Helmet
For everyone looking to bike on dirt roads and hills but with high speeds, the Dual Sport helmet is the best match for you. It is a combination of full-face and off-road helmet type but with much better protection. Finished with an aerodynamically shaped visor, Dual Sport sticks to your head even while charging at fast speeds.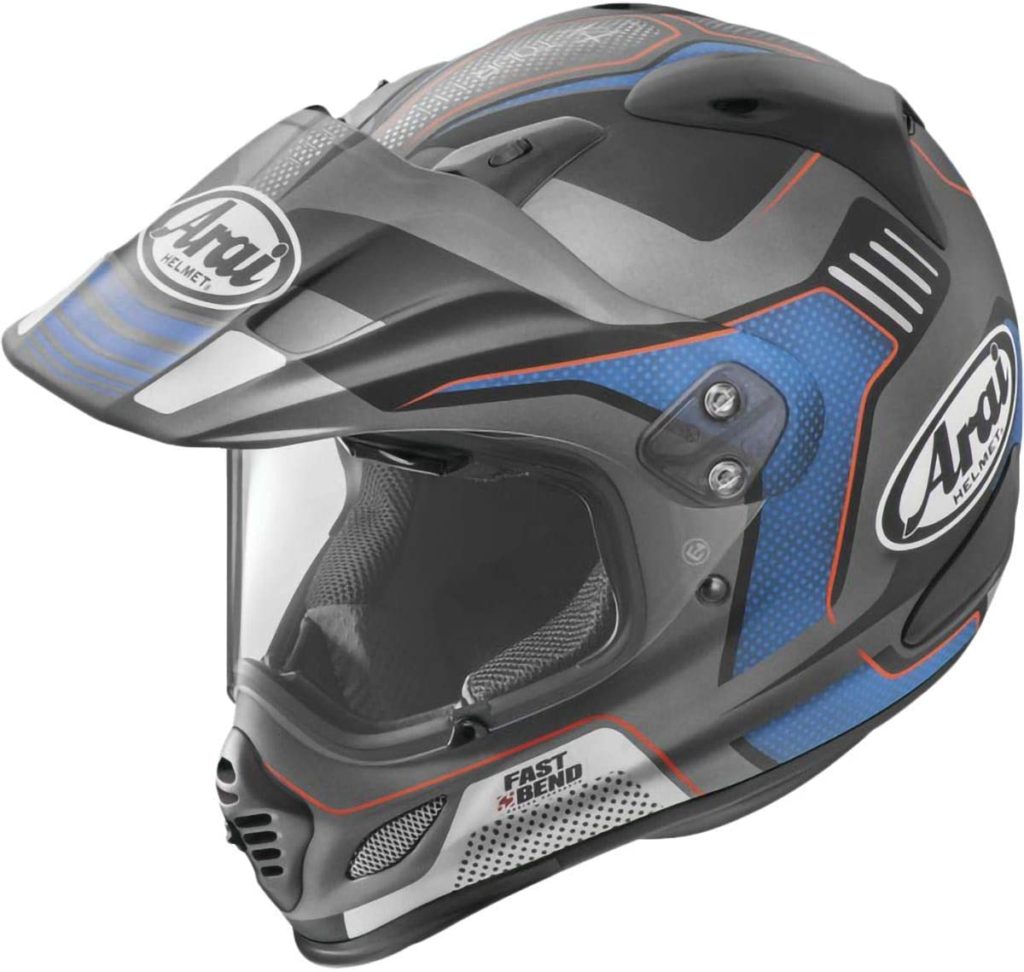 It also blocks wind and road noise much more efficiently than an off-road helmet using the non-protrusive chin bar and insulated interior. Talking about the comfort of this helmet type, dual-sport has a padded interior and adequate air supply through vents and ducts. Supporting these features, Dual sport helmets are designed to facilitate on and off road riding at moderately fast speeds and safety.
Key features of Dual-sport motorcycle helmet:
Aerodynamic visor stays on your head at all times
Excellent ventilation using ducts, vents and flip-down face shields
Better soundproofing ability than dirt helmet through insulation and less protrusive chin bar
Suitable for riding on highway and off road at high speeds
Smart Helmets
Last but definitely not the least, smart helmets are the latest inclusion to the list of types of motorcycle helmets available. As its name states, these helmets are innovatively designed to make your biking time more advanced than ever before! They have integrated smart hardware along with the ability to connect to your smartphone and let you take control of the device without needing any manual touch.
Be it for navigation, entertainment or communication purposes, smart helmets are ready to cater all your needs and offer tremendous safety using improved padding mechanism. These helmets are also sustainable to use and function on solar power supply. But of course, all of these features come at a price. Smart helmets are the most expensive type of helmets in this list and result in greater accidents if the user gets too involved with its technological features.
Key features of smart motorcycle helmets:
Energy efficient through solar power system
Upgraded hardware helps control smartphone in hands free way
Useful for navigation, music system and communication purposes
Padded interior for impact absorption and comfort
Very expensive
Divert rider's attention while driving
Frequently Asked Questions (FAQs)
How many years does a motorcycle helmet last?
The answer to this depends upon your riding time and skill. If you use your helmet for day-to-day transportation, it will wear out faster than one that you use for occasional strolls around the street. Another way to determine whether its time to replace your helmet or not is by checking how securely it stays on your head and looking at the quality of your shell. We recommend changing your motorcycle helmet after every three years.
What is the safest type of motorcycle helmet?
The safest motorcycle helmet is undoubtedly the full-face type helmet. It covers your face, head and sides completely and has the best padding for impact absorption. However, if you are on a tight budget and cannot afford a full-face helmet, go for an off-sport type. Remember to always look for DOT approval in any motorcycle helmet you buy.
What does dot mean on a helmet?
DOT stands for department of transportation. It is a label that ensures that the selected motorcycle helmet is approved by the United States Federal Motor Vehicle Safety Standard and legal to be used on roads and highways. A DOT mark on the helmet guarantees safety of the wearer from accidents.
Which helmet is better: open face or full-face?
If you are a professional racer who needs maximum safety and comfort, your choice should be the full-face helmet. Whereas, an open face is the perfect match for people using the bike for strolls on the street while wearing a much lighter and breezy helmet. The open face also has much better ventilation and horizontal field view as compared to the heavy-duty and durable full face helmet.
Conclusion
And with that being said, we conclude our article about different types of motorcycle helmets. We hope this helps you learn the advantages and drawbacks of each type and deduce which of these helmet styles is the right match for you!