Half helmets are perfect for every rider who intends to race with guaranteed style and safety on motorways, hills, and roads. Its finished half open design offers unbeatable breathability and is the proper match for everyone looking to have the most exciting time motorcycling over various courses.
But how do you choose the best half helmets among the numerous products available in the market right now? You don't need to worry about making this decision alone, as we are here to guide you correctly and ultimately help find the most suited half helmet for you! Continue reading ahead to find the list of the top four half helmets along with their detailed review and features.
What are the best half helmets?
1- Daytona Half Skull Cap Motorcycle Helmet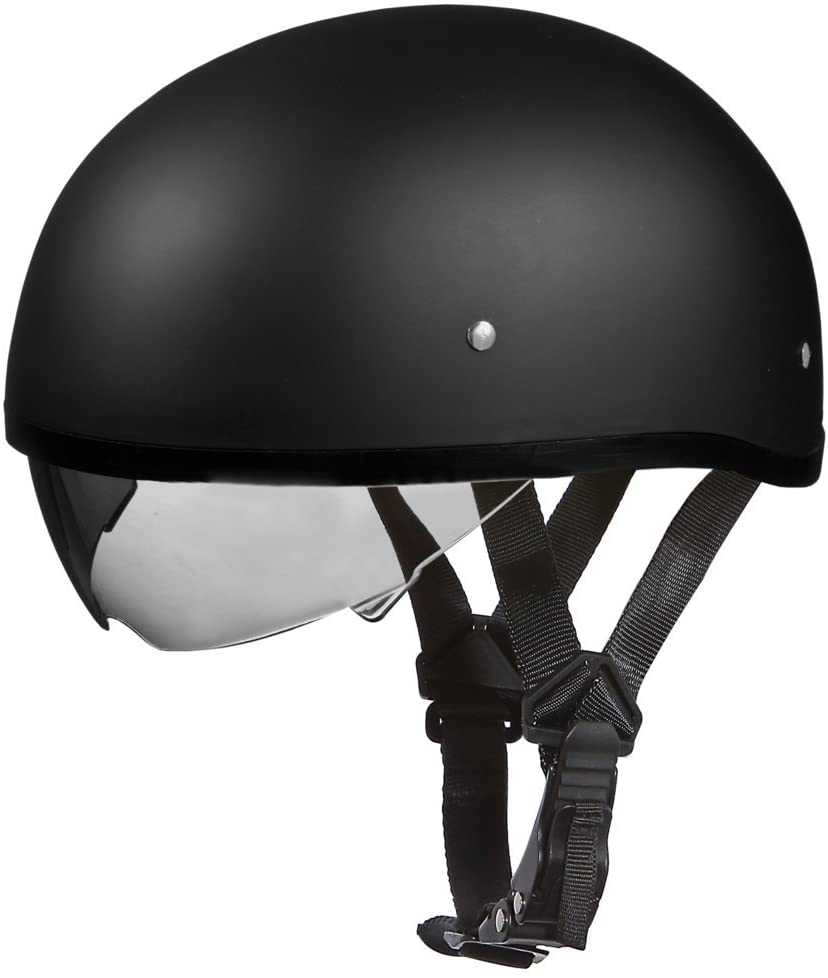 Let us begin this list with the highest quality half helmet of 2022/2023. Daytona has earned the respect and trust of many customers through the years of excellence and technology promised in the safety gear for vehicles. However, it is their half skull cap motorcycle helmet that has managed to outdone all its previous benchmarks in terms of safety and comfort.
The Daytona Helmet Slim Line Skull Cap is often deemed as the smallest DOT-certified half-helmet. It is accessible in three distinct shell sizes to provide the user with perfect fit. It also features a nylon strap with sliding adjuster, which ensures that you get a comfortable and snug fit without the endless tinkering of the chin straps.
This headgear also shows up in an elegant and contoured exterior that is constructed to fit snugly in your head. And simultaneously, to erase the dreaded 'mushroom look' that is a common problem with most half-helmets.
The interior of Daytona helmet is lined with expanded polystyrene (EPS) that contributes to utmost impact absorption and head security in case of any crash or flying debris. This EPS padding is formulated to hinder your head's movement inside the helmet, while concurrently soaking up and dissipating the outer impact. Every Daytona Skull Cap also includes a comfort, moisture-wicking fabric liner to help keep the head of the rider cool and comfortable.
Next, let us shine some light upon the outer shell of this impressive half helmet. This Daytona Helmet is constructed from a high-quality polycarbonate plastic which is extremely tough and lightweight to provide protection without crushing your head. This skull cap helmet stands on and surpasses all DOT FMVSS 218 safety guidelines, which gives the riders the peace of mind that they are secure and well guarded at all times during their travel.
Final Verdict:
Once again, Daytona Helmets has managed to leave its customers stunned with the brilliant half skull cap helmet. Incorporating the exclusive safety tech, generous EPS pads, and sturdy and reliable ABS shell together, Daytona offers you the best of all aspects and has become one of the best half helmet for both; casual strides and rigorous biking, regardless of what your skill level is! Purchase from Amazon
2- Torc T55 spec-op half helmet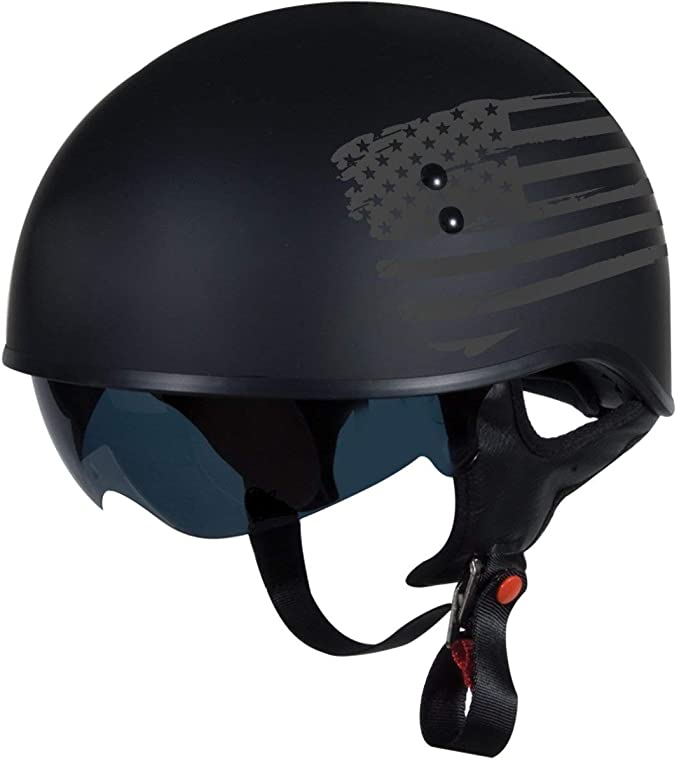 Are you looking for the most compact half helmet that does not compromise on your style or safety despite its small size? If yes, then the Torc T-55 spec-ops is your best bet for it. Although it is relatively new in the equipment industry, Torc has become well known by motorcyclists and skaters with time and gives tough competition to other popular brands.
Another outstanding product for bikers of all riding styles is the latest Torc T-55 Spec-Ops half helmet. Offered in a variety of shell sizes, T-55 has the most lightweight design and weighs barely one pound or more. This makes the helmet pain free to wear for long periods and easy to carry around with you.
Constructed using the advanced Thermo polymer alloy, Torc has gone the extra mile to ensure efficient energy dispersion in this half helmet. Its polycarbonate shell has an advanced mechanism that minimizes the weight of the helmet and guards against harsh impacts.
Secondly, let's talk about the premium quality multi-density EPS liner of Torc T-55 helmet. Accurately meeting the DOT safety standards, T-55 uses a wonderful interior EPS liner for the snuggest fit and effective energy dispersion during severe impacts.
No matter what course you are using your half helmet on, the rider is always scared of the helmet falling off from their head. To prevent this from happening and ultimately putting your safety at risk, the Torc T-55 comes with a secure D-Ring closure mechanism. This works together with the padded chin strap to make the helmet easy to put on, take off and adjust while riding, without compromising your safety.
Right after talking about the security offered by Torc T-55, let us discuss the comfort it offers to beginner and expert users. Containing an easily removable and washable liner, T-55 dries off quickly and is easy to maintain. Alongside this, the anti-microbial properties help wick off any moisture on your face and discourage the growth of odorless bacteria.
Final Verdict:
After reading the aforementioned key features, Torc T-55 can rightly be deemed as the most compact half helmet of 2022/2023. Its advanced polymer construction combined with the drop-down visor style have improved its comfort and style by a massive mark! Just remember to try on the helmet before purchasing it for a snug fit and optimal head security. Purchase from Amazon
3- ILM Motorcycle Half Helmet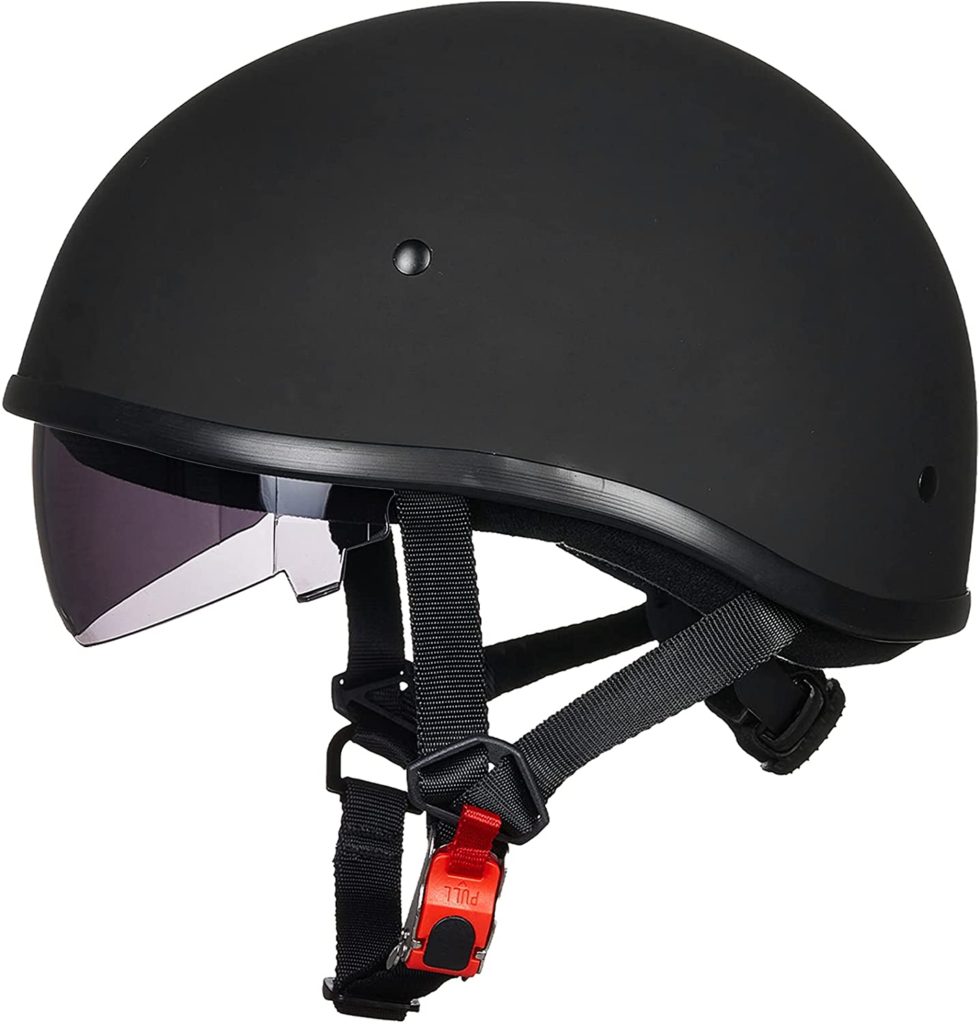 Given ILM Helmets' years of experience in offering the best quality and performance technical helmets, it is no surprise to see its name appear in this list. The ILM motorcycle half helmet is here to provide its users with a completely safe and hassle-free biking experience.
ILM has been successfully regarded as the most stylish half helmet, all thanks to its matte black appearance that bestows this safety gear with a stunning look for an enjoyable ride. To search for a helmet which does not loose its color in prolonged sunlight can be a draining hunt, but not with this helmet! ILM is precisely what you need, that endures heat and UV light without them affecting the exterior due to its anti-fading color coating.
The outer shell of ILM is built from strong and stable ABS exterior which makes the helmet suitable for safeguarding in many outdoor activities. The nominal weight of the shell does not put additional weight and pressure on your head and lets you stride hastily along the road.
Are you someone who gets easily disturbed by moisture inside the helmet? If yes, then it is important you look for a half helmet that is breathable and easy to clean. Luckily enough, ILM motorcycle half helmet offers both of these things! With its top vents and exit port to keep the clean air coming and to facilitate the removal of exhausted one, it keeps you cool while you descend down the slope or sit in the traffic for hours!
Regarding eye protection, this remarkable helmet includes an integrated drop-down sun visor to save the rider's eyes from harmful sunlight rays, and thus eyestrain and mixed up vision. Furthermore, this sun visor is replaceable and removable to give you the flexibility when riding on a sunny day or a cloudy evening.
Lastly, ILM half-face helmet includes a soft and plush ear flap that diminishes the chances of squeezing around the head by providing extra space for the ears, unlike most traditional half-face helmets.
Final Verdict
If you are willing to get a high quality and performance of the helmet without spending heaps, the ILM half-face motorcycle helmet is the appropriate match for you. Equipped with the most advanced technology, this drop-down visor helmet is one of the best half helmets released until now and definitely worth a try. Purchase from Amazon
4- Bell Pit Boss Half Helmet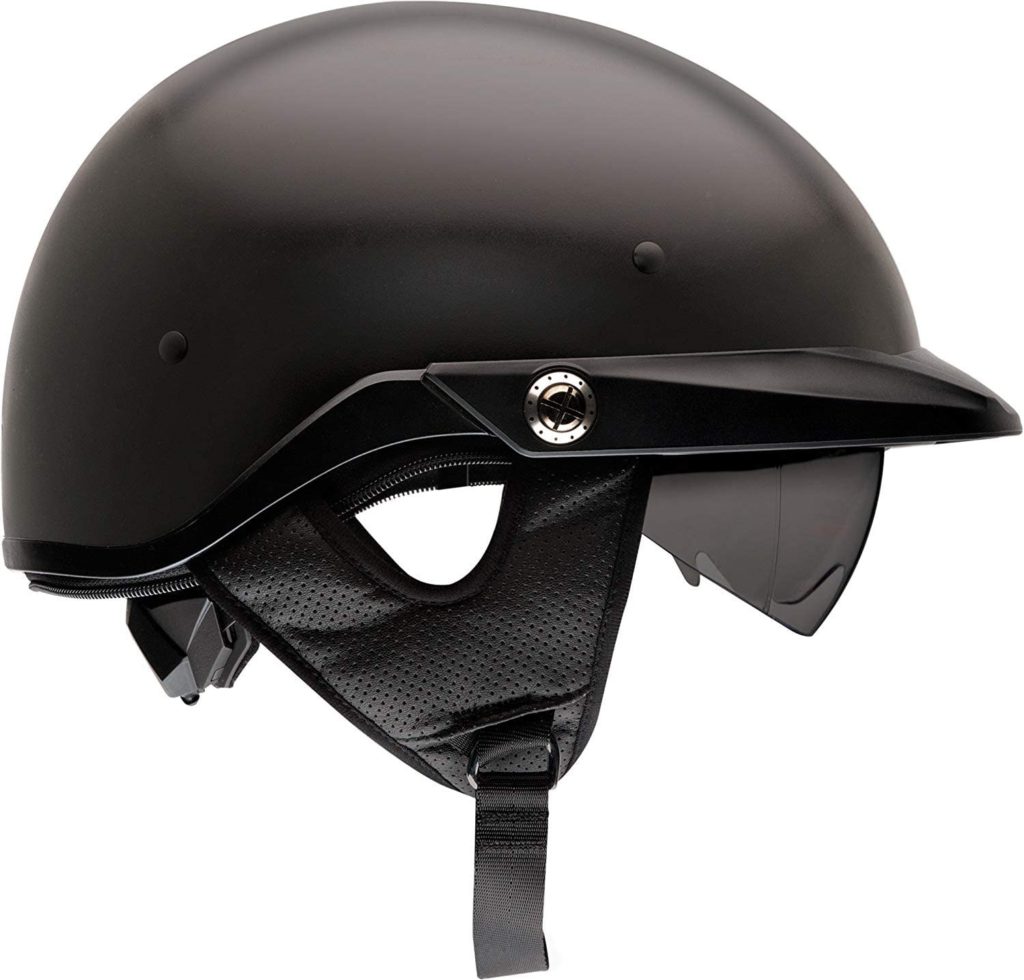 The brand Bell needs no introduction to every sportsman and their fans. They have always promised outstanding performance in their products. Another inclusion to this list comes with the supremely comfortable Bell Pit Boss Half Helmet.
Do versatility and design of a helmet matter to you as much as its performance and quality? If your answer is a yes, then be prepared to be left amazed with this Pit Boss Helmet. With the multiple configurations it can run in; with or without visor, or with or without sun shade, Bell gives its rider full control of its settings through its fast and simple tool-free transitions.
Next, let's talk about the shell construction of the most durable half helmet. Bell Boss is made from a premium-grade Tri-matrix composite shell that promises protection while its triple EPS lining guarantees ultimate comfort and a perfect, personalized fit so that your excursion does not get disturbed through constant fixing.
This half helmet also possesses a removable neck curtain to insulate the motorcyclist's neck in cold climates. This helps to ride safely in winter, a function that many half helmets lack.
However, the one feature which makes this half-face helmet stand out is its tremendous electronic compatibility. This Bluetooth-ready protective gear comes with a built-in communication port which can accommodate any Card or Sena Bluetooth intercom system and headset. This Bell headwear also comes with an adjustable speed dial and chin strap that works forwards and backward for a personalized fit and to lessen the occurrence of chin pinching or hair pulling. If you have an uncertainty of the strap squashing your hair or skin, Bell Pit Boss will not do that to you!
Final Verdict
If you are ready to expend a little more to guarantee safety and to ride your bike while listening to your favorite tunes, we recommend purchasing the Bell Pit Boss Half Face Motorcycle Helmet. With its aerodynamic style and versatility, it is the most user-friendly half helmet you can get your hands on! Purchase from Amazon
Buying Guide
Choosing the ideal half helmet for you that fits your head perfectly and matches your riding skills is no doubt a crucial yet a daunting decision to make.
All the various makes and models can leave your head spinning if you do not have the proper knowledge. Thus, to help you out with this process, we have enlisted some important factors that you should consider before shopping for one.
Exterior or Crown
With the limited safety half helmets provide, it is significant to opt for the one with the most robust exterior. Various materials are used for the exterior's construction; from our regular polycarbonate and Kevlar, to the less common fiberglass, expanded polystyrene or thermoplastic alloys. All of these are lightweight but have different durability. So, you should opt for one with the highest durability and lowest weight. Thermoplastic alloy and polycarbonate both stands of the criteria and thus should be your pick.
Interior and Cushioning
Foaming and cushioning is another factor vital for your safety. Most half helmets are lined with foam cushioning inside the crown and on the ear flaps to safeguard the user's head in case of any injury. Most have full cushioning while some consists of semi-cushioning which may not be thick enough to counteract the impact's energy. So make sure that the open face helmet you choose has uniform padding and is also removable and washable to help you out with the cleaning step.
Size
Size does matter in half helmet selection to ensure that your already restricted protection is not affected by you constantly trying to fix the helmet on your head. For this reason, measure the diameter of your head and compare it to the standardized size chart to assist you in picking the true helmet size.
Head Shape
While most people features an oval head, some may not fall on the criteria and thus may not fit into every open-faced helmet. Make sure you buy a helmet that accommodates your head shape and comes with adjustable padding to give you a personalized shape and fit.
Ventilation
If you prefer unrestricted airflow inside your helmet, then half helmets should be your best bet. While most of them comes with the best ventilation, some may have an upper hand because of the additional vents or holes on their exterior and their exhaust port design to prevent accumulation of the drained air. So, consider your needs, and decide accordingly.
Visor
Want to enjoy the breeze and sunlight while you drive down the lane? If yes, then a visor is just what you require. The half helmets does not come with built-in visors, so it is noteworthy that you pick one which is compatible to many visors and can be attached and detached effortlessly to enable the customer to not fear light or wind when heading out.
Safety Certification
Better to choose a recognized safety gear than endangering your life to find out yourself. Half head gears usually have safety certifications, which are a proof of their high efficiency and compliance. DOT and Snell are one of the top-recognized certification to look for, to assure that your half helmet will not lack in its job.
Frequently Asked Questions (FAQs)
Conclusion
With that being said, we conclude our article about the best half helmets available in market right now. We sincerely hope our list helps you find the most suited half helmet as per your skill and riding style and adds to your biking experience.
Remember to go through our buying guide in detail and only spent on a helmet that offers you the best performance in terms of safety, security, comfort, and ventilation. Happy riding everybody!