Riding on a motorcycle is a thrilling yet dangerous sport. To prevent serious injuries in case of accidents, protective gear is essential for every beginner and professional rider. The most important piece of equipment is the motorcycle helmet that protects your head from fatal injuries and wounds.
But given the numerous products available to choose from, purchasing the right motorcycle helmet can be a confusing task, especially for a beginner. For this reason, we have listed down the best motorcycle helmets that offer maximum safety and give every amateur rider the confidence to use their motorcycles on the streets!
What are the best motorcycle helmets for beginners?
LS2 Modular Strobe Helmet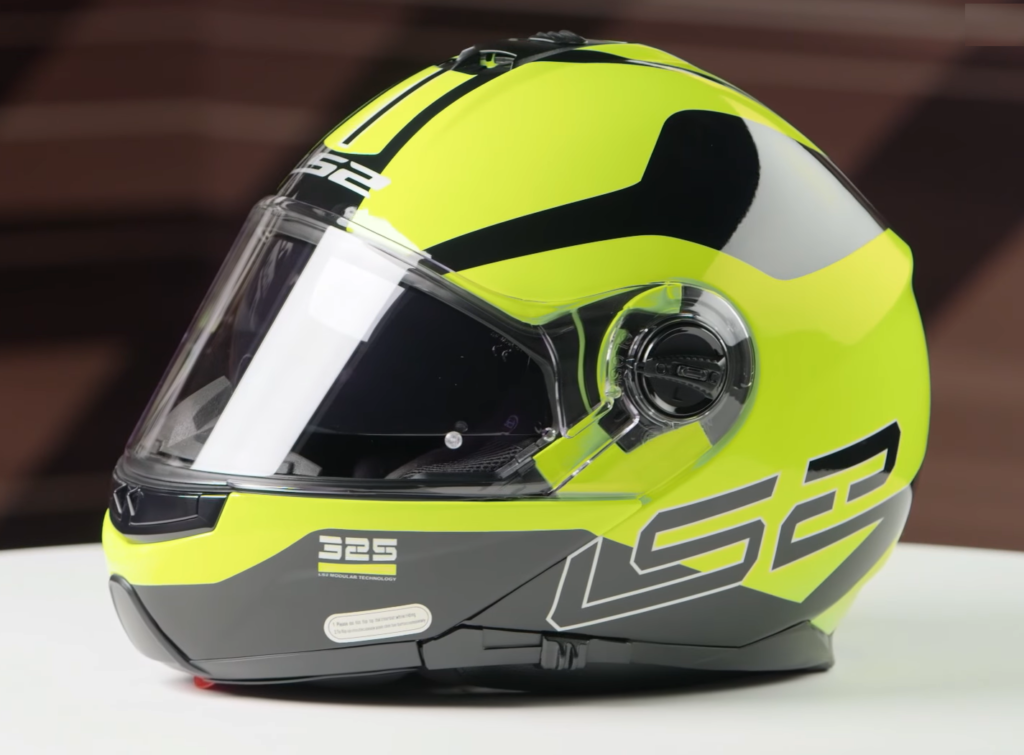 Check Price: Revzilla | Amazon | J&P Cycles
First up, we have the most spectacular motorcycle helmet for beginner cyclists. The LS2 Modular Strobe is designed for street strolls and racing styles. It is available on a wide scale between XXS to 2XL shell sizes and is certified by ECE for legal and safe use on streets. Equipped with a top, chin and channelled EPS vent, LS2 Strobe regulates air apply within the helmet and keeps your face dry during intense riding.
The visor of every helmet plays a crucial role in determining its suitability for any rider. For this very reason, LS2 Modular features 3D polycarbonate and an optically correct visor with guaranteed protection from impacts. Not only this, the LS2 clear visor is manufactured from UV and scratch-resistant materials to enhance its durability. Moreover, the pin lock ready quick release system allows your visor to protect your face from any injuries.
Advancing upon the security of this helmet, LS2 Modular features a micrometric buckle with a reinforced chin strap. This secures your helmet on top of your head whereas the multi-density EPS liner offers an accurate fit. Secondly, LS2 Modular Helmet offers maximum comfort for its beginners with its breathable and detachable liner. This liner is constructed from hypoallergenic material and is easy to wash, preventing the spread of allergies and other microorganisms.
Given its long list of features in mind, the LS2 Modular Strobe is undoubtedly one of the best motorcycle helmets for beginners. It offers the perfect blend between comfort, safety and durability and is here to help amateurs brush up their skills without endangering themselves.
Scorpion R420 Helmet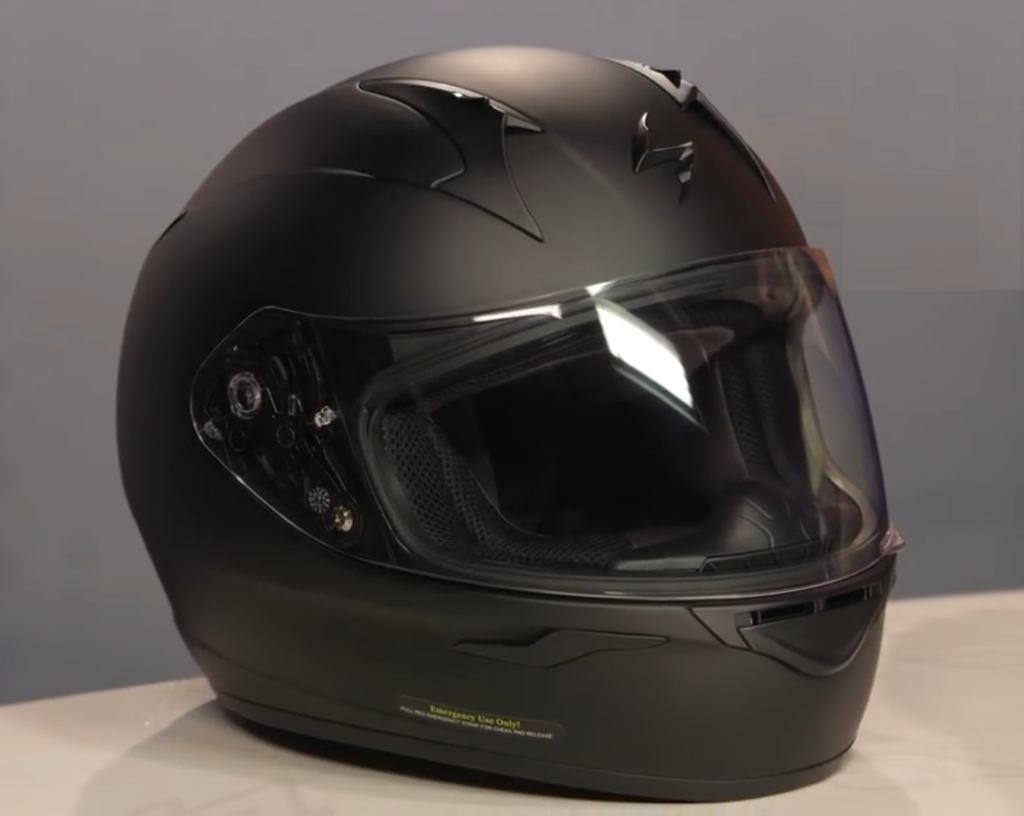 Buying Options: Revzilla | Amazon | J&P Cycles
With years of experience under its belt, Scorpion is one of the most renowned brands for the manufacture and sale of motorcycle helmets. However, it is their recent product that has managed to grasp the attention of all beginner users right away. Scorpion R420 is constructed from an advanced polycarbonate and aerodynamic shell, promising durability and high speeds to riders.
Everyone new to the thrilling sport of riding looks for a helmet that grants them maximum safety in case of accidents. To make this possible, Scorpion R420 has an advanced multi-layer EPS lining. In addition to absorbing impacts effortlessly, it works with the aero tuned ventilation to regulate airflow within the helmet.
Another phenomenal feature of the EXO-R420 helmet is its elliptec face shield lock system. This has an integrated centre lock for secure fit, meanwhile the anti-scratch and anti-fog qualities make it protected against harmful UV rays. Furthermore, the kwikwick liner is designed to detach for convenient washing and keeps your face breezy and comfortable at all times.
Although Scorpion EXO-R420 is prone to loud road noise, its SNELL certification makes it the safest motorcycle helmet for beginners. You can practice your riding skills and stunts with EXO-R420 without worrying about any permanent damages and be extremely comfortable with its lightweight and breathable design!
Bell Qualifier Unisex Adult full face helmet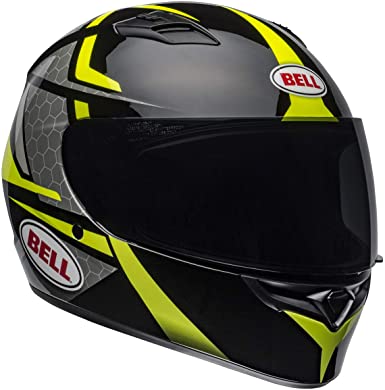 Buying Options: Revzilla | Amazon | J&P Cycles
The brand Bell Qualifier has since long ruled the hearts of motorcyclists with the safest and reliable equipment. An addition to this list comes with the release of its unisex adult full face motorcycle helmet for amateur and professional riders. Approved by DOT and ECE standards, Bell Qualifier is made from high quality yet lightweight polycarbonate material and finished in an aerodynamic shape for charging at fast speeds.
Secondly, this unisex full face helmet features a NutraFog II durable face shield. This protects your eyes and face from harmful UV radiation and fogging for optimal vision clarity while guaranteeing resistance against scratches. The visor features a user-friendly and instant Click Release mechanism and has integrated speaker pockets for communication and entertainment purposes.
Knowing how annoying road and wind noises can be while travelling at high velocities, Bell Qualifier has taken special care to block these out in its latest adult motorcycle helmet. With a fully padded wind collar, Bell Qualifier minimises road noise and the breathable anti-bacterial fabric liner guards against growth of odourless fungi. Furthermore, the liner fabric is removable and instantly dries off after wash and works alongside the FlowAdjust ventilation system for maximum air intake.
For everyone learning to ride on a motorcycle, the Bell Qualifier Full Face Helmet should be your go-to option. With its high level of safety and performance, Bell Qualifier offers you a thrilling riding time with adequate ventilation and comfort!
TORC T15B Bluetooth Integrated Full Face Motorcycle Helmet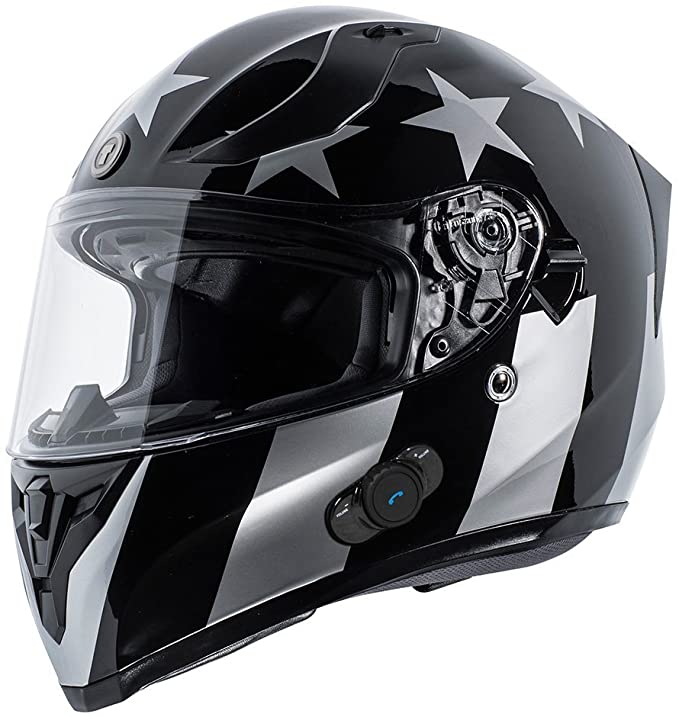 TORC has always excelled as compared to other helmet brands in terms of quality and construction. The T15B Captain Bluetooth helmet has been precisely designed to meet every beginner's needs and give them the most encaptivating riding time. With guaranteed protection from scratches, fog and UV radiation, the drop down sun visor of TORC T15B provides wide field view and ultimate durability.
Talking about the comfort of this high quality helmet, T15B contains a removable and comfortable padded collar. This eliminates neck aches while guarding against growth of odourless bacteria through its removable nature and easy washing. Along with this, the advanced race inspired ventilation design regulates the air supply within the helmet and keeps it cool.
Approved by DOT and ECE standards, TORC T15B is available in sizes as wide as 2XL to facilitate different head sizes. Meanwhile, the integrated advanced Bluetooth audio, dual stereo speakers and anti-noise mic make it one of the smartest motorcycle helmets of 2023. Thirdly, the built-in spoiler blocks obnoxiously loud wind noises and enhances stability while riding at high speeds.
With the amazingly smart Bluetooth and dual stereo speakers, TORC T15B Full Face is undoubtedly the smartest motorcycle helmet for riders of all levels. It offers superior breathability and comfort but is not the best in terms of durability on the inside.
Klim Krios Pro Dual Sport Helmet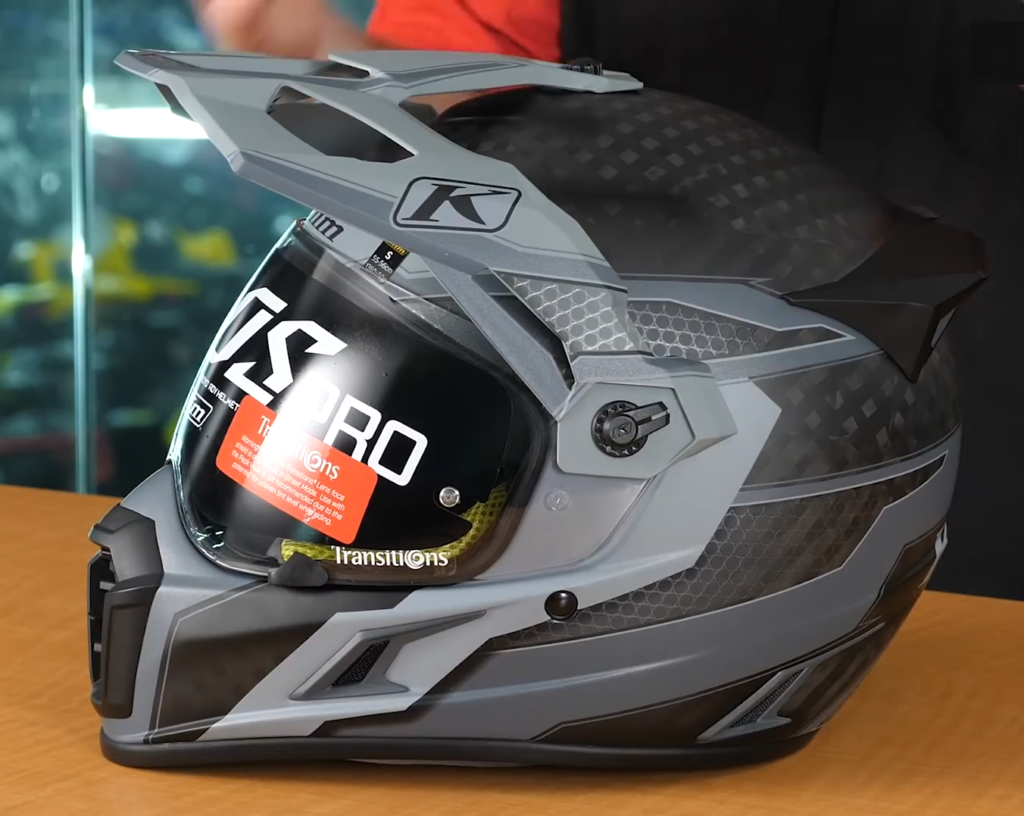 Last but definitely not the least, let us take a look at the lightest motorcycle helmet for every amateur motorcyclist. The brand Klim has always promised dream-worthy features in its products. Living up to this mark, they designed the notably light Pro Dual Sport Helmet from extremely light yet reliable carbon fibre hand material. This helmet is officially certified by DOT and ECE standards for optimal road safety.
With up to four riding styles compatible, Klim Krios Pro Dual is perfect for riders of different skills. Whether you are a beginner rider who plans to take your motorcycle out for a casual trail or professional racer learning to drift, the Klim Krios Dual Sport Helmet will make sure to keep you protected at all costs. Next, the optimised shell resin tech helps divide the weight of Klim Krios helmet equally and make it pain free for your neck and shoulders.
This even distribution is followed by the KOROYD construction that is responsible for absorbing severe impacts in case of serious accidents. Alas, let's review the visor of the Klim Krios Dual helmet. Supporting a pin-lock ready face shield, the visor of Pro Dual Sport is resistant to scratches and UV rays. Moreover, the fid-lock strap closure secures the helmet safely and grants maximum stability at high velocities.
Although it costs way more than other helmets in this light, the Klim Krios Pro Dual Sport Helmet is worth the investment. It boosts the safety and performance of every rider and gives every newbie a chance to learn riding the right way with added ventilation, comfort and protection! Making Klim Krios Pro Dual Sport the best motorcycle helmet for beginners.
HJC IS Max II Modular Helmet
HJC, known for its versatility, has recently come up with the most suitable motorcycle helmet for everyone starting their new venture into the sport of riding. Constructed from advanced polycarbonate composite material, HJC IS features a supremely light and adjustable shell. With the advanced CAD technology, Max II Modular helmet is very comfortable and painless to wear even for long intervals.
Next, let's talk about the face shield of this modular helmet. Featuring the optically correct pin lock mechanism, the visor of HJC IS Max II is up to 95% resistant towards UV radiation. Moreover, the single button lock and release system makes the helmet easy to put on and off in a matter of seconds and is backed by a built-in smoke tinted sun shield. This visor guarantees utmost versatility with its three stage adjustable locking system.
Sweating can be quite a nuisance during intense racing and hinder your skills gravely. To prevent this from happening, HJC IS Max II contains a super cool moisture absorbing interior fabric. It is also anti-bacterial and detachable in nature to make it convenient to wash after use. Additionally, the efficient advanced channelling ventilation system supplies air inside the helmet and keeps your face dry.
With advanced polycarbonate construction and ventilation system, the HJC IS MAX II Modular is another show stealing safety headwear. For its low price of under two hundred dollars and guaranteed DOT standard safety, HJC IS MAX II Modular is one of the most affordable motorcycle helmets for beginners.
Buyers Guide
Now that we have finished listing down the top six best motorcycle helmets for beginners, it is time we discuss the features that make them the best at this task. Before purchasing a motorcycle helmet for anyone new to the sport of riding, it is important you take a look at the following features:
Visor design
The first and foremost feature that helps determine the suitability of any motorcycle helmet for a newbie user is its visor design and features. To reduce your chances of falling or crashing into other vehicles, it is important your visor is optically accurate at all times. For this reason, always look for a visor that is resistant towards UV rays, scratches, fog and other weather conditions.
Helmet Type
Next, you need to decide between the six different motorcycle helmet types available to use. These include full-face, half-face and modular types as the major three types. We urge every beginner rider to prefer a full-face helmet over any other type as it is the best in terms of safety and performance. A full face helmet has a lesser chance of causing serious injuries as compared to any other type although it is relatively heavier.
Ventilation
For everyone who is new to the sport of racing, there is a high chance that you will excessively sweat during intense motorcycling. This makes the need of adequate ventilation in any motorcycle helmet a must. Always look at the ventilation system of a helmet and see exactly how many vents it has near its chin and face. Moreover, check if the interior fabric is made from breathable and light fabric or not.
Safety
Whether you are an amateur or professional motorcyclist, the safety of any helmet is equally important in each case. Always look for a DOT and ECE approval sticker on every motorcycle helmet. This signifies that specific helmet is legal and declared safe for use on roads and highways. On the other hand, a SNELL certification promises superior safety as compared to DOT/ECE approval.
Price
The last factor that you need to consider before selecting the right motorcycle helmet for you is its price. Motorcycle helmets are available for prices as low as below one hundred dollars. However, it is significant that you do not compromise on the quality and safety of a helmet just to save some money. Remember that investing in a durable and high rated product means reducing the chances of fatal injuries.
Frequently Asked Questions (FAQs)
How do I choose my first motorcycle helmet?
There are various features that play a part in helping you choose the perfect first motorcycle helmet. Some of these include the comfort, fit and safety that any helmet has to offer. Take a look at our buying guide to read about these features in detail.
What size of motorcycle helmet do I need?
Newbie riders often struggle to find the right helmet size for use. An easy hack is to measure your head size using a tape and remember its length when looking for a motorcycle helmet. Make sure that the helmet has a snug and secure fit and is not too narrow or large as either of those may result in several riding problems.
Do motorcycle helmets make a difference?
Yes, motorcycle helmets make all the difference in the world. Multiple studies have shown how people wearing a motorcycle helmet have a much higher rate of surviving fatal blows as compared to those without any safety headwear. A motorcycle helmet is a worthy investment and might end up saving your life in unfortunate accidents.
What brand of Motorcycle helmet is the best?
The answer to this varies depending upon the durability, safety, and performance of each helmet for every skill set. But a general consensus declares AGV has the top-rated brand for overall best helmets whereas the names Shoei, Shark, and HJC closely followed behind.
Conclusion
At last, we have reached the end of our comprehensive guide about buying the best motorcycle helmets for beginners. We hope our list and buying guide will help you make the right choice for you and lead you to a motorcycle helmet that will brush up your riding skills and make you a pro racer in no time!