Even if you are enjoying a slow ride on your cruiser motorcycle, you have to assure that you put your helmet on every time. A quality head safety gear will safeguard you in case of any accident and may even save your life. However, searching for the perfect cruiser helmet that fits your requirements and accents your style can be a tough task. All the umpteenth models and brands, can make the decision overwhelming and may leave your head spinning. So, to help you out on this quest, we have compiled this carefully curated list of our all-time favorite cruiser motorcycle helmets.
What are the 5 best helmets for Cruiser Motorcycles?
LS2 Bagger Motorcycle Helmet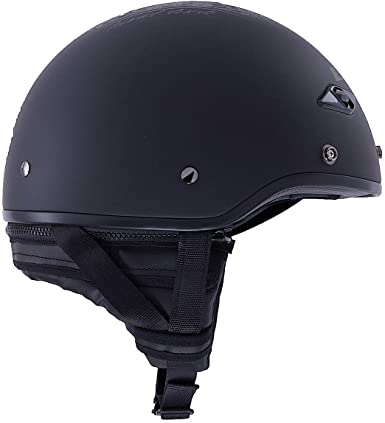 Check Price: Amazon
What is a better way to start this list than to do it with a product of the most outstanding brand in terms of safety? LS2 Helmets has since long been regarded as a favorite of many riders and has managed to come up with interestingly smart and efficient Bagger Motorcycle half helmet for their customers.
Are you done with the sweat dripping off your eyes and causing disturbance? If yes, then it is important that you opt for a helmet that is breathable and easy to clean. Fortunately enough, LS2 Bagger delivers both of these things! With its many vents and removable zip-off neck skirt, it promotes the fresh air coming in and maintains the temperature around your neck to keep you cool while you ride down the ramp or wait in the traffic for hours!
Featuring LS2's exclusive lightweight fiberglass construction, Bagger is designed to aid you on your adventures and cruising journeys while providing the perfect combination of safety and comfort. Through its motion energy dispersion system, it enhances the protection of your head greatly, while its easy-to-remove liner provides comfort on the inside and can be kept fresh by simply handwashing it.
Thanks to its primary oval fit and adjustable chin strap, LS2 ensures true fitting on any head, so it does not come off in case of any crash, and safeguards your head at all times.One major benefit of its open-face helmet design is that you can get utmost visibility.
Whether you like cruising a slow, panoramic ride down a hill or seaside road, or you are driving through lush green gullies in the early dawn or sunset, the wide-open framework of the LS2 Bagger helmet vows to provide you with maximum visibility to let you enjoy the scenic view around you.
Another huge plus to this remarkable helmet is its sun visor which can be instantly snapped on or off. This makes it ideal for rides on sunny days to shields your eyes from the damaging UV rays and therefore presenting you with an unobstructed view. Not to mention the fact that this stylish visor is also an elegant touch for uplifting the look of the helmet and therefore, allowing you to ride in style.
What we like:
Lightweight and durable HPFC exterior that does not feel too heavy on the head
Hypoallergenic liner to prevent itching on long-term usage
 Three-snap peak strap system and oval fit design for better fit and easy adjustment
Features quick-lock technology for prompt wearing and removal of the helmet
Ear flaps with built-in pockets to cruise while listening to your favorite tunes
Added ventilation all around the helmet
Neck curtain to assist you in cooler weather rides
Sun visor to provide you eye protection and to aid you during daytime rides
Provides you the full view of your surroundings
 Meets all the safety benchmarks including DOT, FMVSS 218, ECE and Snell
What we don't like:
Does not block the outside noise
Not suitable for sports or off-road biking
Traditional helmet design can make your head look bulbous
Comes in a few colors
Final Verdict:
Once again, LS2 Helmets has managed to leave its customers amazed with their brilliant Bagger motorcycle half helmet. Including the exclusive safety tech, extensive exhaust vents and removable fitting pads, LS2 offers you the best of all aspects and has become one of the best cruiser helmets for casual strides, regardless of what your skill level is! Check Price on Amazon
ScorpionExo Covert Unisex Helmet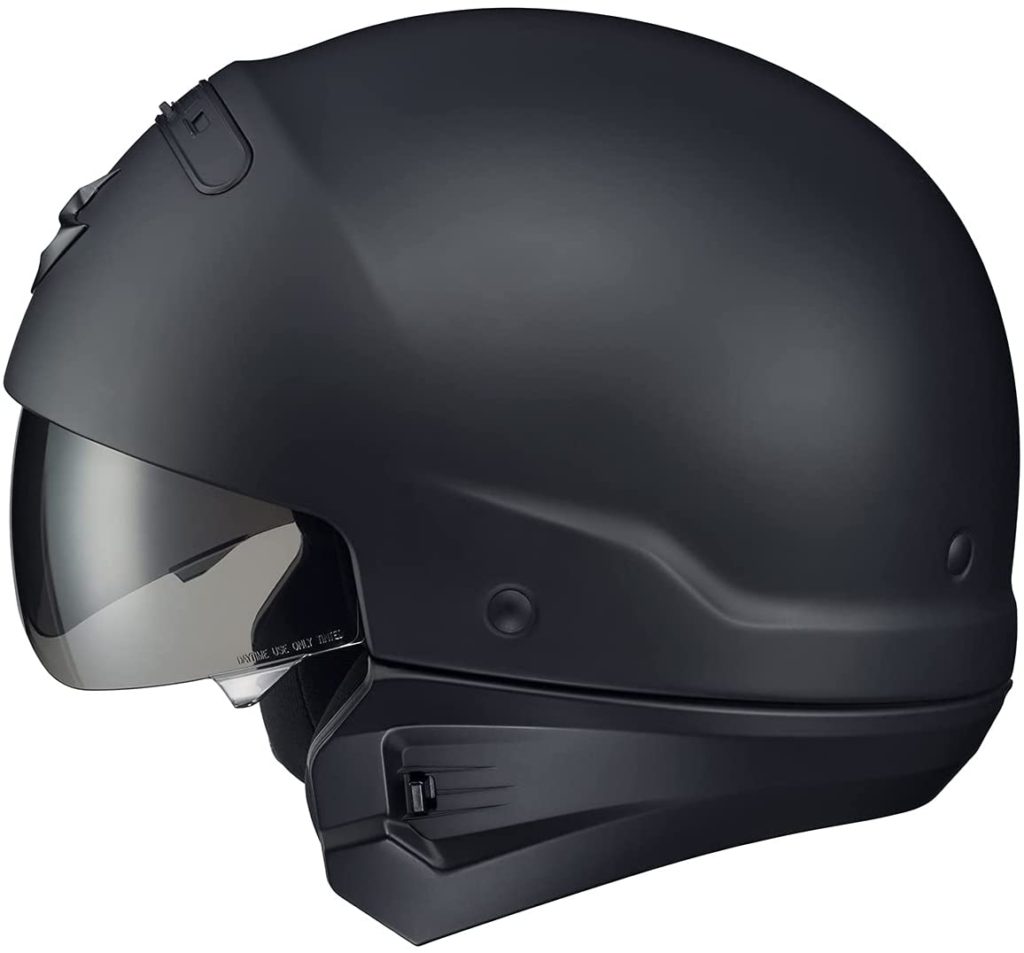 Check Price: Amazon
The brand Scorpion needs no introduction to every cruiser and their fans. They have always guaranteed excellent performance in their products. Another inclusion to this list comes with the supremely comfortable ScorpionExo Covert Adult Helmet.
Gone are the days when you needed to buy several helmets to accommodate your varied riding styles. With this three-in-one helmet, you can easily switch between a half helmet to let the fresh breeze hit your face, a three-fourth model offering better protection of neck and the backside of the head, and lastly a full-face helmet to provide full safety during rigorous biking. This undoubtedly makes ScorpionExo the most versatile cruiser motorcycle helmet out there!
This multipurpose helmet can be converted into any of its three forms, within minutes, all credited to its high-powered magnet construction. The magnets are created of neodymium, which signifies that they are much more resilient compared to other varieties. Furthermore, you don't need to mess around with hooks or clasps, which can detach off or wear out over time. The power of the magnet will never diminish and will elevate the durability helmet of the helmet.
Now, let's discuss about the premium quality polycarbonate shell and multi-density EPS liner of Scorpion helmet. Accurately meeting the DOT safety standards, Exo Covert uses a wonderful interior EPS liner for the snuggest fit and active energy dissipation during severe collisions.
Altogether, we admire the Scorpion Covert Helmet for its appearance and modularity. When on, it gives a sleek and modern look. You may look like the hero of a cyberpunk story and will without doubt stand out, especially when people will compliment you on your style.
What we like:
Three-in-one helmet suitable for any biking venture
Attractive design with matte finish
Easy to take apart and put together
Meets DOT safety guidelines which proves its high caliber performance
Plush and soft interior to promote comfort of the user
Tinted Visor
Strong and durable polycarbonate shell to minimize the effect of impact
Equipped with an aero tune ventilation system to boost airflow
Its five-year warranty lets you buy with confidence
What we don't like:
Sizing can be tricky for some riders
Does not completely mitigate the noise
Not a good choice for winter as the vents can't be closed
Can be scratched easily
Final Verdict:
After reading the aforementioned key features, ScorpionExo Covert Unisex Adult helmet can rightly be deemed as the most versatile helmet of 2022/2023. Its advanced polymer construction combined with the drop-down visor style have intensified its style and comfort by a massive mark! Just remember to try the helmet on before buying it for a snug fit and optimal head security. Check Price on Amazon
Shoei GT-Air 2 Full Face Helmet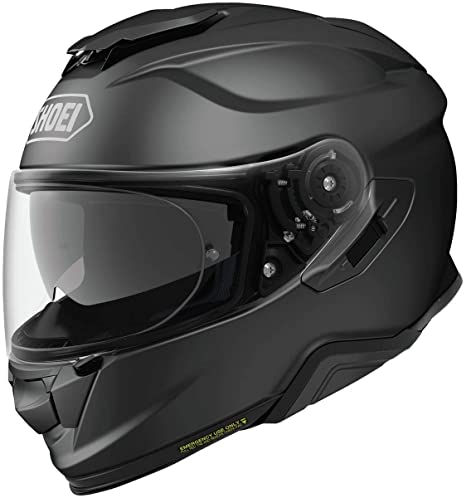 Check Price: Amazon
First up, we have the most recent addition to Shoei's GT series. Through years of hard work and testing, Shoei has become one of the biggest names for manufacture and sale of safety equipment. Keeping up with this reputation, they recently released the powerful yet compact GT-Air 2 helmet.
Finished in a fine edged shell design, GT-Air 2 has a small yet orthodox body. Along with this, its integrated electronic communication slots allow for instant and hassle-free mounting. This helps you stay connected with your friends and family even when biking in entirely different cities.
Moving on, let us talk about the visor of this motorcycle helmet. Featuring the unique QSV-2 sun visor, this helmet is coated with anti-fog material for optimal vision clarity. Next, the user-friendly lever eases up its movement while facilitating European style sun goggles.
Just saw a large cloud of smoke coming towards you and immediately wanted to slide your sun visor up? Now, you can do this easily with the rapid lowering and raising speed of the Shoei GT-Air 2 helmet. Its EPS liner also ensures a secure and snug helmet fit over your head.
Check Out: Best Motorcycle Helmets for Glasses
Flimsy helmets are not only annoying to wear but can cause severe injuries as well. To reduce the possibility of this happening, GT-Air 2 is backed by a micro ratchet chin strap closure system. This top quality stainless steel mechanism is extremely durable, stable and easy to use even while wearing thick gloves.
What we like:
Lightweight shell design due to its elastic organic fibre composition.
Adequate ventilation with three intake and four exhaust vents.
User-friendly vents and chin strap system.
Chin curtains minimize road and wind noises.
What we don't like:
Slightly on the edge of $600.
Final Verdict
Given its highly efficient chin curtains, closure strap system and organic fibre shell, Shoei GT-Air 2 has grasped the attention of all motorcyclists and become one of the most comfortable helmets under $700. We urge you to invest in this helmet if you can bear a little extra price in return for utmost comfort and performance.
Bell Qualifier full face helmet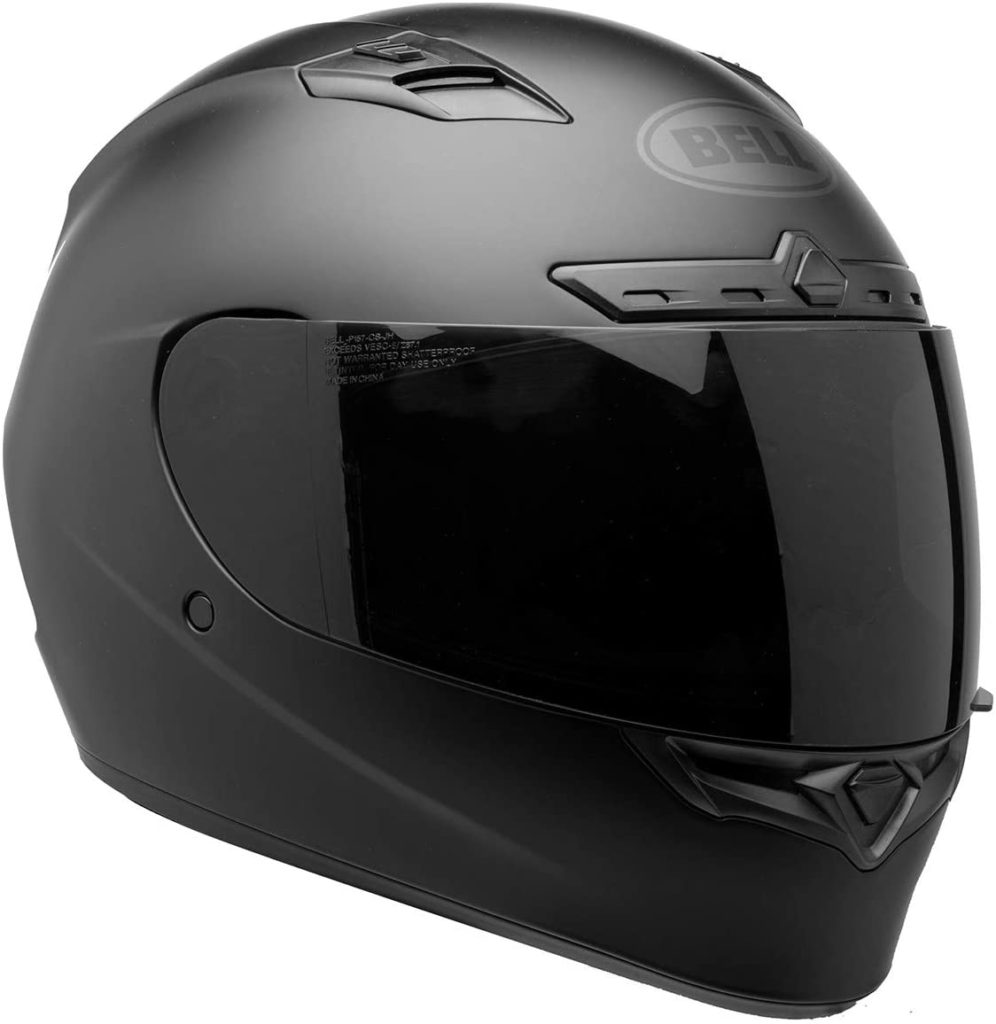 Check Price: Amazon
With years of experience in making safety equipment for vehicles, Bell Helmets is rightly deemed as the biggest and most trusted brand of motorcycle helmets. However, it is their latest Qualifier full face helmet that has hooked every cruiser, beginner, and professional rider right in through the noteworthy details and safety.
Meeting and exceeding DOT and ECE safety standards, Bell Qualifier is made from supremely light polycarbonate material. It features the ABS shell construction and an amazingly aerodynamic shape for cruising at high velocities. Moreover, its three different shell sizes make it versatile enough to be worn by riders of all head sizes easily!
Secondly, Bell Qualifier is a unisex full-face helmet designed to offer optimal safety to riders of every skill set. It contains a NutraFog II durable face shield to guard against harmful ultraviolet rays and fog from ruining your vision. Not only this, the material is completely resistant to scratches and offers a wide peripheral view.
To prevent the helmet from constantly wobbling on your head while cruising around, Bell has equipped the Qualifier full-face helmet with a secure click release system. This is super easy and quick to lock and unlock, meanwhile the integrated speaker pockets keep you connected and entertained during your journey.
Bell Qualifier takes special care to block out any annoying road and wind noises produced by using its fully padded wind collar. Alongside this, the fabric liner is constructed from breathable and antibacterial material, whereas its removable nature makes it easy to wash, dry and maintain after use.
What we like:
Lightweight polycarbonate ABS pain free shell construction
Attractive, UV and scratch resistant face shield with integrated speaker pockets
Padded wind collar for reduced wind, road noise
Face shield is coated with antifog and anti-scratch NutraFog II
User-friendly and quick click release shield
Adequate ventilation with Flow Adjust technology
Removable, washable and breathable antibacterial liner
Approved by DOT and ECE standards
Backed by five-year warranty
What we don't like:
Padding near the chin pops open from time to time
Larger fit than actual value
Final Verdict:
Whether you are cruising on your motorcycle or racing with other riders, the Bell Qualifier full face helmet is promised to take your riding experience up a notch! Equipped with the highest level of safety, technology, and comfort, Bell Qualifier is undoubtedly one of the most versatile cruising motorcycle helmets of 2022. Purchase from Amazon
Shoei J-Cruise II Open Face helmet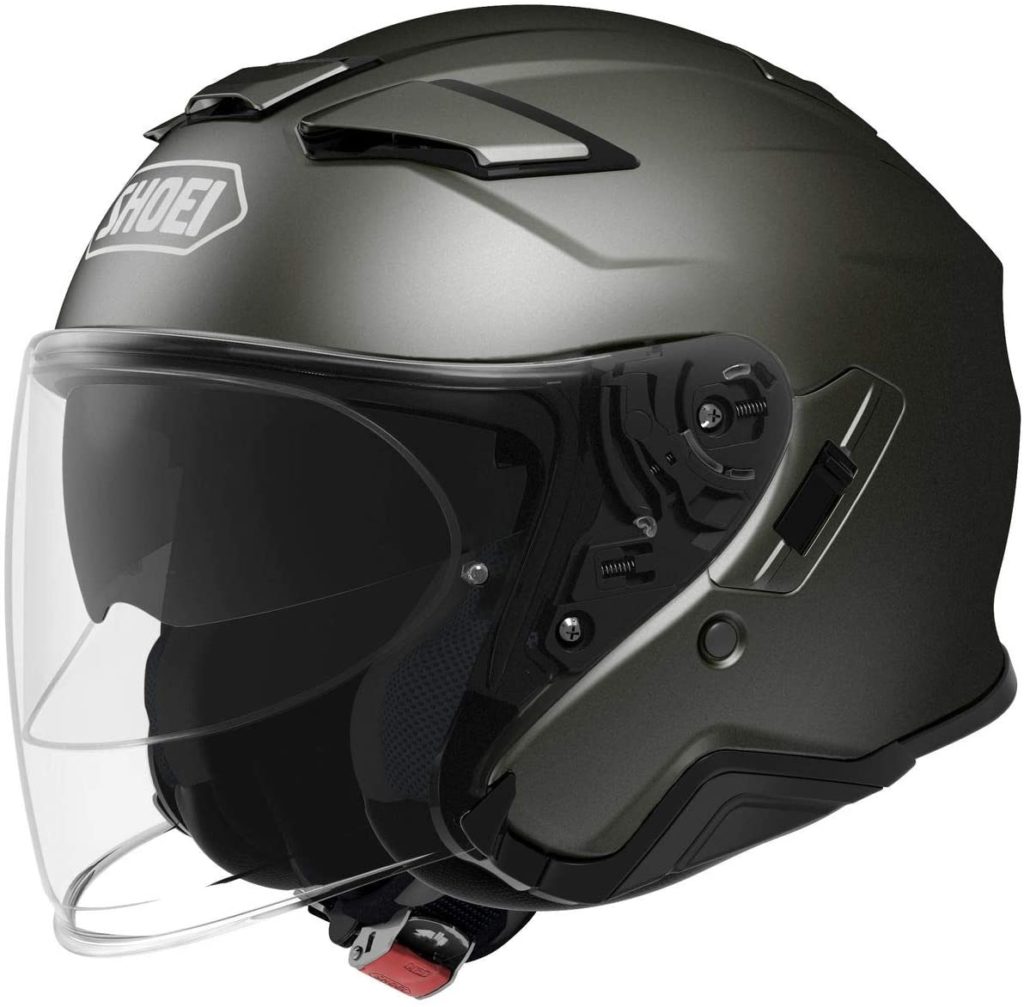 Check Price: Amazon
Shoei is another well known reputable brand that has constantly strived to live up to their customer's high expectations from them. Checking off safety, breathability, and technology from the list, their J-Cruise II is the perfect helmet for casual cruising and trails on motorways and hills!
Knowing fully well how treasured a sleek design is in any cruiser helmet, Shoei has finished the J-Cruise II in an elegant and minimalistic style. Finished in an aerodynamic shell shape and multiple colors to choose from, the wearer of J-Cruise is always the most stylish rider on the road.
Although Shoei's J-Cruise II helmet has an open face design, it does a wonderful job at preventing fog or damaging UV rays from ruining your riding experience. Equipped with an advanced EVO lens face shield, J-Cruise II guarantees optimal vision clarity no matter how chilly or humid your surrounding conditions are.
Thirdly, let us shine some light on the comfort of Shoei J-Cruise helmet. Using the reliable and soft hybrid fabric, the interior of this helmet is unbelievably comfortable and dry even after excessive use. Moreover, the soft raised fabric softens any rough contact between your head and the shell of the helmet.
Are you one of those tech-savvy motorcyclists who struggle to lock the helmet on your head securely? If yes, then you will be very delighted to hear about the user-friendly micro ratchet chinstrap system of Shoei J-Cruise II. This makes the helmet convenient to get on, take off and adjust over your head without worrying about it falling away!
Lastly, it is time we bring up the breathability of Shoei's half cruiser helmet. After months of research and testing, Shoei has succeeded in increasing the ventilation of the helmet by up to 30% through the addition of a new intake hole. Along with this, the shell shape of J-Cruise ensures optimal air intake and increases this volume by a major 20%!
What we like:
Attractive, sleek and modern shell design
Available in different shell sizes and colors
Sun visor blocks 99% UV radiation and fog
Made from lightweight polycarbonate and compact size
Multi-density EPS liner and advanced integrated matrix shell
Removable, washable and antibacterial interior lining
Soft raised fabric for no rough contact between head and shell
Compatible with Sena and Shoei Bluetooth headset
Backed by seven-year hardware warranty
What we don't like:
Final Verdict:
Although it is quite heavy on your pocket, Shoei J-Cruise II is the highest quality cruiser helmet for riders of all skills levels. It manages to bring together every essential feature needed for flawless cruising and riding without compromising your comfort or style. Purchase from Amazon
Buyer's Guide
Now that we have concluded our list, it is time we discuss the features that makes a helmet the best match for you. Before purchasing a headgear for your cruiser, take a look at the following factors:
Type of Helmet
You can pick your preferred choice from many various types available on the market. There are a total of five helmet types available for different reasons. You can decide between a full face, open face, modular, motocross and half type depending on the level of protection from impact, UV light and aeration you need. The full face is the most reliable option, whereas half face offers you better breathability on your cruising journeys.
Safety
The single goal of a motorcycle helmet is to protect your head from serious injuries. The safety of a helmet can be determined by its DOT, ECE and SNELL certification. ECE and DOT standards assure that the helmet is safe and authorized for use on peaks and roads. However, the SNELL certification guarantees a much elevated safety standard than DOT/ECE and is the most protected headwear for you.
Weight
The most important thing to consider when getting the best cruiser motorcycle helmet for yourself is its weight and construction. Lightweight helmets are mostly the ideal pick for cruiser motorcycles since the danger level is nominal. They are easy to put on and use, and as well are less likely to cause neck strains after excessive use. However, they are less immune to harsh impacts compared to the heavy-duty ones.
To determine the appropriateness of any helmet, decide if you prefer ease of use or high protection and then check the construction material accordingly; to estimate the durability and strength of the helmet.
Price
Finally, the conclusive factor when planning to buy your cruiser helmet is its price. Motorcycle helmets are sold at a broad price range, varying from 100 dollars up to 800 dollars. Remember to pick a helmet that has good quality and performance, rather than the one that's only style and no substance.
Frequently Asked Questions (FAQs)
Conclusion
Alas, we have come to the end of our extensive guide about the top five cruiser motorcycle helmets and its buying guide. We hope our article helps you learn about the specifications of motorcycle helmets in detail and leads you to the right helmet for your cruiser!