Motocross helmets are the most crucial piece of equipment when using your bike for trails or dirt bikes. They make sure your head stays protected in case of unforeseen accidents and offer optimal dirt bike experience.
But how do you select the right dirt bike helmet for you? With numerous brands offering the best helmets, this decision is a difficult and confusing one to make. But worry not, as we are here to guide you about choosing the best helmets for dirt bike riding!
What are the best helmets for dirt bikes?
Bell MX-9 Adventure MIPS Helmet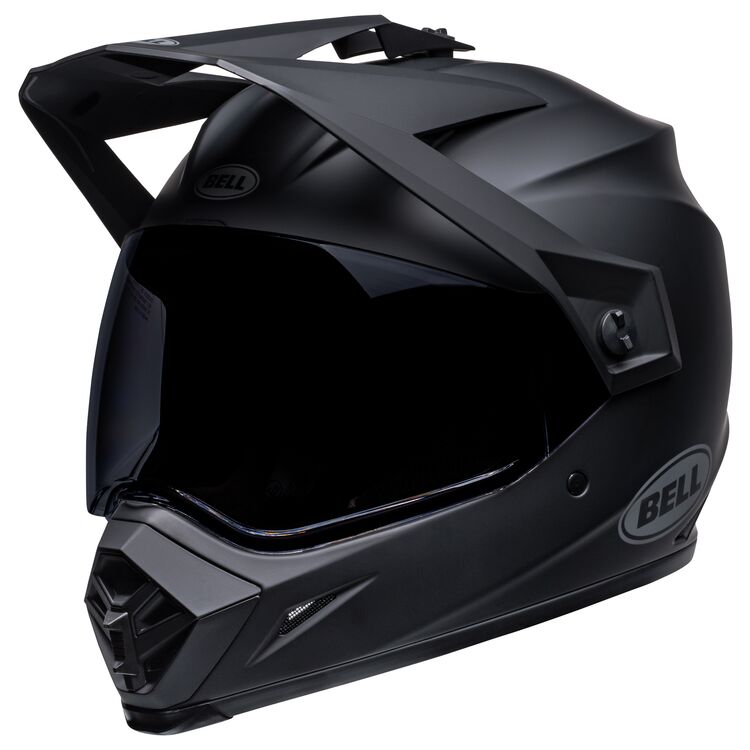 Buying Options: Amazon | RevZilla
What is a better start to the list of best dirt bike helmets than with the safest one available right now? Having already talked about the guaranteed safety in Bell products, let us review another outstanding dirt bike helmet launched by them. Labelled as the all terrain explorer, Bell MX-9 Adventure MIPS is the strongest helmet for different riding styles including dirt bike and cruising. It is offered in three varying shell sizes for added customizability of riders.
Your windscreen is prone to many damages including fog and dust when charging at high speeds on rough roads. Knowing how this might possibly result in injuries and fatal accidents, Bell has equipped the MX-9 adventure dirt bike helmet with a highly durable shield. It is resistant to fogging, dust and scratches meanwhile the sliding up mechanism protects your eyes from damaging ultraviolet rays.
Usually, the heavier your helmet is, the more protected it is against impacts and injuries. But this sturdiness comes at the cost of severe neck and shoulder pains after long term use. However, the Bell MX-9 Adventure MIPS helmet is here to give you the best of both worlds! Constructed from supremely lightweight carbon fibreglass, the helmet sits lightly on your head without compromising your safety.
However, the feature that helps Bell MX-9 adventure standout among other dirt bike helmets is its trusted MIPS technology. Integrated with a multi protection impact system, Bell MX-9 minimises the effect of rotational forces. This combined with the slip plane technology absorbs excess energies and keeps your head intact even after you are knocked off your bike.
Lastly, let's move on to the ventilation system of Bell's MX-9 helmet. Featuring a two point adjustable visor with air-intake vents, your face is kept cool and sweat free inside the helmet. In addition to this, the removable and breathable liner is easy to wash while preventing the growth of odourless bacteria.
What we like:
Made from premium quality carbon fibreglass
Light weight of 1700 grams and stable fit
Sliding up visor for protection against UV rays
Incorporated MIPS technology for reduced impacts and rotational forces
Features a detachable and washable liner made from anti-bacterial breathable fabric
Available in three different shell sizes and coloured
Certified by DOT and ECE for safe and legal use
Backed by five year manufacturer warranty
What we don't like:
Not good at blocking road or wind noise
Vents are always open and therefore prove as an entry for snow and rain
Final Words:
Although road and wind noise can be quite annoying while charging at high speeds, the dream worthy MIPS tech and adjustable visor make Bell MX-9 adventure helmet one of the most lightweight and safe motocross for dirt bike riding. With the Bell MX-9 adventure helmet, you can look up to an exciting yet painless riding experience as both, an expert and a beginner! Purchase from RevZilla | Amazon
LS2 subverter helmet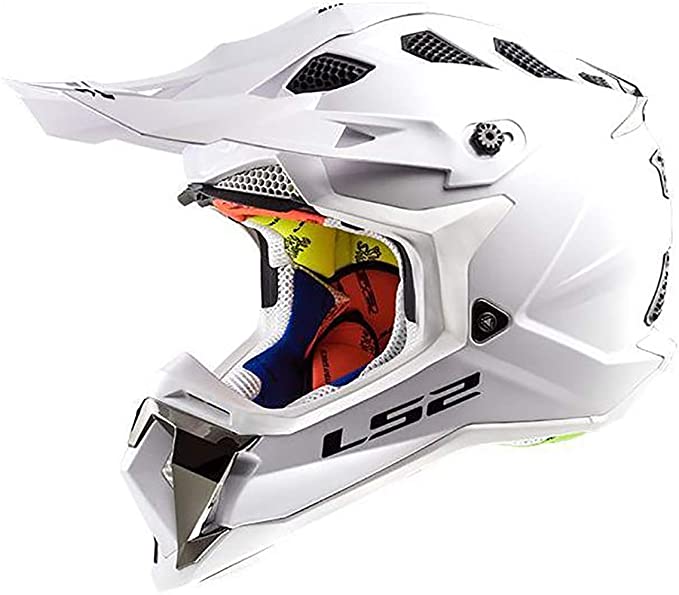 Buying Options: Amazon | RevZilla
Next up on the list, we have the strongest and most versatile motocross helmet for dirt bikes, dual sports and other riding styles. With the back to back high ratings their products receive, you must have heard about the excellence of LS2 helmets. Living up to this high standard, they launched the LS2 Subverter helmet to fuel the riding passions of beginner and professional users.
Finished with an aerodynamic oval shape, LS2 subverter is ready to take on new adventures and rough terrain. It is sold in three different shell sizes between extra small and extra large to fit on all head sizes securely. Moreover, the multi-density EPS liner distributes weight on your head and helps make LS2 subverter helmet stable, no matter how fast the speed you are travelling with is.
Given the intense pressure involved with dirt biking, adequate ventilation plays a vital role in determining the comfort of every helmet. To maximise this air supply, LS2 subverter contains multiple top and chin vents. These are positioned and shaped to allow optimal air to enter inside the helmet.
Also, the channelled EPS and exhaust ports dry off any moisture present on your face or forehead effortlessly. Like all other helmets in this list, LS2 subverter contains a super breathable laser-cut foam liner. This is constructed from hypoallergenic material and detachable in nature, making it quick to wash, dry and reattach inside the helmet.
Are you still in doubt about the stability and security of the LS2 subverter helmet? Well, the features we are about to mention are bound to clear these doubts completely. LS2 incorporates a reinforced chin strap mechanism that is followed by a metal security plate. Furthermore, the double D ring acts as an opposing force against severe injuries. LS2 subverter promises to protect you not only during your journey but in case of any unfortunate accident too through its integrated emergency release system!
What we like:
Aerodynamic oval shell design
Offered in shell sizes between XS and XL
Multi-density EPS liner with LS2 thermo-weld system
Removable, washable and breathable liner made from hypoallergenic laser-cut foam
Reinforced chin strap and double D ring for stable use
Emergency release system quickly  detaches helmet and protects shoulder and head
Wide eye port for large peripheral view
Compatible with any brand of goggles
Sufficient ventilation through 35 top and chin vents and exhaust ports
Certified by ECE and DOT safety standards
What we don't like:
Tight fit
Heavy weight, not the best for long term use
Bright colour padding gets dirty easily
Final Words:
For every rider looking for a premium quality motocross helmet without the premium price tag, the LS2 subverter helmet is the most compatible match for you! This helmet advances your dirt biking through its generous air supply, LS2's signature thermo-weld system and hypoallergenic laser-cut foam liner. But remember to buy one size ahead and take a little extra weight on your shoulders when using this great helmet. Purchase from RevZilla
Shoei VFX-EVO Helmet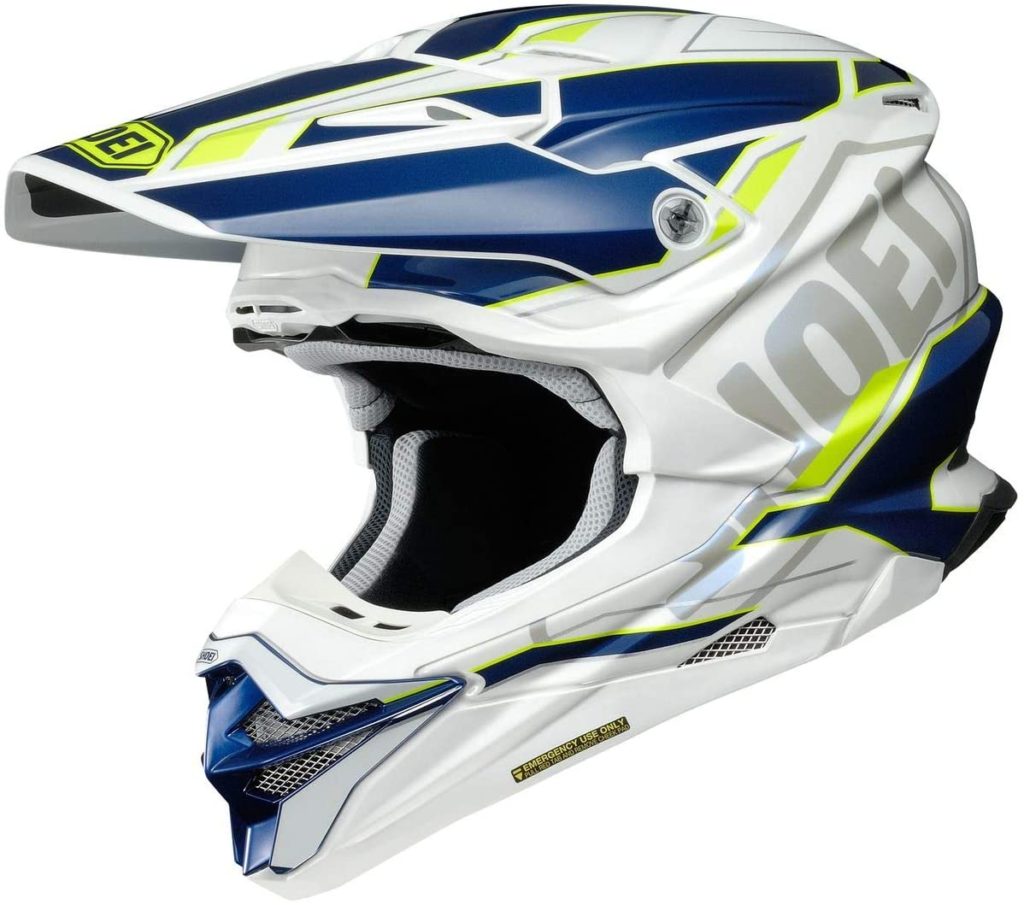 Buying Options: Amazon | RevZilla
With years of experience under its belt, Shoei has established itself as one of the most trustworthy names for producing high quality and safe headwear equipment. Keeping up to this promise, they launched the most technologically advanced helmet for a dirt bike with the VFX-EVO at an unbelievably affordable rate!
Featuring Shoei's exclusive multi-ply matrix shell construction, VFX-EVO is designed to take on your adventures and dirt biking journeys. Through its motion energy distribution system, your rotational acceleration is brought down to a minimum rate whereas, the safety of your head is enhanced remarkably.
Advancing upon the innovative MEDS technology, let us shine some light on the weight and construction of Shoei's incredible headwear. Made from dual-layer multi-density EPS liner, the VFX-EVO is light enough to use for longer periods without any shoulder or neck aches. Additionally, its dual layer system swings whenever impact is applied and absorbs energy effectively.
Next, the aerodynamic and versatile helmet design of this helmet help make it suitable for all head sizes. Offering consistent shell thickness in up to four different sizes, Shoei EVO grants you optimal strength and security. It also contains multi-layered cheek pads for stability when riding on rugged terrain.
Are you someone who is easily irritated by moisture inside the helmet? If yes, then it is significant you look for a dirt bike helmet that is breathable and easy to clean. Luckily enough, Shoei VFX-EVO is both of these things! With conveniently removed, adjusted and washable 3D dry interior, Shoei absorbs moisture on your face and cools it off instantly with its nylon fabric.
Secondly, the sixteen intake and exhaust vents work together with EPS lined air channels to regulate air supply within the helmet. Like all other features, Shoei has carefully designed the vent port shapes, sizes and locations to guarantee sufficient air intake no matter how fast you are dirt biking on roads.
What we like:
Aerodynamic and lightweight shell design
Secure and seamless new V-470 visor
EPS lined channels and 16 intake and exhaust vents
Completely detachable, adjustable and washable nylon cheek pads
Three dimensional sculpture for maximum stability
Consistent shell thickness backed by art shell forming technology
Shoei's exclusive impact absorbing MEDS technology
Integrated emergency quick release system
Backed by three year hardware warranty
What we don't like:
Final Words:
Once again, Shoei has managed to leave its customers stunned with the brilliant VFX-EVO helmet. Incorporating the exclusive MEDS tech, generous exhaust vents and multi-layered cheek pads together, Shoei VFX-EVO offers you the best of all aspects and has become one of the best motocross helmets for casual strides and dirt bikes, no matter what your skill level is! Purchase from Revzilla
ATR-2 6D dirt bike helmet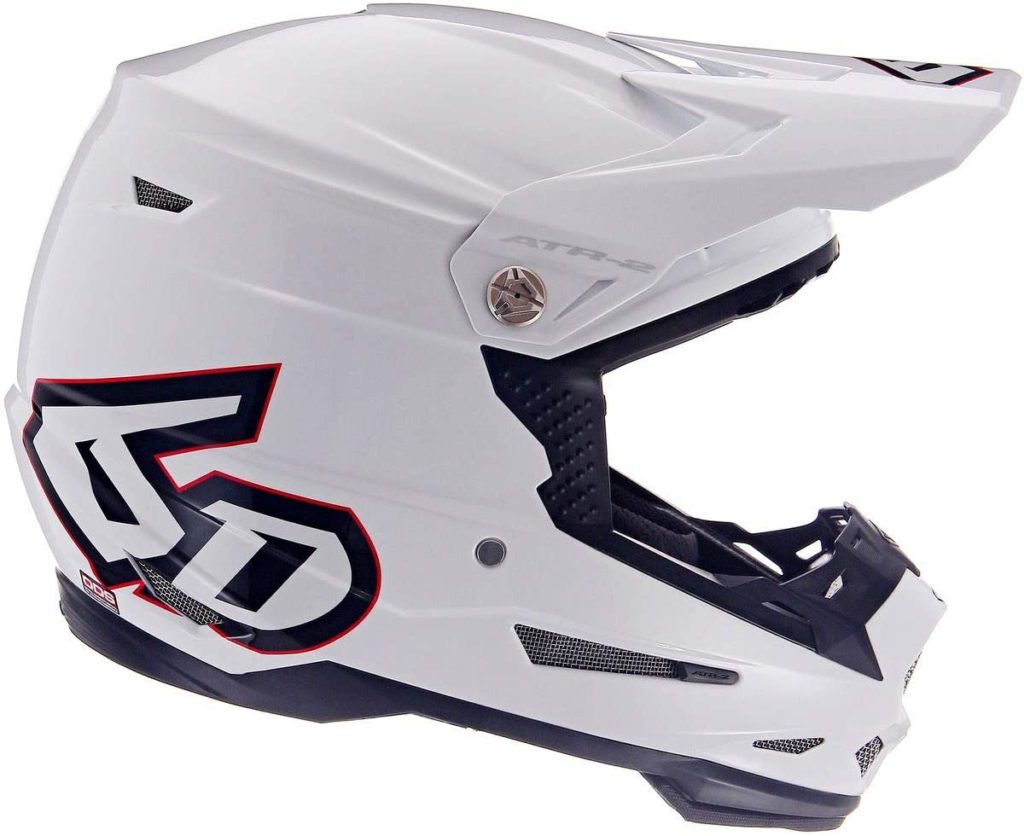 Buying Options: Amazon | RevZilla
Substantial testing has confirmed that no other helmet comes even near 6D in eliminating the chances of severe head injury or brain damage. They, without doubt, are the most progressive and safest helmets out there, which was further ascertained with the release of their ATR-2 Motocross Helmet.
It would not be wrong to say that ATR-2 offers everything that its predecessor lacked. With its advanced ODS technology, ATR-2 guarantees better performance against both linear and angular accelerations by actively dispersing the kinetic energy across the helmet. This reduced energy transfer protects the brain from severe harm in case of any accident.
The elastic dampers, along with the EPS liners are the key feature of this unique ODS technology. While the dampers manage linear compressions, 6D's integrated EPS liners depose and absorb harsh impacts and energies. Together, these greatly boost the safety of ATR-2 helmets and facilitate dirt bike riding styles.
Alongside this, 6D's astounding dirt bike helmets have highly impressive TTP (time to peak). This means that it takes longer for the impact's energy to reach its peak value. By making use of this delay, severity and magnitude of impacts is lowered by a huge extent! Rated an excellent TTP of 7.5 m/s, ATR-2 outshines other helmets and tick the checkbox of user's safety confidently.
The innovative design of this helmet is made by keeping the biker's comfort in mind. Designed with an enlarged eye port, ATR-2 provides a wide peripheral field view. Moreover, its embedded thick foam lining on the chin bar and mouthpiece boost the comfort of the helmet by essentially protecting your jaw area from incidental blows.
What we like:
Ultralight weight of 1480 grams
6D strategically positioned multi-impacts EPP liner
Renowned and advanced ODS technology
Washable and detachable dri-lex liner for optimal breathability
Enlarged eye port for wide peripheral vision
Backed by three-year manufacturer warranty
What we don't like:
Final Words:
Bringing together smart features, comfort and versatility, the ATR-2 6D is claimed as one of the highest quality helmets for dirt bikes. Although it is a little heavy on your pockets, every user of 6D's ATR-2 dirt helmet is fully satisfied with its performance and recommends it to riders of all skills and riding styles! Purchase from Revzilla
Fox Racing V3 dirt bike helmet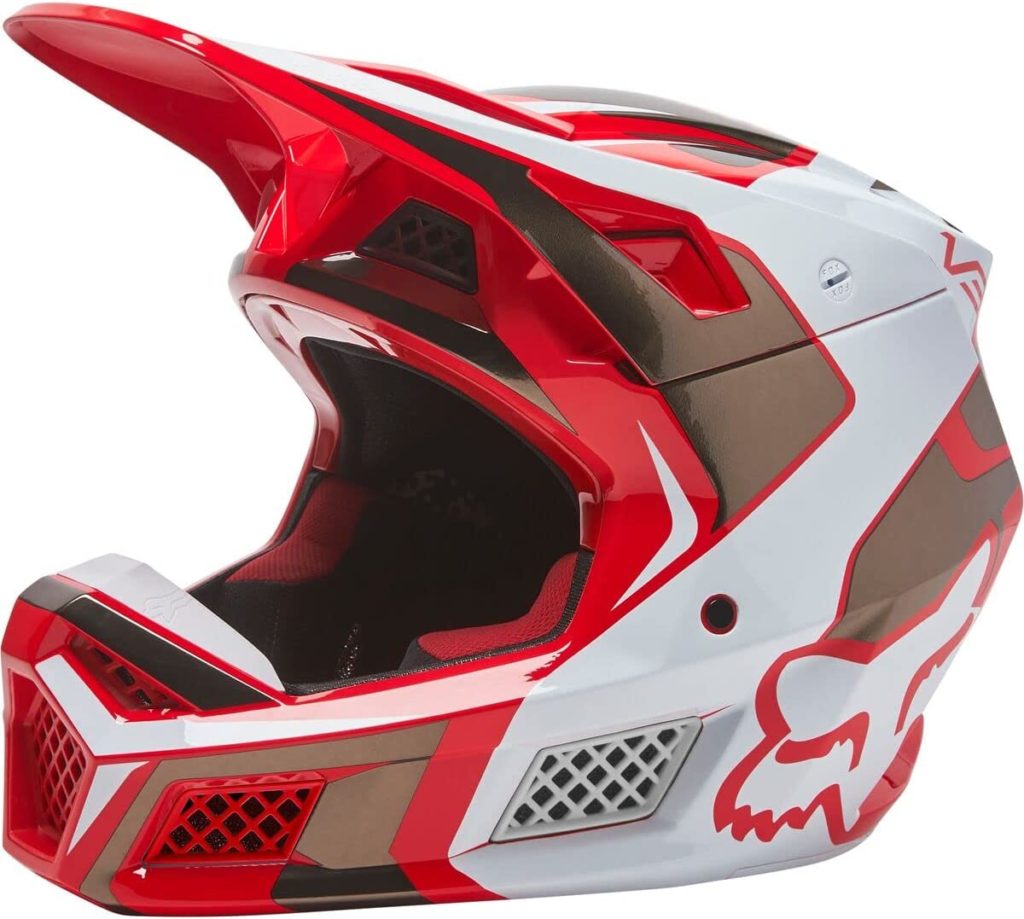 Buying Options: Amazon | RevZilla
No matter how well you do on the road with your motorbike, Fox Racing has always provided the best helmets to experiment your skills with. They have come up with hundreds of protective headwear equipped with the smartest of technology yet sold at an affordable rate. Another helmet that crosses off these essentials is the latest V3 Dirt Bike Helmet.
Formulated using the multi-composite technology, Fox Racing V3 blends carbon and FRP resins perfectly for a wonderfully light and rigid shell structure. This dirt bike helmet has four varying shell sizes and supports EPS liner, granting a world-class secure fit. On the other hand, an EPP chin bar reduces the weight of the helmet on your neck, shoulder and collarbone.
Every beginner motocross dirt biker wants a helmet that has unbeatable safety to lower the chances of hurting themselves while learning how to bike. Fox Racing V3 makes this happen by utilising the renowned multi-directional impact protection system. This operates by reducing the intensity of rotational forces and serving as a low-friction layer between the helmet and your head.
Thirdly, let us move on to the visor of the Fox Racing V3 RS helmet. Supporting the magnetic visor release system, V3 automatically adjusts the position of your visor on the centre of your head. To add to this, the visor is designed to flex before breaking, if extreme impact is applied to it. With this, Fox Racing has succeeded in granting you the best rotational impact management system that any dirt bike helmet can offer.
Along with this, Fox Racing V3 has a dual density Varizorb EPS liner. Equally distributing the forces over a broad surface area, Varizorb EPS brings unbelievable protection and goes with the Eject helmet removal system as well! Finally, the injected mesh vent screens and washable X-static comfort liner promise sufficient air intake and prevent dirt or debris from getting inside the helmet.
What we like:
Lightweight yet sturdy multi composite shell technology
Equipped with MIPS for low-friction layer and minimal impact of rotational forces
Dual density Varizorb EPS liner for equal weight distribution
Multiple mesh vent screens for ventilation and protecting from dirt or debris
Easy to remove and wash, X-Static comfort liner with anti-bacterial properties
Available in four different and secure shell sizes
Certified by DOT and ECE standards
Backed by one year manufacturer warranty
What we don't like:
Visor cannot be adjusted and lets in harsh sun glare
Visor starts buzzing with the shell when charging at high speeds
Final Words:
Barely 50 dollars more expensive than its predecessor, the Fox Racing V3 RS is one of the best dirt bike helmets to ever be released. Despite having some downsides about its visor, the advanced magnetic release system and premium quality MIPS tech make it the best overall motocross dirt bike helmet! Purchase from Revzilla
Troy Lee SE5 Factory Carbon Helmet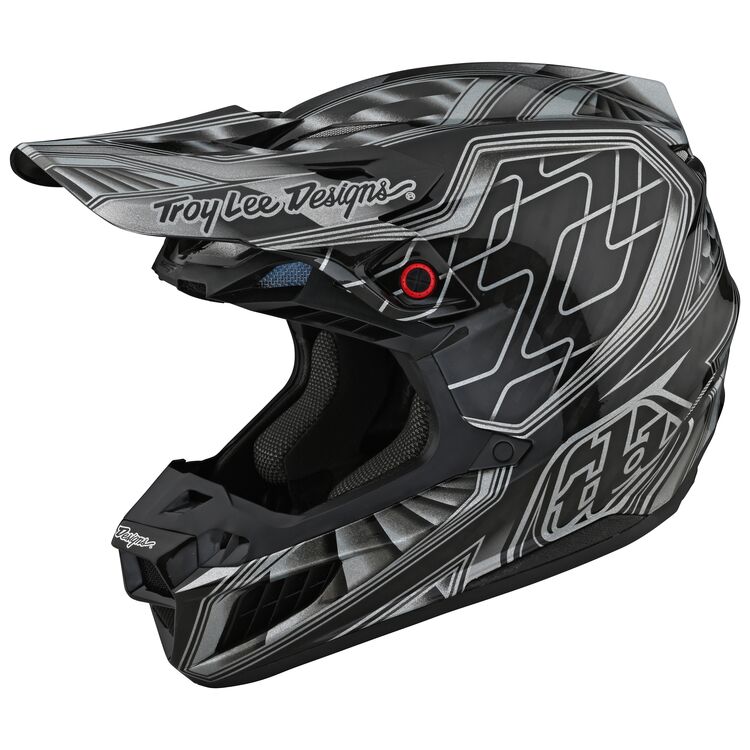 Buying Options: Amazon | RevZilla
Troy Lee has earned a place for itself in the helmet gear industry through the splendid specifications in its products. However, it is their SE series that earned the attention of many dirt bike and dual sports riders. The most recent addition to this list is the Troy Lee SE5 carbon helmet, which effortlessly outdoes every other product released before it.
Finished in a slim and lightweight design, Troy Lee SE5 is perfect for long term use. Its attractive and sleek design combined with the attractive colour palette is bound to turn every head in your direction as you scoot away. Next, the noteworthy MIPS Integra helps lower the impact of rotational forces on your head at selected angles, thereby offering utmost security.
The biggest and most adored change in Troy Lee SE5 as compared to its other editions is the ventilation gill size. Featuring a newly designed chin-bar and wider mouthpiece, SE5 considerably improves the air supply within the helmet. Similarly, the side gill intake louvres provide proper ventilation while keeping your face from sweating at bay.
Are you tired of your collarbone and shoulders aching after dirt biking for long intervals? The Troy Lee SE5 Carbon is here to rid you off this struggle of the effective EPP collarbone mitigation relief section. Abbreviation of expanded polypropylene, this relief mechanism is positioned near your exposed collarbone area and disposes of any harsh impacts thrown at you.
Whether you bike at exceptionally fast or low speeds, the Troy Lee SE5 Factory Carbon is ready to take full responsibility for your safety and comfort. Using the dual density patented EPS layer and 3D contoured cheek pads, Troy Lee offers relief from impacts and unconditional comfort. Lastly, the XT2 static breathable liner is quick to remove and wash, adding to the freshness and comfort of this helmet.
What we like:
Lightweight and slim carbon fibreglass construction
Sleek design with dual-density EPS layer and three shell sizes for secure fit
Embedded MIPS brain protection system
Newly designed EPP chin bar liner with wider mouthpiece
Pain free use through collarbone relief mitigation system
Breathable and detachable XT2 washable liner
Ready to emergency with sensitive EMS responder and contoured cheek pads
What we don't like:
Not true to size
Relatively pricey
Final Words:
After reading the detailed review above, it is an established fact that the Troy Lee SE5 factory carbon is the most innovative and stylish dirt bike helmet of 2023. It takes your safety and comfort to another level with the MIPS tech and collarbone suspension system. We urge every rider to try on the Troy Lee SE5 helmet no matter what riding style they plan to do on their motorbike. Purchase from RevZilla
Alpinestars SuperTech M10 helmet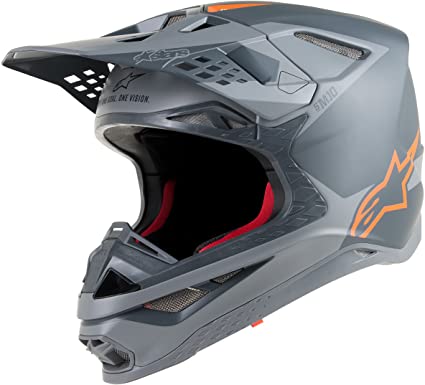 Formulated with the primary objective of protecting your head from all impacts, the Alpinestars Supertech M10 helmet is the best dirt bike helmet. It features a carbon shell that utilises a high density outer layer for added strength and impact protection.
Rated with an average 41% impact protection percentage, Alpinestars have designed the strongest helmet for all head sizes. The SuperTech M10 is sold in four anatomical shell sizes of small, medium, large and extra large. This ensures a secure helmet fit at all times meanwhile the carbon composite layer boosts radial strength and acceleration to 48%!
Are you tired of wearing dirt bike helmets that are excessively heavy on your head? If yes then you will be pleased to hear about the lightweight yet protected interior of Alpinestars M10 dirt bike helmet. Making use of the multi-density EPS polymer and fibre layer, M10 equally distributes weight of the helmet on your head and shoulders.
In addition to this, Alpinestars supertech helmet contains an emergency ERS padding removal. This allows you to instantly remove the helmet during an emergency without exerting pressure on your spine. The innovative patented system of M10 is another applauded feature launched by Alpinestars.
Using this unique technology, M10 automatically tunes the helmet to fit your preferred riding height and angle. This is followed by an integrated micro-adjustable pad in its inner shell for easy raising, lowering or tilting of the helmet. Next, the smart visor release system ensures secure helmet fit even when riding on rugged or uneven terrain. This makes the helmet suitable for dirt bikes and dual sports.
Certified by DOT and ECE in terms of safety standards, Alpinestars Supertech M10 helmet is legal for use on roads and highways. Its incorporated base pad is made from flexible rubber material and grants your collarbone relief and comfort by absorbing a high level of energy. Lastly, the notable MIPS technology minimises rotational forces and maximises protection.
What we like:
Lightweight design with MIPS protection
3K multi-density carbon composite layer for absorbing energy
Designed ducts and supertech liner design for adequate ventilation
Removable and comfortable interior lining
Incorporated base pads and sculpted collar bone design for optimal relief
Patented and secure visor release system
Certified by DOT and ECE for safe use
Available in four anatomical sizes
What we don't like:
Final Words:
After reading our detailed review, we are sure you have no further concerns about the efficiency of Alpinestars SuperTech M10 helmet. Loaded with the best features and technology, SuperTech M10 might be heavy on your pockets but is undoubtedly worth every single penny spent on it! Brush up your dirt bike skills without compromising on safety or comfort with the phenomenal SuperTech M10 helmet. Purchase from Revzilla
Buying Guide
Having listed down the top eight best motocross helmets for dirt bikes, it is time we talk about their features in depth. While making the decision of choosing the right helmet for you, there are several factors that you need to go over to get an idea about the services and performance any dirt bike helmet offers. These include:
Weight
Firstly, you must consider the weight of the helmet you want to purchase for dirt biking. Heavy helmet shells are often confused with sturdiness and stability of the helmet. However, this is definitely not the case. Lightweight helmets offer the same amount of stability as heavier helmets but without leading to neck, shoulder or collar bone pains. Anything that weighs more than 1600 grams is a big no and will surely result in severe aches after use.
Ventilation
Although adequate ventilation is a must for all riders, it becomes highly essential in the case of dirt bikes. To prevent the inside of your helmet from being covered in sweat, it is significant you look for a helmet with multiple air intake vents and exhaust ports.
A breathable lining fabric also helps absorb sweat from your face and the easier it is to wash and dry, the better moisture wicking abilities it has. Moreover, if you are someone who has sensitive skin and is easily irritated by heat, look for an antibacterial hypoallergenic liner fabric.
Design and Size
The biggest problem that holds back many riders from making the most out of their dirt bike journeys is not being able to figure out the right shell size. Every person has a different head shape and therefore, different suitability with shell sizes. Numerous brands are now taking this into consideration and coming up with variable shell sizes and designs.
Before you finalise the right dirt bike helmet for you, try it on to check if it is built for your head shape and true to its size. An aerodynamic shell structure also helps greatly boost the performance and looks of your helmet along with offering stability at high velocities.
Safety certification
To determine the safety of any motocross helmet, we make use of different certification standards. The first is the department of transportation (DOT) certificate that talks about the helmet meeting the minimum safety requirements established by the US government. Next is the ECE22.05 (economic commission of Europe) certificate for legal and safe use within Europe.
Last but definitely not the least is the SNELL certification. Founded by a non-profit organisation, SNELL is the highest level of safety that a helmet can guarantee. It is above ECE and DOT standards and only given to motocross helmets that have flawless impact protection management systems.
Rotational impact protection system
Relatively new to the list of features to look for in any dirt bike helmet, the rotational force system helps tell how efficiently a helmet withstands impacts thrown at it. Since adventure biking is unpredictable and risky, it is significant that your helmet reduces the rotational forces in case of accidents.
Recently, the multi-impact protection system (MIPS) technology is being used to make this possible. Always check whether your decided helmet supports an innovative impact protection system and reduces rotational forces on your head or not.
Emergency cheek pad removal system
After witnessing the sudden increase in the number of road accidents, brands have started equipping their motorcycle gear with features for emergency and accidents. The latest emergency cheek pad removal system allows the helmet to easily detach from your head after a crash, without exerting any pressure on your neck or shoulder.
Price
Finally, the last factor to consider in a dirt bike helmet is its price tag. Motocross helmets are sold for varying prices being above and below 500 dollars. Remember to look for a helmet that has good quality and performance rather than one that spends more on a stylish exterior and popular brand name.
A common suggestion is to buy a motorcycle helmet with a price below 500 dollars as an amateur rider. This is sufficient to provide a high level of safety and comfort in any helmet. Meanwhile, specialized helmets for either uphill climbing or dirt bike racing are bound to cost you at least 500 dollars or more.
Frequently Asked Questions (FAQs)
What is a dirt cycling helmet?
Dirt bike helmets are designed for riding on rough terrain at slow velocities. They are perfect for taking on adventures and offer way better air supply than usual motorbike helmets. Lastly, dirt bike helmets are super lightweight, stable, and mobile even when they encounter obstacles such as bushes and rocks.
Can you put a face shield on a dirt bike helmet?
Having a face shield on your helmet protects you from UV rays and debris or dirt while riding on uneven grounds and therefore boosts the durability and longevity of a helmet. The WeeTect Dirt Bike Helmet Visor technology is suitable to use on all motocross helmets including dirt bike, mx helmet and off road helmet visor!
Are ATV and dirt bike helmets the same?
All the usual motorcycle helmets are better in terms of comfort, aerodynamic shell design and blocking wind or road noise. The ATV helmets do none of these things and are just another name for dirt bike helmets. With aggressive off road style, light weight and promised stability, ATV offers the same performance as any other dirt bike helmet.
Can you wear a dirt bike helmet on the street?
As long as your dirt bike helmet has a DOT, ECE or SNELL certification, it is completely safe and legal to use on streets, motorways and mountains. Always look for this certification in motocross helmets and use them only if they meet the safety standards listed down by the government of US, Europe and SNELL organization.
How much should you spend on a dirt bike helmet?
Dirt bike helmets cost between an affordable rate of hundred dollars up to an expensive price of seven hundred or more. But this is not the only expenditure involved with dirt bikes. Instead, you also need to spend on MX goggles, jersey and pants, the price of all of which goes up to three hundred dollars. A rough estimate for the complete dirt bike gear is between 700 to 3000 dollars.
Conclusion
Alas, we have reached the end of our article about the best helmets for dirt bikes. We hope our detailed buying guide helps you learn about the thrilling sport of dirt biking and you are able to choose the right helmet for you from our top eight best motocross helmets. With that being said, we wish you a safe and fun biking time!