Given their classic and well-ventilated design, German style motorcycle helmets are the latest trendsetter. Everybody now wants to be able to not only purchase the best helmet in the market right now but pull it off as well.
However, the decision of choosing the right German style helmet is a tough one to make given the hundreds of products to choose from. But don't you worry about making this decision alone because we are here to guide you in every step of this process.
What is the best German style motorcycle helmet?
Today, we have listed down the top five German style motorcycle helmets that promise to take the safety, looks and performance of your motorcycling capability up a notch. Hence, without further ado, let's get started.
Daytona Half Shell German style Motorcycle Helmet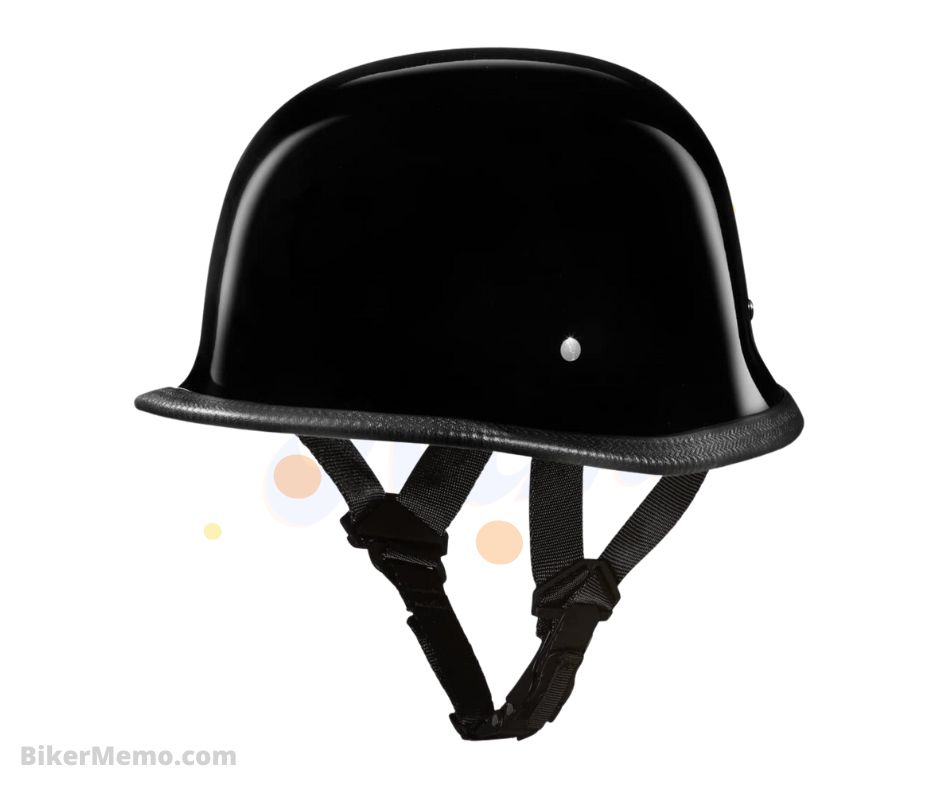 The first name that comes into the mind of every rider when talking about top-notch quality safety gear is Daytona. Through years of research and hard work, Daytona has earned the trust of numerous customers and become one of the most famous helmet brands. However, it is their recent German helmet that has left everyone in awe of its features.
Available in five different shell sizes between XS to XL, Daytona half shell is suitable for people of all head sizes. This low-profile German helmet is ideal for street bikes, sport bikes, scooters and choppers. The most notable aspect of the Daytona German helmet is unarguably its DOT FMVSS 218 approval which guarantees utmost head safety in case of unfortunate accidents.
Regarded as one of the lightest German helmets ever, the Daytona half shell is made from acrylonitrile butadiene styrene material. This gives the exterior a vintage and low-profile finish whereas its sturdy body delivers unmatched protection against impacts.
Advancing upon the strength of Daytona's half shell further, the helmet has expanded polystyrene (EPS) interior lining. This absorbs any impacts thrown at it and slows down the movement of your head to deliver optimal safety against life-threatening brain injuries.
On the other hand, every Daytona helmet has an incredibly breathable and moisture-wicking inner liner fabric. This helps cool off any sweat on your face and make the helmet suitable for use even in the hottest temperatures.
Last, let us talk about the lock strap system of the Daytona German helmet. Employing a nylon Y-strap lock retention system, this helmet has a quick-release detach button for emergencies. Along with this, the integrated sliding adjuster lets you position and secure the helmet on your head as per your own preference.
Features:
Available in five different padding shell sizes.
Superior quality polycarbonate plastic exterior.
Meets and exceeds DOT FMVSS 218 safety standards.
Nylon Y-strap lock retention system with quick release mode.
Final Verdict:
After reading the aforementioned details about the Daytona half shell helmet, it is sufficient to declare it as one of the safest German style motorcycle helmets of 2022/2023. Its EPS liner backed by the DOT approval offers immense head protection thereby making it perfect for different riding styles.
German Novelty Flat Black Motorcycle Helmet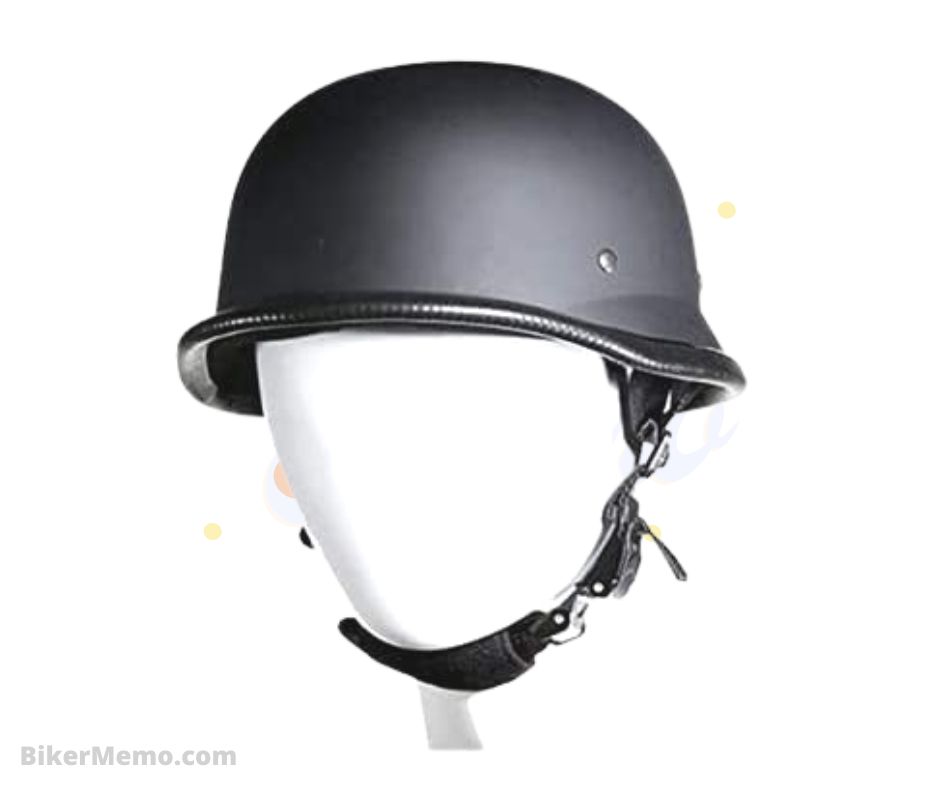 What is a better way to start this list than with the most stylish looking German helmet? Customized by the brand Dream Apparel, the German novelty half helmet is designed for casual strolls and cruising around the neighbourhood. It is available in five different shell sizes and stays true to its sizing charts.
Secondly, let's talk about the comfort of this novelty helmet. Featuring a completely lined foamed interior, the German biker helmet is easy to put on your head even for long hours. Its half face German design not only makes you look extremely cool while surfing around but saves you from a mushroom head look as well.
Although it is not a DOT approved product, the German novelty half helmet can surely give other DOT helmets a run for its money. By making use of the quick release tab and y-strap retention system, the helmet manages to stay on top of your head even at increasingly fast speeds.
Are you easily put off by heavy motorcycle helmets that give you nothing but back aches and neck rolls after use? If yes, then we are glad to tell you that this novelty helmet does not fall into this category. Designed in a lightweight and ergonomic design, the German cruiser helmet is easy on your head and does not interfere with your ears at all.
Features:
Half face skull cap design.
Interior is fully lined with foamed material.
Secure forward position nylon y-strap retention system.
Suitable for cruising, cycling and motorcycling.
Final Verdict:
For all those people who are looking for a German style helmet to impress the onlookers and escape the police tickets, Dream apparels' German novelty flat half helmet is a great match for you. Featuring a lightweight body and adjustable tabs, this helmet is regarded as the most comfortable German style helmet of 2022/2023.
Carbon Fiber German Novelty Headgear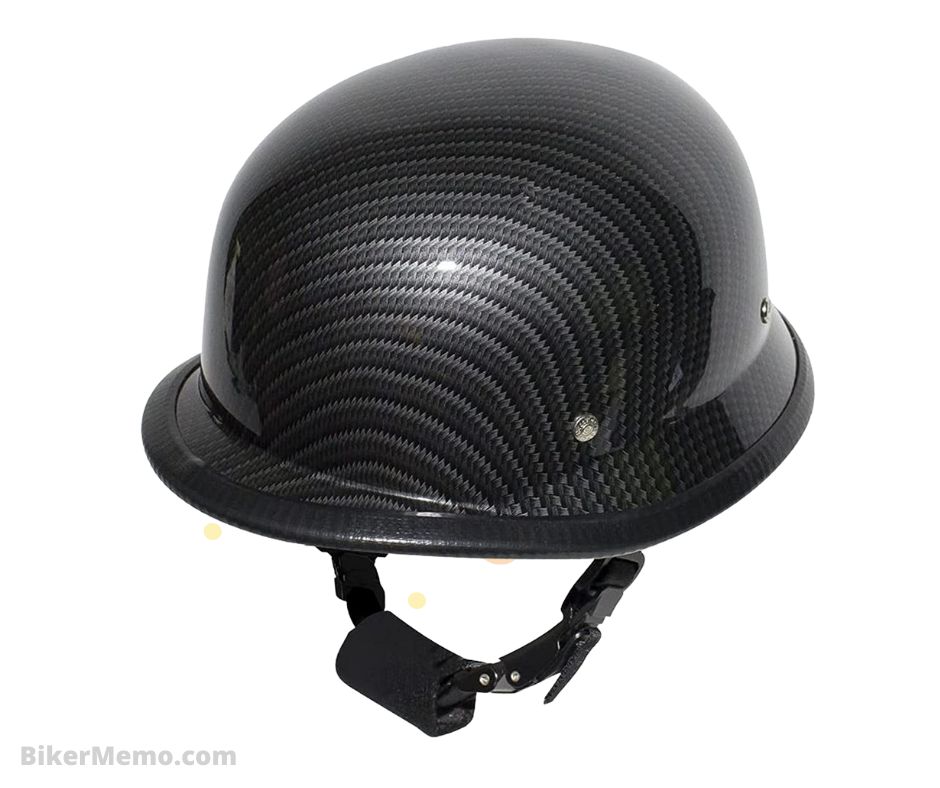 With years of experience under its belt, this is one of the most notable names for producing high quality safety gear. Their new German novelty headwear fully lives up to this reputation and has left its users in awe of its durability and style.
Do you have an unusual head size and struggle to find the right helmet for you? With the six different shell sizes of Carbon fibre helmet, you can say goodbye to this struggle forever! In addition to this, the light 600 grams weight of this novelty helmet also makes it suitable for long journeys without resulting in any kind of aches.
Next, let's move onto the shell design of the Carbon fiber German novelty helmet. Constructed from high density ABS material, you can use this helmet for touring and biking on streets. Moreover, its integrated EPS liner helps provide a snug and retro finish to the helmet.
Since it is a novelty helmet and does not meet DOT's safety standards, many bikers undermine the security of the Carbon fiber German helmet. However, by making use of the nylon Y-band strap system, the helmet is easy to fix and secure over your head even when biking at fast speed.
Knowing how uncomfortable a sweaty and heated interior can be, this German retro styled helmet has a soft moisture-wicking fabric sewn inside that keeps your face cool and breezy during intense races. Lastly, the cap has a glossy colour, UV resistant finish and is easy to personalize using cute stickers.
Features:
High density ABS shell with EPS liner.
Soft and moisture-wicking fabric sewn inside.
Comfortable and secure nylon Y-band chin strap.
Final Verdict:
Just like the German half helmet we talked about earlier, This German novelty headwear is designed to only accompany you on your casual strolls. With multiple shell sizes, attractive design and a breathable lining fabric, this helmet has rightfully secured its spot in the top five German style motorcycle helmets.
Burgundy Skull Graveyard German Novelty Skull Cap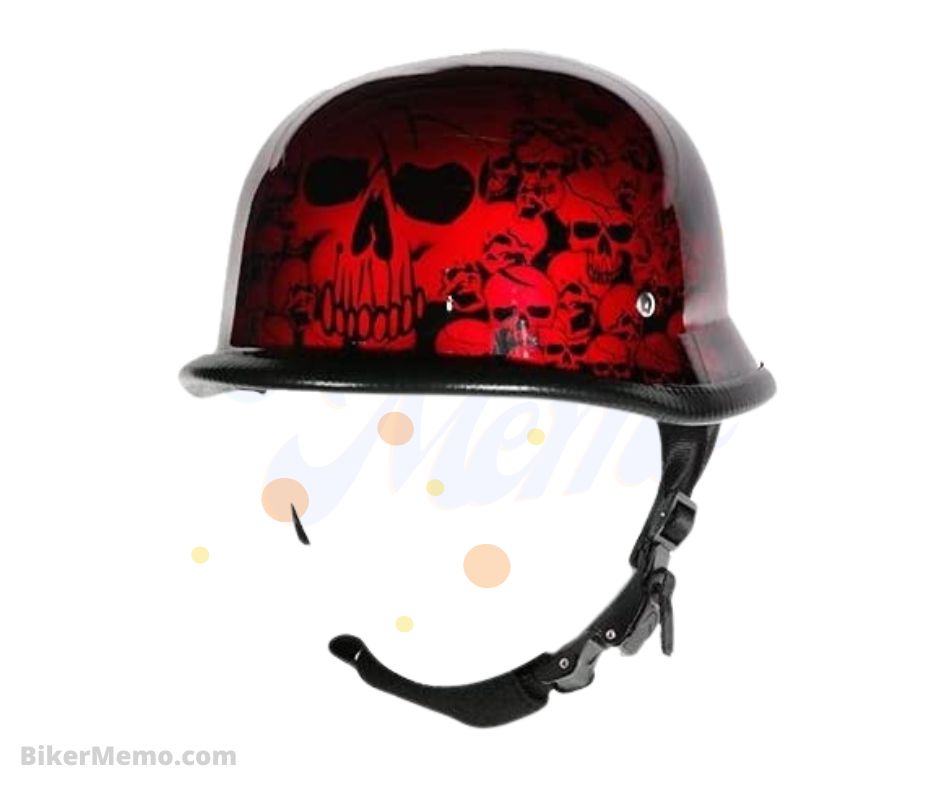 Next in line, we have another good-looking novelty German style helmet for you. Although a bit underrated, Burgundy still manages to stand out amongst other helmet brands by its product's amazing performance and durability.
The gorgeous skull graveyard German helmet is designed to be a treat for both the eyes and head of the user. Finished in a rare skull design, Burgundy skull cap catches the attention of all onlookers meanwhile its fiberglass shell gives it a sleek and polished finish.
As its name suggests, this novelty helmet does not meet the DOT safety standards. This makes it unsuitable for riding at lightning-fast speed on highways and roads but still functional enough for cruising on streets. Thirdly, the adjustable chin strap system offers additional elasticity, flexibility and head security.
Whether you are an amateur motorcyclist or a skilled one, no one wants a helmet that leaves you sore after use. To guard against this inconvenience, Burgundy's skull graveyard helmet features a fully padded lining fabric. While this cushions your head at all times, the Nylon Y-straps and quick release system withstands impact of minor accidents.
Features:
Attractive fiberglass shell construction.
Adjustable quick release chin strap system.
Fully padded and breathable liner.
Final Verdict:
With a shell as rare and eye-catching as that of Burgundy graveyard skull cap helmet, it is no surprise to see it in the list of best German motorcycle helmets. This safety headgear not only saves you from police tickets but makes sure all eyes are set on you as you stroll past anyone in the neighborhood.
German Style Flat Novelty Skull Cap with Spikes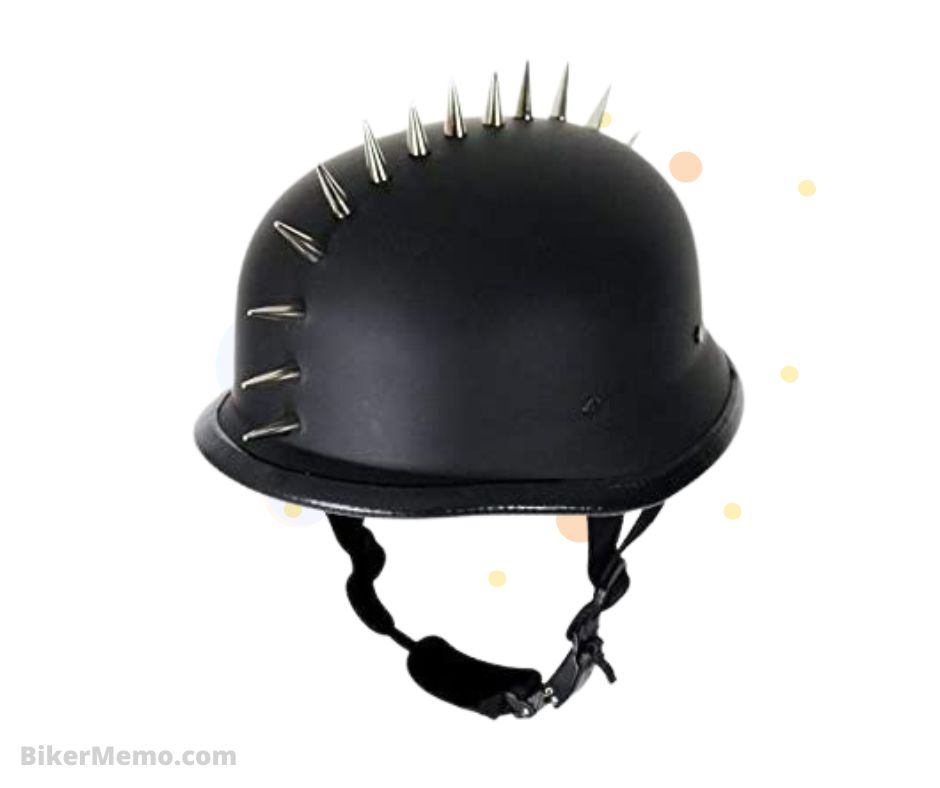 Last but definitely not the least, we have another novelty German helmet by Dream Apparel. Finished with a cook spikey shell design, this helmet is not up to the safety standards of DOT and most suited for touring and cruising around.
To keep your head cushioned and comfortable, Dream apparels has equipped this helmet with a fully lined custom foamed interior. This also has moisture-wicking properties to keep your face dry and free from sweat during humid weather.
Like many other products in our list, this German style flat novelty helmet also has a nylon Y-strap retention system. This forward position closure helps minimize the movement of the helmet and prevents it from falling off or lifting while in use.
Features:
Fully lined custom foamed interior.
Efficient forward position nylon Y-strap retention system.
Available in six different shell sizes.
Final Verdict:
For the low price it is sold for, Dream Apparel's German style flat novelty helmet is a dream worthy product for many users. Its eye-gripping spike design combined with a fully foamed interior make it the most budget-friendly German style motorcycle helmet until now.
Buying Guide
Now that we have finished listing down the best German style motorcycle helmets, it is time we take a deeper look into their features. Before deciding on any German style motorcycle helmet, you must take a look at the following features:
Shell size
Finding the best suited shell size in a motorcycle helmet can be quite a struggle if you don't know the circumference of your head. A wrong sized helmet can lead to multiple problems including less safety in case of unforeseen accidents and lead to direct blows to your head.
Henceforth, before you start looking for the best German style helmet, measure your head size using a tape and then proceed to compare it with the available shell sizes. Since some helmets run a size smaller or large, you should always try on a helmet before paying its price.
Safety certificate
As you might have realized by now, German style helmets are often novelty headgear. They have a half face design that leaves most of your face exposed to dirt, wind and impacts. If you are looking for a German helmet to use for chores or casual strolls around the city, a novelty helmet is a good choice.
On the other hand, if you plan to ride your motorcycle on highways or race with competitors at high speeds, you should always aim for a DOT certified helmet. This approval means that the helmet is safe and legal to use on motorways and offers a high degree of safety against collisions.
Breathability and Comfort
Have you ever wondered why German style helmets are so much in demand despite the low level of safety they offer? The answer to this question lies in its comfort levels. Finished in a half face design, German style helmets offer adequate air supply and keep you cool during your rides.
The best German style helmet also features a moisture-wicking fabric liner to guard against any excess sweat on your face. If you are easily irritated by heavy-duty helmets, opt for one that is lightweight, contains soft interior padding and an EPS liner.
Shell Construction
Similar to modular and full-face helmets, German style helmets are also made from polycarbonate material or carbon fibre. While polycarbonate offers a much more sturdy and durable body, carbon fibre helmets are more grounded and deliver inevitable resilience.
Choose between either of these materials based on your personal preference and always check if the helmet is heavy in weight or light because this ultimately decides how painless your riding journeys will be.
Testing Review
The above German style helmets are selected after thorough research, customer reviews and our own trial results. We have tested the durability, safety, ventilation, comfort and performance of these motorcycle helmets after taking into consideration their price, superlatives and features.
Frequently Asked Questions (FAQs)
Why do motorcycle riders wear German helmets?
There are numerous features that draw motorcyclists towards German style helmets. The most adored detail about these helmets are their super light weight and excellent ventilation. Motorcyclists feel completely at ease and comfort with German helmets despite their solid shell design.
What is the best overall German style helmet?
The answer to this mainly relies on your own personal experience but most users agree that HTTMT German black leather is the best motorcycle helmet. This is closely followed by other products such as Wheeling 201 bullet cruiser and TCMT German-style half helmet.
What does a novelty helmet mean?
Novelty helmets are designed to offer you attractive and attention-grabbing shell designs in return for low safety. Although they look just like other motorcycle helmets, they are approved by DOT safety standards and therefore not legal to use on motorways or highways. You can buy a novelty helmet if you value style above anything else and plan to only use it for light touring and cruising.
What is the most comfortable German style helmet?
Many German style helmets offer amazing comfort to their users but a general consensus agrees that the Dream Apparel German flat novelty helmet is the most comfortable option right now.
Final Words
And with that being said, we conclude our article about the best German style motorcycle helmets of 2022/2023. We hope our guide and detailed reviews help find you the perfect helmet for you and boost your love for motorcycling with it.