Are you on a tight budget but still don't want to compromise on the safety of your head? If yes, then you have come to the right place for it. Motorcycle helmets are offered for a wide range of prices and can be quite a struggle if you don't know what you are looking for.
To erase this problem, we have listed down the top six best motorcycle helmets that excel in different aspects despite being worth $300 or less. Henceforth, without further ado, let's get started.
What are the best motorcycle helmets under $300?
Scorpion EXO-AT950 Helmet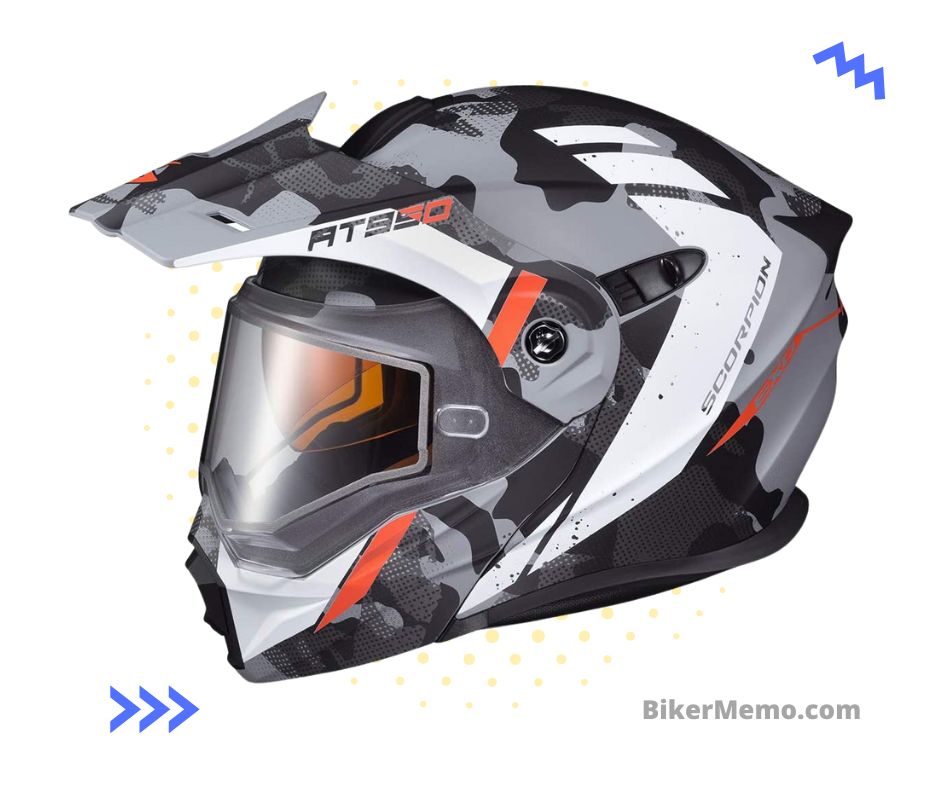 Quick Details:
Weight: 3.8lbs
Helmet Type: Modular/Flip Up
Modular Adventure Helmet
Second in line, we have the Scorpion EXO-AT950 motorcycle helmet. Although the name Scorpion is not as well known as other brands, it still has built a dedicated fan following. Their EXO-AT950 is designed to not only offer high safety at an affordable price but redefine the standards of what it means to be the best motorcycle helmet.
Constructed from advanced LG polycarbonate material, the shell of EXO AT-950 is strong, lightweight and able to withstand the impact of huge blows. Moreover, Scorpion EXO successfully meets and exceeds DOT safety standards to protect you in case of unfortunate accidents. The helmet is also available in three different shell sizes to suit every head shape.
Keeping up with its promise of putting customer's convenience above everything else, Scorpion has equipped the EXO-AT950 helmet with multiple intake, exhaust and rear vents. They coordinate in an aero-tuned ventilation system and act as a defroster to keep your face dry, cool and breezy even in hot weather.
Next, let us talk about the most stunning feature of Scorpion EXO motorcycle helmet, its sun visor. Supporting a modular helmet style, EXO-AT950 has a drop down and retractable sun visor. This is constructed from 100% UVA, UVB and scratch proof material. Additionally, the face shield has an EVERCLEAR coating to guarantee an optically correct field view.
Advancing upon the field view further, Scorpion EXO has a comparatively taller 11cm eye port. By making use of this enlarged design, you are offered a wide peripheral and downward field vision. Furthermore, the elliptical ratchet system shields your eye from any dust, debris or rain drop particle.
By utilizing the KwikWick II anti-bacterial lining fabric and Kwikfit cheek pads, Scorpion EXO-AT950 is easily washable, dried and maintained after use. Lastly, a single user-friendly lever allows you to quickly raise and lower the flip-up chin bar even with a single hand.
Features:
Meets and exceeds DOT FMVSS 218 safety standards.
11 cm taller eye port for wider peripheral and downward view.
Elliptical ratchet system protects the eye from dust particles, debris and rain drops.
Integrated KwikWick II anti-bacterial interior fabric and Kwikfit cheek pads.
Everclear, scratch and UV resistant drop-down sun visor.
Aero tuned ventilation with dual position mount, exhaust and rear vents.
User-friendly single lever flip-up chin bar.
Backed by a five year warranty.
Pros:
Lightweight and long-lasting polycarbonate composite shell.
Available in three different shell sizes and colours.
Amazing energy absorption with dual density EPS.
Supports eye glasses and has speaker pockets.
Cons:
Ventilation is not the best.
Does not block road or wind noise.
Final Verdict:
In the case of the Scorpion EXO-AT950 helmet, loud noise and poor ventilation are a minor trade-off for DOT approved safety and comfort. Built with a user-friendly lever and EPS liner, this helmet is undoubtedly one of the safest modular motorcycle helmets for its low price.
HJC i10 Full Face Motorcycle Helmet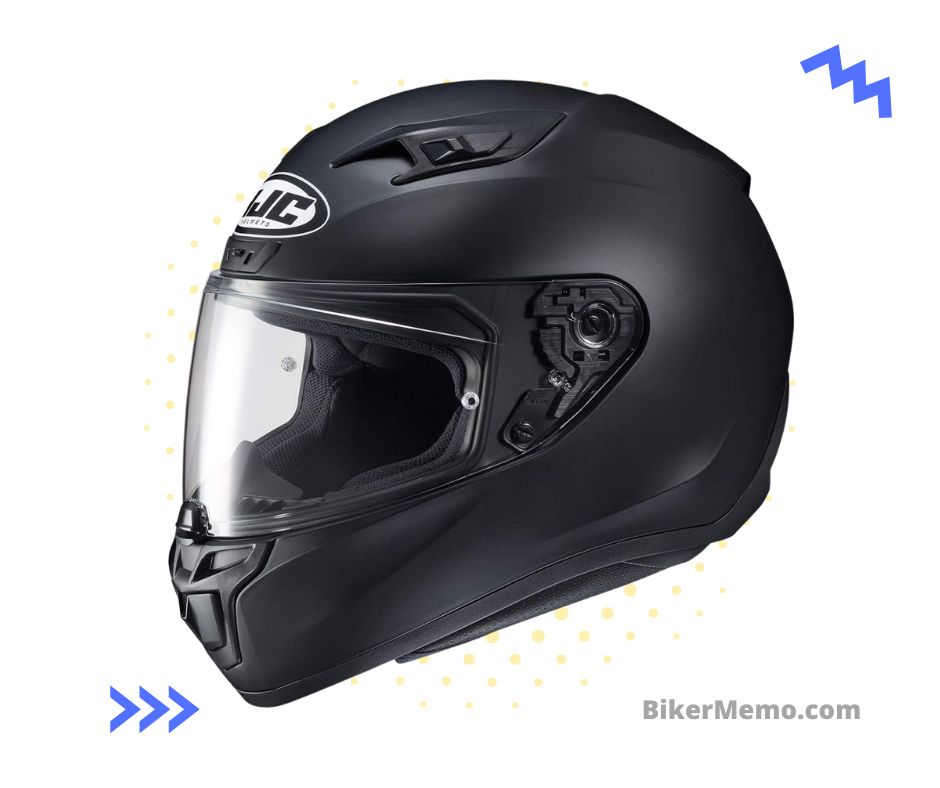 Quick Details:
Weight: 3.7 lbs
Helmet Type: Full Face
DOT and SNELL Approved
(sizes 3XL-5XL are DOT only)
Great for sport riders and commuters
Since early 1971, HJC has taken it upon themselves to provide extraordinary safety biking equipment for an unbelievably low price. Living up to this name and reputation it has earned, they recently came up with the stunning i10 motorcycle helmet for riders of all skill sets.
Do long rides in your current helmet result in neck rolls or backaches? If yes, then your helmet likely weighs a lot and needs to be replaced with HJC i10 right now. Made from advanced polycarbonate composite material, the shell of this helmet is lightweight and pain-free to use even for long intervals.
Furthermore, the equipped smart CAD technology offers you a snug and superior shell fit even for large head sizes. To minimize any kind of turbulence, HJC has designed the shell of i10 in a sleek, aerodynamic structure.
The most important aspect of any motorcycle helmet is its ability to resist impacts thrown at it. Successfully meeting DOT and SNELL safety standards, HJC i10 offers world-class safety. Utilizing its multi-density EPS liner, this helmet accurately absorbs impacts and displaces energy off your head and shoulders.
Thirdly, let's move on to the ventilation system of the HJC i10 motorcycle helmet. Having multiple chin bar intake vents, air flows directly from the front of the head until the very back to dissipate heat and humidity inside the helmet. Along with this, the chin bar vents shield against fog blurring your vision.
Features:
Advanced Polycarbonate Composite Shell with advanced CAD technology.
Advanced channelling ventilation system spreads from front to the back of head.
Multi-density and energy displacement EPS liner.
Approved by DOT and SNELL safety standards.
Pros:
Light on your shoulders and has a snug fit on your head.
Chin bar vents minimize fogging on the shield.
Aerodynamic shell shape lowers turbulence.
Reasonably priced.
Cons:
Final Verdict:
After reading the aforementioned details about the HJC i10 motorcycle helmet, we are sure that you agree about it being rightly deemed as the best motorcycle helmet for its low price. Offering a rich aerodynamic shell design and features, this affordable helmet will greatly boost your motorcycling skills from the moment you decide to put it on.
Bell Custom 500 Helmet Open Face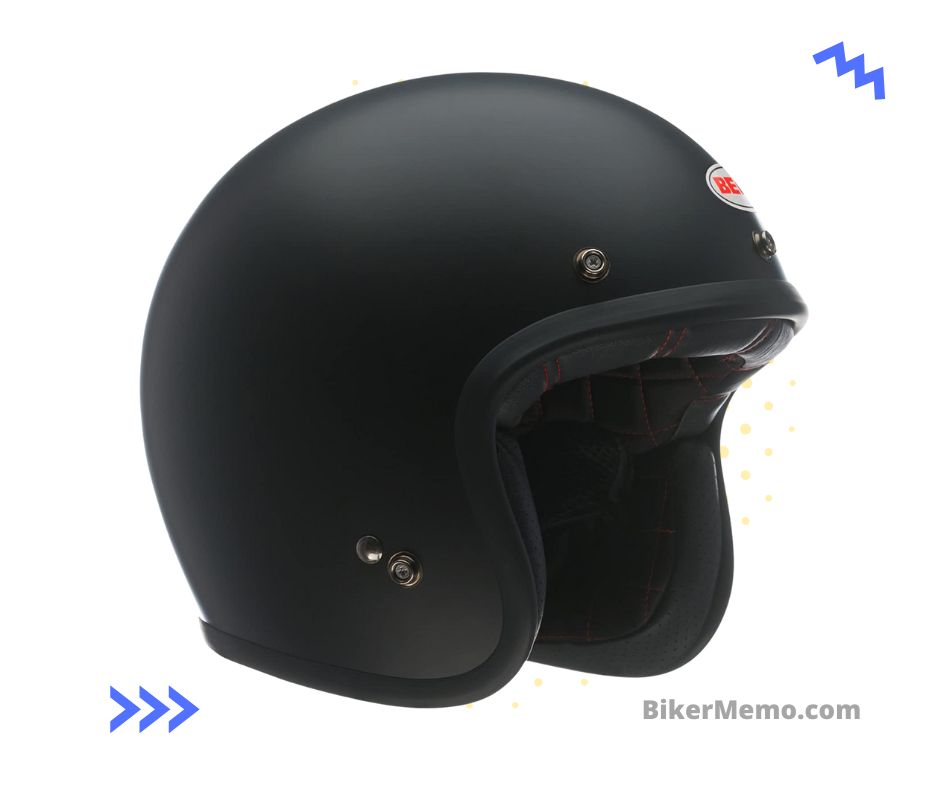 Quick Details:
Weight: 2.41 lbs
Type: Open Face
Speaker System Compatible
D-ring closure
5 shell sizes
Dot Approved
How dare we complete a list about the best motorcycle helmets without mentioning the biggest name trusted with this duty? With over sixty years of experience under its belt, Bell has achieved various milestones related to the safety, durability and comfort of headgear equipment. It manages to do this again with the ravishing Bell custom 500 motorcycle helmet.
Composed from low-profile fiberglass material, the shell of Bell custom 500 has a sleek and classic finish. It is sold in five different shell sizes to suit all head sizes without being too tight or flimsy during the journey.
Moving on, let's shine some light on the comfort of Bell custom 500 helmet. Equipped with a plush micro suede fabric and contrast stitching, custom 500 has a compact, cosy and relaxed interior.
To add on to this comfort, Bell 500 supports a multi-density EPS liner. This provides a low-profile look and dissipates excess impact away from your body. Last but not the least, the DOT FMVSS 218 approval makes it completely safe and legal to use on highways and tracks.
Features:
Meets and exceeds DOT FMVSS 218 safety standards.
Multi-density EPS liner for low-profile look.
Integrated 5-snap pattern for aftermarket shields and visors.
Pros:
Lightweight fiberglass shell composition.
Available in five different shell sizes.
Plush micro suede interior featuring contrast stitching for maximized comfort.
Cons:
Lacks quick release system.
Loud road and wind noise.
Final Verdict:
Bell has managed to leave its customers in awe once again with the custom 500 motorcycle helmet. Meeting DOT standards and an energy displacement EPS liner, the high safety and comfort level of this product make it one of the best motorcycle helmets under the affordable price of $300.
Lightweight Motorcycle Helmets
Buying Guide
Having finished listing down the top six motorcycle helmets under $300, it is time we talk about the features that helped us pick them in the first place. Before finalizing on any motorcycle helmet, you must go over the following details:
Helmet Style
With the advancement in technology, different types of helmets have been released for different riding styles. The most famous types are full face, half face, modular and German style helmets. Full face helmets are the safest options as they fully cover your face and are mainly up to DOT safety standards.
On the other hand, half, German style or dual sport helmets leave part of your face and chin exposed. These are less safe than full face helmets and most suited for cruising, touring or street bikes.
Thirdly, we have the modular type of helmets. They are a hybrid combination of full and half face designs and feature a drop-down sun visor. You should opt for this type of helmet if you plan to use the headgear for various riding styles and want to shield your eyes from harmful UV rays, dust, debris and rain.
Shell composition
As important as it is to determine the right type of helmet for you, you should also look at its shell composition. Motorcycle helmets are made from fiberglass or polycarbonate materials. Each of these constructions have their own advantages and are mostly lightweight, sturdy and able to withstand impacts.
Always aim for a motorcycle helmet that offers considerable resistance, aerodynamic shape and an EPS liner rather than opting for a heavy-duty helmet that leaves your body in pain after use.
Safety Certificate
The sole goal of every motorcycle helmet is to shield your head from fatal injuries in case of unfortunate accidents. But to decide how safe any helmet is, it is important to look at its safety certification. There are three most trusted safety certificates being DOT, ECE and SNELL.
While a DOT and ECE certificate ensures that your motorcycle helmet is legal and safe for use on peaks and roads, a SNELL approved helmet is the safest choice. This offers an elevated safety standard and is perfect if you have a tendency of ending up in accidents quite often.
Price
Lastly, you must take a look at the price of any motorcycle helmet before handing out your money. These safety headgears are available at a wide price range and can often confuse a buyer on a tight budget. For this reason, it is mandatory that you set aside a reasonable budget that offers a balanced compromise between durable structure, safety and comfort without being too heavy on your pocket.
Testing Review
For those of you doubting the credibility of our detailed product reviews, we are pleased to tell you that we have thoroughly tested, researched and experimented with these motorcycle helmets before listing them down. The aforementioned six motorcycle helmets under $300 were decided on based on their price, features, superlatives and customer reviews.
Frequently Asked Questions (FAQs)
What is the best overall motorcycle helmet under $300?
Although many motorcycle helmets offer outstanding performance while costing less than $300, Biltwell Lane Splitter is regarded as the best overall choice in this category. Other products that closely follow are HJC IS-33 II, Icon Airflite and LS2 Valiant motorcycle helmet.
What is the most comfortable motorcycle helmet under $300?
A general consensus is reached that AGV K1, followed by AGV K3 SV, Bell MX-9 Adventure MIPS and Biltwell lane splitter are the most comfortable motorcycle helmets under $300.
How much should I pay for a helmet?
Since motorcycle helmets are sold for a variety of prices, it is important that you don't overspend on a cheap product. A motorcycle helmet that costs between $150 to $200 is generally safe, durable and good to use on roads. For higher levels of safety and quality, you can go as far as $300 but anything beyond this value should have a long-lasting lifetime and performance.
Do motorcycle helmets expire if not used?
Yes, motorcycle helmets have a limited lifetime. Due to their manufacturing from materials such as resin and stainless steel, helmets become unusable after five to seven years of use and can adversely impact the safety of your head.
Conclusion
Alas, we have reached the end of our article about the best motorcycle helmets under $300. We hope that our list and detailed buying guide help you find the right pick for you which will take your motorcycling skills and safety to the next level!