Whether you are an avid or occasional motorcyclist, wearing protective equipment is mandatory for you. With the growing love for the sport of biking in recent times, the price of motorcycle helmets has also witnessed a sudden spike.
For this very reason, our article today will focus on the best budget motorcycle helmets in 2022/2023 and target every motorcyclist who is on a tight budget but does not want to compromise their safety or comfort level.
So, what are you waiting for? Continue reading ahead to find detailed reviews of the cheapest motorcycle helmets that we could find in market right now and decide which one is the best for you!
What are the Best Budget Motorcycle Helmets?
HJC i10 Best Budget Full Face Motorcycle Helmet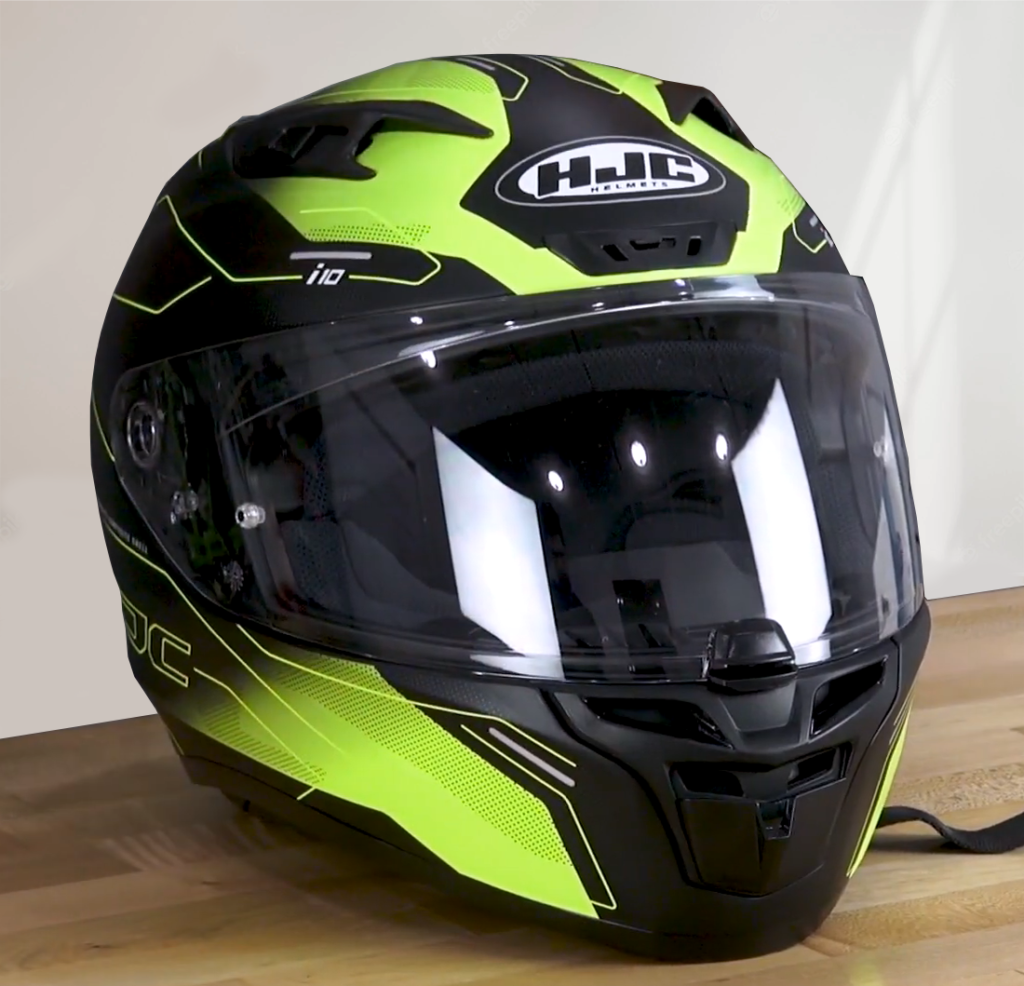 Since the early 1970s, HJC has taken full responsibility of delivering the best features in its safety equipment for an unbelievably low cost. Successfully meeting this criterion yet again, let us start this list by reviewing the best-selling HJC i10 full face helmet.
Do you often loose track of time while riding on streets, resulting in severe neck rolls and body aches? If yes, then your helmet likely weighs a ton and needs to be replaced right now with HJC's i10 helmet. With a shell constructed from advanced polycarbonate composite material, i10 is lightweight and pain-free to wear even for prolonged period.
If you are a skilled motorcyclist, then you must be aware of the importance of getting the right helmet size for your head. To make this task easier for beginner as well as professional riders, HJC makes use of the advanced CAD technology in its i10 helmets. These offer a snug fit for wide range of head sizes meanwhile the sleek, aerodynamic shell structure resists all kinds of turbulences.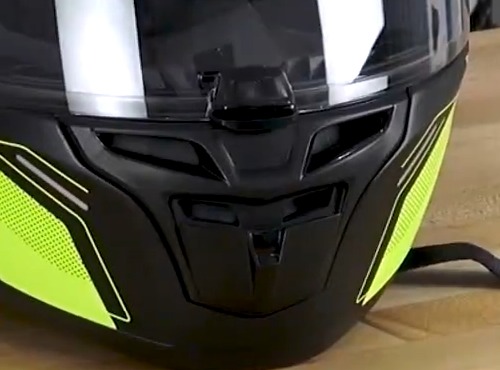 Many people tend to undermine the safety of HJC i10 helmet because of its cheap price. To bust this myth, lets see the safety certifications acquired by this full-face helmet. Approved by DOT and SNELL standards, i10 delivers unmatched road safety and is suitable for use on highways and motorways.
Additionally, the multi-density EPS liner absorbs harsh impacts and accurately displaces them away from your head and shoulders, in case of unfortunate accidents. Lastly, the multiple chin bar intake vents dissipate heat and humidity inside the shell and guard against foggy vision.
Features:
Polycarbonate Composite Shell construction.
Smart CAD technology for snug fit.
Advanced channelling ventilation system covering complete front and backside.
Multi-density EPS liner for energy displacement and absorption.
Approved by DOT and SNELL safety standards.
What we like:
Lightweight, sleek shell design for pain-free use.
Chin bar vents protects from humidity and foggy vision.
Aerodynamic shell shape minimizes turbulence.
What we don't like:
Final Verdict:
After reading the aforementioned review of HJC i10 full-face helmet, it is right to deem it as the safest motorcycle helmet for its low price. Bringing together safety, comfort and advanced technology together, HJC i10 is a dream worthy helmet for riders of all skill sets.
Bell Qualifier Full Face Helmet
Second in line, we have a product by the leading name in the sale and manufacture of safety motorcycling equipment. With years of experience under its belt, Bell Qualifier has earned the trust of numerous customers and continues to please them with highly efficient products such as the super cheap full face street helmet.
Fulfilling both, DOT and ECE safety standards, Bell Qualifier's Street helmet is surely one of its kind. Its shell is made from lightweight polycarbonate ABS material that allow you to wear the helmet for hours and hours long without facing any necks roll or pain in your body.
Furthermore, the aerodynamic shell design and three versatile shell sizes make the helmet suitable for high-speed racing and cruising around. Knowing fully well how damaging UV radiation is for your eyes and vision, Bell Qualifier uses the NutraFog II face shield in its Street helmet. This also guards against foggy views and is made from fully scratch-proof material.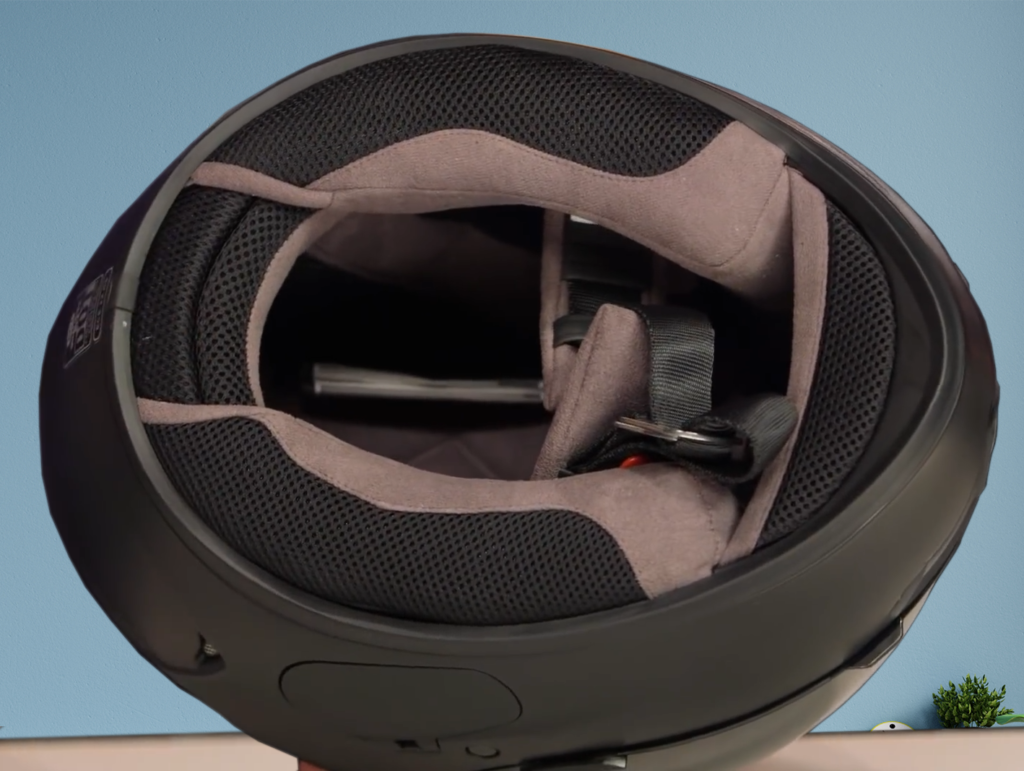 Flimsy helmets are not only frustrating to wear but may cost you your life in case of serious accidents. For this reason, Bell Qualifier has taken extra care to equip their latest full-face helmet with a secure click release system. This is super easy and quick to lock and unlock, meanwhile the integrated speaker pockets keep you connected and entertained throughout your ride.
Lastly, let us shine some light on the comfort provided by Bell Qualifier Street helmet. Featuring a fully padded wind collar, you can participate in intense races without worrying about loud wind or road noises. Along with this, the helmet contains a removable, breathable and anti-bacterial fabric liner for extreme comfort.
Features:
Approved by DOT and ECE safety standards.
ABS shell construction from polycarbonate material.
NutraFog II face shield for optimal fog and UV protection.
Adequate ventilation with Flow Adjust technology.
Backed by five-year manufacturer warranty.
What we like:
Attractive and scratch resistant face shield.
Integrated speaker pockets for communication and entertainment.
Padded wind collar minimizes wind and road noises.
User-friendly and secure quick click release mechanism.
Removable, washable and breathable antibacterial liner.
What we don't like:
Runs a size larger.
Chin padding pops open frequently.
Final Verdict:
Whether you are using your motorcycle for casual strolls around the street or in heated racing matches, Bell Qualifier Full Face Street helmet is ready to take on anything you throw at it! Meeting DOT and ECE safety standards, this is the safest motorcycle helmet for a price as low as under $200.
LS2 FF353 Rapid Full Face Helmet
We are sure that every skilled and amateur rider has heard stories about the unbeatable level of safety in LS2 helmets. Keeping up with this reputation, their recent full face rapid street helmet is here to maintain the right balance between comfort and safety without costing you a huge fortune.
Made from 3D optically correct polycarbonate material, the visor of LS2 Street helmet is completely resistant to scratches, ultraviolet radiation and fog. Not only this, the space-age polymer helps dissipate impact, avoid distortion and thereby grant you optimal vision clarity!
Understanding the importance of having a secure and user-friendly lock mechanism in every helmet, LS2 has went the extra mile to ensure the security of your head. Utilizing a multi-density EPS liner backed by micrometric buckle and reinforced chin strap, this full-face helmet stays steady over your head and protects it from neck rolls or other body aches.
Are you easily irritated by the presence of sweat on your face? Or perhaps you have sensitive skin that is covered in rashes every time you ride your bike for too long. In either of these scenarios, you will be extremely pleased to hear about the breathable, hypoallergenic liner of the LS2 Rapid Street helmet.
Made from laser-cut foam, the lining fabric of this helmet is removable and washable in nature. Moreover, the breath deflector and channelled EPS chin and top vent boost the air intake within the shell for a cool and dry interior. All of these features have helped LS2 Rapid Street accurately meet the ECE safety standards.
Features:
Molded from HPTT and lightweight ABS polycarbonate material.
Meets and exceeds ECE 22.05 safety standards.
3D optically correct A-Class polycarbonate visor with impact resistant polymer.
Backed by a quick release security system and Pin lock max vision ready.
What we like:
Available in shell sizes between XS to 3XL.
Removable, washable and breathable liner with laser-cut foam.
Visor is made from scratch and UV resistant material.
Multi-density EPS and reinforced chin strap for maximum security.
Channelled EPS, exhaust ports and intake vents for adequate air supply.
What we don't like:
Takes time to break in.
Slight drag when turning your head.
Final Verdict:
Despite its minor flaws, LS2 full face rapid street helmet has succeeded in leaving its users completely in awe of its performance and features. Bringing head security and comfort together, this helmet is recommended for all types of riding styles and labelled as the most versatile and cheap motorcycle helmet of 2022/2023.
HJC Modular Helmet C91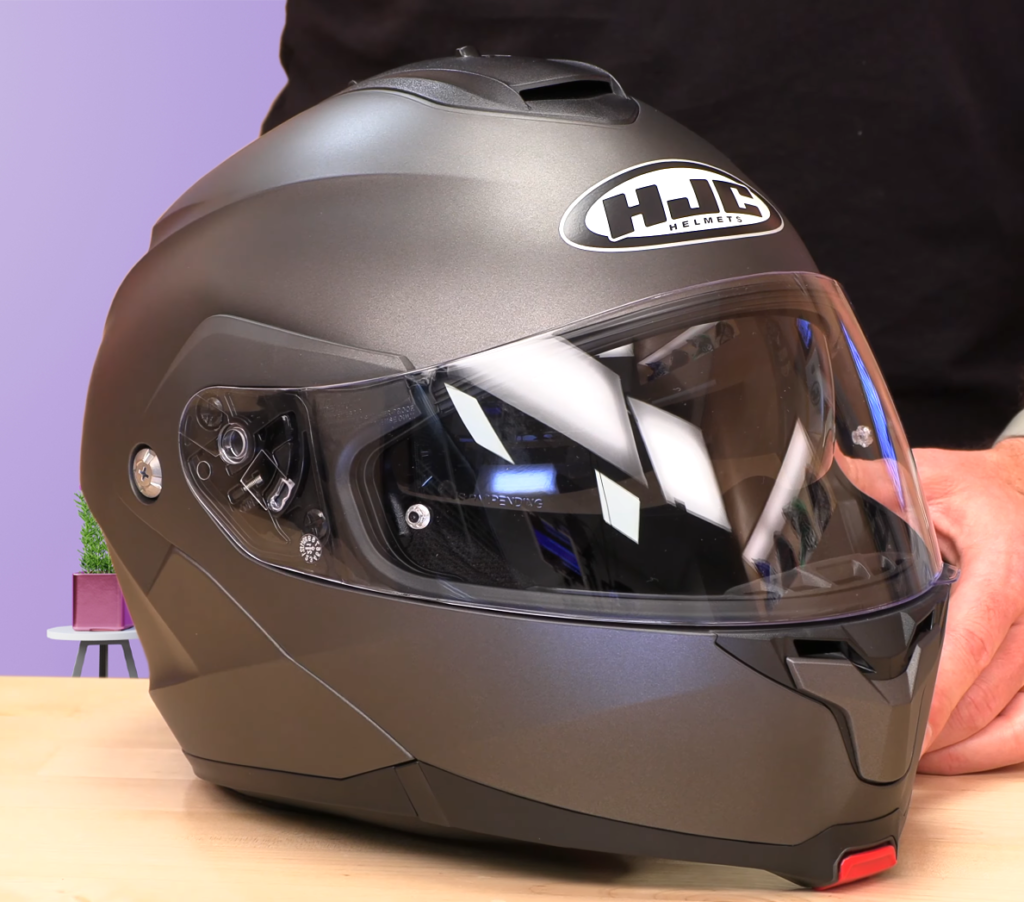 Having previously talked about the high level of safety and performance of HJC helmets, why not review another one of its extremely affordable yet efficient motorcycle headwear? The latest C91 modular helmet is designed to cater the needs of every amateur as well as professional rider.
Constructed from advanced polycarbonate composite material, the shell of HJC C91 withstands harsh impacts and accurately meets the DOT safety standards. More importantly, the integrated CAD technology makes the helmet lightweight and offers a superior fit.
A major concern of every amateur rider is whether they have secured their helmet rightly on top of your head or not. To make this chore easier for you, HJC has equipped the C91 helmet with a single lever user-friendly chin bar that can be operated even with your gloves on.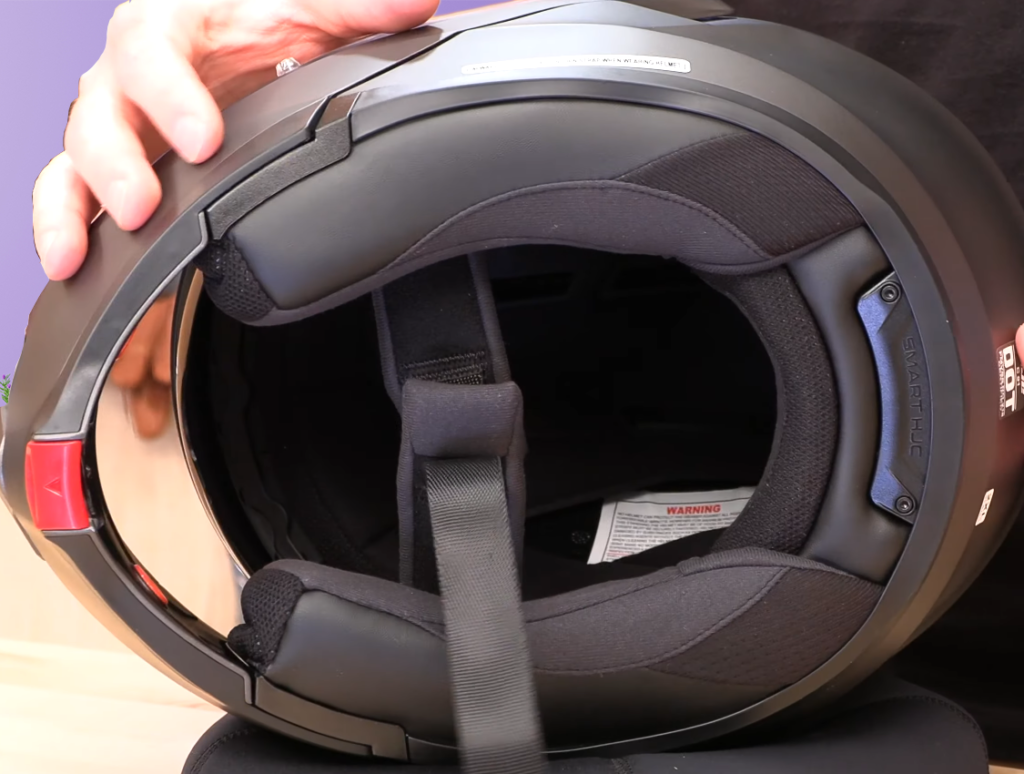 Next, let's talk about the comfort level of HJC's incredible helmet. Including an internal sun visor and generous top vent, C91 shields your eyes from damaging UV rays and regulates air supply within its shell. In addition to this, the deep EPS liner and super cool cheek pads have moisture-wicking properties to keep your face dry and sweat-free during intense rides.
HJC C91 is the living proof that innovative features in protective helmets do not always need you to spend a high amount on them. Supporting Bluetooth communication and built-in speaker pockets, this motorcycle helmet is compatible with 10B and 20B Bluetooth systems.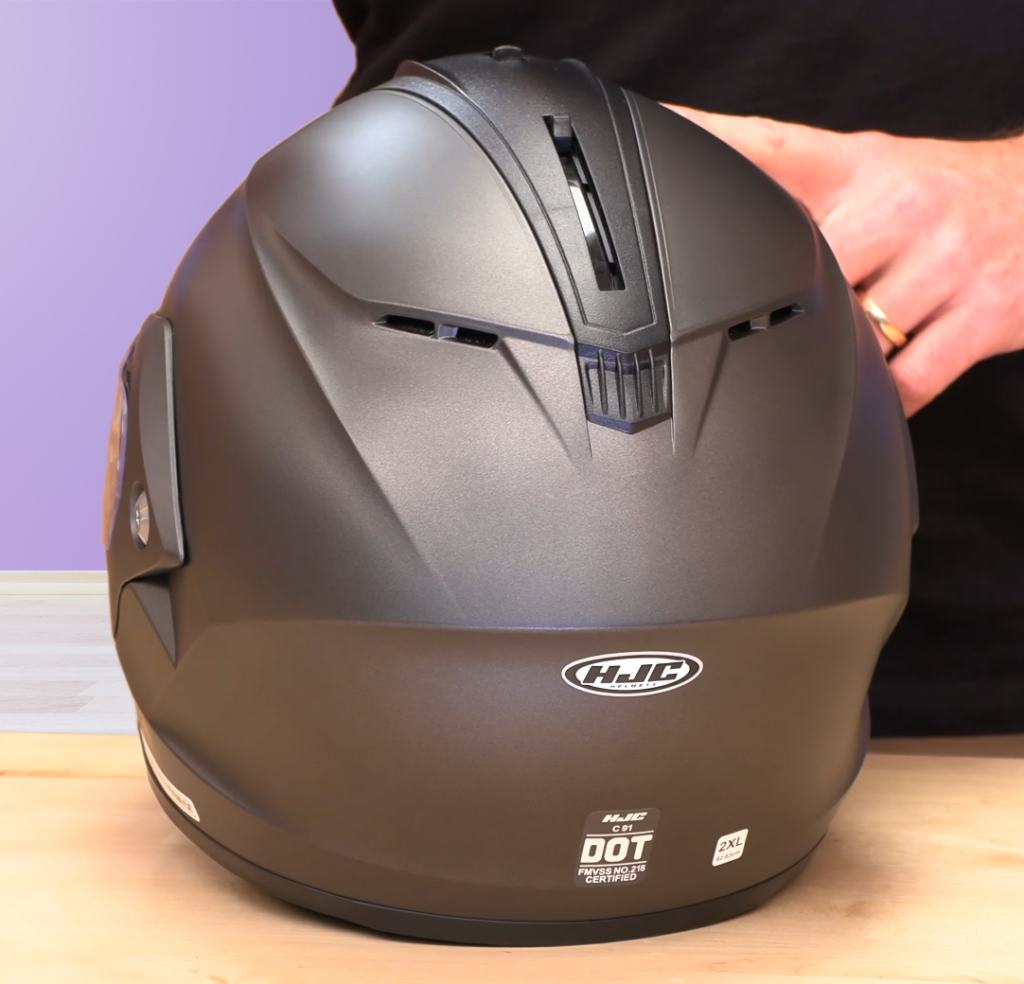 Features:
Available in sizes between XS to 5XL.
Integrated anti-fog shield and sun visor.
Advance polycarbonate composite shell with CAD technology.
Super cool top liner and cheek pads with moisture-wicking, antibacterial properties.
Integrated speaker pockets for Bluetooth communication.
What we like:
Lightweight and snug sizing.
Chin bars are easily operated by a single lever.
Deep EPS liner and wide top vent for adequate air intake.
Approved by DOT safety standards.
What we don't like:
Takes some time to break in.
Lacks quick-release chin strap.
Final Verdict:
For the reasonable price it is sold at, HJC C91 does a wonderful job at protecting your head and keeping it comfortable inside. Meeting DOT standards perfectly, HJC C91 is rightly deemed as the most comfortable motorcycle helmet for its price.
LS2 Modular Strobe Helmet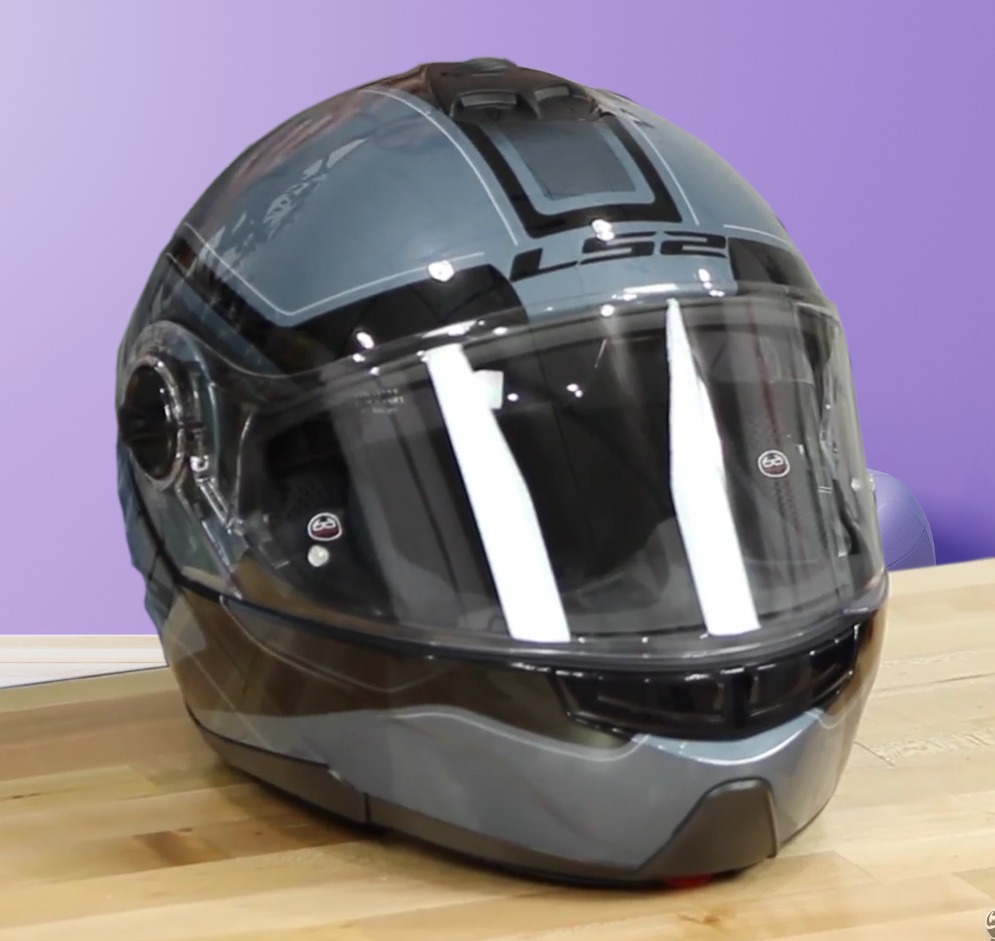 Last but definitely not the least, we have another spectacular yet reasonably priced helmet by the remarkable brand LS2. Designed to specifically target the needs of every amateur rider, the new LS2 modular strobe helmet is the best choice for beginner users.
Suitable for street strolling and competitive races, LS2 strobe is available in a wide range of shell sizes ranging between XXS to 2XL. Secondly, this ECE 22.05 approved helmet has a micrometric buckle and pin lock quick-release system to protect your face from sustaining life-threatening injuries during sudden accidents.
Making full use of its top, chin and channelled EPS vents, LS2 strobe makes sure there is sufficient air supply within its shell. This works together with the anti-bacterial and breathable lining fabric to dry off any moisture present on your face and lower the humidity level inside. Furthermore, the liner possesses hypoallergenic properties to stop the growth of allergies produced due to heat.
It is a known fact that the visor of every helmet plays a major role in estimating its durability and visibility. To enhance both of these factors, LS2 strobe has an optically correct 3D polycarbonate visor. This material acts as a shield against damaging UV rays, impacts and scratches, hereby increasing the longevity of your helmet.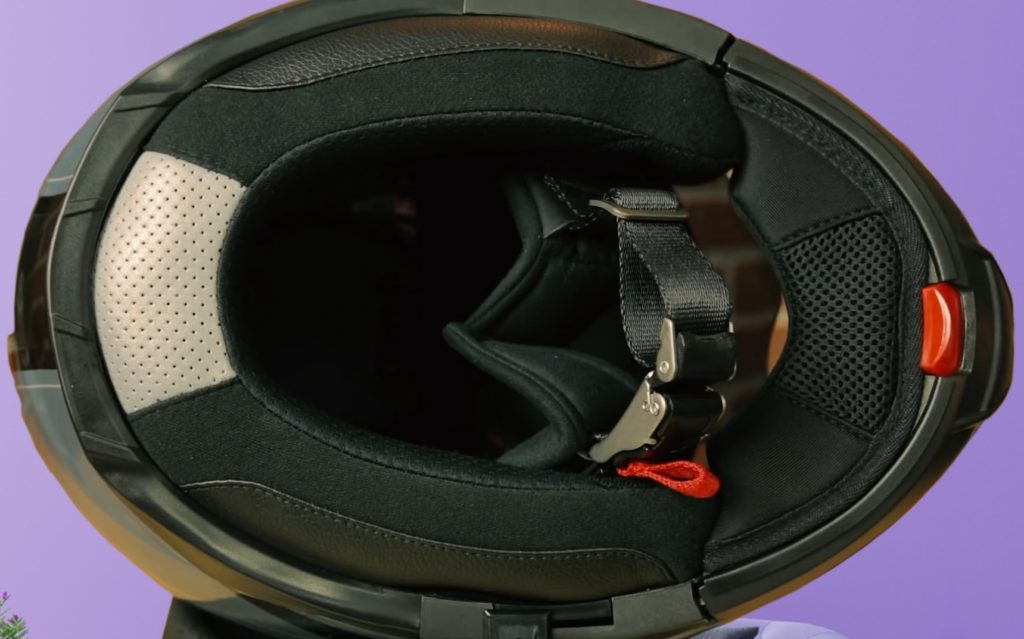 Although the LS2 modular strobe helmet weighs relatively more than other products in our list, its guaranteed pain-free use even after longer intervals makes up for it. Through a multi-density EPS liner, you are protected from neck rolls and shoulder aches. Additionally, the reinforced chin strap offers a snug and secure fit on all head sizes.
Features:
Meets and exceeds ECE 22.05 safety standards.
Twin shield visor with quick-release system.
Integrated laser-cut foam with chin curtain.
Multi-density EPS liner with breathable, removable and hypoallergenic properties.
Channelled EPS system, top and chin vents for sufficient air intake.
What we like:
Available in a wide range of sizes between XXS to 2XL.
Sold in 4 different colours and attractive designs.
Micrometric buckle and reinforced chin strap offer a snug and secure fit.
Optically correct field visor made from UV, fog and scratch proof material.
What we don't like:
Shell weighs a lot.
Runs a size smaller.
Final Verdict:
For the unbelievably low price it is sold at, LS2 Modular Strobe helmet promises everything that any skilled or amateur rider can dream of. Prioritizing your safety above everything else, LS2 modular strobe is the most affordable motorcycle helmet released until now for every newbie motorcyclist.
Buying Guide
Having finished listing down the 5 best cheap motorcycle helmets of 2022, it is time we talk about the features that have helped them earn this title. Before finalizing a helmet for your cruising or riding purposes, it is important you judge every product by analysing the features mentioned below and based on that, deduce its suitability with your own riding style.
Helmet Type
Firstly, you need to decide what type of helmet you are looking for. Although there are more than 10 different types of motorcycle helmets, the most popular styles are full-face, half-face and modular designs.
If you are looking for a helmet to use while riding at high velocities on dangerous routes, we recommend getting a full-face helmet. As its name suggests, this type covers your whole face and guarantees the highest level of safety in case of accidents.
On the other hand, half or dual sport helmets are good for surfing on streets in style. They only protect half of your face and therefore lack in terms of safety as compared to full-face or modular helmets.
Thirdly, we have a hybrid combination of full and half-face design called modular helmets. They come with a drop-down visor that shields your face and eyes from rain and harmful sun rays. The choice between each of these helmet types must be made based on your own preference and riding style.
Shell design
Another significant feature in every motorcycle helmet is its shell weight and design. Generally, ABS composite polycarbonate material is used for shell construction to lower the overall weight of the helmet and give it a snug fit. These helmets are the ideal choice for cruiser motorcyclists because of their nominal danger levels and ease of use.
However, lightweight helmets do not do well in terms of safety and impact absorption capability. In such instances, you should look for a durable and efficient energy dissipation system such as the CAD technology that protects your face and shoulders from harsh impacts.
To determine the appropriateness of any helmet with your own riding style, conclude if you prioritize ease of use above safety or the other way around.
Safety Certificate
Since the sole purpose of purchasing a motorcycle helmet is to protect your head from grave injuries, you must consider exactly how safe your helmet is before finalizing your choice. The safety of any motorcycle helmet is determined by looking at its safety certifications such as the DOT, ECE and SNELL standards.
ECE and DOT standards assure that the helmet is safe and authorized for use on peaks and roads. However, a SNELL certification guarantees a much-elevated safety standard and is currently the highest safety certificate that can be achieved by any headwear equipment.
Cost
At last, the conclusive factor when planning to buy a motorcycle helmet is its price. Since these helmets are available for a wide range of prices, it is crucial that your selected product attains the right balance between safety, comfort, security and durability without being too harsh on your pocket or outside your budget.
How do we test our products?
The aforementioned motorcycle helmets have been selected after conducting multiple tests, doing extensive research and comparing these helmets with other superlatives such as their price, customer reviews and our own personal experience.
Frequently Asked Questions (FAQs)
What is the cheapest motorcycle helmet?
Although many motorcycle helmets offer outstanding performance without being too expensive, the Biltwell Lane Splitter is regarded as the best overall choice in this category. Other budget-friendly motorcycle helmets include HJC IS-33 II, Icon Airflite and LS2 Valiant.
What is the most comfortable motorcycle helmet?
A general consensus agrees that AGV K1, followed by AGV K3 SV, Bell MX-9 Adventure MIPS and Biltwell lane splitter are the most comfortable motorcycle helmets of 2022.
How much does a good helmet cost?
Keeping in mind the wide price scale of motorcycle helmets, it is quite tricky to give an exact amount that guarantees a safe and comfortable helmet. Instead, we suggest looking for a product that offers the right compromise between top-notch features and affordability.
A motorcycle helmet that costs between $150 to $200 is generally safe, durable and good to use on roads. For greater safety and quality, you can go as far as $300 but anything beyond this value should have a long-lasting lifetime and flawless performance.
Do motorcycle helmets have an expiry date?
Yes, motorcycle helmets have a limited lifetime. Since they are made from materials like resin and stainless steel, helmets become unusable after five to seven years of use and do not offer the same level of safety they originally used to.
Final Words
And with that being said, we have reached the end of our comprehensive article about the cheapest motorcycle helmets of 2022/2023. We conclude our article in hopes that our detailed reviews and buying guide help you learn about key features of every motorcycle helmet and ultimately lead you towards the right helmet for your riding style. Until then, stay safe on the roads!