Are you tired of listening to loud road noises while driving on the streets? If yes, then it is about time we introduce you to motorcycle headsets. With the sharp spike in technology, manufacturers have come up with just the right protective gear to grant you both safety and entertainment while cycling on highways and streets.
But given the numerous products available in this category, the decision of selecting the right motorcycle Bluetooth can be a difficult one. For this very reason, we have compiled a list of the best motorcycle headset for you along with their detailed reviews and features!
What is the best motorcycle Bluetooth?
1. Cardo PTB00040-PACKTALK Special Edition Motorcycle Bluetooth Headset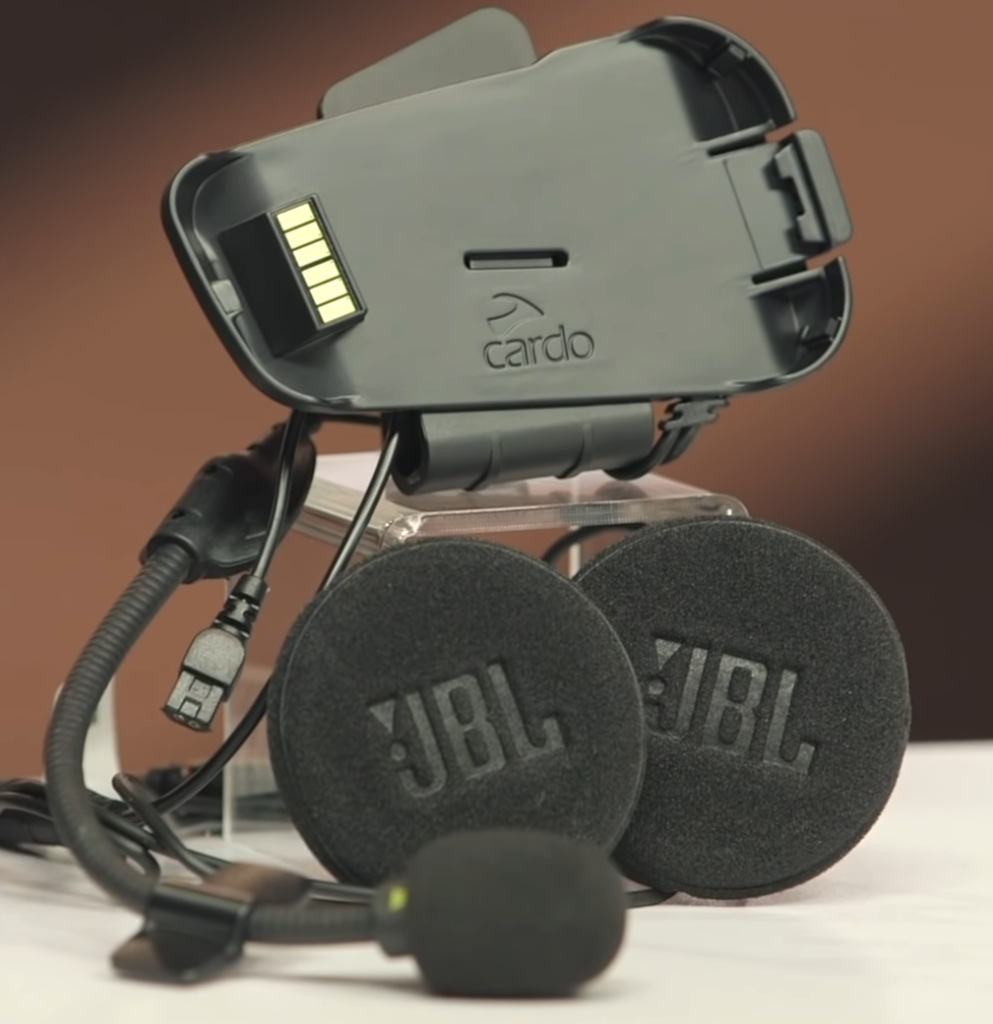 Let us start this list with the most technologically advanced product of 2022/2023. Cardo PACKTALK Special Edition Motorcycle Bluetooth is exactly what you need to make your riding and tracking journeys thrilling and fun! Supporting up to fifteen riders at once, you can now communicate with your teammates while all of you take different routes.
Have you ever had your headset give up on you while you need it the most? The Cardo PTB promises to never let this happen again with its amazingly long thirteen hour talk time. Moreover, the generous range of 1600 metres helps you explore tracking sites far away and its versatile nature helps connect the headset with almost all Bluetooth brands!
Next, let us shine some light on the audio mixing capabilities of Cardo's PACKTALK motorcycle headset. Equipped with sophisticated algorithms, PACKTALK automatically adjusts the volume of your music depending upon the surrounding environment and ensures radio, music and call services continue simultaneously without any interruption.
Advancing upon the longevity of this special Bluetooth headset, Cardo comes with a battery pack and 12V charger. Using this equipment, you can charge your headset while riding towards your destination. Lastly, the group intercom feature with DMC provides a stable and automatic one to one or one to many connection along with high-end Bluetooth mode.
Final Words:
With a long list of smart features, the Cardo PACKTALK Special Edition is undoubtedly one of the best motorcycle headsets for music, calls and radio. Although it is relatively pricey, this Bluetooth headset is worth every penny spent on it! Purchase from Amazon
2. Sena 10C Evo Bluetooth Headset and Camera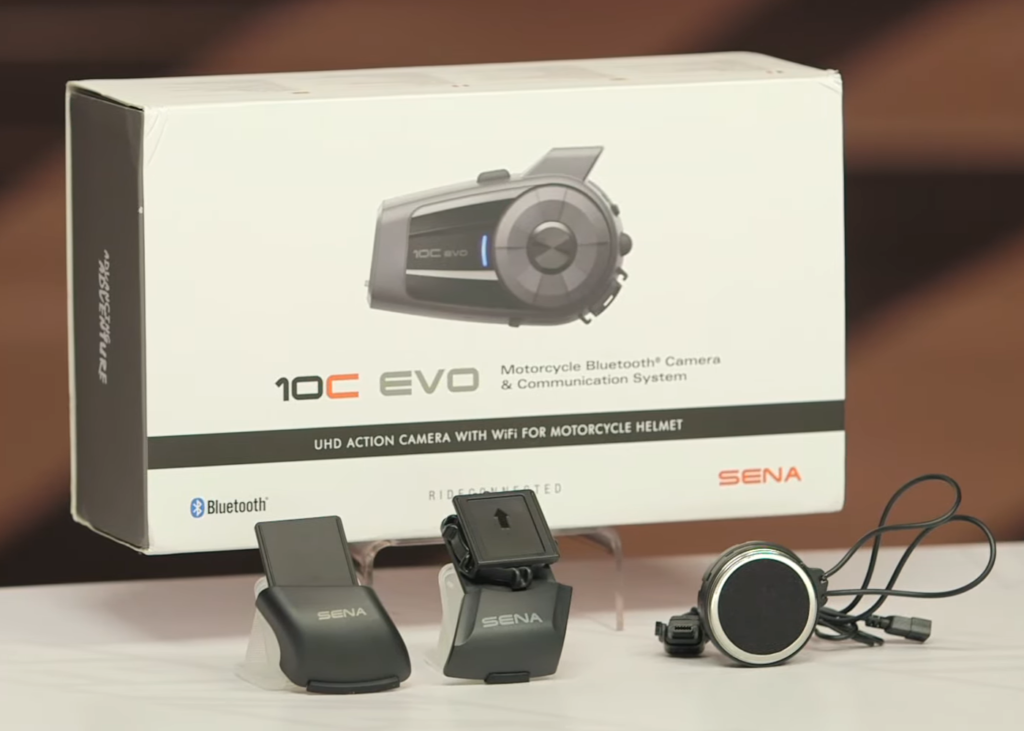 Are you looking for an all-in-one multi-purpose motorcycle headset and camera? If yes, then the Sena 10C EVO is definitely the right match for you. Finished in an attractive, aerodynamic and compact design, Sena 10C EVO is portable enough to accompany you everywhere you go! Along with this, its sleek design helps block out annoying wind or road noises thereby, improving the audio quality of the headset.
Secondly, let us talk about the range and audio of Sena's notable 10C EVO Bluetooth. Promising functionality to vast 1.6 kilometres, 10C EVO is equipped with Bluetooth version 4.1 and connects four people at once. Next the 1200mAh lithium polymer battery lasts for twenty hours and has a short charging time of 2.5 hours.
Equipped with the Smart Audio Mix facility, Sena 10C EVO automatically mixes audio from the intercom and music of your smartphone. Additionally, the advanced noise control and SBD codec block out obnoxious noises to maximise the effect of multimedia audio. The HD voice mode ensures high audio quality during voice calls no matter how noisy the street you are driving on is!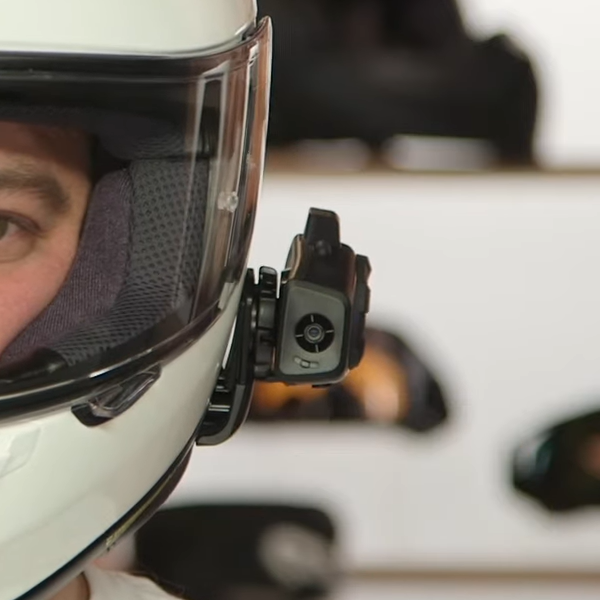 Although all of these features are sufficient to speak about the efficiency of this motorcycle Bluetooth, it is the integrated 4K camera of Sena 10C EVO that has grasped the attention of every motorcyclist. Offering a high quality 30FPS, Sena's 10C showcases the preview footage being shot on your smartphone and lets you adjust its resolution using the Sena Camera App.
Final Words:
Providing you high quality video, audio and quality, the Sena 10C EVO is the best motorcycle Bluetooth and camera available for now. Despite being heavy on your pockets and not so reliable during radio transmission, Sena 10C EVO Bluetooth is a must have for motorcyclists who love to vlog their journeys while attending phone calls or listening to music! Purchase from Amazon
3. Cardo FRC4P001 – FREECOM 4 Plus Motorcycle 4-Way Bluetooth Headset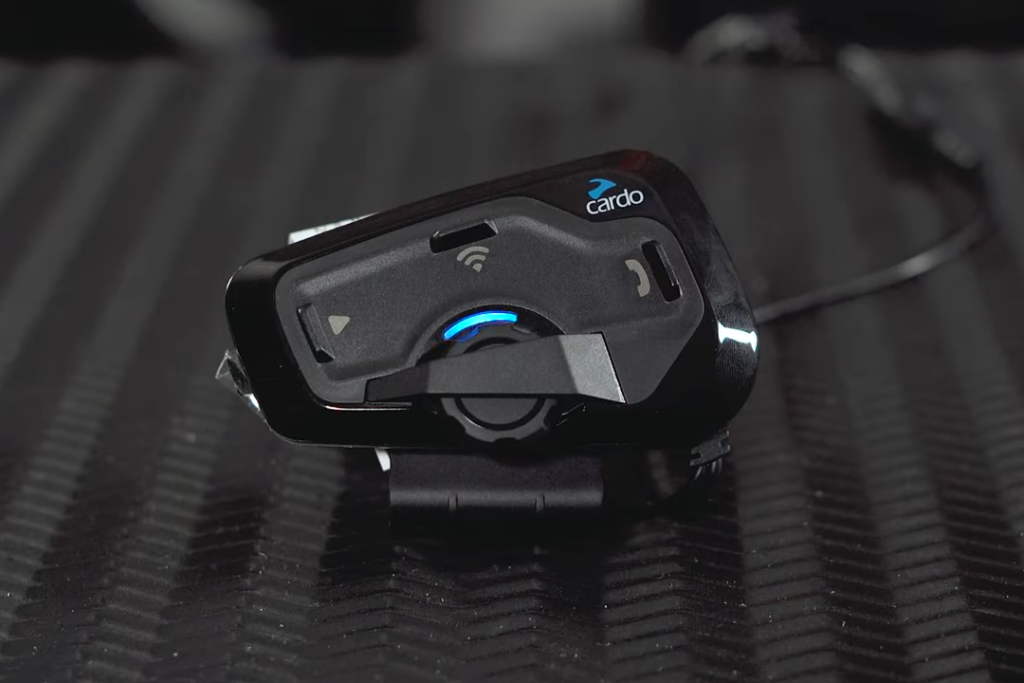 Given CARDO's years of experience in offering best quality and performance technical gadgets, it is no surprise to see its name appear in this list again. The CARDO FREECOM 4 Plus Motorcycle Headset is here to provide its users a completely hands-free and splendid entertainment , communication and intercom system!
Featuring the renowned JBL sound system, CARDO FREECOM offers unbeatable audio experience while zooming or passing through a mountain pass. It is designed to make, reject and accept calls through voice commands and share your favourite tune with others by a single click. Also, the integrated radio works with RDS to provide a stable signal even when you are in the middle of nowhere.
Introduced as the latest edition to CARDO's FREECOM series, the 4 Plus motorcycle Bluetooth is finished in a highly ergonomic and aerodynamic design. The cutting edge technology makes the headset incredibly waterproof meanwhile its four way Bluetooth intercom facilitates communication between multiple bikes and operates at a long range of 1.2 km.
Like all the other Bluetooth Communication Headsets released by CARDO, FREECOM 4 PLUS is also easily controlled with the CARDO connect app. Moreover, CARDO allows you to merge calls and promises loud and clear audio with its automatic volume control feature. Finally, the 600mAh battery has a talk time of thirteen hours and charges through a battery pack while you ride.
Final Words
With its innovative design and efficient tech, the CARDO FREECOM 4 PLUS has become one of the best motorcycle speakers for amateur and professional bikers. Despite having some connectivity problems and high price, your audio quality is bound to improve with the new CARDO FREECOM Bluetooth headset. Purchase from Amazon
4. SENA SMH5 Bluetooth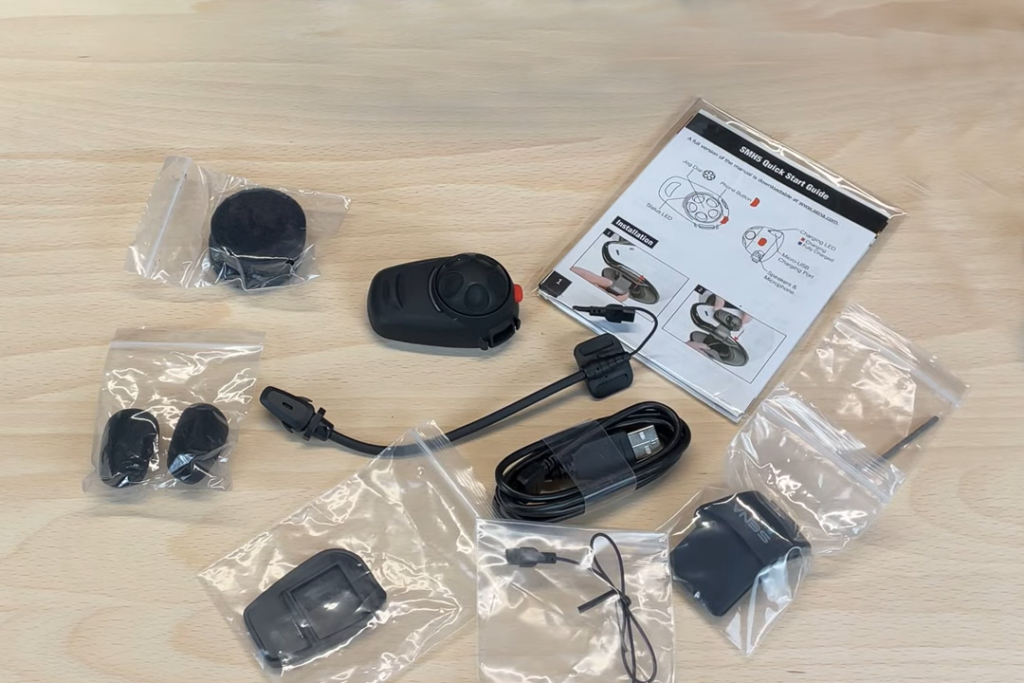 Next in line, we have the most affordable motorcycle headset and speakers that promise to not compromise on the audio quality and ease of use. SENA SMH5 is a low-key motorcycle headset that is designed to facilitate two-way Bluetooth intercom and operates in a range of 400 metres.
Labelled to offer crystal clear audio quality, SENA SMH5 is the right gadget for every motorcyclist who struggles with technology and complex controls. Equipped with a jog dial and large button, SMH5 is super easy to use and comes with a fully hands-free voice activation mode. With this, you can dial or pick up phone calls, navigate through GPS and adjust playback music settings without lifting a single finger!
Talking about the voice activation feature of SENA SMH5, the headset's versatility is maximised through integrated prompts in multiple languages. These include English, French, German, Italian and Spanish. Along with this, the lithium polymer battery has a long lasting eight hour talk time and seven day stand-by on a single charge.
Finally, let's talk about the most important aspect in any motorcycle headset, its audio quality. Featuring the advanced noise control technology, SENA automatically eliminates irrelevant background noises and boosts the incoming audio signal. It also has wind noise reduction controls and offers a high sampling rate of 48 kHz. Lastly, the universal intercom protocol allows you to connect SMH5 with gear of different brands.
Final Words:
SENA has managed to leave its customers and critics awestruck again with the phenomenal SMH5 motorcycle Bluetooth. Equipped with notable features, SENA SMH5 is one of the most affordable motorcycle speakers of this year! Just beware of its degrading audio quality with high speeds.
5. UClear Amp Go2 Bluetooth Communicator
Last but not the least, we have the best motorcycle Bluetooth for beginners and tech-savvy riders. The UClear Amp Go2 is equipped with industry level Bluetooth 5.0 connectivity. It supports two way intercom between rider to passenger or rider to rider up to a range of 800 metres. Secondly, the light and portable design of UClear's GO2 communicator makes it easy to carry along your helmet to different destinations.
Finished in an easy and instant assembly, UClear has come up with the right headset for biking in all seasons. Its weather and water proof structure allow the headset to function fully even during wet, dry or cold temperature. In addition to this, the frequently upgraded firmware system of Amp GO2 Communicator adds features and troubleshoots errors automatically.
Like all the other Bluetooth in this list, UClear GO2 communicator is used for playing music, navigation through GPS and making or receiving phone calls. One of the most adored features of this Bluetooth communicator is the hi-definition speakers with integrated microphone!
While the patented boom-free dual microphone delivers utmost audio clarity, UClear's advanced beamforming technology reduces irrelevant background noise and focuses on important sounds. Next, the CLEARLINK mobile application gives the rider complete control over headset settings through their smartphone whereas the reliable battery of UClear GO2 lasts for up to twelve hours!
Final Words:
Despite having some downsides, the UClear Amp GO2 Bluetooth Communicator does a terrific job at providing connection and music for the low cost it is sold at. If you are on a tight budget but want maximum audio clarity in your headset, we recommend buying the UClear Amp GO2 Bluetooth Communicator! Purchase from Amazon
Buying Guide
Now that we have finished listing down the best motorcycle Bluetooth and communication system headset, it is time we talk about the features that make them the best at their job. Before you decide on buying any motorcycle speaker, it is important you go through the following details and determine whether the specific gear is up to your mark or not. These factors include:
Intercom systems
The foremost detail to look at in any motorcycle headset is its intercom system. Motorcycle headsets are designed to allow communication between rider, passenger and other fellow riders. The number of intercoms determine how many people a headset can connect at a single time.
If you are buying a headset for solely communicating with the passenger, look for a two-way rider and passenger intercom. Whereas, if you want to stay connected with other riders, look for a four, five or six intercom system.
Range
Secondly, you need to check the supported open terrain range of every motorcycle Bluetooth. This determines the estimated distance it can function on without disrupting your connection. The greater your Bluetooth range is, the further you can travel with it. Always look for a headset that offers a minimum of 400 metres or more for moderate to high connection in open terrain.
Audio quality
Audio quality plays the most crucial role in determining the worth of every motorcycle Bluetooth. To attain an optimal and crisp audio quality, it is important that your headset has an efficient road and wind noise reduction system. Along with this, an automatic voice booster greatly improves the audio quality.
Audio quality is measured through sampling rate. The higher the sampling rate is, the better audio a headset provides while travelling on noisy roads or at super fast speeds.
Battery life
Another significant factor in every motorcycle speaker is its battery talk time. Since you don't want your Bluetooth to run out of charge while you are in the middle of nowhere, it is important you purchase a gear that has a talk time of at least six to eight hours.
Moreover, take a look at how long your battery takes to charge and the estimated stand-by time it has. Many brands also offer motorcycle headsets that have a battery unit and charge while you are riding. This feature helps enhance the longevity of your battery by a huge mark.
Durability
In addition to its battery life, you must look at the durability of a motorcycle headset to deduce if it is made for long term use or not. Since motorcyclists often encounter unforeseen snow, rain and dust on their way, your Bluetooth speaker must be designed to not be damaged by either of these things.
Always look for a waterproof, dustproof and waterproof mark in motorcycle Bluetooth for optimal durability. The warranty of any product also helps in deciding how long it will last for.
Ease of use
Motorcycle Bluetooth are advanced gadgets and therefore, sometimes too complex and confusing to use. If you are an amateur motorcyclist, it is extremely crucial that you look for a headset that is not only easy to install but use too. Always stray away from gears that have too many manual buttons or lack an elaborative instruction manual.
Recently, the hands-free function in motorcycle speakers has taken the world by storm. These control the Bluetooth using voice commands and henceforth are super easy to use. If you are looking for a hands-free headset, make sure the integrated voice prompt picks up words clearly and supports your desired language.
Price
The last factor you need to consider in every motorcycle headset and communication system is its price. This electronic gear is sold for different prices under different brands. Remember to never overspend on a headset just for the sake of its brand. Instead, look for a piece that offers a good compromise between quality, features and price!
Frequently Asked Questions (FAQs)
Conclusion
Alas, we have reached the end of our comprehensive article about the best motorcycle Bluetooth. We hope our list helps you find the right motorcycle headset for you, meanwhile the comprehensive buying guide educates you about the features of this helmet gear. Have a fun and enthralling biking experience with these motorcycle headsets and broadcast your journey with your loved ones!