No more wind, no more noise. Looking for noise-canceling motorcycle helmets? You've come to the right place – our list of quiet motorcycle helmets is designed to significantly reduce wind and engine noise. This can be crucial while riding, as wind noise can easily detract from the enjoyment of your ride. Helmets with less noise also help you hear more, leading to increased safety and awareness while riding.
What could be more exhilarating than riding a motorcycle? Taking that ride while wearing the right motorcycle helmet can make all the difference. Designed to protect your head while riding a motorcycle, they also keep out wind and noise caused by the speed of your ride. With the right helmet on, you'll feel safer, making a fun activity even more enjoyable.
Best Quiet Motorcycle Helmets
This guide will give you a list of the best quiet motorcycle helmets in 2023. I am amazed by the concept of "Quiet Helmets" and their safety advantage, especially when buying a motorcycle helmet. For anyone who wants to buy a helmet, this is an awesome starting guide!
Shoei-Neotec 2 (Quietest Modular Motorcycle Helmet)
Shoei-Neotec 2 Buying Options: Amazon | RevZilla
When you're on a long trip, you want to be able to hear the engine as well as everything around you. The Shoei-Neotec is our quietest modular helmet and will ensure you can hear everything you need to while riding.
To be honest this Shoei-Neotec helmet is a modular helmet that is built for comfort and style. It's also the quietest modular helmet on the market, with a wind noise reduction of 20% compared to other models.
Interestingly, noise reduction features are just part of what makes this helmet so comfortable: it has an integrated sun visor that allows you to control shade easily without the need for sunglasses, a chin curtain, and a breath guard.
One more advantage is this helmet comes in four different shell sizes—XXS–S, M–L, XL–XXL, and XXL–3XL—allowing for a truly personalized fit. And the inner liner is removable as well as washable and replaceable.
Without any doubt, Shoei-Neotec is an incredibly versatile helmet that can be used for all types of riding situations. It's very comfortable and well made, with great ventilation and a good fit for almost everyone.
And with all of these comfort features, you wouldn't think that style would be sacrificed. But it's not! This is one of the sleekest-looking helmets on the market, period.
One more interesting thing about this helmet is you can wear eyeglasses under this. The sealing liner also makes it possible to wear eyeglasses under the helmet. That's a huge benefit for wearers like myself who wear glasses.
All in all, we feel that the Shoei Neotec is an excellent hybrid helmet, that makes a great balance between full-face and open-face helmets. The noise is really low, the comfort level on the head is above average and protection is, of course, adequate.
Purchase from Revzilla | Amazon
Pros
Amazing build quality
Lightweight
Well-ventilated
Noise Cancelling
Cons
Top vent is harder to reach
Only SENA Bluetooth system supported
HJC-RPHA-11 Pro (Quietest Budget Motorcycle Helmet)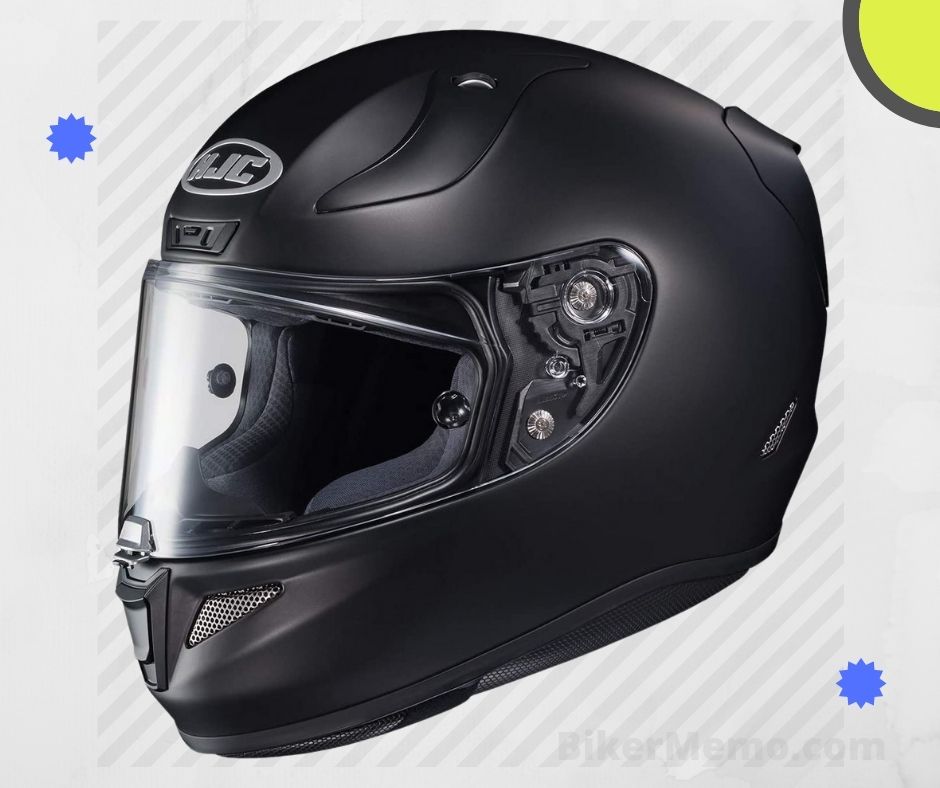 When you're out there on the open road, the last thing you want to worry about is how much noise your helmet will let in. That's why we love the HJC RPHA 11 Pro motorcycle helmet—it's cheap, it meets all safety standards for motorcycle riding, and it's made with an Advanced Fibreglass Composite Weave Shell that works to keep noise at bay when you're tearing up the pavement.
Without a doubt, the quietest motorcycle helmet is a high-quality unit, constructed from the lightweight material, which makes it easy to wear and helps to reduce sound penetration. The inside is padded with a soft fabric, which will make you feel more comfortable on your journeys.
HJC-RPHA-11 Pro Buying Options: Amazon | RevZilla
Believe me, 11 Pro also comes with a chin curtain that blocks out any extra gusts of wind that come from below, as well as an "ACS" advanced channeling ventilation system to keep your head cool and comfortable.
One more thing is HJC RPHA 11 Pro has been engineered with CAD technology for custom fit and comfort. Its lightweight design includes a fiberglass shell with a built-in ACS ventilation system that lets air flow freely so you stay cool and dry even on long rides. Plus, it offers superior visibility for clear sight at all times.
Even though this helmet is affordable, it's still got a lot of great features—including a speedy one-touch integrated sun shield, emergency quick-release system, and anti-fog lens.
So what are you waiting for? Grab yourself an HJC RPHA 11 Pro today, and hit the road in style!
Pros
Lightweight
High-Quality Face Shield
Highly Breathable Interior
Aerodynamic Shell Design
Cons
Purchase from Revzilla | Amazon
Arai Signet-X (Best Noise Cancelling Motorcycle Helmet)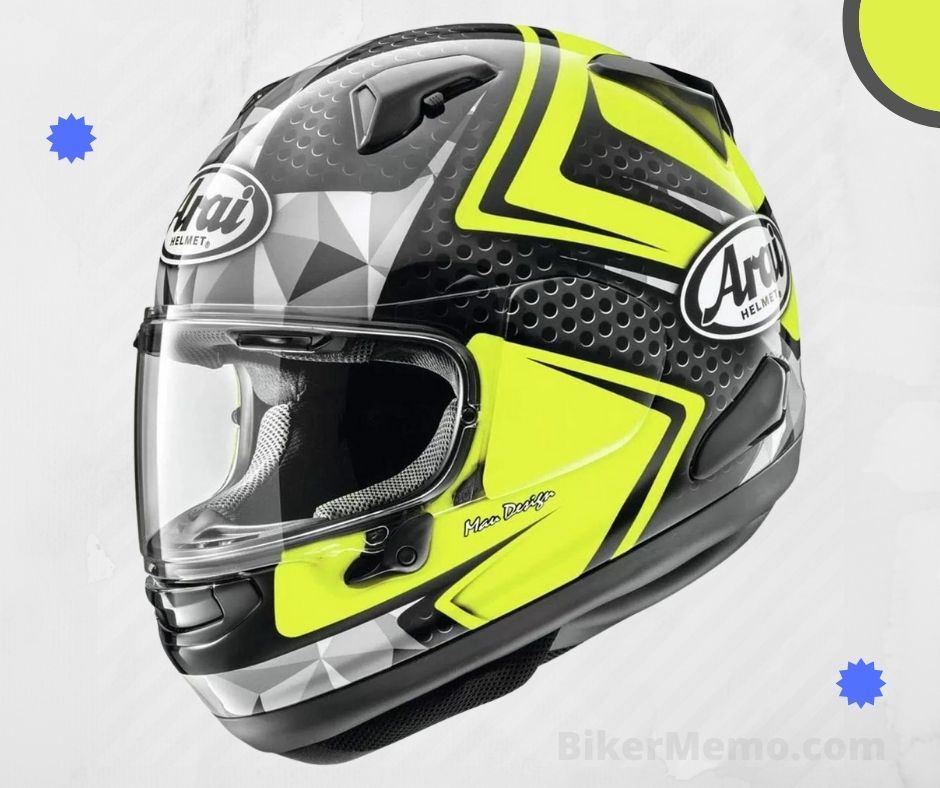 Without any doubt, this Arai Signet-X is an iconic helmet for motorcyclists. It's a favorite amongst touring and adventure riders due to its superior noise cancellation, but the Signet-X is also a great choice for the daily commuter.
The Arai Signet-X motorcycle helmet is a perfect fit for those who want to enjoy the ride in silence. Its interior is ridiculously comfortable and quiet. It will be the perfect choice for those looking for the best noise-canceling motorcycle helmets.
Arai Signet-X Buying Options: Amazon | RevZilla
Believe me, this Signet-X has an advanced ventilation system that allows you to have full control over airflow. This comes in handy when you're riding in colder conditions, as it allows you to close off certain vents to reduce noise levels inside your helmet. With the addition of a shield visor, you can open up all of your vents to let in as much air as possible during the summer months!
One more thing this model features an industry-leading interior design with removable and washable cheek pads which make cleaning easy after long rides or grueling commutes through traffic. It also comes equipped with a five-year warranty on all parts except the visor.
If you're looking for quiet comfort while riding, then look no further than this model from Arai!
Pros
Dual Pane System
Comfortable
Lightweight
Cons
Not budget-friendly
No Internal Sun Visor
Purchase from RevZilla | Amazon
Shoei-RF-1400 (Quietest Full Face Motorcycle Helmet)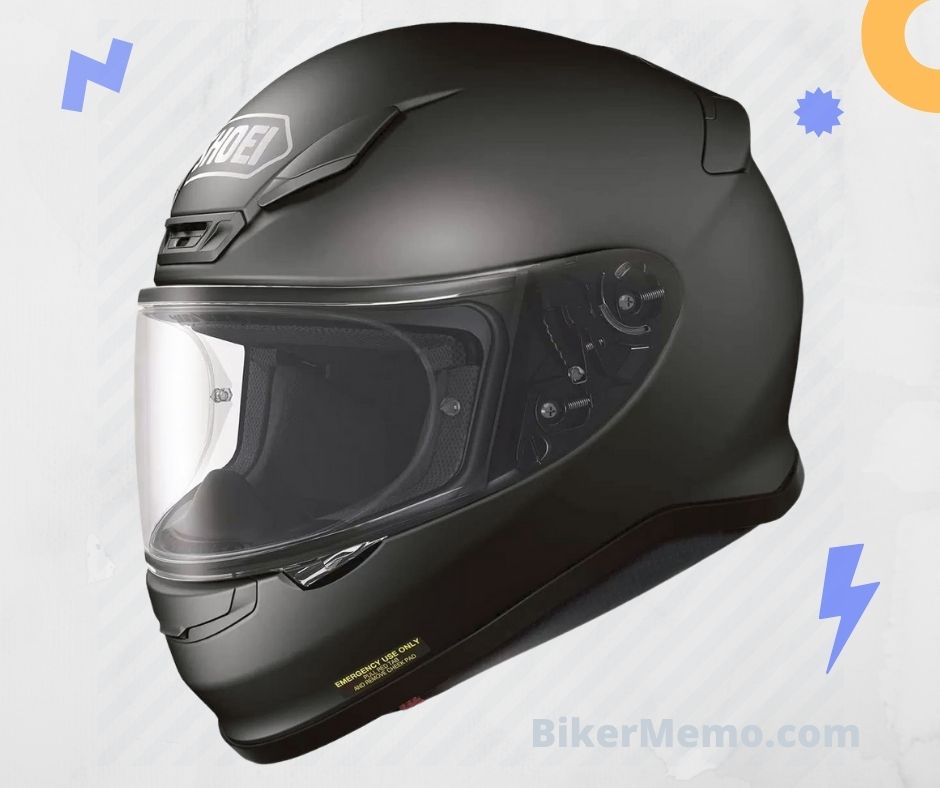 Without any doubt, the Shoei-RF-1400 is the quietest Bluetooth motorcycle helmet on the market. If you're sick of getting your ears blown out by the wind, this helmet will be a lifesaver.
When you're cruising down the highway at speeds up to 120 mph (and sometimes even higher), safety is the most important thing. The Quietest Bluetooth Motorcycle Helmet, or Shoei-RF-1400, offers the ultimate protection, with a shell and interior design that minimizes your risk of injury in an accident.
Shoei-RF-1400 Buying Options: Amazon | RevZilla
And it does more than just keep you safe – it gives you peace of mind so you can enjoy your ride. It comes with a built-in noise-canceling speaker system that lets you block out the sounds of passing cars and wind rushing by as you speed down the highway.
One more interesting thing is Shoei-RF-1400 also has Bluetooth capabilities, so you can sync your phone to play music or answer calls while riding – without missing a beat in your conversation. All these features are packed into an aerodynamic helmet that's lightweight enough not to weigh down on top of your head.
To be honest, Shoei-RF-1400 is the perfect combination of style and technology: it looks great whether you're on or off road, and offers all the features any motorcyclist needs to stay safe and connected while riding their bike.
Pros
Great Airflow
Lightweight
Comfortable
Quiet
Well Constructed
Cons
Visor Fogs Easily
Expensive
Purchase from RevZilla | Amazon
Shark Evo One 2 (Quietest Flip Up Open Face Helmet )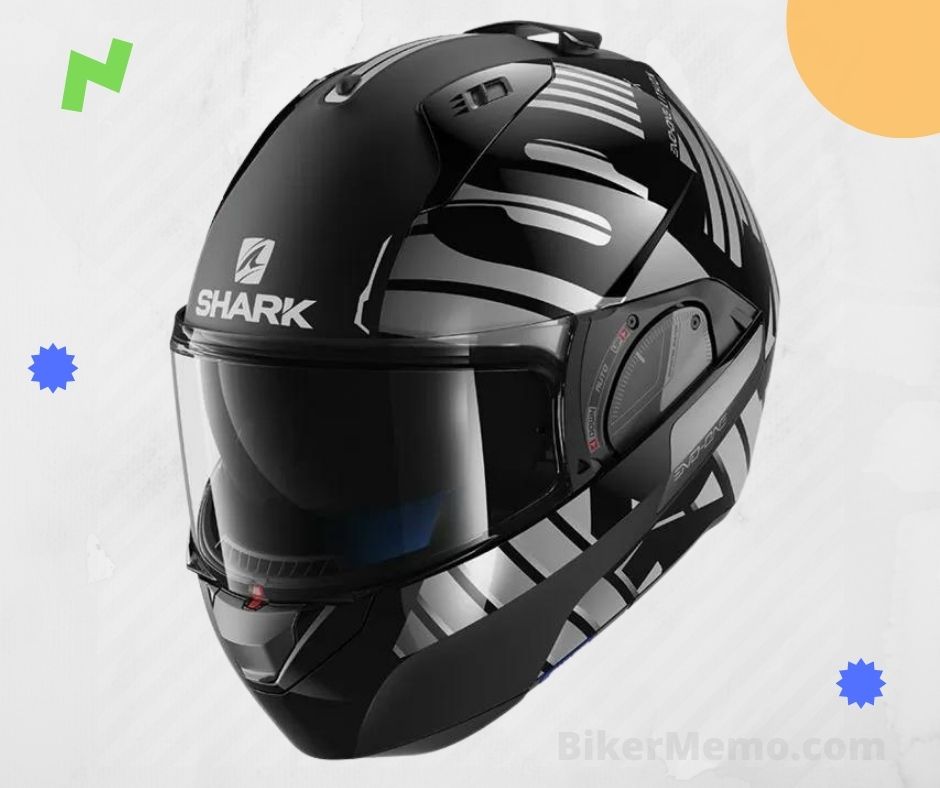 Without any doubt, SHARK Evo One 2 helmet is for the rider who wants a flip-up helmet that offers the ultimate in performance and comfort but doesn't want to make all the sacrifices. Believe me, SHARK Evo One 2 Helmet is designed from the inside out with the rider in mind. This means comfort, ventilation, vision, and an overall riding experience parallel to premium full-face helmets.
One more thing is this helmet has also been tested by some of our favorite riders to give you what we believe is one of the best deals on the market. It's still possible to put a smile on your dial without breaking your piggy bank.
Buying Options: Amazon | RevZilla
This helmet is designed to help you stay safe and comfortable on your bike and offers a sleek design that makes for a stylish accessory. You'll feel safer than ever when you're wearing this helmet, which comes in black, white, or matte black and is available for both men and women. This open-face style provides optimal ventilation so you can breathe easily while still staying safe from road debris.
One more interesting this is this SHARK Evo One 2-Quietest Flip Up Open Face Helmet weighs just 3 pounds and has top ventilation vents to keep your head cool even when it's hot outside. It also includes internal sun visors that shield your eyes from harmful UV rays during rides into town or across the country without sacrificing visibility. The chin strap is adjustable in order to fit every rider perfectly while remaining comfortable at all times – no more neck strain!
Purchase from RevZilla | Amazon
Pros
Superb aerodynamics
Pinlock-ready visor
Auto up/down visor mechanism
Bluetooth ready (SENA SMH10)
Great ventilation
Top-quality materials and finish
Cons
Chin Starp Uncomfortable
Noise Cancellation Average
Schuberth C3 Pro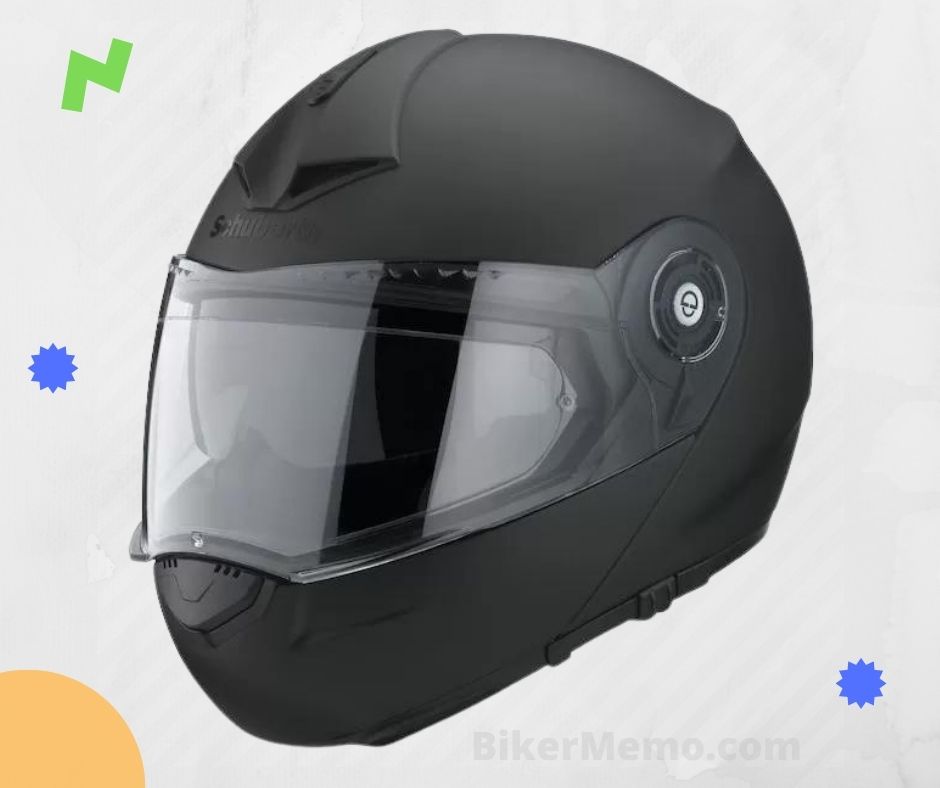 Are you a rider who's looking for the quietest helmets available? Schuberth helmets are the quietest and most comfortable helmets available. If you're tired of wind noise, whistling, lack of ventilation, and neck pain from loud helmets, then this helmet is for you.
Interestingly, Schuberth C3 Pro is an open-face street helmet that provides all-day comfort without sacrificing protection or style. With an aerodynamic shape and superior ventilation, this helmet makes your ride as smooth as possible no matter what kind of weather you're up against.
But let's get to the best part: noise control. The Schuberth features a fully integrated antenna system and a tuned acoustics system to provide the quietest experience on the market. The helmet also comes equipped with an anti-fog coating for clear vision during inclement weather conditions such as snow or foggy days.
Without any doubt, the unique design includes a wind tunnel-optimized shape and an aerodynamically optimized visor that reduces turbulence and noise – and helps you get less drag when speeding down the highway. Plus, the helmet shell is made of fiberglass with a comfortable lining and an "Anti-Roll-Off System" that keeps the helmet securely in place even during high impact.
Further, this Schuberth C3 Pro is a helmet that lets you hear your surroundings and enables you to enjoy your ride with its noise-canceling technology. The C3 Pro is almost as quiet as riding with no helmet, so it's perfect for riders who want to feel like they're not wearing a helmet at all.
One more interesting about this is Schuberth C3 Pro is equipped with a built-in antenna, which allows it to be connected to GPS or other electronic devices via Bluetooth and makes it compatible with a range of other accessories. The C3 Pro also features built-in speakers and a microphone for hands-free phone calls, so you can focus on the road.
Pros
Well-padded interior
Superior Aerodynamics
Very lightweight
Cons
Premium price tag
Little Coverage around the neck
Longer than most helmets
Bell Race Star Flex DLX (Quietest Racing Helmet)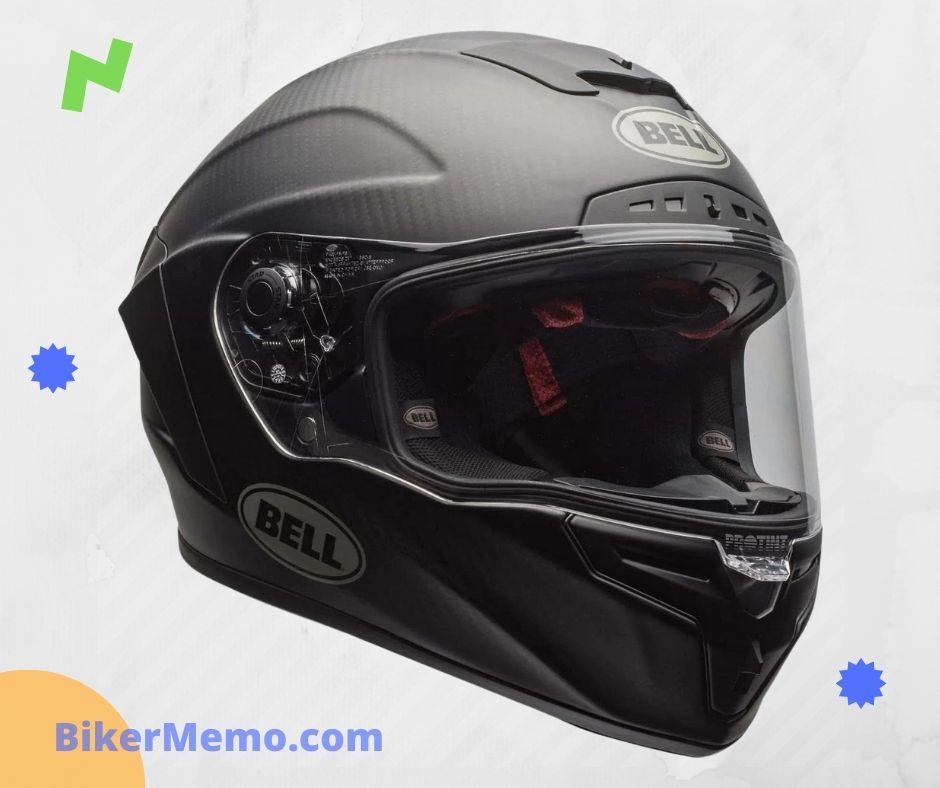 If you're a racing fan, you probably know all the details on Bell's revolutionary Race Star Flex DLX racing helmet. But we bet you didn't know just how quiet it is.
The helmet has a new kind of face shield that's made of no-fog polycarbonate instead of the usual glass or plastic. This helps prevent fogging and makes for better visibility, not to mention being safer in the event of an accident. It also features a redesigned ventilation system that keeps your head cooler as you ride—and it's definitely quieter than the previous generation.
Bell Race Star Flex DLX Buying Options: Amazon | RevZilla
To be honest the Bell Race Star Flex DLX manages noise by using a combination of materials and padding in an innovative way. The inner EPS foam layers are lined with an acoustic fabric made from multiple layers of sound-dampening material, and the ear cavities are padded with a thick layer of acoustic lining, allowing your ears to hear clearly without distraction from external noise.
The most exciting thing about this helmet is its "Flex" technology. The helmet is composed of two different materials: one that flexes when you hit something hard, and another that stays rigid during impact. This means that if you crash your motorcycle into a tree, only part of the helmet will deform while the rest stays intact. The result? A much safer design with less chance of severe head injuries.
It's not just quiet—it's also extremely comfortable with its five-pound weight and aerodynamic shape. Plus, it comes in eight color combinations so there's something for everyone!
Pros
Padded chin strap
Interchangeable cheek pads
Lightweight fiberglass shell
Meets DOT, ECE, and Snell safety standards
Cons
Expensive
Need to purchase the speaker kit separately
Visor doesn't have much range
Purchase from RevZilla | Amazon
Sena-Momentum Evo (Quietest Touring Helmet)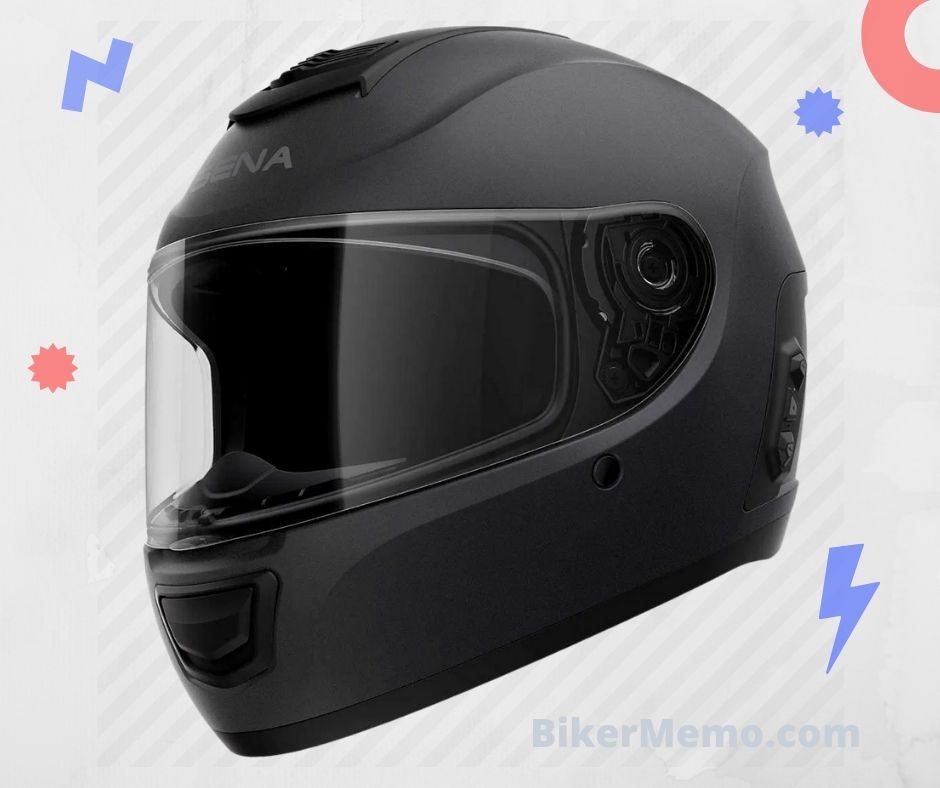 Serious About Silence?
If so, the Sena-Momentum Evo is right for you. Its cutting-edge technology makes it the quietest touring helmet on the market—and it's also got a sleek design and top-notch Bluetooth communication system to boot.
The Sena-Momentum Evo was created with comfort in mind. First, it's fitted with a unique aerodynamic spoiler, which helps to direct and smooth airflow past your helmet as you ride, reducing vibrations that can cause noise.
Second, its Advanced Noise Control feature makes use of specially designed acoustic foam to absorb sound waves entering your helmet and prevent them from reaching your ears. The result is a measurably quieter ride that's perfect for long days on the road.
It's easy to wear – with a lightweight fiberglass shell – and it has a washable interior lining that comes in sizes ranging from XS to XXL.
Beyond its impressive noise-reducing features, the Sena-Momentum Evo has some pretty amazing bells and whistles too (although you probably won't hear them over the silence). For example, its new integrated antenna boosts Bluetooth range by as much as four times – so even if you're riding far away from your partner or group, you'll still be constantly connected. And if you're worried about your phone's battery life? Don't sweat it: the included USB port.
It's also equipped with an anti-fogging visor that's designed to keep you safe on the road. With all these features working together, this is truly a revolutionary helmet that will change how you ride forever!
Pros
Liner is removable and washable
Perfect fitment
Great battery life (up to 13 hours)
Easy to use controls on the helmet
Cons
Expensive
Styling is polarizing
Heavy 
Buying Guide
Thinking about buying a new motorcycle helmet, but worried about the noise?
Well, you should think again. Despite popular belief, there are plenty of quiet motorcycle helmets on the market. It's just a matter of knowing what to look for when you're shopping.
To help you make better decisions, we've compiled this list of tips. Use these to help find your ideal quiet motorcycle helmet:
Airflow
One reason many bikers wear loud helmets is that they need air holes and vents to keep cool as they ride. If you're one of them, don't worry—there are plenty of quiet helmets that have excellent airflow as well! When you're looking at a helmet, pay attention to how well the air flows through it. Does it seem like there's enough room for air to get in and out? Are there enough vents or air holes? If so, then you can feel confident that this helmet will keep you cool on long rides.
Style
While it may not seem like an important consideration at first glance, style can actually be very important in finding a quiet helmet. The size and shape of your helmet will impact how much sound is created by the wind as you ride. Smaller helmets will leave more of your face exposed to air, which means less buffeting against your head and ultimately less noise overall.
Material
The material your helmet is made from is the first thing you should consider when searching for a quiet helmet. Modern advances in materials science have meant that quieter and lighter helmets are now possible—and they don't cost much more than old-fashioned models. Metallic helmets tend to be noisier than other options, while carbon fiber and polycarbonate are typically quieter.
Vents
When it comes to noise, vents can play a big role in how loud a helmet is. If you want a quieter helmet, you should look for something with fewer vents or smaller vents. Larger vents will tend to let in more air, which creates more sound as you drive.
Consider the Size and Shape of Your Head
The size and shape of your head will impact how much sound is created by your helmet. If you have a small face with a narrow jawline, then try looking for an oval-shaped helmet with rounded edges to help reduce noise from wind. And if you're wider across the forehead with high cheekbones, look for something squarer in shape so it doesn't drag as much on your cheeks when riding at higher speeds!
Final Words
In conclusion, the development of these helmets will provide comfort in the event of an accident and a good appearance these have a quiet operation mode and are safe to use. These helmets can be comfortable to wear so they will not affect the rider's hearing or vision. These also have a complete, exquisite design and are safer for other users on the road. These new materials for making helmets have many advantages and benefits, which is why they will soon become standard.
With so many different options to choose from, it can be hard to know what kind of helmet is the right one for you. This article provides a buyer's guide that should help you to narrow down your choices and choose a helmet that will meet your needs without breaking the bank. In our thoughts, Schuberth C3 Pro (Quietest helmet) is the best Quietest Motorcycle Helmet.