With the growing love for biking in today's generation, motovlogging has become the new norm of today. Every vlogger is always on the hunt to find the best gear for their motovlog, but the decision is quite confusing and tough given the numerous products available in market right now.
For this very reason, we are here to list down the top four motovlog helmets that promise to boost the quality of your vlogs, while guaranteeing maximum head security and comfort. Continue reading ahead to learn about the hottest helmets for motovlogging of the year 2022/2023!
Pick the best motovlog helmet
GLX GX11 Full Face Helmet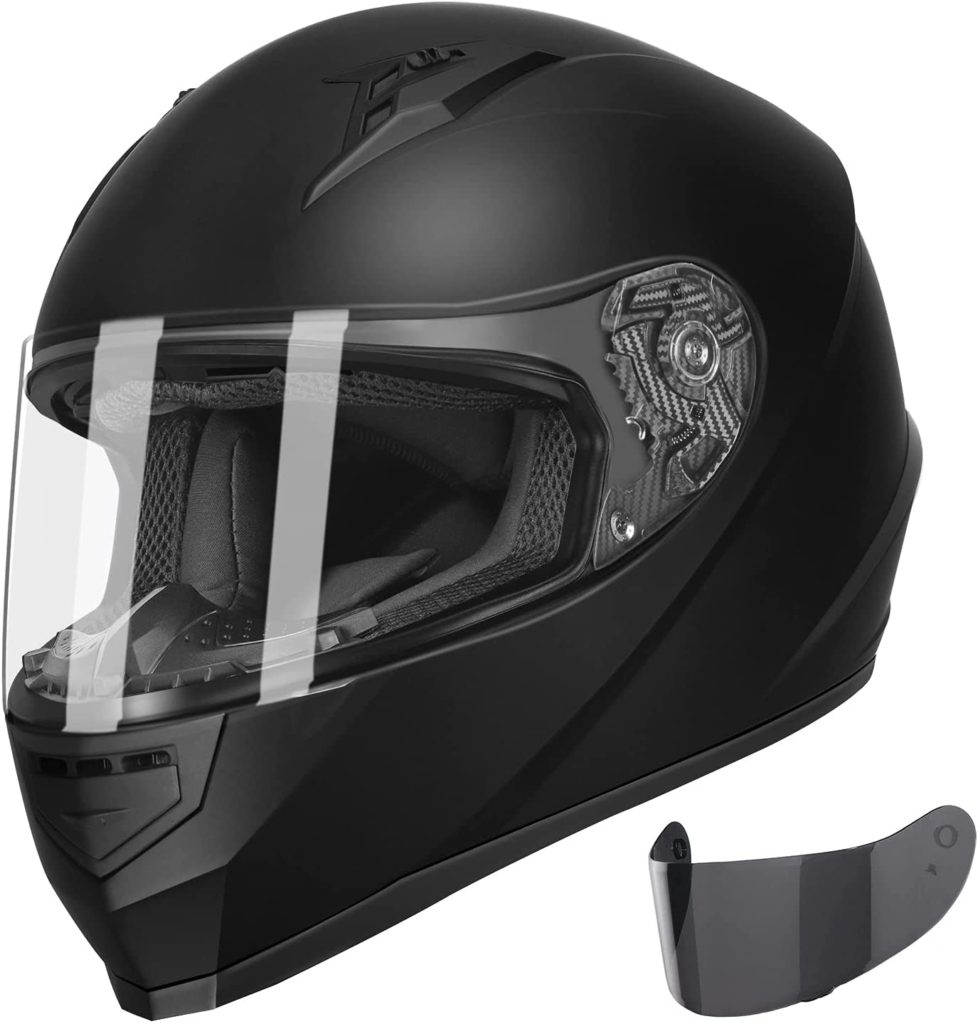 Let's start this list with the highest quality moto vlogging helmet of 2022/2023. GLX has won the admiration and trust of many customers through the years of excellence and technology promised in their safety gear. However, it is their latest GX11 full face helmet that has managed to outdone all its previous benchmarks in terms of safety and comfort.
GX-11 arrives with a heavy build to keep you protected while mounting camera and other recording equipments on the road. Its aerodynamic and compact shell design allows you to smoothly vlog your travel ventures, without worrying about your safety.
This super safe protective gear is lined with an EPS foam which assists in impact absorption by utilizing several foam densities and thus lowering the chances of severe brain damage or concussion. As a result, your head, jaw, and face will remain safe in case of any haphazard scenario on the road.
Another resourceful feature of GLX GX-11 is its breath guard which decreases the shield fogging by rerouting your breath. It is also removable and easily washable, so you don't have to worry about dusting and itching.
A proper ventilation system is a must for any motovlogging helmet. Without adequate and proper vents, the helmet will be uncomfortable for both; to ride and to converse with the audience. But that is not the case with this remarkable helmet. The wide lower and upper vents, along with its many exhaust portals, provides GLX with excellent aeration and promotes optimum level of airflow for the user.
How can we forget about the outstanding chin curtain of GLX? Specially designed to block out the road noise and wind turbulence, the chin curtain does not make much of an issue while recording audio and video and lets you easily communicate with the viewers.
Lastly, the exterior of this full face helmet has a sharp and bold styling so that you can ride with style. Whether you are on a mini trip or starting a long journey, GX-11 promises you to protect with aesthetics, especially for your vlogs.
What we like:
Extreme impact protection
Noise-blocking chin curtain to document vlogs without any disturbance
Sleek and stylish design
Easy removal credited to its steadfast chin strap
Dot-approved
Removable and washable internal padding
Innovative breath-guard design to reduce fogging
Excellent aeration to help you ride in comfort
What we don't like:
Some complaints about improper sizing and fitting
The visor may come off after a few rides
Final Verdict:
After reading the aforementioned key features, GLX GX11 Full Face Helmet can rightly be regarded as the most user-friendly moto vlogging helmet of this year. Its advanced shell construction combined with the noise-preventing features have enhanced its comfort and suitability by a notch! Just remember to try the helmet on before buying it, for a snug fit and full head security.
Sena Outrush Modular Motorcycle Helmet with Intercom System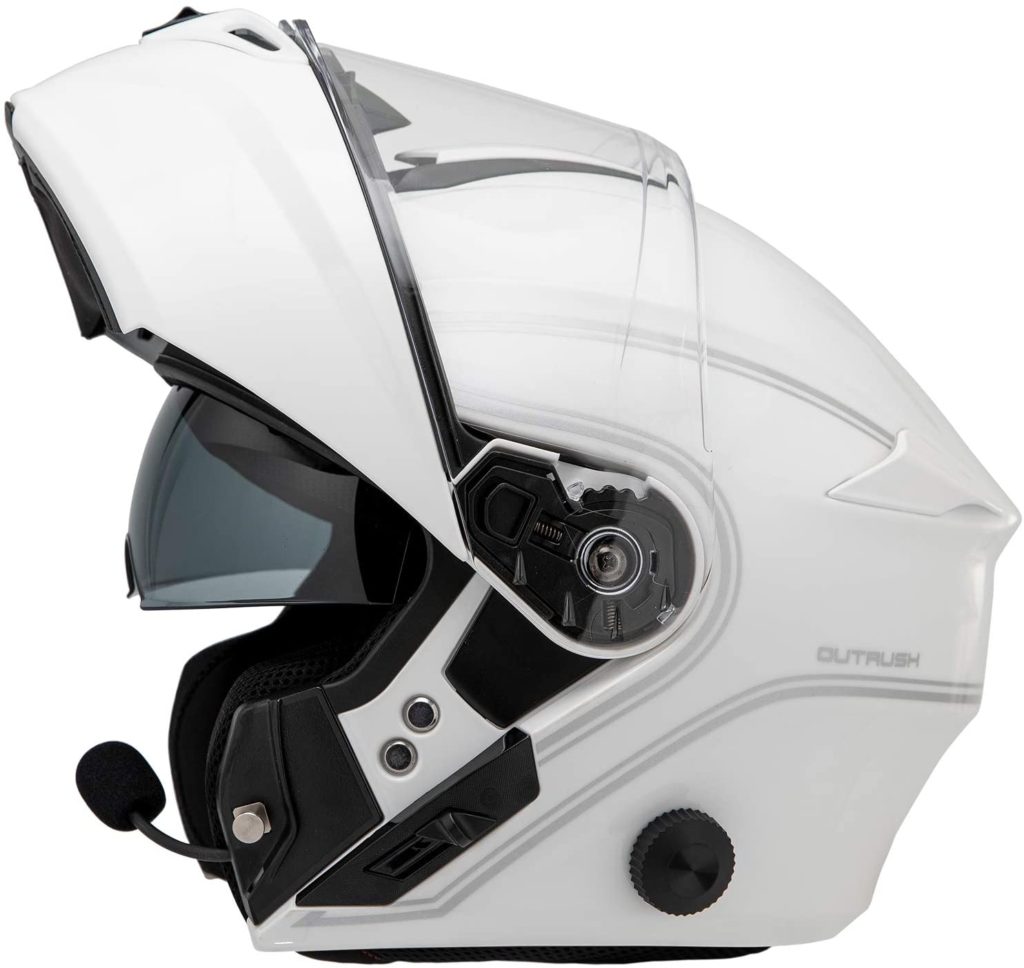 This Bluetooth modular helmet by Sena is an impressive model with all the latest features that makes it one of the best fit for you if you are keen of group riding or motovlogging.
Looking for a lightweight helmet that will let you mount your GoPro or any other camera without crushing your head? If yes, then Sena Outrush helmet is precisely what you are looking for! Weighing just 3.8 pounds, this model is one of the lightest choice available in the market. So that you can hoist the camera on your helmet without any hardship to capture every moment of your excursion without hesitation.
Even though Sena is lightweight, it is strong enough to shield your head against violent collisions. This cleverly designed unit also contains a retractable sun visor which safeguards your eyes from excessive light and dangerous UV rays so that you get an unobstructed view of the road and don't look like a squinting mess in your video.
This modular helmet also stars a multi-density EPS foam liner which stands true to its high-impact absorption capability, while simultaneously providing the user with comfortable wear due to its soft and plush nature.
Are you done with the sweat dripping off your face while you record yourself? Or does the hot helmet environment makes it arduous for you to ride for extended periods? In either case, this Outrush Full-face Unit is here to help solve this problem through its effective three-way ventilation system which guarantees tremendous level of airflow to keep your head cool and free from the revolting sweat smell.
Now, let's talk of the most adored feature of this Outrush Bluetooth Modular Helmet. Like its name indicates, it is a Bluetooth helmet. The built-in Bluetooth system of this gadget is truly impressive because of its wide range of use. Just connect the device with your smartphone via Bluetooth and jam to your favorite tunes, listen to news, or answer phone calls without stopping your excursion.
Not to mention its intercom communication system that makes your journey even more enjoyable by letting you speak with fellow riders about the scenic view you both are facing or for discussing your next plan.
What we like:
Very lightweight to facilitate accessory mounting
Delivers absolute safety and maximum comfort
Powerful Bluetooth connectivity and intercom feature
Retractable Sun Visor to adjust accordingly to the weather and time
Three-way aeration system and moisture-wicking lining for rider's convenience
What we don't like:
Poor sound level
Does not block the noise effectively
On the pricier side
Final Verdict:
Although it can be quite heavy on your pocket, Sena Outrush Bluetooth and Intercom Equipped Motorcycle Helmet is the lightest and highest quality motovlogging helmet for riders of all skill levels. It manages to bring together every essential feature needed for smooth riding and vlogging without compromising on the quality of your vlog or your security.
Bell SRT Modular Helmet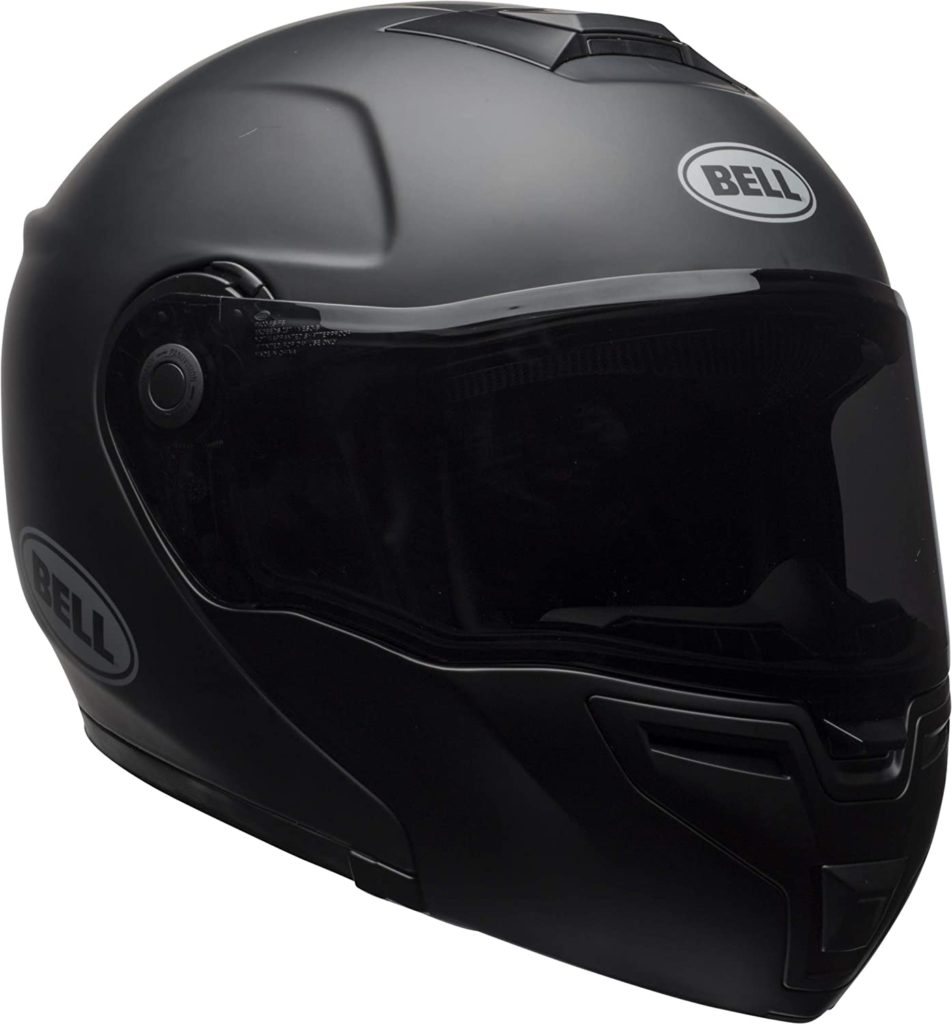 With decades of experience in making safety equipment for vehicles, Bell Helmets is rightly deemed as the biggest and most trusted brand of motorcycle helmets. However, it is their latest SRT Modular full face helmet that has hooked every motovlogger; beginner, and professional rider right in through the noteworthy details and safety.
Meeting all the DOT and ECE safety standards, Bell SRT is made from supremely light polycarbonate material which lowers its weight and makes it vlogging compatible by being able to fix your mic and camera without any turmoil. Moreover, it has a fiberglass composite shell construction and an amazingly aerodynamic shape to enable you to vlog at high velocities. And its three unique shell sizes make it versatile enough to be worn by vloggers of all head sizes easily!
You always expect sufficient safety from your headgear. Amazingly, Bell SRT fulfills the FMVSS 218 safety criteria and has got the DOT approval. It signifies that it is specially designed to give you adequate safety while riding and recording.
Furthermore, this helmet is quite comfortable as it is covered with padded interiors. Besides, the interiors are easy to remove and washable. So, you won't have to take any unnecessary hassle for its maintenance.
Just like its predecessor, Bell SRT also features a fully padded wind collar to minimize road and wind noise to assist you in recording high-quality audios. Not only this, but the contoured cheek pads, including chin curtain and breath deflector helps offer improved comfort to your head while wearing the helmet for longer periods.
However, the sole feature which makes this full-face helmet stand out is its panovision shield that appears with class one optics, so you can get a clear view of the street while keeping your eyes protected. This helmet is ready to mount cameras on any given side and is undoubtedly the next big thing in the motovlog industry.
If you are a fan of flip-up helmets and want to look cool in your vlogs, then we highly recommend you this modern, dapper helmet. Finished with a matte coating and available in a myriad of colors, the wearer of Bell SRT is must to get glances from the passers-by.
What we like:
Distinct flip-up style
Panovision shield with first-class optics to facilitate the view
Lightweight fiberglass construction which is perfect for fixing the cameras
Removable and washable lining
Comes with a padded wind collar to mute the road sounds and clatter
Aerodynamic structure lets you ride at high speeds
Stands on all the international safety guidelines
What we don't like:
Ineffective blocking of wind noise
Easy to get scratched because of the matte coating
Final Verdict:
Once again, Bell has managed to leave its fans amazed with their brilliant SRT Modular Open-face helmet. Including the exclusive safety tech, extensive padding and noise-blocking features, SRT offers you the best of all aspects and has become one of the most reliable motovlogging helmet, regardless of what your skill level is!
Shoei GT-Air Helmet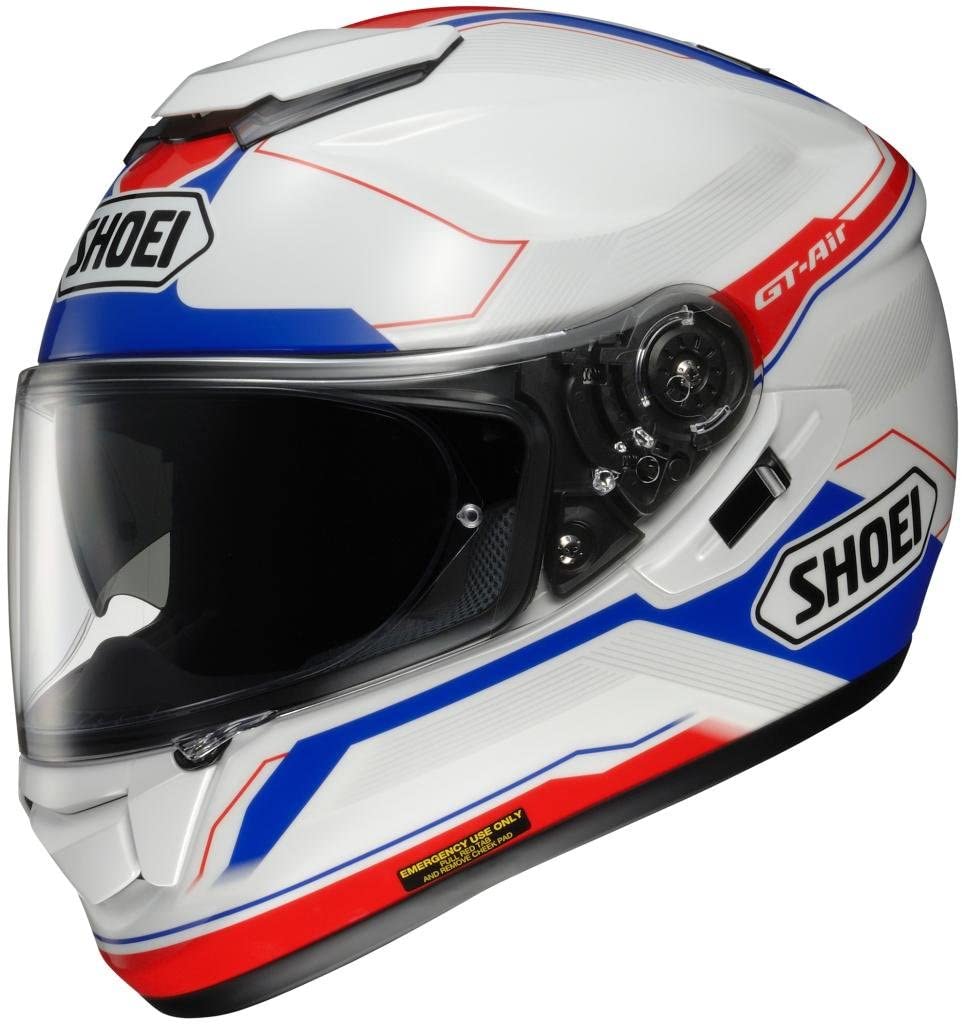 Known as one of the most renowned brands for providing protective biking gear to its customers, Shoei's GT-Air Journey Helmet is deemed as the best choice for motovlogging in 2023 due to its phenomenal features, technology, and safety.
Keeping up with its promise of integrity in its products, GT-Air is manufactured from premium quality and lightweight materials. These offer strength and stability to your head without leading to neck and shoulder aches after use. The shell of Shoei's journey helmet is made from organic fiber and fiberglass for brilliant resilience against impacts.
Finished in an aerodynamic and sharp-edged shell design, Shoei GT-Air does a wonderful job at blocking out loud road and wind noises. These blocked out sounds improve the audio quality of your vlog, meanwhile the aerodynamic shell reduces overall drag force on your head and make the helmet painless to wear for long intervals.
One of the most adored features about the motovlogging journey helmet is its internal sun shield. By utilising this system, you can ride and record footage at any time of the day without worrying about harsh sun glare hitting your eyes directly. Moreover, the built-in wind tunnel combined with its aerodynamic shape help regulate air intake within the helmet and keep your face breezy and dry at all costs!
Finally, let us discuss the safety of the best journey helmet. Shoei GT-Air features a multi-piece EPS liner. This acts as a barrier against harsh impacts and protects your brain from critical injuries in case of unfortunate accidents. The fully removable, washable and breathable interior of Shoei GT enhance its comfort and moisture wicking abilities.
What we like:
Aerodynamic shell design for maximum noise blockage
Constructed from strong yet lightweight organic fiber and fiberglass
Features an internal sun shield to resist harmful UV rays
Integrated wind tunnel and exhaust vents
Multi-piece impact absorption EPS liner
Removable, washable and breathable antibacterial interior
Offered in three different shell sizes
Backed by five-year hardware warranty
Meets and exceeds DOT safety standards
What we don't like:
Final Verdict:
Despite lacking a Bluetooth communication system, Shoei GT-Air journey helmet has made a name for itself within the motovlogging community. With its unbelievably low wind and road noise and internal sun shield, this helmet promises stable and high-quality footage without comprising the thrill of riding on a motorbike!
How to choose the best helmet for moto vlogging?
Having mentioned the best helmets for moto vlogging in 2023, it is time we shine some light upon the features that make them the best at this job. No matter what your level of expertise is in moto vlogging, it is mandatory to go over certain factors before investing in the correct helmet for you. These factors include:
Weight of the helmet
The first detail you need to go over in any helmet is its weight. Heavier shell designs offer better security but leave your neck and shoulders strained. Since moto vlogging requires you to wear your helmet for long intervals, you should always opt for a lightweight shell construction. Additionally, lighter helmets are easier and better to mount cameras and GoPro on, even as a beginner.
Ventilation System
Next up, you need to look at the ventilation system of every moto vlogging helmet. Full face helmets are the most popular type for moto vlogging due to their high head protection and sufficient air supply inside the helmet.
Make sure that any helmet you choose features wide and efficient air intake and exhaust vents. A chin vent also helps enhance ventilation while serving as a slot for the installation of a microphone. So if you plan to do live commentary on your journey, a chin vent is a must.
Shell construction
Shell is the most outer layer of a helmet and thereby responsible for protecting your brain from deadly and fatal injuries. To ensure a safe moto vlogging journey, you must consider the materials your shell is made from. We recommend an ABS or fiberglass carbon composite construction for optimal head protection.
If you are a beginner motorcyclist or expert rider who demands the highest level of safety in your helmet, always look for an EPS liner. With this liner, the impact of rotational forces in case of unforeseen accidents is minimized, therefore reducing the chances of receiving severe brain injuries.
Stability and shape of the helmet
Stability of the helmet becomes super important when you are using it for moto vlogging. Since the helmet acts as a stand for your camera, it must stay stable to record a good-quality video. Always try on the helmet before purchasing it and verify that it does not wobble on your head while you are riding at high velocities.
To get a high audio quality in your vlog, any helmet should efficiently block out loud road and wind noises. An aerodynamic shell design helps achieve this and reduces the total drag pressure by a huge amount. Lastly, this shell design boosts the ventilation of the helmet.
Visor Style
Visors help shield your eyes from harmful ultraviolet radiation, fogging and any other weather condition which can otherwise ruin your moto vlogging time. For this reason, it is essential to obtain a scratch-free and antifogging visor and make sure it is compatible with your desired helmet and riding style.
Bluetooth's connectivity
Last but definitely not the least, look for a helmet that has an integrated Bluetooth system. Bluetooth's connectivity helps you communicate with other vloggers, provide entertainment and help you navigate on your journey.
All of these features greatly improve your motovlogging experience and help you have an exciting time! The more updated your Bluetooth system is, the better features it will offer. We urge you to not select a helmet with a Bluetooth system below version 2.0.
Frequently Asked Questions (FAQs)
Which helmet is best for Motovlogging?
The answer to this varies depending upon personal preferences and riding style but the most popular choice for motovlogging is Sena helmets, closely followed by all-time favorite Bell helmets.
How much will it cost for a motovlog helmet?
The answer to this depends upon how professional you want your moto vlog to be. Spending on a premium quality helmet and other advanced accessories like microphone and Bluetooth greatly raise the standard of your vlog, but its price as well.
However, you can always start off with a cheap helmet and accessorize it with budget friendly tools if you are on a tight budget. Motovlogging helmets are sold at a wide price range, being as low as barely 200 or higher than 1000 dollars!
Where is the best place to mount a GoPro on a motorcycle helmet?
As opposed to the popular belief of mounting a GoPro on top of your motorcycle helmet, we suggest doing this at the chin instead. This spot gets you a much more wide and aerodynamic view of the journey as compared to the top helmet position.
What should be the GoPro settings for motorcycles?
To get a clear and least distorted image, we recommend shooting the GoPro camera with a 60 frame per second setting. This FPS value is a compromise between high quality and moderate to low blurriness of the footage.
Conclusion
Alas, we have reached the end of our article about the best moto vlog helmet of this year. Although buying the right moto vlogging helmet is a tough and technical decision to make, we hope that our detailed reviews and buying guide help you learn about this process in detail and ultimately aid you in finding the perfect helmet for you.
Remember to buy the most suited motorcycle helmet so that you along with your viewers can make the most out of your exciting motovlogging journey!