Motorcycle helmets are mandatory for every skilled and amateur rider but sometimes, the wrong type of helmet can adversely affect your riding performance. To avoid this inconvenience, you must always look for a helmet that suits your riding style and is up to the level of safety and comfort you desire.
#Top1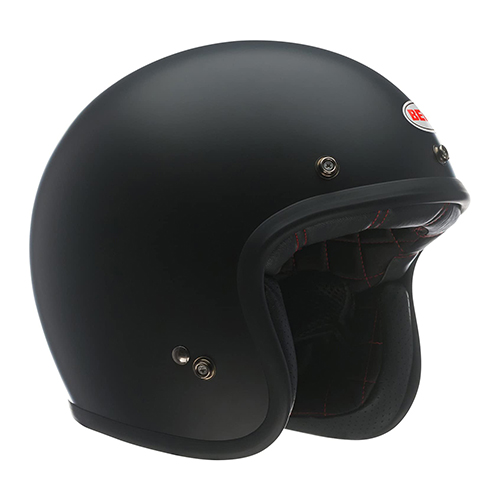 DOT & ECE Approved
Price: $169 – $144
#Top2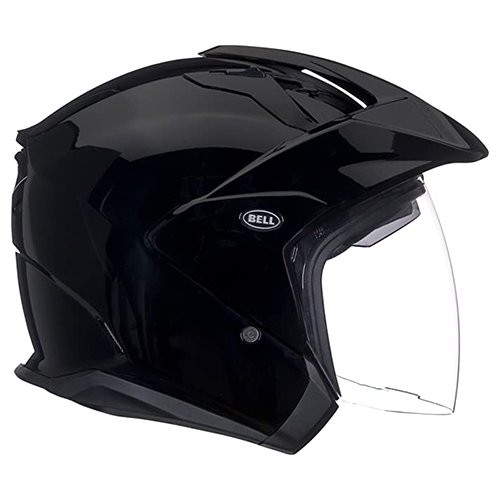 DOT Approved
Price: $190 – $200
#Top3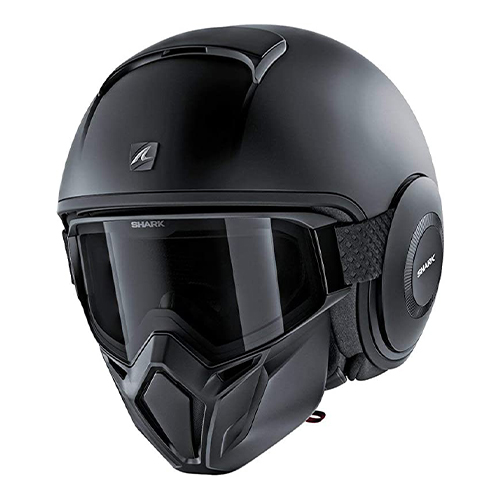 DOT Approved
Price: $260 – $304
Open-face helmets are the second most popular type of motorcycle helmet. Designed to leave your face and neck partially exposed, this helmet type is ideal for tourists and casual strolls around the neighbourhood. However, with multiple brands coming up with innovative features for these helmets, choosing the right open face helmet in present time has become quite a chore.
But you don't need to worry about making this decision alone because we are here to guide you at every step and help you pick the best open face motorcycle helmet! Therefore, without further ado, let's get started!
What are the best 3/4 open face motorcycle helmets?
Bell Custom 500 Open Face Helmet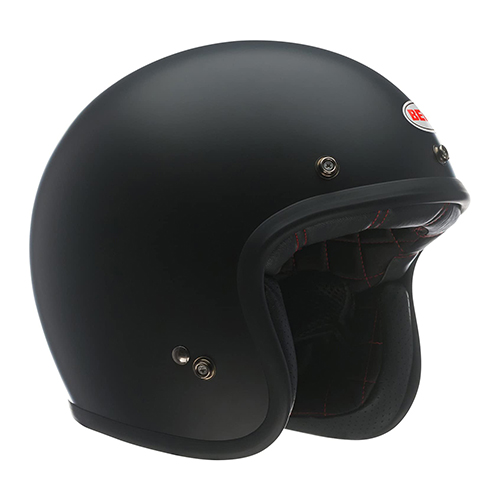 To start off our list with a blast, firstly let's talk about the Bell Custom 500 motorcycle helmet. With more than 60 years of experience under its belt, Bell has undoubtedly become one of the most trusted names in the biking industry. It once again manages to draw thousands of customers right in with the exceptional custom 500 helmet.
Composed from low-profile fiberglass material, Custom 500 features a lightweight, sleek and classic shell design. To make the helmet wearable for different head sizes, this open-face headgear is sold in five different shell sizes and colours.
Secondly, Custom 500 is equipped with a plush microsuede fabric that has antibacterial properties and is easily removed from the helmet. This helps keep the inside of your helmet comfortable and sweat-free whereas the EPS liner ensures a snug and secure fit.
In addition to this, the multi-density EPS liner also absorbs harsh impacts and directs excess energy away from your body. Bell Custom retains the traditional 5-snap shield pattern to make this open-face helmet appealing to new as well as its older audience and successfully meets the DOT/ECE safety standards.
Key Features:
Meets and exceeds DOT FMVSS 218 and ECE safety standards.
Multi-density EPS liner for lightweight, low-profile look.Integrated 5-snap pattern for aftermarket shields and visors.
What we like:
Lightweight fiberglass shell composition.
Available in five different versatile shell sizes.
Plush micro suede interior featuring contrast stitching for maximized comfort.
Breathable and anti-bacterial washable liner.
Reasonably priced.
What we don't like:
Lacks quick release system.
Loud road and wind noise.
Final Verdict:
For a price as low as $300, Bell has surely outdone itself with the remarkable Custom 500 motorcycle helmet. Sure, it lacks the quick release system and efficient noise blockage mechanism, but it's versatile shell sizes and comfortable interior make it one of the most affordable open face helmets released until now and definitely worth a try by every rider!
Bell Mag-9 Sena Open Face Helmet with visor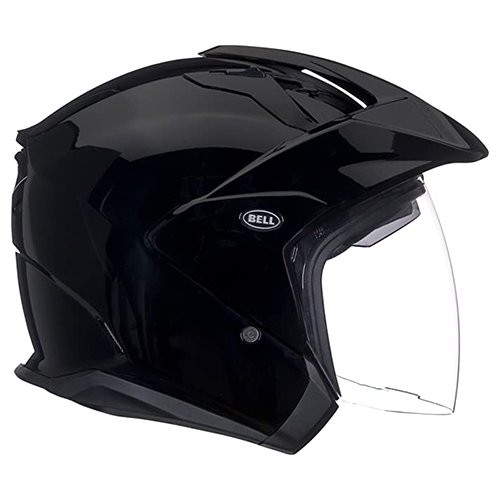 While we are already discussing the top-notch quality and performance of Bell products, why not discuss another one of its notable open-face motorcycle safety headgear equipment? Bell Mag 9 Sena helmet is slightly expensive as compared to other motorcycle helmets but makes the extra money worth it through flawless safety and smart technology.
Do you cherish versatility in a helmet more than any other feature? If yes, then you are about to be blown away by the multiple supported configurations of Bell Mag -9 helmet. Functional with and without a face shield, Bell Sena lets you easily flip-up your visor through its fast and smooth tool-free transitions.
Understanding how exhausting heavy shells can be for your head and shoulders, Bell has taken extra care to reduce the overall weight of this helmet. Constructed from premium grade polycarbonate material, Mag-9 has a durable yet lightweight shell design. Moreover, the triple EPS liner promises utmost comfort and a relaxed fitted interior.
Do you often ride during day time and are sick sunlight shining directly into your eyes and ruining your vision? To put an end to this struggle, Bell Mag-9 contains an enhanced vision, UV and scratch protective face shield. Thirdly, the aero tuned ventilation system and exhaust ports work together to regulate air supply within the helmet during intense races.
Lastly, let us talk about Bell Sena's intercom communication systems. To keep you entertained and connected with the world while on the road, this open-face helmet is compatible with Bluetooth technology and contains a SD card slot. The smart speaker pockets are fast to set-up and help navigate you towards your desired destination!
Key Features:
Approved by DOT FMVSS 218 safety standards.
Versatile 7 configurable visor and shield options.
Integrated communication port and speaker pockets for efficient intercom systems.
Available in 3 EPS sizes for a personalized and relaxed fit.
What we like:
Lightweight polycarbonate ABS shell design.
Adequate ventilation with velocity flow and flow adjust system.
Equipped with 2 drop-down UV and scratch resistant face shields.
Available in different colours and shell sizes.
What we don't like:
Expensive option.
Not true to size.
Final Verdict
For everyone who doesn't mind spending a little extra in return for advanced technology and supreme comfort, Bell Mag-9 Sena is the right product for you. Compatible with Bluetooth system and 3 EPS liners, Mag-9 is definitely worth every penny spent on and is rightly deemed as the lightest open-face helmet of 2022/2023.
Shark Street Drak 3/4 Helmet with goggles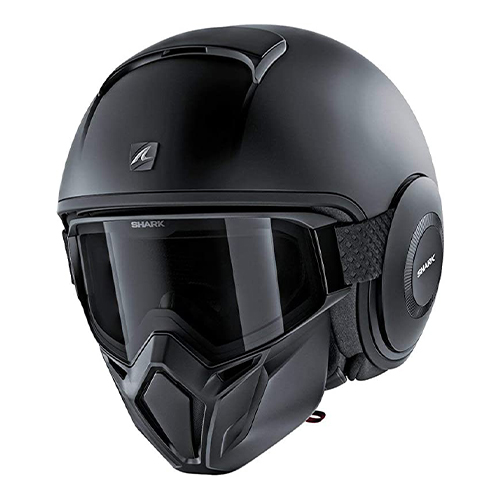 Our next motorcycle helmet is designed for every professional motorcyclist who enjoys the thrill of riding in rugged surroundings every once a while. Designed by the renowned brand Shark Street, the Drax motorcycle helmet is here to give tough competition to other open-face helmets with its unmatched style and performance.
Formerly known as the Shark Raw helmet, the ¾th aviator inspired thermoplastic shell of this helmet is promised to leave all on-lookers in awe of its quality and style. With its aerodynamic outer body and 2 different shell sizes, Shark Street has successfully combined versatility and performance in its latest product.
A major problem that users of open face helmets face is getting bugs, debris or rain drops in their mouths. For this very reason, Shark's Street Drak contains a thermoplastic resin face mask to protect your mouth from these nuisances.
Alongside this, a sun visor helps shield your eyes from damaging UV radiation and is made from anti-fog, anti-scratch material to offer you a clear and optically correct field view. By making use of its sweat-wicking lining fabric, air vents and diffusers, Street Drak dries off any moisture from your face and lowers the temperature inside the shell.
Do you have an abnormally huge head and struggle to find the right helmet to use? With 2 varying shell sizes, Shark makes no distinction amongst its customers and has made the Street Drak helmet versatile enough for all head sizes. Finally, its D-ring closure and quick release goggle system offer head security in case of severe crashes.
Key Features:
Ultra-high technology fighter helmet containing 2 different materials.
Comfortable micro-tech interior following AEGIS conditions.
Slim-fit shell design to closely match the user's skull shape.
Approved by DOT safety standards.
What we like:
Well balanced, lightweight and aerodynamic shell design.
Aesthetically pleasing and attractive exterior.
Sun visor made from fog, UV and scratch resistant material.
Includes protective face mask and goggle quick release system.
Backed by a 5 year warranty.
What we don't like:
Runs a size smaller.
Lifts off head when riding at high speeds.
Final Verdict:
Finished in an extremely attractive shell design, Shark Street Drak helmet is bound to turn heads anywhere it goes. This motorcycle helmet offers unbelievable comfort to its users and is therefore, one of the best open face helmets for riders of all skill sets. Just avoid using the helmet at high velocities to not put your safety at stake just for the thrill of it.
Biltwell Bonanza 3/4 Helmet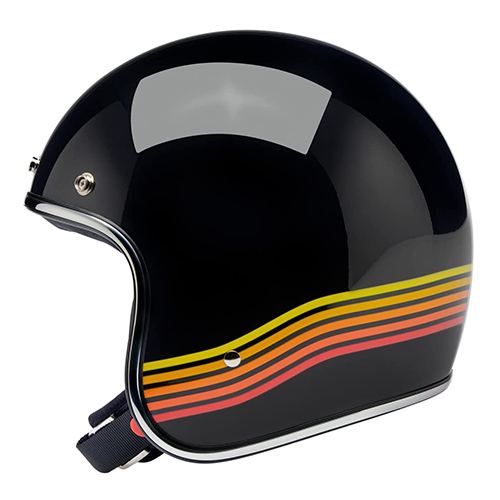 Many of you may not have heard the name Biltwell before but we assure you that after reading this review, you are going to be in awe of its products. Biltwell has been gradually paving its way to the top of the list of best biking equipment with premium grade quality and guaranteed safety in its motorcycle helmets.
Another product fulfilling this criterion is the Biltwell Bonanza open face helmet. Constructed from injection molded ABS technology, the shell of this helmet attains a perfect balance between lightweight and durable structure.
Secondly, let us talk about the comfort and breathability offered in Biltwell Bonanza helmet. Equipped with a removable cheek liner and cheek pads, you can easily detach and wash these components to prevent growth of bacteria. To add to this, the brushed fleece Lycra touch points efficiently absorb and evaporate any moisture present on your face.
Moving on, let's discuss the most important aspect of every motorcycle helmet, its safety. Featuring an expanded polystyrene EPS liner, Biltwell Bonanza flawlessly dissipates impact loads away from your body, without putting your comfort at risk. Given this adequate energy dissipation system, Biltwell Bonanza meets and exceeds the DOT safety standards.
How many times have you had to compromise on your comfort just because you couldn't find a visor that is compatible with your helmet? Prioritizing your comfort above everything else, Biltwell has made Bonanza open-face incredibly versatile. This means that you can use any type of visor, shield or other optical accessories without facing compatibility problems.
Key Features:
Approved by DOT FMVSS 218 safety standards.
Injection molded ABS shell technology.
Accepts Biltwell and other brands shields, visors and other optical accessories.
D-ring neck strap backed by adjustment retainer.
What we like:
Lightweight yet rugged shell construction.
Removable and breathable lining fabric.
Brushed fleece Lycra touch point cheek pads for sweat-free interior.
Expanded polystyrene EPS safety liner dissipates impacts from body.
Reasonably priced.
What we don't like:
Final Verdict:
Low price, solid protection and great style were three things that could not coexist before but Biltwell has made this possible with its open face Bonanza motorcycle helmet. Ready to take on any challenge thrown at it, Biltwell Bonanza is the safest open face helmet in the market right now.
Shoei J-Cruise II Open Face Helmet With Visor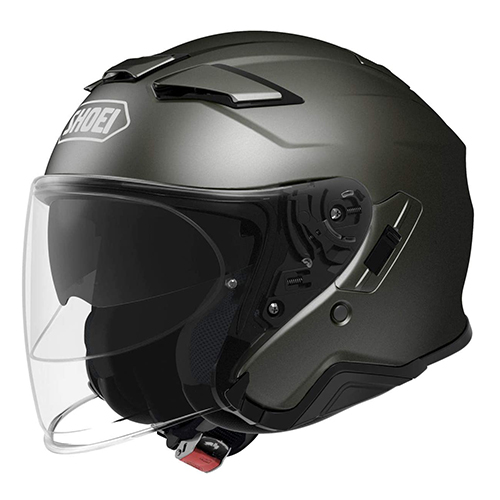 Last but in no way the least, we have the terrific Shoei J-Cruise II helmet. Appeasing its customers for over a decade, Shoei is a name that needs no introduction and is here to take your riding skills up a step with its safety equipment.
The most recent addition to this list is their J-Cruise II helmet designed to cater the needs of every beginner and skilled user alike. Finished in an aerodynamic and elegant shell design, the wearer of J-Cruise is always the most stylish rider on the road!
Despite its open face design, Shoei II does a phenomenal job at protecting your vision from fog and damaging ultraviolet rays.
Furthermore, the advanced EVO lens promises optimal vision clarity no matter how extreme your surrounding conditions are. Both of these features help make J-Cruise II suitable for casual strolls on hills and highways.
Thirdly, let us shine some light on the comfort of the Shoei J-Cruise helmet. Using a reliable and soft hybrid fabric, the interior of this helmet is unbelievably comfortable and dry even after excessive use. Also, the soft raised fabric softens rough contact between your head and the shell of the helmet.
Are you a technologically challenged amateur rider who still hasn't learnt the right way to lock your helmet? If yes, then you will be very delighted to hear about the user-friendly micro ratchet chinstrap system of Shoei J-Cruise II. This makes the helmet convenient to get on, take off and adjust over your head without worrying about it falling away!
Finally, it is time we bring some attention to the breathability of Shoei's half cruiser helmet. After extensive research, Shoei has included an additional intake hole that increases the air intake of J-Cruise II helmet by 30%. Along with this, its shell shape ensures optimal air intake and increases this volume by a major 20%!
Key Features:
Approved by DOT 218 safety standards.
Advanced integrated matrix shell design.
Multi-density EPS liner for flawless energy dissipation.
Compatible with Sena and Shoei Bluetooth headset.
What we like:
Attractive, sleek and modern shell design.
Available in different shell sizes and colours.
Sun visor blocks 99% UV radiation and fog.
Removable, washable and antibacterial interior lining
Soft raised fabric for no rough contact between head and shell.
Backed by a seven-year hardware warranty.
What we don't like:
Final Verdict:
Although it is slightly heavy on your pocket, Shoei J-Cruise II remains to be one of the best open face helmets released until now. With its perfect balance between comfort, safety and performance, investing in J-Cruise II is only going to do you good in the future!
Buying Guide
Having finished reviewing the 5 best open face helmets of 2022, it is time we take a look at the features that helped us short list these products for you. Before finalizing the best motorcycle helmet for use, you must look at the following features in detail:
Shell design
Since open face helmets cover your face partially, it is important to see whether its shell is able to withstand harsh impacts or not. These shells are made from a variety of materials such as polycarbonate, fiberglass and thermoplastic alloys.
All of these are lightweight but have different durability. Always opt for a material with the highest durability and lowest weight like thermoplastic alloy or polycarbonate.
Comfort
Lack of adequate cushioning inside your helmet makes your riding experience painful and worrisome. To prevent this from happening, always look for a cushioned foam inside the crown of your helmet. This works with the ear flaps to protect your brain from sustaining injuries.
Some helmets also have semi-cushioning which may not be thick enough to counteract the impact's energy. So always make sure that the open face helmet you choose has uniform padding and removable liner to make it easier to clean after use.
Shell Size
Many people tend to undermine the importance of getting the correct shell size in an open face helmet. Not only is a wrong sized helmet uncomfortable to wear but it also puts your life at stake in case of unfortunate accidents. For this reason, always measure the diameter of your head and compare it to the standard size chart to help you pick the right shell size of your desired helmet.
Breathability
Open face helmets are known for their breathability all around the world. While most of these helmets have sufficient ventilation, some products make use of additional vents and exhaust ports to boost the air intake inside the helmet and avoid drained air from hogging inside. Choose between either of these options depending upon the type of riding style you intend to partake in.
Sun Visor
Do you want to make the most out of the fresh breeze and sunshine while touring in foreign lands? If yes, then a sun visor is exactly what you need. Since open face helmets don't feature a built-in visor, it is significant that your selected helmet is compatible with multiple other visors and is easy to attach even by tech-savvy users.
Safety
The sole purpose of acquiring a motorcycle helmet is to keep your head safe from severe injuries. To determine the safety of any helmet, you should look at its safety certifications being DOT, ECE and SNELL standards. A DOT or ECE approved helmet is legal to use on highways whereas SNELL is the highest safety certification right now and guarantees utmost safety in case of life threatening crashes.
How do we test our products?
Knowing how choosing the right open face motorcycle helmet can be a life changing decision for anyone, we have selected these products only after thorough research and testing. To find the best open face helmets of 2022/2023, we judged these products on the basis of their price, performance, features, customer reviews and our own personal experience.
Frequently Asked Questions (FAQs)
What is the best open face helmet?
The best selling entry level open face helmet is Bell Mag 9 Sena closely followed by the Scorpion EXO-CT220, Bell Custom 500 and Schuberth M1 Pro motorcycle helmet.
Which brand of helmet is the best?
This is a question that pops up in the mind of every professional and newbie rider every once in a while. Although everyone is entitled to their own opinion, most users agree that Bell helmets are the best brand for safety headgear. Other runner-up in this category include Shoei, HJC and AGV helmets.
Which is better: an open face or a full-face helmet?
While full-face helmets offer unmatched safety and head security, open face helmets are better in terms of ventilation and comfort. They are suitable to use in all weather conditions as opposed to full-face helmets which get too heated during humid temperatures. Only you can decide which type is better for you based on your own personal preference and riding style.
Are open face helmets quieter?
For maximum road and wind noise blocking capability, it is advised to close your visor all the way down. So yes, open face helmets with snug-fitted padded visors are definitely quieter as compared to other helmet types.
Are open face helmets worth it?
With a lightweight, wider view and pain-free shell design, open face helmets are surely worth investing on! They add thrill and fun to your journeys and are perfect to wear on casual strolls or trails around the neighborhood during all weather conditions..
How safe is a ¾ motorcycle helmet?
As its name suggests, ¾ helmet only covers your head and ears but leaves your face completely exposed in case of crashes. According to statistics, ¾ motorcycle helmets only offer 55.5% protection from critical brain injuries during unfortunate accidents.
Final Words
And with that being said, we have reached the end of our informative article about the 5 best open face motorcycle helmets of 2022/2023. We sincerely hope that our detailed reviews and buying guide help you learn more about open face helmets and ultimately lead you towards the right product for your riding style.
As an ending note, we advise all of you to never bike without wearing a motorcycle helmet and take care of yourself and others around you!