A helmet, without doubt, is the most crucial component of safety gear for skating. Either you are an advanced ripper or a newbie, a protective helmet is the key component to help you ride in confidence.
But with numerous helmets in the market guaranteeing to be the most comfortable and safest, how do you choose the appropriate one for you? You don't need to worry about making this decision alone now because we are here to enlist the best helmets for skates and the features that make them the very best at their job.
What are the best skateboard helmets?
Thousand Heritage Collection Adult Helmet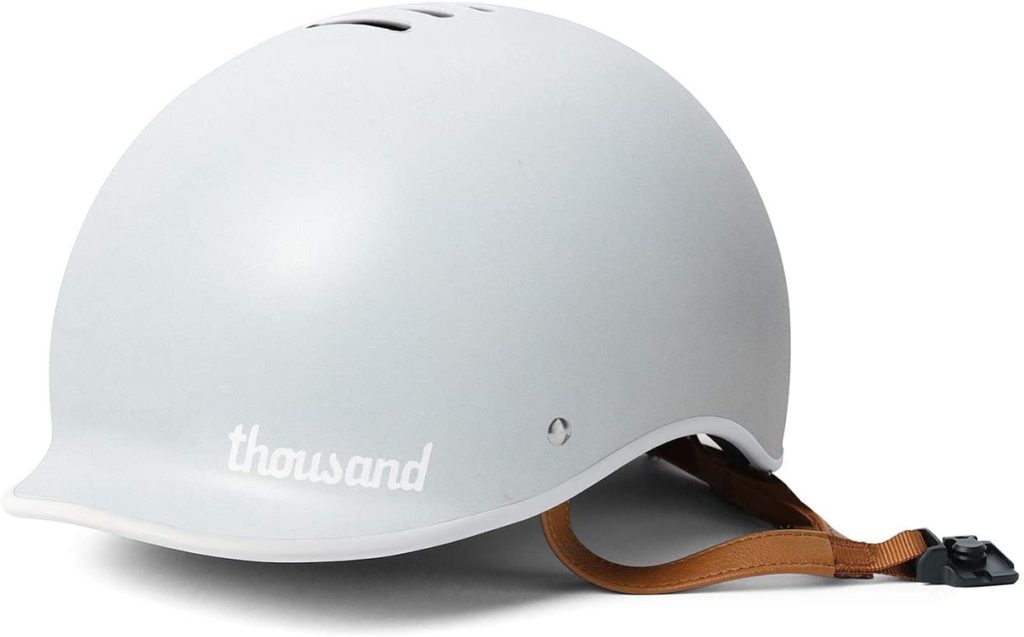 First up in the list, we have the most unique yet advanced skateboard helmet for riders of all skill levels. Thousand Heritage Collection Adult helmet is designed to fit on top of riders of all head sizes with its integrated dial system. Through this, you can easily turn the knob to loosen or tighten the helmet and even remove some of its interior padding for a super snug and secure fit.
Thousand Heritage is known for making no distinctions among its types of customers. For this very reason, they have made this Adult collection helmet suitable for not only skateboarding but cycling and roller skating as well!
Constructed from 110% carbon offsets, Thousand heritage offers phenomenal sustainability and ventilation. It is equipped with seven air vents and up to three cooling channels to regulate air intake within the helmet and absorb any present moisture on your face immediately.
This comfort is further enhanced by its microfiber vegan straps that promise superior comfort and breezy feel even during the most intense skating ride. Next, let us talk about the securing mechanism of Thousand Heritage Adult skateboard helmets. It contains a magnetic locking fastener to leave your fingers relaxed and free from pinches.
Along with this, the secret poplock feature prevents your helmet from constantly moving around and being flimsy on your head. It does this by easy threading of the U-lock with its hidden channel.
What we like:
Suitable for skateboards, longboard, e-boards, recreational cycling and bike commuting 
Unique yet stylish shell design 
Lightweight and sustainable carbon offset shell construction 
Patent special and secure poplock system 
Available in different shell sizes
User-friendly dial fit system for easy tightening or loosening of shell
Guaranteed replacement in case of theft or physical damage during accidents
What we don't like:
Final Words:
Seeing the high price tag of Thousand Heritage Collection Adult Helmet, many customers wonder if the investment is worth it or not. We are here to assure you that this unique, smart and secure skateboard helmet is worth every single penny spent on it.
It will provide you a snug fit like no other helmet and keep it secure no matter how long your journey is. Based on these features, the Thousand Heritage Collection Adult helmet is one of the best skating helmets present in the market.
Pro-Tec Classic Certified Skateboard Helmet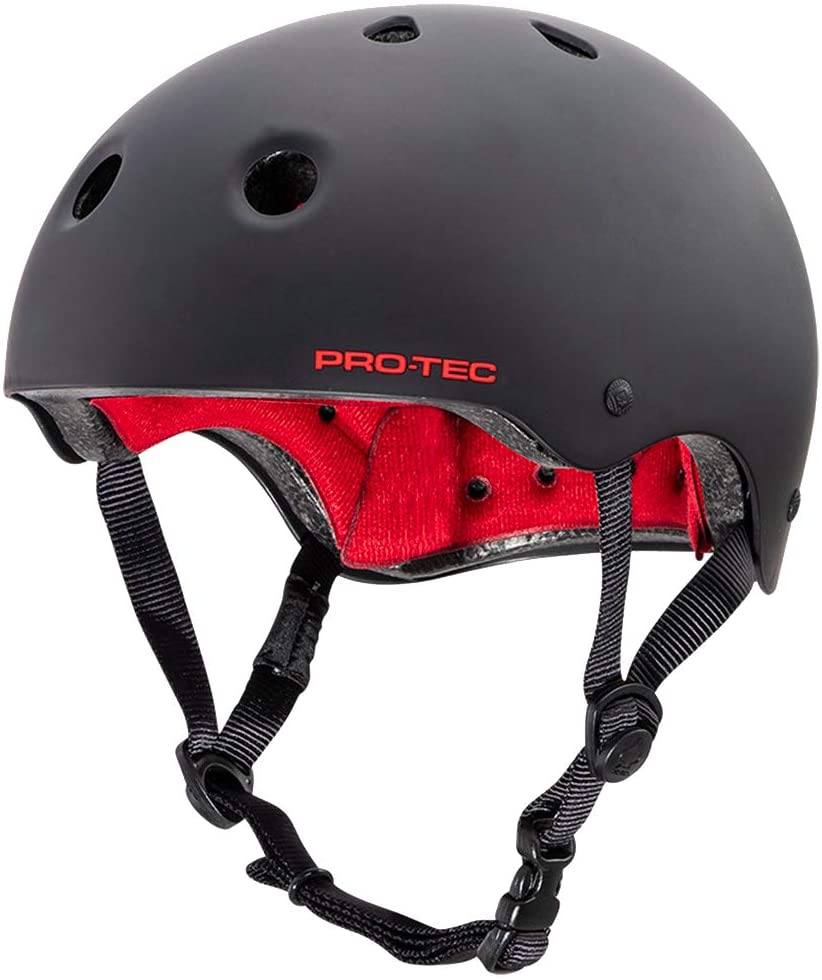 You either spend on a quality helmet or go home. This Pro-Tec Classic is so much more than a mere metal body. It promises utmost head protection and reduces the risk of any severe brain injury, regardless of how fast you are skating.
Made with the latest technology, this Pro-tec helmet has an ultra-high ability to absorb energy, from both high and low impacts, followed by its dissipation throughout the helmet. This ensures minimal energy reaching the head and thus better protection.
Are you done with the sweat dripping down your face and distracting you while you are riding your board? Worry no more, as this certified helmet is here to put an end to it! With its super absorbent built-in wicking liner, Pro-Tec Classic shields its users against all the sweaty distractions.
Furthermore, this helmet features 11 wide vents to maintain the air flow within and to keep your head cool. Concurrently, its double-layered foam liner offers satisfactory protection against bumps or rough paths.
This lightweight, comfortable and truly versatile helmet can be used for any sports other than skating. It meets all the safety standards and passes all the testing, thus making it one of the best skate helmets in the market.
What we like:
Absolute heat ventilation
Has nylon-webbed straps for additional protection
High impact absorption capacity
Passes all the safety guidelines 
Elegant matte finish
Comes with an adjustable chin strap for better fitting
Impact-resistant ABS shell exterior 
Compression liner pads offering utmost comfort
What we don't like:
Can easily get scratched
Complaints of pads wearing out after a few uses
Final Words
Whether you prioritise safety, style or comfort, the Pro-Tec Classic Certified Skateboard helmet is known to provide all of these things to its users. With its elegant finish, unbeatable ventilation and impact resistant exterior, you can master your skating skills in no time!
Triple Eight Helmet with Sweatsaver Liner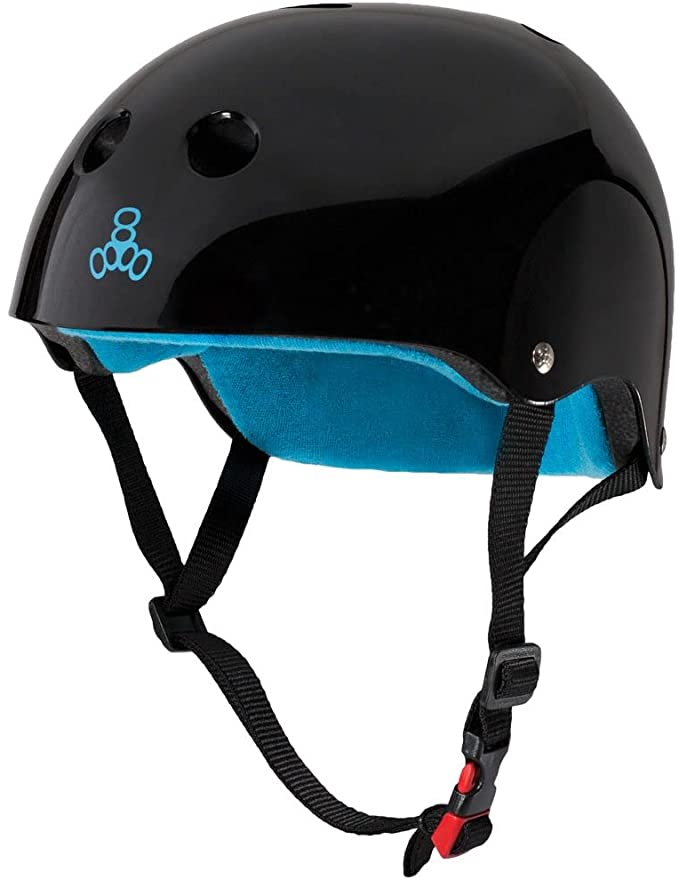 Triple Eight is a brand that is known globally for producing top-notch products sold at a reasonably priced rate. Keeping up with the high bar set by other famous brands, it launched one of their most outstanding helmets recently.
This Triple Eight Helmet is a comfy, rubber helmet that is available in two premium colours. It is constructed to survive even the harshest impacts and is exactly what you need for your next skating venture.
The one thing that makes this helmet stand out is its interior rubber construction. The shock-absorbing rubber lining is ideal for absorbing and dispersing the impact force to reduce the chances of any concussion or trauma.
This helmet also contains a sweat saver feature due to it's EPS foam liners, filled with terry cloth, that soaks up your sweat and prevents it from getting in your eyes. Not only does it sop up sweat, it also assures that no nasty odour of it is left behind.
Triple eight is a multi-impact helmet that will not leave your side even after multiple tumbles, and is exactly what every newbie skater needs!
What we like:
Unique multi-impact design
Good ventilation through EPS foam liner
Available in multiple sizes 
Its 3-month warranty lets you buy in confidence
Easy to remove Sweatsaver lining ensures quick cleaning
Adjustable chin straps for better fit
Lightweight shell
What we don't like:
Not certified by CPSC or NZ 
Thin plastic shell lining may break easily
Final Words
Are you looking for the most comfortable skateboard helmet to start your venture into the thrilling sport of skating? If yes, then the Triple Eight Helmet is perfect for you. Although no promises can be made about its longevity or protection during accidents, the helmet still offers outstanding comfort and versatility.
Punisher Skateboards Pro Series 13-Vent Dual Safety Certified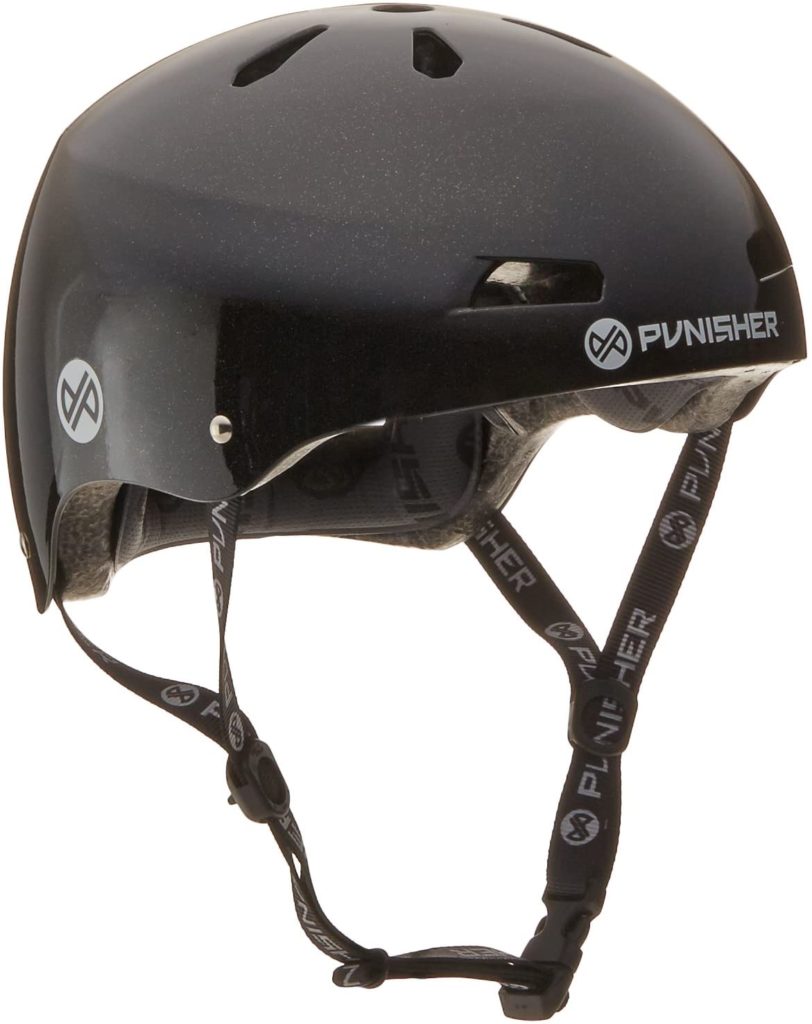 Punished Skateboards is another popular name associated with the manufacture and sale of helmets. Over the years, they have received the utmost customer satisfaction and guaranteed to meet every need of their users.
It is a one size fits all helmet that is accompanied by three sets of pads which can be changed for the perfect fit. Not to mention its elastic straps which further helps with the fitting.
This Punisher Pro Helmet also embodies a quick release buckle with effortless strap adjustment to ensure prompt take off and fastening. The strap is made of high-quality nylon ,which unlike the cheaper models, is long-lasting and does not break easily.
This top-tier model contains 13 large vents for prime ventilation and sweat savers to dry off your sweat rapidly, guaranteeing disturbance-free and relaxed skating.
In a nutshell, this attractive neon blue helmet is not just style over substance. Meeting all the ASTM and CPSC standards, makes it extremely trustworthy and one of the most efficient helmets out there.
What we like:
Provides dual safety
Comes in a myriad of colours to perfectly accent your skates
Not too heavy on the pocket
Heavy duty shell design
Rapid release buckle belt
Removable foam pads for better fitting 
Flexible chin strap
Has holes so it doesn't get too damp inside
Unique metallic finish
What we don't like:
One size fits all may not be for everyone
Difficult to use chin straps
Final Words
Punisher has managed to leave its customers in awe of the performance and safety of its products yet again with the latest Pro Series 13-Vent Dual Certified helmet. Finished with a unique and sturdy metallic finish combined with heavy duty shell, Punisher's Pro Series 13-Vent helmet can be rightly deemed as the safest skateboard helmet of 2022/2023! 
Triple Eight 3037 Dual Certified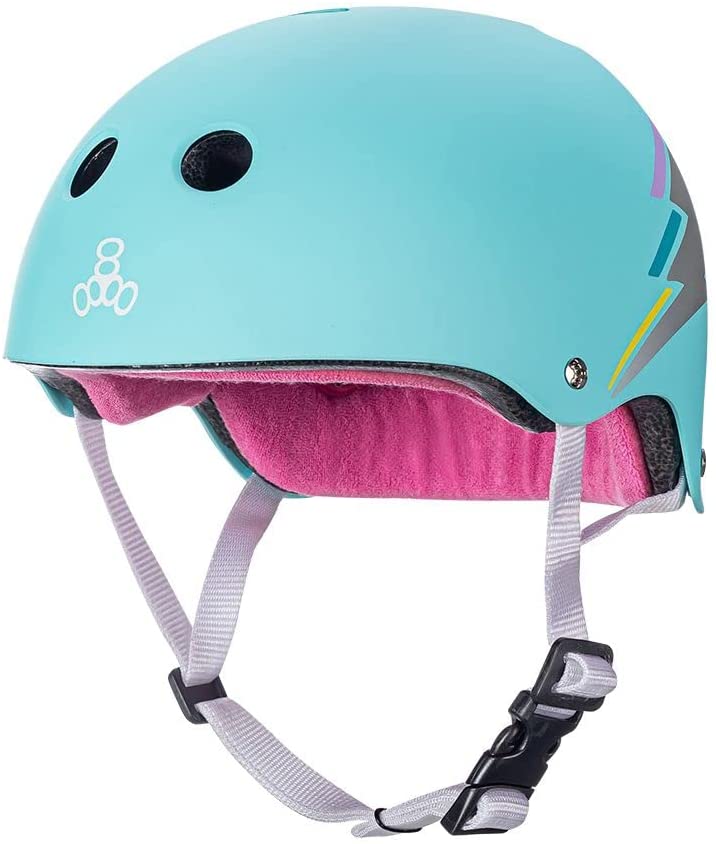 After reading our previous review of the tremendous helmet by Triple Eight, it is no surprise to see this name appear on the list yet again.
Are you tired of spending heaps of money on purchasing different helmets for different sports? If yes, then this Dual-Certified helmet is exactly what you need. Be it riding your bike, or going for a morning skate, this Triple Eight Helmet has your back.
Its design is what makes it distinct from its competitors. The stylish side cut and its customised logo can surely grab one's attention across the rink. Its metal construction elevates its durability so you don't have to buy a new one every other year.
This make also guarantees perfect fit, all thanks to its 360 degree wrap character which can flexibly fit any head and also ensures safeguarding the head all around.
Just like all the previous helmets, this also comes with a sweat saver liner and openings so you don't become uneasy during your long boarding journey.
What we like:
Multipurpose Helmet
Sleek and trendy design  
Affordable Price
Fully implements CPSC and Skate Safety Standard 
Customised fitting due to pads
360 degree covering
Available in three sizes
Excellent balance of comfort and quality
Light and portable
Very durable structure
Warranty for up to three years
What we don't like:
Absolutely no criticism on this product
Final Words
For every skater who does not only desire high safety while skating but the attention of every onlooker too, the stylish Triple Eight 3037 dual rubber helmet is the right match for you! Featuring a versatile, lightweight and attractive shell structure, you can now skate without a single worry about injuring or straining yourself while mastering cool tricks! It is truly the most stylish skater helmet released till now.
Bell Sanction Helmet
How can we complete a list of the best skater helmets without mentioning the most trusted brand for it? BELL is the biggest name in terms of top-notch helmet quality and performance among the skating community. BELL took this up a notch with the release of their Sanction full face helmet.
This certified helmet is ideal for electric skates, thanks to its mighty ABS shell of 850g, so that it remains lightweight, and its full-face coverage to give your head isn't left unguarded from any side.
Another unique feature of this glorious helmet is its adjustable visor. No more shying away from skating on sunny days as this visor effectively shields your eyes from all kinds of reflective surfaces and rays. It also contains vents to promote users comfort and breathability.
Bell Helmet shares the same internal covering as the other best skater helmets. Lined with dense and plush internal padding in all the right curves, Bell vows to let the users ride with comfort.
The protective gear successfully complies to all the CPSC and ASTM guidelines and is an excellent choice for all those electric skaters out there who are always on some dangerous excursion.
What we like:
Offers Maximum Safety
Well ventilated
Available in multiple colours
Multi-purpose
Hard outer shell
CPSC & ASTM safety certified
Padded interior
Comfortable fit
Comes with an eye visor
What we don't like:
Relatively pricey
Slightly large and bulky on head
Chin trap not easy to adjust
Final Words:
Despite being heavy on your head and difficult to secure, the Bell Sanction full face helmet is another superb product for electronic skateboarding and roller skates. With safety certification by both CPSC and ASTM, Bell Sanction guards your brain from any impacts without compromising your ease and comfort.
How to choose the best skateboard helmet in town?
Having listed down the best skateboard helmets of 2022, it is time we talk about their features in detail. Before buying any skate helmet, it is important that you go over certain details to ensure the selected product matches your desired riding style and preferences.
Choosing the right helmet size
The first step in achieving a safe and effortless skating experience is choosing the right helmet size for you. Before you start browsing through the numerous helmets on the market, measure the size of your head with an inch tape and compare this value with your desired product.
The right helmet size is not only easy to wear but offers a snug fit and does not move while skateboarding, even at highly fast speeds. Look for a skate helmet that checks all of this criterion and try it on before finalising your decision.
Looking at the safety offered
The sole purpose of buying a skating helmet is to protect your head from injuries and wounds. To do this, your helmet must be made from high quality and sturdy materials. We recommend looking for high-impact ABS rating in your shall for enhanced safety in dual-purpose helmets.
While a premium quality shell protects your brain, an EPS liner is responsible for dodging harsh impacts and falls. Always check if your helmet has a tested and proven EPS liner as it plays a huge role in evenly distributing the weight of the helmet on your head and thereby minimising damage in case of unfortunate accidents.
Checking the weight of the helmet
Right after you have considered the safety of your helmet, you need to check its weight. Although high-grade construction offers unbeatable head safety, sometimes they add too much weight over your shoulders and compromise your comfort.
Not only this, heavier skating helmets are not the best to wear for long intervals as they lead to severe neck, back and shoulder aches. Henceforth, opt for a lightweight skate helmet that equally divides its weight on your head and offers painless use.
Determining the skate helmet's breathability
For every beginner and expert skater, the breathability of a helmet is incredibly important. If your skate helmet does not regulate air supply within its interior, your face will be left covered in sweat and discomfort. This might also blur your vision and ultimately lead to harsh falls.
To avoid this from happening, always look for multiple air intake vents and exhaust ports in your helmet. In addition to this, a two-stage breathable lining fabric foam has great moisture wicking ability and promises to keep your face dry even after long intervals.
How worthy is your helmet
Lastly, you need to debate if the specific skate helmet is really worth spending on. Before starting your hunt for the best skate helmet, you should set aside a budget of your own that is the perfect balance between too costly and too cheap products. Once you are done with this, look and compare the prices of several different helmets along with the features they offer.
An important pointer here's to never overspent on a popular brand name since it does not always guarantees safety and comfort. Equally important is to not spent too little on the skate helmet since it is a one time investment and might lead to severe injuries if it is made of low quality.
Frequently Asked Questions (FAQs)
Should I wear a helmet when skateboarding?
Better to be safe than sorry right? No matter how fun and thrilling skating is, you can have a mishap at any instant. So to not compromise on your safety, you should always wear a certified helmet when skating.
Each helmet comes with unique features which makes them suitable for different purposes. A bike helmet is hard and has no vents. Whereas skateboarding helmets are lightweight and contain holes to maintain air flow inside. So no, you can not use a bike helmet when skateboarding. However, some helmets are dual-purpose and are suited for both; cycling and skateboarding.
Which type of helmet is safe?
An ideal skate helmet is the one with ABX skull and EPS housing. The ABX exterior makes the helmet durable and strong enough to withstand impact forces, while EPS lining ensures comfortable skating by absorbing sweet and keeping your head and hair dry.
How long does a helmet last?
It is preferred that you replace your helmets every three years. But, if you see it wearing out, then change it at its earliest. It is important to note that the helmet fits the head well and provides protection.
Do helmets prevent concussions?
No helmet is "concussion-proof", though they greatly reduce the chances of getting one. How? Their thick shell covers the head while the EPS lining inside scatters the impact energy throughout the helmet so that in any crash, your brain remains safe from any severe injury.
Conclusion
With that being said, we have reached the end of our article about the best skateboard helmets of 2022. We hope our detailed reviews help you pick the right skating helmet for you. Meanwhile, the comprehensive buying guide teaches you about the features that are crucial to consider when buying the best skating helmet in the market.